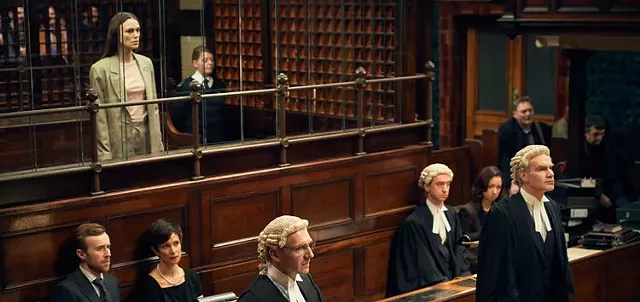 The fact-based political yarn Official Secrets is an effective, engrossing dramatization of the case surrounding British Intelligence operative Katharine Gun. Gun, in defiance of the Official Secrets Act, disclosed a top-secret memo that detailed how the United States and Great Britain leaned on United Nations delegates to invade Iraq in 2003.
As it turned out, the United States invaded anyway. But when the British newspaper The Observer printed the memo and Gun's identity was revealed, she was swept up in an international firestorm, alternately branded a patriot and a traitor. The fact that she was married to a Turkish Muslim (played by Adam Bakri) only fanned the flames.
Even for those familiar with the story, Official Secrets is quality entertainment. As the idealistic protagonist, Keira Knightley doesn't resemble the actual Katharine Gun but offers an earnest portrayal. As do The Observer reporters pivotal to breaking the story: Matt Smith (as Martin Bright), Matthew Goode (as Peter Beaumont) and a feisty Rhys Ifans (as Ed Vulliamy).
Based on Marcia and Thomas Mitchell's non-fiction bestseller "The Spy Who Tried to Stop a War," one of the film's most potent attributes is how the screenwriters (Gregory Bernstein, Sara Bernstein and director Gavin Hood) have carefully distilled the historical details in a step-by-step fashion that spells things out with crystal clarity. The story never gets bogged down by minutiae. In addition, the film offers a totally credible depiction of the newspaper milieu. The scenes at The Observer and the actions of its reporters never strike a false note.
A lot of familiar folks turn up such as Conleth Hill (terrific as Observer editor Roger Alton), MyAnna Buring, Tamsin Greig, Jeremy Northam, Kenneth Cranham and Hattie Morahan. But particularly effective is Ralph Fiennes as Gun's attorney, Ben Emmerson. Fiennes doesn't appear until midway through but adds a boost of star power to the proceedings, as well as a quietly powerful coda.
Utilizing actual news footage of President George H.W. Bush and Prime Minister Tony Blair is a nice touch, and Hood conveys what could have been a convoluted tale in a cool, controlled fashion.
More Reviews
Here