On Oct. 30, 2011, the stage of the 40 Watt in Athens, Ga., is aglow — not with the usual rock-star lighting, but with the flickering orange of 10 pumpkins, each carved with a single letter. Together, they spell the name of tonight's headliner, Of Montreal. As members of the band file onto the stage, each wearing full black body suits with white figures that make them look like skeletons, a man not far from the stage shouts to the girl next to him, "I came all the way from North Carolina for this!" She scoffs and replies that she had driven all night from Texas. Beside her stand a pair of girls dressed like cats, a boy in a sparkling emerald green Zorro mask and a young woman adorned with colorful face paint and feathers.
Sure, Halloween is special, but bandleader Kevin Barnes says it's not much different from any other Of Montreal show. "People [often] show up in outrageous costumes, so it kind of feels like Halloween every night," Barnes says.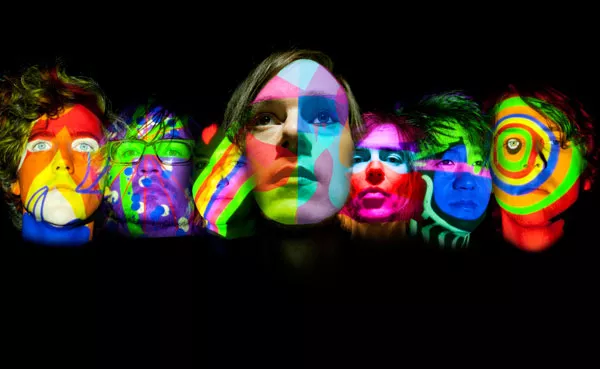 ABOUT FACE: Of Montreal (Photo by Patrick Heagney)
Of Montreal sets the mood. With a fashion sense inspired by the likes of Bowie and Prince, cerebral lyrics and a keen sense of theater, Barnes and the band are regarded as one of the more exciting acts on the indie-rock touring circuit. In the last 15 years, Barnes has become one of the more prolific talents to hatch from the fabled Athens, Ga., music scene. (No, this band is not actually of Montreal.)
The group has released 11 full-length albums, including this year's Paralytic Stalks, and with each release, its shows have grown more ostentatious. Of Montreal brings its antics to Charlotte's Neighborhood Theatre on June 12. "It will be very similar to what we've done [elsewhere on the tour] — the projections and the stage theatrics and all that," Barnes says of the upcoming performance. "Basically, there will be seven or eight projectable spaces onstage with different animations throughout each song. It creates a very visually dynamic experience, very hallucinatory and transportive."
Of Montreal's show is born from a meeting of two idiosyncratic minds. It fuses Barnes' dark and personal lyrics — which explore subjects such as his struggles with fidelity and other destructive impulses — with his brother David's psychedelic art and a performance aesthetic that's equal parts off-beat community theater and ancient Greek pagan orgy. Of Montreal's dedicated fans stand as a testament to that combination's appeal.
"I guess it's maybe the thing that we've been trying to encourage and that seems to have happened over the last four or five years, which is this great communal experience," Barnes says. "So people who come to the shows don't really feel like voyeurs. They feel like they are participating in this special event. We just feel like a part of a living organism and basically just want to create an evening that's exceptional and stands out from the other days of your life."
The live show is eye-catching, but that's not all there is to Of Montreal's charm, says JoJo Glidewell, who is touring with the band this year as a guitar tech. "Obviously, at the heart of it, people respond to what Kevin writes," he says, also pointing out the contributions of the rest of the band. "They're all such creative, energetic people that're involved with that group, every single one."
Glidewell gives the sense Of Montreal as a band never totally satisfied. "Every single show, they talk about how things worked. They have an idea, they test it, they develop it and it never ever stops," he says. Barnes describes his writing in the same way. Though he plans to continue his focus on personal lyrics, he stresses the importance of exploring themes through a variety of different musical expressions.
On past projects, those expressions have included disco, '70s funk, psyched-out guitar and synth noodling and a fair amount of theremin, the spook-house sound that fuels songs like the Beach Boys' "Good Vibrations." The resulting fizzy, frenetic glam-pop breaks out of any specific genre influences on any given song, album or performance, incorporating such pleasantly disorienting devices as hyperactive tempos and compositions that weave through multiple melodies.
"I don't want to repeat myself," Barnes says. As for what's next after the Paralytic Stalks tour — "Right now, I'm still searching." For a band that values the kind of experimentation that keeps every night feeling like an unpredictable, debauched Halloween, the real joy resides not in a specific answer, but in the search for it.
Of Montreal with Yip Deceiver and Chappo. $15-$30. June 12. 8:30 p.m. Neighborhood Theatre. www.neighborhoodtheatre.com.