The first time I ever thought about male fertility was during one of the Naked Gun movies. The nurse hands Leslie Nielsen a cup, a smut rag, and a towel and tosses him into a small white room, which he promptly trashes with unseen acrobatics. This is consistent with how I learned everything else about sex: I saw it on television. So I intrinsically trusted this common-sense approach to sperm analysis (how else would you get it into the cup?), but at the same time swore a solemn oath that it certainly was something I'd never do. And then I got married.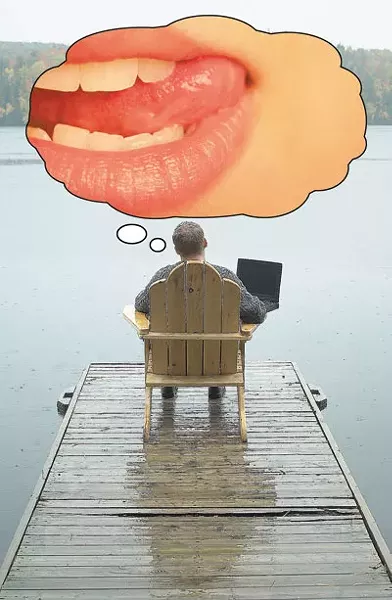 As for many couples, having kids wasn't a hole-in-one for us, and finally at my wife's suggestion we visited her gynecologist to discuss the strange art of fecundity. Like everything else, I discovered that the first order of business was to determine if the guy was to blame for everything. This occurs much in the same way he is fingered for not noticing that his girl's vehicle inspection sticker expired seven months prior because he changes the car's oil in the driveway. ("Jiffy Lube would have noticed it," she said, handing me the traffic ticket.)
So the good doctor handed me a ditto sheet guiding me through the delicate process of, well, beating off into a sterile collection jar. "No sex for three days," the sheet directed. "Use only the masturbation method. Use only plastic sterile cup provided. No potentially toxic lubricants." And my favorite: "Notify technician if any spillage occurs."
Spillage? By god, they wanted to reduce me to Leslie Nielsen, sweating to the oldies with a dog-eared issue of Oui to determine my sexual viability! I couldn't see myself exactly (ahem) rising to the occasion. It wasn't really the locale that bothered me; I just couldn't imagine triumphantly emerging from my love cave, a fresh bead of sweat at my temple, hoisting my anointed chalice eye-level to the knowing attendant, who had been reading The New Republic next to a centrifuge while I satisfied a fabricated carnal urge.
Thankfully, having finally acquiesced to the confounding American shame of clinical sexuality, I could avoid this experience somewhat by doing it at home. The final bullet on the ditto said so: "Deliver sperm, at room temperature, no more than an hour after ejaculation." So, one cold November morning after my wife left for work, I finally checked out some Internet porn.
And why not? If it's good for Lt. Frank Drebin, it's good for me. It took me only 4.2 seconds to find some online. And what porn! I guess Girls Gone Wild infomercials should have been some indication, but nothing prepared me for the unbelievable transformation ... no ... the steaming, writhing metamorphosis the porn star has undergone since my teen years with eighth-generation VHS hardcore.
Back then, the starlets were encouraging, almost patriotic, their names engendering visions of wide-open spaces and new theology, women like Christy Canyon and Traci Lords, with actual pubic hair and the occasional blemish. The mediums were also coveted; one had to endure many personal hardships to attain such filth. You had to have an older brother rent or buy it. You had to steal it. You had to sneak into the drive-in to see it (yes, there was drive-in porn). But now it's at the fingertips like a sexy booger.
And this new breed, these judicious, studio-tanned young succubae, pursue their lust with a stern delight that is both Roman in fortitude and Teutonic in delivery. There seems to be a premium placed on buoyancy, the bodies of ringleted starlets sleek and nonporous, like some sort of studio-tanned baby seal, replete with hard, fake boobs mounted to the ribcage as if set and fastened by rivet gun. Pow! Every orifice is pierced and polished like a soft Glohaven peach, yet oiled and conditioned like a trusty catcher's mitt.
Even the feistiest women of the early porn years had only a sort of possessed look to them at best, as if they were resignedly surrendering to some forbidden carnal fire in their loins, but these young starlets on my computer were enlightened, endlessly available, gleefully drooling and slapping shoe-sized members to their cheeks, batting them around like cats with pole-sprung catnip rats, bouncing them off their foreheads, holding on for dear life once mounted as if they cut their teeth working a jackhammer for a development company.
This goes far beyond commercial cultural liberation. Why, this is sport fucking. This is Survivor Season 10: Caligula Decimates Aruba.
The traditional fetish categories still exist, but now there are all these bold, new ventures like the traveling "Bang Bus" and the fearless "MILF Hunter." We get "Blacks on Blondes." We get "Please Bang My Wife." Gagging. Bootylicious.
There's also this totally wrong thing called Hentai, which is basically Japanimated cartoon geishas getting literally plowed by big, cackling gargoyles with three heads. Why, there's even a guy walking around spring break resorts coaxing coeds to take one on the kisser with a rubber gorilla dong filled with heavy cream.
Holy crap, we have become the Roman Empire, a nation of overmedicated, spoon-fed baboons with a sold government; when the Rhine freezes over we will be conquered by barbarians.
But hey. I'm not going to sit here and feed you a line. I enjoyed every minute of it. I laughed, I cried, I liked it better than The Producers. Hilarious, awe-inspiring, fascinating, disturbing and finally ... well, you know. It's just like shopping for a bike: You find one that gets you from point A to point B and then you wash your hands. I slammed the cap on the jar and stuffed it deep inside a Charles Craft oven mitt, tossed it in my messenger bag and off I went, victorious. And lo, my sperm count came back normal. Remarkably, my wife -- perpetually inquisitive in a police interrogator kind of way -- never asked for a single detail when we got the results.
I'll bet she will now.
This story originally appeared in Metroland, an alternative newsweekly in Albany, NY.
Summer Loving