Carlos Diaz is on the corner of East 36th Street and North Davidson, his hot dog cart parked on the sidewalk in front of the Evening Muse. Enjoying the night air on a break between customers, the stocky 44-year-old notices an SUV make a quick U-turn on Davidson and park across the street. A large, muscular man steps out of the car and approaches a slightly apprehensive Diaz.
"Hey man, you probably don't remember me," the man says, "but two years ago, I came over here and you gave me a hot dog with some kind of Latin salsa on it. The next day, I got locked up. I've been in the pen for two years and have been thinking about your hot dogs every day. I just got out, and this is the first stop I made."
Carlos, as most people know him, has had his cart in the same spot for three-and-a-half years, and on this night, he can't make hot dogs fast enough. The former inmate eats eight of them, but Carlos doesn't ask for a dime in return. "If he'd been thinking of my food for two years," he tells me later, a hint of gruff New York accent in his voice, "God bless him. That's the best compliment I've ever gotten."
In today's social media-heavy culture, people are more known for Facebook status and photo updates than face-to-face meetings, but Carlos doesn't have a social media page or even a website. Yet, he is one of the most familiar faces in NoDa and one of the most popular hot dog vendors in all of Charlotte. His food is his greatest advertisement.
If you've ever had one of Carlos' hot dogs, topped with homemade chili and what he calls "Latin relish," you remember the experience. The first bite is a rush of flavor. The relish is an almost delicate mixture of crisp peppers and onions softened by diced tomatoes. A splash of lime and a bit of cilantro slide over your palate as hints of spice from the chili give just the right kick over the taste of a boiled Nathan's hot dog. The soft bun, which has already begun to soak up the juices from the chili and relish, is a bystander in the won't-burn-your-mouth perfection of combined temperatures.
This is a delicious hot dog.
"Oh my God!" "Holy shit!" and "Keep the change" are probably the most common reactions heard around Carlos' cart. That or absolute silence, as the patron is too busy eating what is clearly the best hot dog he/she has ever tasted. Chances are good that, like so many others, they'll be back again.
MOST PEOPLE first try the Latin relish upon Carlos' urging. If a customer hesitates in deciding what he or she wants on the $3 dog, Carlos pounces on the opportunity. "Let me make you one my way," he says with confidence. "I got you hooked up." He spoons a thin layer of chili on a hot dog before dropping a bit of his homemade Latin relish across the top.
Oftentimes, he'll say that if a person doesn't like it, he or she doesn't have to pay — but that's only happened once. The unlike-any-other-hot-dog taste wins over new fans on a nightly basis. The guy who asked for his money back? Even he finished the hot dog.
"People can taste how fresh [the food] is," Carlos says. "I bring two quarts of relish out with me and I sell out often. People get pissed when I don't have any left."
It takes a couple of hours to make the Latin relish so many people have fallen in love with. Many of his customers have inquired when he's going to sell the relish on its own. He tried it a year ago, selling 50 to 60 jars in a few hours, but it's a lengthy process that Carlos hasn't had time for since; he plans to try again soon. He picks the ripest tomatoes, peppers and onions he can find at local markets. From there, he or his wife, Keila, chops all of the ingredients by hand — he doesn't even own a food processor. The relish — he won't divulge the recipe — is made about an hour or so before he heads to NoDa. Its freshness is a key reason it tastes so good.
Born in Honduras, Carlos came to the U.S. at age 5, living in New York until about four years ago. He remembers growing up with the relish, or "chismol," as it's called in Honduras — a topping used on a variety of meat, similar to pico de gallo or chimichurri.
With both parents working two jobs, Carlos used to help his sister chop the ingredients in preparation for dinner — no doubt a precursor to his love of cooking (though his personal favorite food to cook these days is classic Italian). He took a few culinary classes in college while studying computer science, but never worked in the restaurant industry until he moved to Charlotte.
After the grind of a typical nine-to-five in the corporate world, Carlos realized he could no longer handle the monotony and searched for a cooking job he could actually enjoy. He's been head chef at the Lighthouse Seafood restaurant in Huntersville — preferring the recipes that require a more hands-on approach with seasonings and flavors — for the past four years. His idea for a hot dog cart, however, was sparked years earlier.
"I was at a family cookout 10 years ago, and my cousin left to get the meat, but I was starving," Carlos says. "I had nothing but hot dogs, so I put the topping we had made for steaks on the hot dog instead. Right then and there, I thought, 'I'm on to something here,' and came up with the name 'Latin relish.'
"People eat something similar all over Honduras, but I like some flavors over others when I make it — every family has their own recipe. I'm not the greatest cook, but I'm a great seasoner. I have a great palate. What people don't understand is that the best recipes are the simplest recipes. Now, [the flavor] is also about consistency."
It's that consistency that keeps people coming back. One night in July, a random patron who'd had his fair share to drink bumped into Carlos' cart, knocking over the entire container of relish into the street. What happened next is a testament to just how tasty Carlos' hot dogs are.
"The guy who knocked it over kept apologizing and offered me $10, but he didn't even understand what he did to me that night," Carlos recalls. "Later on, a customer came up and asked for 10 hot dogs with relish. I pointed to the ground where it had been knocked over and the guy got down, scooped it up in his hands, picked out glass pieces and said, 'Here, put it on the dogs.'"
Of course, Carlos had to deny the customer's pleading request, but he stared in disbelief as the customer ended up taking the fresh-off-the-street relish with him. "I can't serve that to him, but what he does on his own ..." Carlos says with a laugh.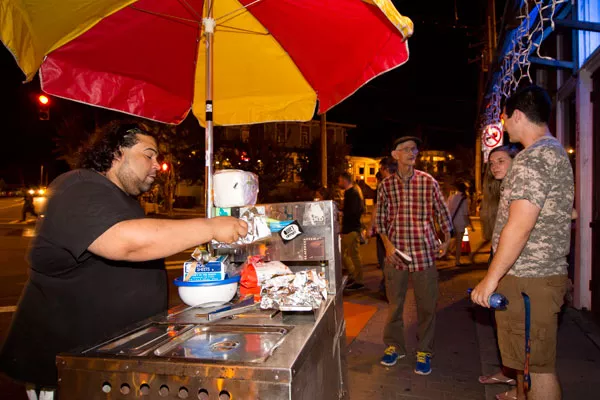 THERE ARE plenty of nights when Carlos would much rather go home and spend time with his 9-month-old son. What keeps him coming out every weekend to the corner of 36th and Davidson, regardless of the weather, is the neighborhood and the people he meets there.
"When you work in an industry like this, you have to know that you're going to work when other people are off and you're going to miss events on the weekends," Carlos says. "I'll be out here whether it's clear, raining or snowing, and I'm always in shorts, too. I love this neighborhood. I love the people. It reminds me of a little Soho or East Village. I knew when I first stumbled upon NoDa that this was where I wanted to set up the cart."
Three-and-a-half years ago, Carlos approached a number of business owners in the neighborhood to inquire about setting up his cart on the sidewalk in front of their shops, but none were receptive to the idea. After spending days scouting the area, he was ready to give up — until he spotted Evening Muse owner Joe Kuhlmann one night opening the doors to the music venue. Carlos walked up, introduced himself and asked if he could set up there. He's been in the same location ever since.
To establish a food cart in the city, a person has to endure a fairly lengthy and arduous process — setting up a location or commissary where food can be prepared (Carlos uses the restaurant where he works), applying for permits, having the cart inspected for its construction, getting regular health inspections, paying license fees — but Carlos knows he's found the right spot in town to sell his signature dogs.
"I've gotten offers from other people to set up in front of their place, but this is prime real estate here," Carlos says, referring to his NoDa street corner. "I don't think I'd want to be anywhere else. One day I was walking back from Smelly Cat after getting a coffee and saw a couple walking toward me eating hot dogs. They said, 'Carlos, we left the money on the cart.' You're not going to get that Uptown or anywhere else."
Kuhlmann, whom Carlos refers to as a business mentor for all the advice he's given, thinks Carlos is a great addition to the neighborhood and easy to get along with. He says Carlos provides a fresh-tasting late-night snack that isn't easy to find elsewhere in town and also helps to keep the peace when things get a bit rowdy as the bars let out around 2 a.m. — after all, what better way is there to distract drunk people from potential fights than to feed them delicious treats?
Buying a hot dog off the street might not be the first thing most people think to do when they come to NoDa, but Kuhlmann says Carlos' dogs are a must-have for many who frequent the neighborhood. "There's bands who say they can't wait to come back just to get another hot dog, or they're disappointed if he's not here," Kuhlmann says. "[Carlos has] really become part of the crew around here. He offers a unique product that's tasty and convenient at a good price. [Also] I don't think he's impacted the restaurants around here, because he's setting up when most of them have stopped serving."
Since moving to Shelby a few months ago, Carlos doesn't make it out to NoDa as often as he'd like to — for now, he guarantees he'll always have a cart there on Friday and Saturday, if not other nights, too. He hopes to set up a second location in Shelby to help offset what he's missing during the week.
"WE'RE SO glad you're here — we've been thinking about your hot dogs ever since we left Mississippi," a band member yells over his shoulder while loading equipment into the Muse. The folk-rock band Rosco Bandana is setting up for a late-night show, and there's smiles all around when the members see Carlos on the corner. They remember him from the last time they were in town.
"We can't wait to come back and get some more from him," Rosco Bandana singer Jason Sanford tells me by phone a few weeks later. (Funny enough, they're back again on Sept. 14.) "They're bomb. You can tell he loves what he's doing. And that's what he's putting into his chili and relish, too — it's just that love."
On the weekend, Carlos is a well-known fixture in front of the Muse. On this particular evening, as he wraps hot dog buns in individual foil wrappers to prepare for the night ahead, he says there are many nights when he sells out of all the food he brings. When I ask him how many hot dogs he sells on average, much like the recipe of his relish, he's reluctant to reveal too much information. In the two hours I'm talking with him, I see him go through at least a few dozen dogs. It seems like every time I look, he's adding more chili to a chafing dish, wrapping more buns in foil or dropping more hot dogs into boiling water.
Carlos is clearly a popular guy. Countless people walk by and shout his name, give him hugs or ask about his family. Regulars ask for extra relish or beg him to take a credit or debit card — Carlos accepts cash only. The money is great for a few hours of work — on some weekends he makes more in tips than he does in sales.
"Our slogan is going to be, 'Tell 10 people about us,'" he says. "I want it to be grassroots — people telling their friends. I got a call the other day from [Spanish-language television network] Univision wanting to do a story about me — one of their reporters just happened to get a hot dog when they were in town. I'm not ready for that yet. Let me really get things going around here first."
As we're talking, NoDa resident Norma Hanson walks up with a couple of friends and tells Carlos she has a "hot dog virgin" with her. "He's never had one," she says. "You've got to hook him up first."
Hanson gets a dog from Carlos about once a week, bringing friends with her whenever she can. "I've had hot dogs all over the country, but this is the best one I've ever had," she says. "It's the combination of the relish and chili. You can't get it anywhere else. I've been coming here for at least two years."
In previous years, when other vendors tried to set up carts in the neighborhood, patrons would often walk past closer options and cross the busy intersection to buy from Carlos instead. All the business and attention is great, but Carlos says he has bigger dreams. Not only would he like a few more hot dog carts in the Charlotte area, but his goal is to open a restaurant.
"Under the right circumstances, in the right area and with the right concept," he says. "I'm really into fusion and I know there's not a lot of fusion going on here. I think Charlotte is ready for new stuff. I'm into the marriage of different flavors. This hot dog would have never happened had I not decided to be adventurous."
As a group of patrons leaves the Blind Pig at 2 a.m. and heads down North Davidson, a few of them note the mouth-watering aroma in the air. "That smells so good!" one girl says. "You want a hot dog?" Carlos asks. "Let me hook you up."