(View From The Couch is a weekly column that reviews what's new on Blu-ray and DVD.)
Judy Holliday, Broderick Crawford and William Holden in Born Yesterday (Photo: Twilight Time)
BORN YESTERDAY (1950). The movie year of 1950 gave birth to two of the greatest performances ever seen in the annals of film history: Gloria Swanson as faded movie star Norma Desmond in Billy Wilder's magnificent Sunset Boulevard and Bette Davis as fading theater star Margo Channing in my all-time favorite film, Joseph L. Mankiewicz's All About Eve. Stunningly, neither veteran won the Best Actress Oscar (though both were nominated); instead, the winner was Judy Holliday for her comic turn in Born Yesterday. Yet lest anyone think this is a scandal of Benigni-esque proportions, the truth is that Holliday delivers a wonderful performance and perhaps might have deserved that Oscar in a less competitive year. Reprising her stage role, she stars as Billie Dawn, the ditzy girlfriend of Harry Brock (Broderick Crawford), an uncouth yet wealthy brute who travels to Washington, D.C. with the goal of bribing a Congressman to do his bidding. Unaware of his own vulgarity but worried that Billie will embarrass him, he hires sharp reporter Paul Verrall (William Holden, himself an Oscar nominee that year for Sunset Boulevard) to smarten her up. It works beyond Harry's wishes, as the heretofore shallow Billie learns a thing or two about American history, her own self-worth and Harry's crooked dealings. Crawford is basically playing a variation of his Oscar-winning turn from the previous year's All the King's Men, though he's effective; so, too, is Holden as the first person to probably ever treat Billie with respect. Yet this is Holliday's show all the way, as she adds interesting tics and asides that allow her dumb-blonde routine to stand apart from the stereotypical norm. In addition to Holliday's win, the film was nominated for four additional Oscars, including Best Picture. It was also remade — badly — in 1993, with Melanie Griffith (landing a Worst Actress Razzie Award nomination), John Goodman and Don Johnson in the Holliday-Crawford-Holden roles.
Blu-ray extras consist of theatrical trailers and an isolated track of Frederick Hollander's score.
Movie: ***
John Wayne (right) in Brannigan (Photo: Twilight Time)
BRANNIGAN (1975). Admittedly, it's not nearly as much fun as when Detroit cop Eddie Murphy went to Beverly Hills, but fans of John Wayne will nevertheless get a modest kick out of watching his Chicago lawman head to London in this easy-to-take programmer. The Duke plays Lt. Jim Brannigan, an Irish-American copper who's sent to the U.K. to bring back a crime boss named Larkin (John Vernon). Before he can get his man, though, he discovers that Larkin's been kidnapped by some British thugs demanding a sizable ransom; this forces him to reluctantly work in tandem with an easily agitated London police chief (Richard Attenborough) and Larkin's oily lawyer (Mel Ferrer). The numerous culture-clash gags aren't nearly as sharp or humorous as one might hope, and while it's great to see so much of London in the 1970s — Tower Bridge, Piccadilly Circus, Heathrow Airport, a rare view from inside the Garrick Club and, of course, a traditional English pub (The Lamb Tavern) — there's too much of an emphasis on lengthy chases and stakeouts when what we really want to see are more interactions between Wayne and his co-stars. Brannigan's relationship with Attenborough's frustrated commander is well-executed, with the men supporting each other one minute and verbally sparring the next; almost as engaging is the Yank's friendship with a bright British officer (Judy Geeson) who's assigned to look after him. Wayne holds the screen as effortlessly as always; he would only make two more films — the same year's disappointing True Grit sequel, Rooster Cogburn, and 1976's elegiac Western The Shootist — before succumbing to cancer in 1979, at the age of 72.
Blu-ray extras include audio commentary by Geeson and film historian Nick Redman; on-set footage shot by Geeson; the theatrical trailer; and an isolated track of Dominic Frontiere's score.
Movie: **1/2
Russell Crowe in Noah (Photo: Paramount)
NOAH (2014). Accomplished enough to wash away all the doubts that preceded its theatrical opening, director Darren Aronofsky's Noah is a muscular and meditative work whose strengths should in the long run drown out the protests of its detractors. In the manner of the eternal queries of The Beatles vs. Elvis and boxers vs. briefs, how a person sides in the prickly The Last Temptation of Christ vs. The Passion of the Christ debate might determine whether Noah is worth one's time and money. Fans of Martin Scorsese's deeply spiritual and honestly probing Temptation will want to take a chance on this picture, while devotees of Mel Gibson's shallow snuff film Passion should probably stay away. Helming his first production since he gave us 2010's best film, the mesmerizing Black Swan, Aronofsky has teamed with frequent collaborator Ari Handel to fashion a Biblical epic unlike any other. The basic outline remains the same, as Noah (Russell Crowe, delivering his best performance in years) is tasked by God to build a massive ark and fill it with all manner of animals before the rains wash away all remnants of corrupt humanity. He's faithfully assisted in his assignment by his wife (Jennifer Connelly, reuniting with her A Beautiful Mind co-star), sons (Logan Lerman, Douglas Booth and Leo McHugh Carroll) and adopted daughter (Emma Watson, reuniting with her The Perks of Being a Wallflower co-star Lerman), but as the weather turns rotten, scores of raiders of the last ark lay siege to the craft. Thankfully, Noah and his kin are protected by rock giants who were once fallen angels; equally fortuitous is the fact that Noah himself is a man of action, swatting away invaders as if he were an Old Testament Indiana Jones. Clearly, this isn't your father's Biblical interpretation. Yet for all his deviations — some which work, some which don't — Aronofsky remains respectful of the source material, and he adds an interesting twist by having Noah grapple with the idea of whether he and his family were meant to survive the flood or perish alongside the rest of tainted civilization.
Blu-ray extras consist of a piece on the location shooting in Iceland and two featurettes largely centering on the creation of the film's ark.
Movie: ***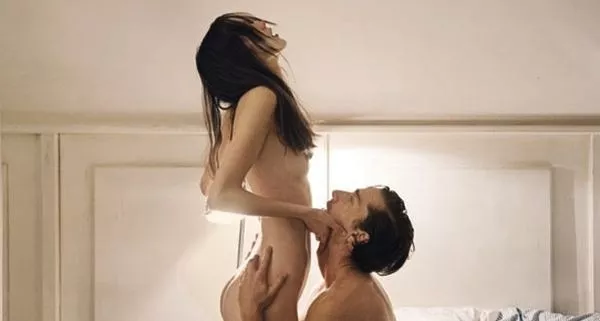 Stacy Martin and Shia LaBeouf in Nymphomaniac: Volume I (Photo: Magnolia)
NYMPHOMANIAC: VOLUME I AND VOLUME II (2014). Cinema needs its misanthropes as much as it needs its Pollyannas. In a multiplex landscape in which happy endings are almost always preordained, there's something to be said for the filmmaker who decides to remind viewers that the world is not always a happy place and the good guys don't always win out in the end. I used to be able to count on Lars von Trier to deliver my necessary doses of nihilism, but no more. The risk-taking raconteur behind such bruising beauties as 2003's Dogville, 1996's Breaking the Waves and 1991's Zentropa (aka Europa) hasn't engaged my senses in years, and this pattern follows suit with the limp-wristed one-two punch of Nymphomaniac: Volume I and Nymphomaniac: Volume II. This two-part, four-hour saga is ostensibly about the mental, emotional and physical anguish of the titular sex addict, but it ultimately offers as much insight into the female psyche as one of those tampon commercials that shows a woman cheerfully riding a horse down a sun-dappled beach. As Volume I opens, we see Joe (Charlotte Gainsbourg) laying bruised and battered in an alleyway. A kindly man named Seligman (Stellan Skarsgard) takes her home and tends to her, at which point she decides to spill her life story. She's a bad person, she insists to her rescuer, and it's up to him to convince her otherwise. And so she begins, relating how she's been a nymphomaniac since a very early age, although she didn't lose her virginity until she was a teenager (played in flashbacks by Stacy Martin) and offered herself to a grease monkey named Jerome (Shia LaBeouf). From there, she and her best friend (Sophie Kennedy Clark) would compete to see who could sleep with the most men. After she becomes an adult, Joe again connects with Jerome, who's now a successful businessman. She continues to have anonymous sex with wanton abandon, but as the chapter closes on Volume I and we head into Volume II, we see that she's now having trouble feeling any pleasure in her nether regions.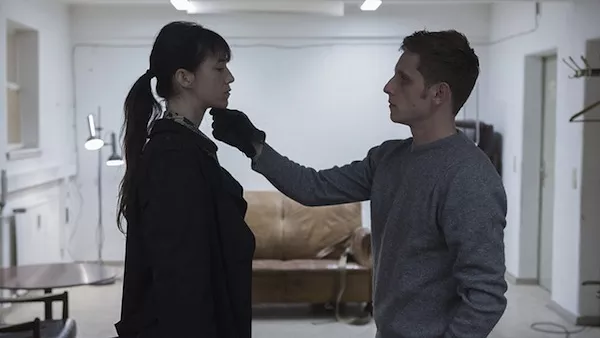 Charlotte Gainsbourg and Jamie Bell in Nymphomaniac: Volume II (Photo: Magnolia)
Volume I is the superior part (mild praise, indeed), largely because the relationship between Joe and Seligman is nicely established and Christian Slater (as Joe's dad) and especially Uma Thurman (as a wife whose husband leaves her for Joe) contribute strong supporting turns. It's also because we're still willing to give von Trier the benefit of the doubt, expecting the vagueness of Joe's addiction to become more clear in the second part. But that never happens; instead, Volume II is little more than the writer-director clumsily offering a checklist of sexual mores — threesomes, lesbianism, sadomasochism, even talk of pedophilia — and descending further into his debasement of everyone and everything. With copious amounts of full-frontal nudity (male and female) as well as ample scenes of penetration and oral sex, von Trier is doubtless hoping to shock American viewers, many of whom have been trained to adopt Puritanical stances toward sex. But various non-porn titles, from the American indie Shortbus (one of 2006's 10 Best) to the French import Blue Is the Warmest Color (one of 2013's 10 Best), are readily available to show that von Trier is hardly blazing new territory. Ultimately, these two volumes steer away from Joe's sexual behavior and merely wallow in the mire of loathsome human behavior. Von Trier doubtless thought he was taking a bold stance in showing the utter depravity of the world, but all he's shown is that his films have grown as flaccid as a penis in repose.
DVD extras include a behind-the-scenes piece; interviews with cast members; and the theatrical trailers.
Nymphomaniac: Volume I: **
Nymphomaniac: Volume II: *1/2
Leslie Mann and Kate Upton in The Other Woman (Photo: Fox)
THE OTHER WOMAN (2014). The inclusion of scatological humor in a film often suggests desperation on the part of the screenwriter(s), and The Other Woman not only includes a shot of a huge dog emptying his bowels on a living room floor but also a man suffering a bout of diarrhea in a sequence that seemingly runs as long as Iron Butterfly's "In-A-Gadda-Da-Vida" and Bob Dylan's "Desolation Row" played back to back. Pushing these sorts of scenes aside, though, there are enough bright elements that allow the film to occasionally rise above the mire, and chief among them is Leslie Mann. She's terrific in this picture, one which finds her landing above-the-title billing alongside Cameron Diaz. Diaz stars as Carly, an accomplished businesswoman enamored of her latest squeeze, the suave Mark (Game of Thrones' Nikolaj Coster-Waldau). Unfortunately for Carly, she's eventually confronted by Kate (Mann), the wife she didn't know Mark had. Both hurt by the same scumbag, they become unlikely friends, and their number grows when they discover the wayward husband is seeing yet another woman, a stunner named Amber (Sports Illustrated swimsuit star Kate Upton). This is hardly original material (see: John Tucker Must Die; The First Wives Club; heck, even Diabolique), but what the script by Melissa K. Stack does deftly accomplish is nailing the dynamics between Kate and Carly. These two ladies — the characters and the actresses bringing them to life — work so well in tandem that the addition of the third woman, Upton's beach bunny, isn't even necessary (in fact, excise her from the scenario and you're left with the same story). As long as it concentrates on the relationship between Carly and Kate — that is to say, the first half of the picture — this offers a generous supply of laughs. It's only when the revenge angle takes over that the movie falls apart, as the various ways in which the ladies exact their revenge on Mark are either tepidly presented or sloppily scripted. There are absolutely no surprises in this second part of the film, a drawback when the storyline involves characters who are constantly trying to come out on top through subterfuge.
Blu-ray extras include deleted scenes; a gag reel; and a photo gallery.
Movie: **1/2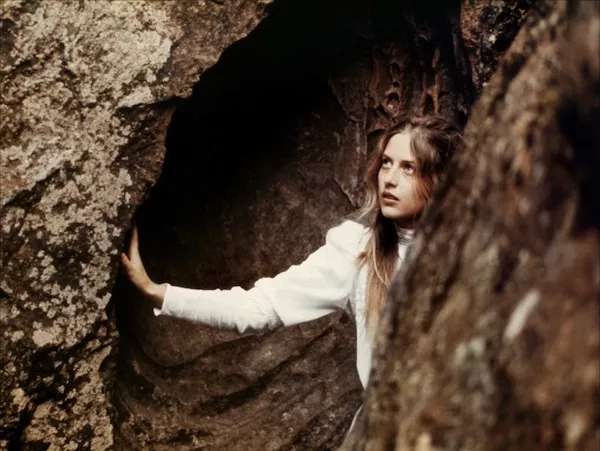 Anne Lambert in Picnic at Hanging Rock (Photo: Criterion Collection)
PICNIC AT HANGING ROCK (1975). It's Valentine's Day 1900, and the stern headmistress (Rachel Roberts) of an Australian girls' school allows two teachers, the charming Mlle. de Poitiers (Helen Morse) and the stuffy Miss McCraw (Vivean Gray), to take the establishment's teen charges on a picnic to the base of an imposing edifice known as Hanging Rock. Over the course of the day, three students as well as Miss McCraw will travel up into the rocky structure and simply disappear; with one exception, none will be ever be seen again. Were they murdered? Abducted by aliens? Became one with nature? That's the haunting mystery that partially drives what proved to be one of the key films of the Australian New Wave, the exciting explosion of cinema that occurred Down Under during the 1970s. Working from Cliff Green's script (based on Joan Lindsay's popular novel), director Peter Weir crafts a heavily atmospheric drama that's steeped in sexual imagery and ideas, from the phallic-like nature of the rock with all its vaginal passages to the shot of virginal schoolgirls attempting (and failing) to tamp down their own erotic stirrings via constrictive corsets. Yet the film also works as an examination of the contrast between the unpredictability of this untamed landscape and the rigid societal rules of willfully naive outsiders. Weir would of course go on to forge a terrific Hollywood career crammed with the quality likes of Witness, Fearless and The Truman Show. And if the kindhearted servant Minnie looks familiar, that's because she's played by Jacki Weaver, who recently exploded on the American scene thanks to her Oscar-nominated turns in Silver Linings Playbook and Animal Kingdom.
The new Criterion edition of Picnic at Hanging Rock contains a paperback edition of Lindsay's novel. Blu-ray extras include Weir's 1971 film Homesdale; a making-of piece; a vintage behind-the-scenes featurette; an interview with Weir; and an introduction to the film by film scholar David Thomson.
Movie: ***1/2