It's time to go down the rabbit hole of tattoos and art.
The inaugural Queen City Tattoo & Arts Festival Oct. 26-28 is not just for those who took a tattoo machine to their skin to permanently ink themselves forever. United Ink Productions, which organized the festival, moved to the Charlotte area from New York City, where they used to host No Limits Tattoo Expo.
The move, according to creative director Christian Moore, was a decision made on a mix of traffic, cost of living and the prolific and supportive tattoo community they found here.
"Down here, everyone that's local supports each other. They sort of do that in New York, but nothing like I've seen down here. So that's why we're excited to have the arts festival down here," Moore said. "We reached out to a bunch of shops, we realized everyone supports each other ... I like the camaraderie down here, I think it's awesome."
The upcoming festival is geared toward families and art fans looking for a new Charlotte experience. Themed along the lines of Alice in Wonderland, the marketing material is filled with Alice characters sporting tattoos, creating a whimsical feeling and inviting memories of childhood.
A completed tattoo from United Ink Production's No Limits Tattoo Expo 2017 in NYC. The company will hold the first tattoo & arts festival in Charlotte Oct. 26-28. (Photo by Jesse Towers/Cara Eve Photo)
"That's why we decided to do the Alice in Wonderland, come down the rabbit hole, [idea]," Moore explained. "When you come to the show, you're going to realize it's nothing like you've seen before. So all the art festivals you've been at, [this is] just a different caliber of a festival. And it's only going to get bigger, too."
Featuring not only world-renowned tattoo artists and local, award-winning studios from Charlotte, the festival will also be dotted with music, a magician dressed as the Mad Hatter and family-fun activities like face-painting and pumpkin carving.
Moore said it's important for United Ink Productions to integrate itself into the community through this festival, as a way of saying, "Hey, we know we're out-of-towners, but now we're here and we want to bring the best experience possible."
"I want that whole sense of community like what I've been seeing; that even though we're a company from New York, we moved here, we all live here now. I just want them to see that this is something that's for everyone, it's not just a tattoo expo," Moore reiterated.
Charlotte is not only one of the fastest growing cities in the United States, but it also hosts a hyper-local population that supports small businesses. Many tattoo artists that grew up in and around the Queen City are happy to see that business is booming as their books fill up with appointments usually only within days of opening.
With a large clientele base and social media platforms like Instagram, it's easy to post pictures of tattoo work, creating a digital and easily accessible portfolio, to help bolster their following.
Chris Toler of Seventh Sin Tattoo.
When Chris Toler, co-founder of Seventh Sin Tattoo on Central Avenue in Plaza Midwood, first began tattooing, the help of social media was not prevalent in the tattoo industry.
"Fortunately now, unlike when I first started, you got the means of Instagram and Facebook and social media to help you out," he said. "That wasn't really the case 13 years ago when I started tattooing."
Toler and Seventh Sin Tattoo have only been in Charlotte for the past 3 or 4 years, however. When planning the move from Blacksburg, Virginia, he and his business partner used social media to prime the city scene for their arrival.
On the other hand, Stacy Smith, owner of Tattoo Me Charlotte in South End and a recent contestant on Ink Master, has been in Charlotte for about 10 years. Her Instagram following is considerable, and she's currently booked out until March.
"It's a great platform, I post online and then I can reach the masses, you know, with a single post on there," she said. "So I got lots and lots and lots and lots and lots of clientele through Instagram."
The Queen City Tattoo & Arts Festival is also a branding platform for the local artists. Set up in booths and participating in events, tattoo artists can mingle with potential clients and network with other artists from around the world.
It's exciting for all the tattooers involved and most of those who are featured have already fill their openings for that weekend.
Tara Long, a tattoo artist at Tattoo Me Charlotte, is not only booked in the studio until March, but she's filled all of her available spots at the festival with the branding and promotional help from United Ink Productions.
"I booked that in advance," Long said as she sat in her booth and completed the line work of a realism-style tattoo of Michael Myers from Halloween for a client. "United Ink posted one of my photos and was like, 'Hey, Tara's going to be there.' So I got a lot of people messaging me from that like, 'Hey, do you have any spots?'"
The burgeoning tattoo community in Charlotte has allowed shops such as Tattoo Me and Seventh Sin to flourish without intense competitions among the studios.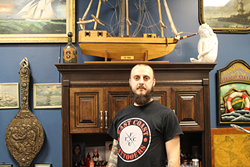 Jon Ronzka of Sink or Swim.
Jon Ronzka of Sink or Swim Tattoo on Monroe Road near Matthews recalled a time when if a tattoo studio opened up within the same area of another, one might show up to work to find that their locks were super glued shut and the windows were broken.
Fortunately, this is not the case in Charlotte, as Moore noted earlier there's a camaraderie among the artists in town.
"It was a cutthroat business, I mean the demographic has changed, though," Ronzka said. "It's like, 40 percent of people between the ages of 18 and 40 have a tattoo now. The demographic can support the volume of tattoers that's out there."
When Toler and Seventh Sin started out in Charlotte, he explained that the business was welcomed and the tattoo community supported them.
"Honestly we were very well-received, we had a lot of studios come around and offer a helping hand," he recalled. "And in a cutthroat industry like this, that's not something you experience a lot."
Toler, Ronzka and Smith all have different styles, which caters to different demographics in Charlotte. Toler usually inks creepy and macabre designs or opts for pop culture references like an ode to the Star Wars franchise.
To pair with her bubbly personality, Smith creates colorful watercolor designs with bright hues within animals and roses.
Ronzka also enjoys color in his ink creations, but like most artists, loves to take artistic direction with his clients and spur a narrative within the larger tattoos that he's asked to do. A client might tell him that they trust him and to "go nuts," so he does.
With a strong community of people with open space on their skin looking for studios with high-caliber tattooers, some artists are hoping to break the stereotypes that comes with having permanent ink and working in a tattoo studio.
Smith and Toler both believe this could be accomplished with community outreach and giving back in various forms.
"As tattoo artists, we're extremely blessed by Charlotte. My books are slammed, my business is booming, and I would love to come up with some kind of organization where tattoo artists can come together as a community and give back," Smith said.
She continued to rattle off ideas of charity events and donations, either in the form of donating art supplies to schools otherwise lacking or free tattoos to cover up surgery scars for those who may not be able to afford it.
It would be a win-win situation for tattoo artists and studios; banding together under an organization to give back to the community that supports their businesses will also help erase the stigma that plagues those with tattoos.
Smith iterates that all the tattooers in the community were artists first. Many of them started in high school and were the ones excelling in art class and even going on to arts colleges afterward.
It can be easy to fall back on outdated views on tattoos as grunge-y and only for trouble-makers, but at the end of the day, they're just artists who happen to draw on people for a living.
"And you know we do have a [stigma] on us as tattoo artists," Smith continued. "We're in a place and a spot where we're 'unreachable' or we're 'rockstars' — that you just can't be bothered with your community. But why? Why don't we sit here and just be human? We're human like anyone else, you know we do pretty fun stuff and have pretty awesome lives, but at the end of the day I think it would make us a little bit more of a softer industry."
Toler repeated the sentiment voiced by Smith. Sitting in the spacious studio of Seventh Sin, adorned with macabre decorations of animal skulls and occult-esque adornments, he explained how charitable actions could shift the misconceptions that people may have of the tattoo industry.
"I think doing something like what Stacy wants to do, that allows people to be like, "Oh wow, maybe they are genuinely good people," he said. "We are, we just want to be taken seriously."
Stacy Smith, owner of Tattoo Me, in her upstairs booth at the studio.
Ronzka believed that the Queen City Tattoo & Arts Festival will also aid in shifting negative stereotypes about tattoos.
The caliber and high-tier level of artists available at the event can show off their skill and highlight the quality of art that people choose to ink their bodies with.
"I think this will be an eye-opener for a lot of local people as to what can be done," Ronzka said.
And that's the goal that Moore and United Ink Productions are aiming for; a showcase of fine art that just happens to be planted on client's skin, to be permanently displayed wherever that person goes.
"When you see a lot of the artwork that a lot of our artists do, it legitimately looks like a painting, just on skin," Moore said. "So it's art that you can appreciate. When you see it, you're not relating that to tattoos, it just looks like a straight painting on skin."
If you haven't booked a session with an artist at the festival, not to worry, said Moore. There will be artists available for walk-up sessions. If it's your first tattoo, let's face it, this would be a great place to get one, as the festival is designed to break the nervous barrier that a first-timer can have when approaching an artist.
For the tattoo artists that are available for walk-up sessions, they will have signs posted to indicate their availability for a spontaneous tattoo.
Not sure what to get? Moore hopes to feature a "rabbit hole" for anyone to travel down. That would consist of a hole for adventurous participants to stick their hand in and end up with a small, subtle Alice-themed tattoo that that they wouldn't see beforehand.
Still can't decide if you want one? Just go and enjoy the music, visual arts and pumpkin carving while supporting the local tattoo industry and community.
Just don't be late, late, late for this very important date.