At first, Freda Hendley loved her new job with Google Fiber. Hired in June 2016 as a temporary vendor contractor (TVC), Hendley took a pay cut from her previous job to join a team working with one of the world's most recognizable brands, helping bridge the digital divide in this city.
For a few months, things went well. With that sort of brand recognition behind her, Hendley was able to get anyone on the phone to secure help in planning events for groups benefitting Sickle Cell Partners of the Carolinas and other community organizations.
But just a few months in, Hendley would become disenchanted with her mission at Google Fiber. She said she witnessed gross overspending, mistreatment of fellow TVCs and other harassment by Google employees. She believes her decision to speak against it eventually led to her contract termination in February 2017, although it's unclear that it made a difference, because in March, nearly all of the remaining TVCs — workers who played a large role in Google Fiber's Charlotte launch — were let go.
The cuts were the latest in a series of public missteps for Google Fiber — which announced its Queen City intentions in January 2015 and officially launched in July 2016 — that include hundreds of thousands of dollars in property damage during construction and an ever-increasing timeline regarding its rollout.
The company, however, continues to deliver on promises to be proactive in bridging the digital divide by supporting local organizations in efforts to connect women and minority youth with the internet access.
Through partnerships with community organizations like E2D and Digi-Bridge, Google Fiber estimates that it has helped supply 1,600 people with free or affordable devices, involved more than 163,000 children and families in STEM-based programs and reached more than 1,100 people through awareness and outreach initiatives to date.
A Google Fiber spokesperson responded to questions about the March cuts with a short statement emphasizing the company's commitment to Charlotte.
"Google Fiber is here to stay in Charlotte. We'll continue to serve our customers with the same great service they've come to expect from us," the statement read.
Some who have worked closely with the company, however, aren't so sure.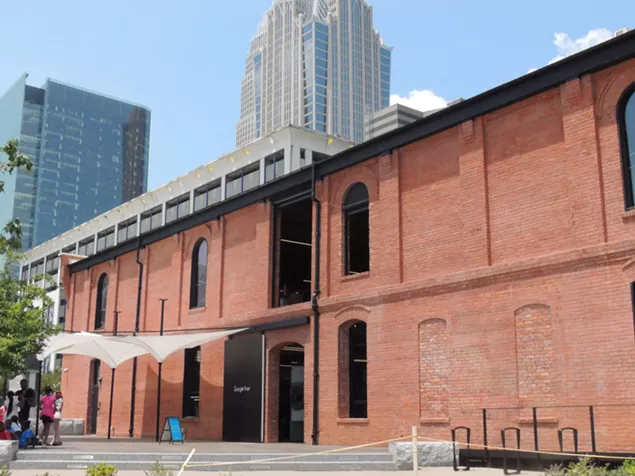 Google Fiber space at 7th Street, next to First Ward Park, where Freda Hendley worked until February.
Although she said she witnessed lots of questionable behavior by Google Fiber employees during her time there, Hendley said one specific incident permanently changed the way she viewed her new workspace.
She was one of just four TVCs to sit upstairs at the Google Fiber space, surrounded by fulltime Google employees. The other 30 or so contractors worked downstairs, and it was understood they shouldn't climb the steps.
One day in September, Hendley said she watched as a fellow TVC was chased from the upstairs area. A Google employee came to a contractor sitting near Hendley and ordered them to make sure the wayward employee went back downstairs and stayed there.
"We all looked like, 'Uh, it's a flight of steps,'" Hendley said. "All I could see was when we were in grade school studying social studies, the picture of what the caste system looked like in second or third grade. I saw that picture in my head and I was like, 'Oh fuck, I'm dealing with a real, live caste system.'"
From there, Hendley said the experience worsened, and it came to a head in November, when she took a stand against harassment from Google employees regarding the presidential election.
Hendley took her concerns to Mary Ellen Player, Google Fiber's city manager in Charlotte, and Jess George, community impact manager.
"There was one black male who was a contractor, and he would report to me. I went to Mary Ellen and Jess and said, 'Hey listen, I don't know how many more Obama jokes this guy is going to take. It's uncomfortable. If someone says to me, 'Oh, yay, Trump won,' or puts on their Facebook, 'I guess y'all got to give those Obamaphones back now,' again, I don't know how much more of that I'm going to be able to deal with."
Hendley said she was told they would check on the matter, but any action was unlikely because — as Hendley said she was told — "Y'all are just TVCs."
When asked about this incident, Google Fiber reps said they would not comment on personnel issues as a matter of policy.
In February 2017, Hendley was told her assignment had ended. Three weeks later, most of the remaining TVCs working at the Google Fiber space were also let go — less than a year after signing on for a job they were told would last at least two years.
That news came the day after a staff party at high-rise apartment building The Vue celebrating Google Fiber's launch there and in a number of other similar Uptown buildings, made possible largely due to accounts that TVCs played a role in acquiring.
Another former contractor told Creative Loafing she had suspected cuts for weeks, but was still surprised by the audacity of the timing. She spoke on condition of anonymity because she and others like her were made to sign nondisclosure agreements in order to receive severance packages that included two weeks of pay. We'll refer to her as Tiara.
"We had this huge event at The Vue, we busted our asses, and then it was the next day that we got this cryptic phone call," Tiara said. "So when we got let go I was like, 'I asked you guys three weeks ago. I asked you guys. And you guys lied to us. So now you're putting people in jeopardy who have children or are trying to figure out their lives again abruptly because you guys weren't straight with us.'"
In October 2016, Google's parent company Alphabet announced that it would be "pausing" plans to rollout Fiber in 11 cities, or ending them altogether. The company also announced a 9-percent cut to staff in its national Google Fiber division.
However, those plans were not meant to affect plans here. And despite any setbacks, Google Fiber has remained active in the community. In June, during Google's global month of service, or GoogleServe, the Charlotte office had 100 percent participation, volunteering more than 124 hours to local groups like Behailu Academy and Digi-Bridge, a nonprofit aimed at increasing internet access in underserved communities.
For David Jessup, Jr., founder of Digi-Bridge, it's crucial that Google Fiber is able to continue operating in Charlotte. Fiber has been one of the nonprofit's main investors here in Charlotte.
Digi-Bridge launched its Daddy Daughter Code-In events in 2016, after partnering with President Obama's innovative Computer Science for All (CSA) initiative, which included $25 million in grants for computer science education, some of which would go toward Digi-Bridge's #STEAMSaturday and Daddy Daughter Code-In events.
Families gathered at Google Fiber recently for Digi-Bridge's "Daddy Daughter Code-In" event.
The fourth such event was held in the Google Fiber space Uptown in June, and it's been extremely successful.
When the Trump administration recently released its proposed budget, the massive cuts to science funding included CSA. Google Fiber stepped in to invest in that program and other Digi-Bridge efforts to prioritize computer science education.
"We feel like it's important to keep that work and the momentum up and so Google Fiber has supported us both financially and to help continue those code-ins," Jessup said.
Jessup said Google Fiber's arrival in Charlotte has put computer science at the forefront of Charlotteans' minds, and helped spur action where there was once just talk.
"Their presence here in Charlotte has accelerated the conversation about the importance of connectivity," he said. "In addition, of course, they've made significant investments in our nonprofit to help us with the work that we're doing to connect youth to tech experiences and different opportunities for growth and job- and career-readiness. They've truly been an invaluable partner in helping us push forth our missions, specifically as it relates to minorities and women in tech."
Although it was For those exact reasons that Hendley and Tiara joined on with Google Fiber, they both began noticing internal problems at the Uptown space not long into their tenures there.
Hendley, who has worked for large companies like Disney and Universal Music in the past, noticed careless overspending from fulltime employees who, for instance, would take their expensed Google Pay credit cards to go buy coffee despite the presence of free coffee throughout the office.
She said she saw fulltime employees, many of whom had never held another job outside of Google, spend recklessly on company parties, one time spending $10,000 on a community pool party in Highland Creek that could have been thrown for a fraction of that.
The workplace became more uncomfortable later, however, as bad publicity seemed to take its toll on workplace relationships.
"In the beginning, there was much more transparency," Tiara said. "Google really started off making us feel as though we were part of the team. Upper management really tried to pull us into the fold, then kind of abruptly, the behavior changed. You saw a clear divide between the vendor contractors and the Google team."
She said the sudden lack of communication and transparency hurt morale around the office and affected how work was done.
"A lot of us were always concerned about what is the fate of Google. Of course we're reading the news just like every other citizen is reading the news, but there still wasn't a lot of forthcoming conversation about what's going to happen," she said. "There was a lot of emptiness; emptiness in terms of the Fiber space in and of itself. There just wasn't a ton to do. I think they really overestimated people signing up for it, and then having construction issues and all this bad publicity, it definitely affected the way people responded."
For Hendley, the workplace became toxic. One specific manager on the Google team refused to look her in the face when they spoke. One time during a meeting, she began to voice an idea and he turned his back to her in his chair chair and raised his hand to tell her to stop.
"He looked at another Google team member and said, 'I want to hear what you think because we're the ones that have to go back and have this conversation,'" Hendley recalled. "Another [fulltime employee] texted me right there in the meeting and was like, 'Are you OK?' They could see the heat rise. This was the first time I had experienced this."
Hendley said she doesn't want to come off as disgruntled, and that she was relieved when the company finally let her go, but she's disappointed in the mismanagement of a company with so much potential to help people in Charlotte.
Regardless of what Google Fiber says publicly, Tiara said she doesn't believe the company will last much longer in Charlotte. Despite her rocky relationship with many of the fulltime employees left in the space, she said she's concerned they'll eventually face the same reality she did.
"They're going to end up selling. That's the piece I think they're just waiting for," she said. "Don't get me wrong, I am a human being, so I understand that there were Google employees that were here specifically because they have roots here or in North Carolina. Once it shuts down, where do they go?"