In a special session called hastily on July 24, the Republican-controlled North Carolina General Assembly passed two bills that left Democratic representatives and a huge chunk of Charlotte's residents wondering: What the hell just happened?
Let us break it down for you.
House Bill 3 will limit the description of proposed constitutional amendments on ballots, meaning voters who haven't done their research on a given amendment won't have explanations in front of them, as was mandated by a 2016 law. Senate Bill 3 will force one state Supreme Court candidate to be on the November ballot without mention of his party affiliation. Opposing lawmakers believe both bills will withhold information from voters this November.
Six amendments to the state constitution will be on the ballot in the coming election, covering topics from voter ID to hunting and fishing. Proposed amendments are supposed to be accompanied by short captions that inform voters about what they're voting for or against, but that's all going to change.
In past elections, the Constitutional Amendments Publication Commission — a bipartisan committee comprised of Secretary of State Elaine Marshall (D), Attorney General Josh Stein (D) and Legislative Services Officer Paul Coble (R) — have written those captions, which appeared on placards and pamphlets found at voting sites. This year, they were to be included on ballots to help voters better understand what they're voting on.
HB3, pushed by N.C. Rep. David Lewis, a Republican who called the special session, flew through the General Assembly, with votes split along party lines. The legislation states that instead of informative captions about the amendments, each item on the ballot will only include the words "constitutional amendment" as its title, leaving voters to fend for themselves.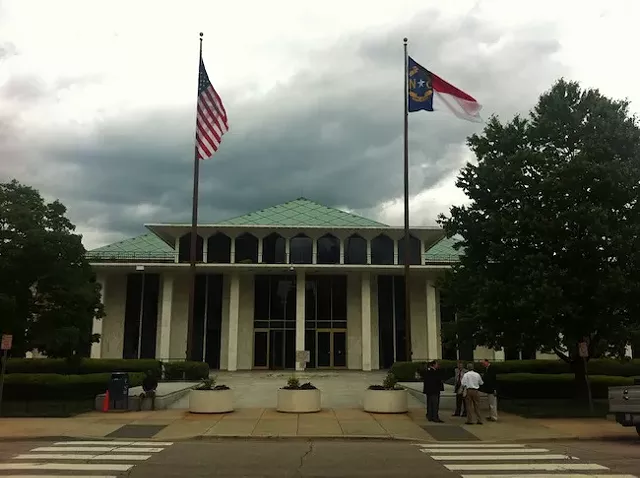 Rep. David Lewis called his fellow legislators back to the North Carolina Legislative Building for a special session on July 24. (Photo by Ally Labar)
Republicans claim the bill was necessary to prevent the Constitutional Amendments Publication Commission, which has a Democrat majority, from writing politicized captions.
N.C. Sen. Jeff Jackson, a Democrat who represents Charlotte, says the legal jargon that makes up each amendment, which voters are able to read in the voting booth, is too misleading for the casual voter to make an informed judgement. He says two amendments that allow Republicans judicial privileges while taking away rights from the governor are particularly dishonest.
Jackson is referring to the constitutional amendment that gives the legislature the power to appoint the elections board, while removing the governor from that board. The other amendment would also take away from the governor's power, this one letting the legislature choose two judicial nominees from the suggestions of a nonpartisan commission that the governor would then decide between, rather than letting the governor continue to appoint his or her own nominees.
"Basically, legislative leadership wants citizens to transfer more power to them by passing these amendments, and they want to make sure the ballot language doesn't tip people off that that's what's really happening," Jackson said. "This primarily concerns the amendments regarding judicial vacancies at the state board of elections for which the ballot language will now be incredibly misleading."
N.C. Rep. John Autry, a former Charlotte City Council member who now represents Mecklenburg County, agreed that the lack of captions will lead to Republicans allowing misleading amendments on the ballot.
"Their intention is to obfuscate and hide the real impact of these constitutional amendments on the people of North Carolina," Autry said.
But Republicans said eliminating captions prevents overly politicized language from making it on the ballot. N.C. GOP Executive Director Dallas Woodhouse tweeted, "The voters will cast their judgements on the actual amendment(s) text. Citizens will vote on the constitutional amendments. No captions, no short titles."
Requests for comment from Rep. Lewis' office for this story went unanswered.
Senior Political Analyst Mitch Kokai with the John Locke Foundation, a conservative think tank based in Raleigh, said the language of the amendments will be enough for voters to make a decision.
"I think that basically what this will end up doing is reduce the possibility of any type of confusion," Kokai said. "It became clear that there was the opportunity for some partisan shenanigans to be involved."
Kokai also pointed out that this November would have been the first time the captions would appear on the ballot.
The General Assembly passed the law charging the Commission with caption-writing in 1983. Since then, the captions were included on placards at voting locations and in pamphlets handed out by volunteers there.
Now, Kokai said, the Republicans are trying to fix something that they, themselves, broke.
Following the one-day special session, Gov. Roy Cooper sent out an email blast that called the move to leave captions off the ballot deceptive. Lewis tweeted his response: "Calling a Constitutional Amendment a 'Constitutional Amendment' is not misleading."
Kokai was critical of the Democrats' response to the bills. He said the rhetoric on the floor and in these emails went too far.
"[Democrats are] basically talking about the General Assembly coming in and writing misleading ballot language and trying to deceive voters," Kokai said. "If you you look at what the General Assembly actually did, it's just taking away the prospect of misleading language."
While the elimination of captions was a blow for Democrats, Jackson said legislators at least had some notice that this change was coming. The same couldn't be said for SB3, which was slipped through after the HB3 vote.
Jackson said lawmakers were in recess on Tuesday afternoon when Republicans suddenly filed the bill, which retroactively changed election laws, a move he believes was meant to help the GOP win a state Supreme Court appointment.
The bill, similarly pushed through the General Assembly on the same day it was filed, will require a 90-day deadline for candidates to make any party affiliation changes before filing to run for office in order for the candidate's party affiliation to be listed on the ballot.
This legislation impacts Chris Anglin, who's running for state Supreme Court. Anglin had been registered as a Democrat, but weeks before filing to run changed his affiliation to Republican, not meeting the proposed 90-day deadline.
Many Republicans were not ready to welcome Anglin into their party with open arms. In an interview with The Charlotte Observer, Woodhouse called Anglin "the enemy."
With two Republicans on the ballot, many believed the conservative vote would splinter, giving Anita Earls, a Democrat, an edge and potentially increasing the Democrats advantage at the Supreme Court from 4-3 to 5-2.
Jackson pointed out that Anglin will be the only candidate affected by the retroactive change. While Justice Barbara Jackson will have an R next to her name, and Earls a D, Anglin will have nothing next to his.
Jackson believes the reason for this bill stems from legislation set earlier this year eliminating judicial primaries.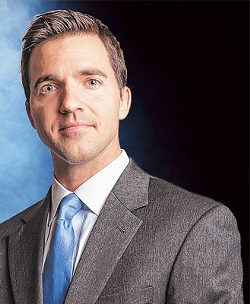 N.C. Sen. Jeff Jackson (Photo by Justin Driscoll)
"Republican leadership set a trap for Democrats by eliminating the judicial primaries, hoping that lots of Democrats would run against one Republican for Supreme Court, splitting the vote for Democrats and helping the Republicans win," he said.
From there, Jackson said one Republican group aggressively mailed Democratic attorneys across the state to encourage them to run for the Supreme Court.
"Thousands of Democratically registered attorneys got mail saying, you know, 'Can't you picture yourself on the Supreme Court?'" he said. "It was very blatant."
The move backfired, and Republicans now are trying to "spring themselves loose" from the consequences, Jackson said.
Whether Anglin running without a listed party affiliation will actually benefit Republicans remains uncertain, but the intentions of the GOP in speedily passing the legislation were clear, Jackson said.
He pointed out that the ballots will be printed on August 8, leaving little time for debate on the issue.
"This is about power," Jackson said. "That's all this is about. Eliminating the captions was about protecting their power grab."
Gov. Roy Cooper vetoed the bills July 27, but the Republicans have the numbers to overturn it. Democrats will have to rely on a court challenge to keep the legislation from going into effect.
Kokai is unsure the senate bill keeping Anglin from listing his affiliation will hold up.
"The problem for the Republicans is, that's the situation they set up, with their own rules," he said. "They're trying to correct a problem they created themselves, and I don't know that the courts are going to let them get away with it."
For Autry, the integrity of voting is at stake. "The bottom line is the Republicans' only hope for passing these constitutional amendments is to shut the public out and deceive voters about the consequences," he said.
Autry continued, "The amendments make it harder to vote if they are passed, and it also allows Republicans to pick their own judges, to appoint their own regulators and members to these commissions where a lot of policy boils up from."
Autry said the changes will effectively roll back checks and balances that exist in the state government.
"So many of their laws since they took control in 2011 have been deemed unconstitutional by judges," Autry said. "So now you're going to set yourself up as the means for picking those judges, who will make those determinations about the constitutionality of the laws that you're writing. That seems to fly in the face of our democratic principles."
Autry's greatest hope now is that voters will decide against the amendments, which he said would create a state constitution that "will take an entire bookshelf to hold." He believes a simpler document would benefit voters.
As for Jackson, he plans to hold the Republicans accountable.
At the special session, Jackson spoke out against HB3 on the senate floor. He said the language in the amendment concerning judicial vacancies was dishonest, that the amendment makes it seem like an independent commission will make appointment decisions, although in actuality, appointments will be made by the GOP-led General Assembly.
"I said, 'You're just deliberately misleading people in order to accumulate a little more power,'" Jackson recalled. "And you know what? No one stood up and said I was wrong.
"They all have microphones on their desk," Jackson said. "None of them bothered to try and correct me, because they know I'm right."