(View From The Couch is a weekly column that reviews what's new on Blu-ray and DVD.)
Shailene Woodley and Theo James in Divergent (Photo: Summit)
DIVERGENT (2014). In the ongoing struggle to discover another Young Adult title that might possibly earn Twilight- or The Hunger Games-like dough — adaptations like Beautiful Creatures, The Host and The Mortal Instruments: City of Bones all fell disastrously short — Divergent did far better than most. It's a movie that gets better as it proceeds, and it's easy to imagine the series as a whole working in similar fashion, with each subsequent picture (planned for each of the next three Marches) better than the one which preceded it. For now, we're off to a shaky start with the first installment in the franchise penned for the page by Veronica Roth. It's the future, and people choose to belong to one of five separate factions: Abnegation, the selfless ruling class; Erudite, the brainiacs seeking to overthrow Abnegation; Dauntless, the city's protectors; Candor, full of truth-tellers; and Amity, those happily toiling in the fields. And then there are Divergents, those who don't fit into any one class and are deemed dangerous by Erudite. Sixteen-year-old Beatrice "Tris" Prior (Shailene Woodley) is Abnegation by birth and Dauntless by choice — she's really a Divergent, though, which pits her against the Erudite leader Jeanine Matthews (Kate Winslet). Divergent stumbles out of the gate, largely because it's hard to ignore its derivative nature: Tris' ordeals often bring to mind those of The Hunger Games' Katniss Everdeen, while all that's missing from the ceremony in which each teen must choose his or her faction is Professor Dumbledore's Sorting Hat. But as the story finds its own way, the film improves, offering a nice contrast in Dauntless leadership between the tough but tender Four (pursed-lipped Theo James) and the cruel and callous Eric (sneer-lipped Jai Courtney), placing Tris and the other recruits through some grueling tests (both mentally and physically), and generating some real tension as Jeanine and her fellow fascists instigate their coup d'etat. The film eventually overstays its welcome (often a risk with a running time on the other side of two hours) with a seemingly endless series of climaxes, and while the movie's not quite accomplished enough to leave us breathlessly awaiting the next chapter (as did the last Hunger Games flick), it also doesn't leave us wanting to avoid the sequel at all costs. In the YA film canon, that should be considered a positive.
DVD extras include audio commentary by director Neil Burger; separate audio commentary by producers Douglas Wick and Lucy Fisher; and deleted scenes.
Movie: **1/2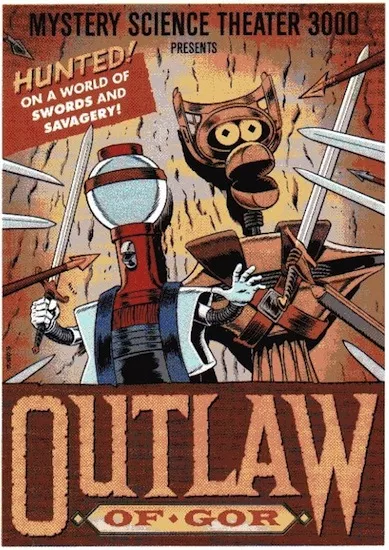 MYSTERY SCIENCE THEATER 3000: VOLUME XXX (2014). It's the big 3-0 for MST3K on DVD, yet we're the ones receiving presents in the form of four more titles on disc.
The thing to note about this collection is that it contains not one but two movies that aren't nearly as bad as the cinematic rotgut usually screened on the Satellite of Love. The first of this pair is The Black Scorpion (movie made in 1957; featured on MST3K in 1990), one of the numerous "giant critter" flicks to emerge from the 1950s. While nowhere near the quality of Them! or Tarantula (though it is preferable to The Giant Claw), this is average rather than awful, bolstered by the visual effects work from King Kong creator Willis O'Brien. Of course, for Joel and the Bots, it's business as usual, as the film gets hammered with all manner of pop culture references, not least being a shout-out to the Jim Belushi dog K-9.
As a stand-alone film, Outlaw (of Gor) (movie made in 1988; featured on MST3K in 1993) is pretty wretched; as an MST3K episode, it's comic dynamite. Also making the rounds under the moniker Gor II (yes, it's a sequel), this finds the heroic Cabot (Urbano Barberini) and his obnoxious pal Watney (Russel Savadier) magically transported to the planet Gor, where they must battle an evil queen (Donna Denton) and an equally wicked priest (Jack Palance, stranded in this nightmare a mere two years before his Oscar-winning role in City Slickers). The portly, nerdy Watney makes for perhaps one of the most annoying characters in all of cinema, thereby providing Mike, Crow and Servo with plenty of opportunities to go for the jugular. Palance also takes a brutal beatdown, and with quips involving everything from the Coens' Miller's Crossing to Man of La Mancha, this one's a keeper.
Bryant Haliday in The Projected Man (Photo: Shout! & Universal)
Like The Black Scorpion, The Projected Man (movie made in 1966; featured on MST3K in 1998) isn't that bad a film; instead, it's merely a mediocrity that combines the plots of The Fly and the Karloff-Lugosi thriller The Invisible Ray by focusing on a scientist (Bryant Haliday) whose teleportation machine turns him into a deformed creature who can kill with just his touch. This being a Pearl/Bobo/Brain Guy episode, don't expect too much hilarity in the host segments, but the auditorium riffing is solid (especially when Crow suggests that they burn down the theater!).
The late, great makeup/effects artist Stan Winston (The Terminator, Jurassic Park) made his feature debut with It Lives By Night (movie made in 1974; featured on MST3K in 1999), as did veteran cinematographer Matthew F. Leonetti (Poltergeist, Breaking Away). Annnd that's about all the positives to cite regarding this daft horror yarn that's perhaps better known under its original title of The Bat People. Actually, for practically the entire film, there's only one bat person, a clod (Stewart Moss) who enters a cave and proceeds to get bitten by a bat; his equally idiotic wife (Marianne McAndrew), a pervy sheriff (Michael Pataki) and an inept doctor (Paul Carr) are all on hand once he turns into a murderous creature of the night. The doltish characters were seemingly made to be mocked on MST3K, although I also got a lot of chuckles out of the bat-related puns (e.g. "It's the Bats Motel!"). And for the record, Mike does a pretty damn good impersonation of The Mary Tyler Moore Show's Ted Baxter.
DVD extras include making-of featurettes on The Black Scorpion and The Projected Man; pieces on the author (John Norman), director (John "Bud" Cardos) and producer (Harry Alan Towers) of Outlaw (of Gor); and theatrical trailers.
Collection: ***
Aaron Paul in Need for Speed (Photo: Touchstone & DreamWorks)
NEED FOR SPEED (2014). Talk about braking bad. Based on the video game series, Need for Speed isn't fast and furious as much as it's hyperactive and mildly ticked off. The Vin Diesel-Paul Walker (RIP) F&F franchise may not be high art, but in its best moments, it's high entertainment — a claim that can't be made by this increasingly idiotic picture that could easily have been titled Dumb and Dumber had that moniker not been snapped up two decades ago. Aaron Paul, attempting to launch a film career now that Breaking Bad has wrapped, is asked to do nothing but glower and grimace as Tobey Marshall, a mechanic who hangs around with his annoying sycophants (Scott Mescudi, Rami Malek, Ramon Rodriguez and Harrison Gilbertson) at his failing garage. His former nemesis, a slick suit named Dino Brewster (Dominic Cooper), offers him a lucrative job of rebuilding a classic car, but once their macho pissing contest begins, there's an illegal street race, one of Tobey's crew gets killed by Dino, and Tobey ends up taking the rap. When Tobey emerges from jail a few years later, he's hellbent on getting revenge on Dino, so he opts to challenge him in an underground racing tournament masterminded by a mysterious figure known as Monarch (Michael Keaton). It's commendable that much of the vehicular stunts and chases were filmed with actual cars and not CGI wizardry (director Scott Waugh is himself a former stuntman), but it's hard to enjoy the mayhem when it's presented in such nihilistic fashion. For a popcorn picture, this is rough stuff, with our ostensible heroes so wrapped up in their vainglorious escapades that they aren't concerned at all with how many civilians and police officers they might have killed (and in one scene, after they come this close to plowing down a homeless man, they all share a hearty laugh over the near-brush with vehicular manslaughter). Obviously, viewers aren't expected to reflect on this sort of thing, and usually it's easy to swat it away like a fly. But because the movie is one of those chest-puffed-up pieces about codes of honor and manly manifestos of morality, its protagonists come off less like heroes (or even anti-heroes) and more like petulant brats who get upset when Mom tells them it's time to put away their Matchbox cars.
Blu-ray extras include audio commentary by Paul and Waugh; a behind-the-scenes piece; deleted scenes; a look at the sound design; and outtakes featuring Keaton and Mescudi.
Movie: *1/2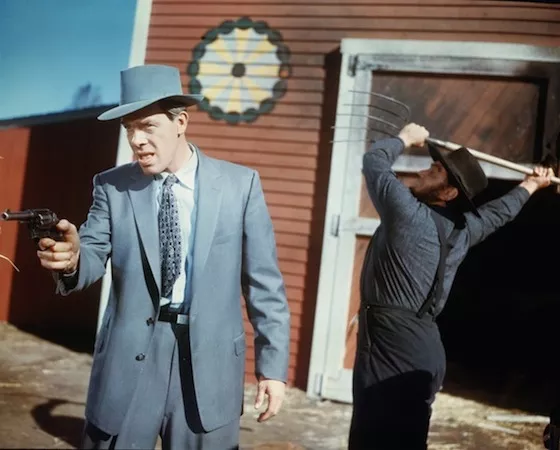 Lee Marvin and Ernest Borgnine in Violent Saturday (Photo: Twilight Time)
VIOLENT SATURDAY (1955). With Violent Saturday as its title and a cast that includes such Hollywood tough guys as Lee Marvin, Victor Mature and Ernest Borgnine, here's a film that's ready-made to be presented as a dark, dank noir photographed in smoky black and white. It's quite the shock, then, to be confronted with a movie whose CinemaScope/DeLuxe presentation is so rich that the colors threaten to bleed off the TV screen — and one which ultimately seems as much Peyton Place as The Asphalt Jungle. Three criminals of varying temperaments — the curt, non-nonsense Harper (Stephen McNally), the jittery, casually cruel Dill (Marvin) and the bookish, methodical Chapman (J. Carrol Naish) — arrive in the town of Bradenville with the intention of robbing its bank. As they set about plotting their caper, the film wanders off to check on several of the morally shaky members of the community, including a wife (Margaret Hayes) cheating on her alcoholic husband (Richard Egan) with a country-club cad (Brad Dexter, aka the least famous of The Magnificent Seven), a bank manager (Tommy Noonan) who obsessively spies on a pretty customer (Virginia Leith), and a library assistant (Sylvia Sidney) who resorts to theft to make ends meet. Compared to these folks, family man Shelley Martin (top-billed Mature) comes off as a pillar of the community, although even he has to contend with a son (Billy Chapin) who's disappointed that Pop wasn't a war hero. But Shelley will get his moment to shine once he becomes a vital (if unwilling) component in the carefully planned bank robbery. Even with a brisk running time (90 minutes), writer Sydney Boehm (working from William L. Heath's novel) manages to pack plenty of detail into his characterizations, and Marvin and Naish are the cast MVPs as two of the sweaty hoodlums. Borgnine, perhaps surprisingly, doesn't play a heavy; instead, he's cast as a soft-spoken Amish farmer who abhors violence. Then again, maybe Ernie was just using this part as a test run for 1981's Deadly Blessing, in which he portrayed an identically garbed fire-and-brimstone sort prone to bellowing proclamations like "You are a stench in the nostrils of God!"
Blu-ray extras consist of audio commentary by film historians Julie Kirgo and Nick Redman and an isolated track of Hugo Friedhofer's score.
Movie: ***