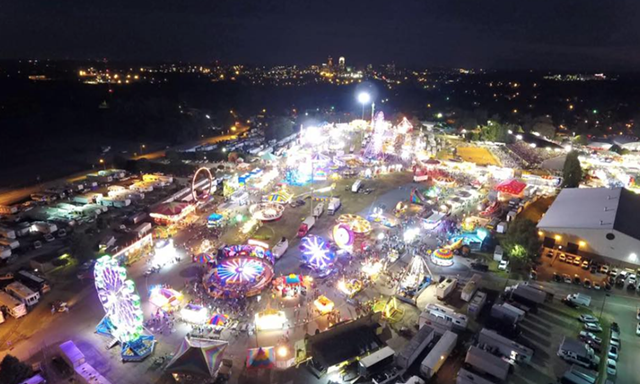 The city of Winston-Salem took to Twitter Wednesday morning to announce that the Dixie Classic Fair will soon be renamed.
We have started a process to change the name of the Dixie Classic Fair, but it includes multiple avenues of collecting public input. Details will be released shortly. @JournalNow @myfox8 @WXII

— City of Winston-Salem, NC (@CityofWS) April 24, 2019
The tweet, released at 8:41 a.m. Wednesday, triggered a firestorm of responses across social media. Here are some of the responses: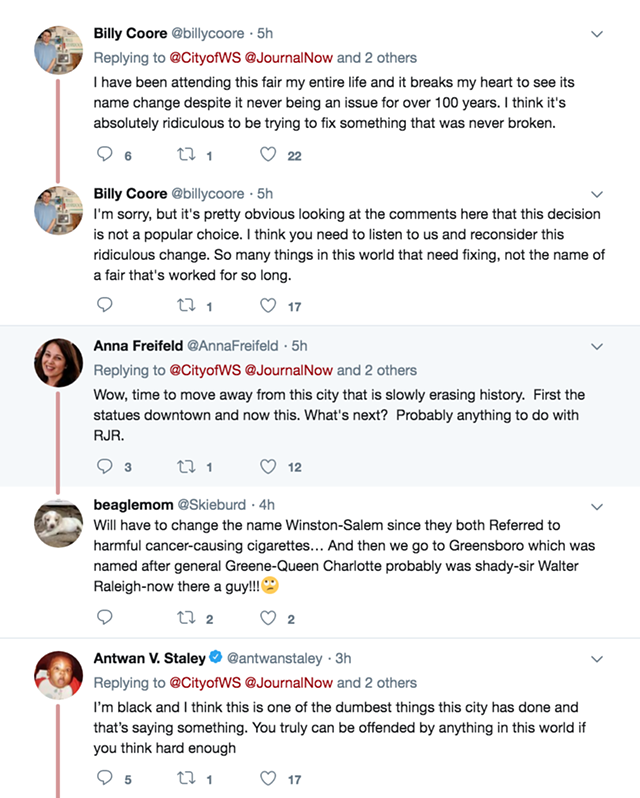 The conversation about changing the fair's name sparked attention earlier this month when members of the community took issue with the word Dixie, pointing to its connections to slavery and the Confederacy,
WXII reported
.
Rev. Sir Walter Mack Jr.
, the pastor at
Union Baptist Church
, addressed the City Council, where he called for the possible renaming of the fair to be added to an upcoming City Council agenda.
"Dixie does represent the Southern states that fought to hold on to slavery." Rev. Mack said he learned about the name "Dixie" in 1988 while attending
Elon University
and he has not attended the Dixie Classic Fair since. "This is a movement about unity and love and this is not about dividing and separating the city. This is about us doing whatever we can to help bridge and bring people together."
Mack is joined by the group Love Out Loud and other community members to push for the City Council to consider changing the fair's name,
WXII reported.
"Reading literature and getting involved in studies about the south, that's when I began to learn deeper about the history of the south and a lot of the pain of the south that resonates even today and so I think if those people who may oppose the change of the name, we just pray that they would understand the pain that it may cause for a certain segment of people. Dr. King said something that is real today. He said that what directly affects some of us indirectly affects all of us and so that we just pray that they would understand that it is hurtful to a segment of people and this is not about hate. This is about love. This is about unity. This is about us coming together and being one people in the city of Winston-Salem, a beautiful city," said Rev. Dr. Mack, Jr.
Rev. Carl Manuel
, the pastor of
Burkhead United Methodist Church
, suggested that the name Dixie is a relic of the past:
"This is not 1969, this is 2019," Manuel said. "If things have changed in Washington, D.C., and in Raleigh, N.C., why can't we make a change here? We are in the season of Lent. We need to search our hearts and minds. Let's repent and start over and give the fair a name everyone will be comfortable going to."
The fair began in the former town of Salem as a grain exposition in 1882. The name
Dixie Classic
dates back to 1956, per WFMY. It was chosen when the Dixie Classic Livestock Exhibition and the Winston-Salem Fair were combined into one event, and "organizers wanted a name that would reflect the fair's broad regional reach," WFMY reported.
Dixie Classic Fair organizers responded to this issue earlier this month:
"The Dixie Classic Fair is really all about bringing the community together and it's just a big celebration of how great the Triad and western North Carolina really is so we're all about getting everyone together and being happy and celebrating how great we are," said Rachael Lough, the Public Relations Manager for the Dixie Classic Fair.
"The Dixie Classic Fair is just a big agricultural fair. Our goal is to educate the community about the agriculture in the area which is why the livestock roots come into play. But we're all about getting the community together and celebrating how great our agriculture is, not just in the state but especially in our region where we're noted for how great it is here."
"Every couple of years, something comes up with the name changes and people asking for it but we get a big hear back from the community about how they like the Dixie Classic Fair. This year, we had over 320,000 people enter the fair. Of course, we want everybody in the area to come to the fair but we can't please everybody, I assume."
"The word 'Dixie' does bring up connotations of other negative times in history and events, and I would hope that people would be open enough to understand that," City Council member D.D. Adams said, according to WXII. "Because of where we are in America right now, we need to be more open and inclusive and diverse, but we as Americans need to also understand that there is part of our history that was very oppressive and hurt people."
A press release was sent out
Wednesday afternoon
, stating that at the request of Mayor Allen Joines and City Council, the Public Assembly Facilities Commission and Fair Planning Committee are inviting members of the public to submit their ideas on a new name for the Dixie Classic Fair, to
take effect in 2020
. Submit name ideas via a city survey, now through June 3rd. Here is the survey link to submit an idea:
https://www.surveymonkey.com/r/DCFNameInput
Not everyone is supportive of changing the name.
"We are putting a lot of energy into finding a new name rather than finding out if a majority wants a new name," committee member Lisa Eldridge said of the process that could be determined by a June 17 City Council meeting, according to the Winston-Salem Journal.
A new name is not expected to be in place until 2020, meaning the 137th running of the fair, from
Oct. 4-13
, will still be called the Dixie Classic.