I found myself in Ulta the other day, as I usually do when I have money to burn, faced with a flashback about 15 years old. As I stood in front of the Revlon nail polish display, I noticed a small line of scented nail polishes in sophisticated scents such as mango, cotton candy and passion fruit. When I was a child, my mother often found me with my fingers stuck up my nose, sniffing my chocolate scented nail polish. While I'm not so inclined to return to that phase in my life (in which appendages went in places they should not go), I couldn't help but be a little excited. Could Revlon's current line of scented polish mark a comeback for my fragrant fingertips?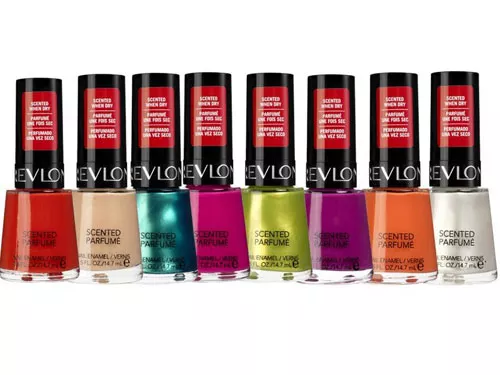 Gone are the days of picking out a polish just because it looked pretty. Nails go through phases just like clothes and accessories — think back to press-on nails. Colors, designs and application techniques evolve with the fashion industry, and what's on your nails is just as important as what you're wearing. The secret to staying on top is at your fingertips.
"Let your nails be their own accessories," says Brenda Anderson, a nail technician at NoDa Nail Salon. "Your colors don't have to correspond with your outfit. They can be their own entity. Pick something that will stand out." It's no surprise that neons are in the spotlight right now, and that has translated into nail design. French manicures are getting funky with neon tips and neutral bases. In addition, ombre isn't just for your hair; paint each finger a different shade of the same color for a similar effect.
Going out and buying a new outfit each time a fresh style hits the stores can get expensive. Luckily, small doses of color make a big statement on your nails. If pastels look passé on your frame, it's worth trying it out on your fingertips. Not to mention, glitter is awesome. Used as either a topcoat or the main color, or even to add some sparkle as an accent nail, all that glitters is good on the manicure front.
Anderson says the most popular summer colors are China Glaze's "Japanese Koi," a bright reddish-orange neon that pops with a tan, or OPI's "Strawberry Margarita," the perfect pink and a fan favorite. Seafoam is another coveted color, similar to OPI's "Mermaid Tears."
Salon quality nail polishes, such as OPI, Essie and Orly, typically run about $8 per bottle. This might seem like a hefty price for such a small quantity, but it has some advantages. A spokesperson at ULTA in Stonecrest pointed out that salon brands frequently come out with designer or celebrity-inspired hues, and release new collections every season to stay on top of what is reflected on the runway. In short, you're paying for cutting-edge color.
If nothing else, the names of some of these nail polishes are worth a good chuckle. OPI is famous for their cheeky and witty names, such as "Tickly my France-y," "I'm Indi-a Mood For Love," and "What's with the Cattitude." They recently released The Amazing Spider-Man Collection, in conjunction with the movie release, with names like "Your Web Or Mine?" I'll admit that I've purchased a polish just for the name before.
But even without influence from the fashion and movie industries, nail artists are raising the stakes. Magnetic polishes can create swirled designs when held up to a magnet. And crackle, or shatter, topcoats are also everywhere. The topcoat is applied over regular nail polish, and through some nail-magic, creates a shatter effect on the nails. I can't say that I'm a fan, but then again, I'm the girl who sniffed her fingertips when that was cool.
Another popular craze is Sally Hansen's Salon Effects nail polish strips. Like stickers for your nails, these trendy strips come in a variety of fun patterns and prints, from lace to glitter, all designed to be smoothed onto the nail without the hassle of an elaborate manicure. The funky designs seem best suited to an accent nail, rather than all 10 digits. This is also a good choice for anyone scared of commitment, as the only complaint is that the strips don't last long.
There's something suitable for everyone's style, whether that be chocolate-scented nail polish or the classic French manicure. All it takes is the stroke of a brush to transform your ten into a 10.