THE YEAR 2017 has been nothing short of spectacular for Charlotte's various music scenes. From intimate, eclectic showcases of area rock, hip-hop and singer-songwriter fare at Petra's, to Snug Harbor's monthly local-music residencies, to the free-jazz and poetry of Brent and Amy Bagwell's "Antidote" series, to all-day festivals such as the Bla/Alt Black Alternative Music Fest at Camp North End, Charlotte has offered a kaleidoscope of choices over the past year.
Fans of all kinds of adventurous music couldn't have been bored in 2017 unless they chose to only attend the vanilla music events that The Charlotte Observer enumerated in its recent list of 10 favorite concerts of the year, which included such mind-numbing buzzkills as the Red Hot Chili Peppers, Foo Fighters and Guns 'n Roses.
The big question for folks who flocked to those events: Why? Why would you pay top dollar for bad seats at concerts by mostly has-been national rock acts when there was so much great local music in Charlotte clubs and at festivals throughout the past year?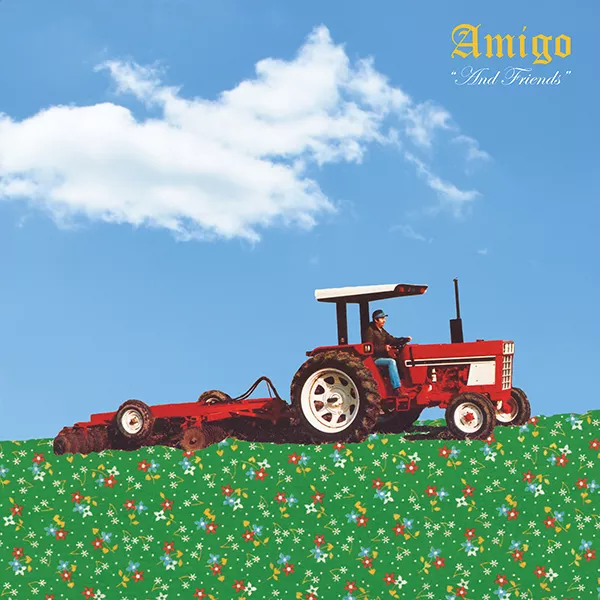 Amigo will release 'And Friends' on January 26.
This week, 2017 comes to an end and a new year is on the horizon. We talked to numerous local artists and bands about their plans for 2018, and if the response we got is any indication, the city is gearing up for yet another explosion of music. It may even be a more powerful explosion than last year's.
We're pretty sure there will be more local music coming than what we've surveyed here, so stay tuned to Creative Loafing for updates throughout the year.
ON JANUARY 11, after all the party baloons have popped and noisemakers silenced across Charlotte following New Year's Eve celebrations, the new year proper will kick off at Camp North End, where Simon Yemane's Umbrellamindz music collective and studio will launch a new monthly house mixer at the collective's HQ, featuring DJ MB.
Umbrellamindz also has a slate of releases planned throughout the year, including the solo debut of the collective's head engineer SLP Da KING (producer of Charlotte teen rapper Ahmir the King's album) in mid-February, and later the debut of another young new rapper, PIGG. "He's a YFN Lucci-type artist," Yemane says of PIGG — meaning, we assume, that he's a little rappy and a little singy.
On January 26, Charlotte country-rock outfit Amigo will release its long-awaited third album, And Friends, which was produced by Mitch Easter (Let's Active, R.E.M.) at his Fidelitorium studio in Kernersville. The new album, says Slade Baird, Amigo's singer, songwriter and guitarist, comes out on the band's own Carlisle Beauregard Records, "with U.S. distribution via RedEye, which is exciting because [that means] it'll actually be in record stores." Amigo will perform a release party the following night at Snug Harbor along with two other local acts, Sinners & Saints and It's Snakes.
------------------------------------------------------------------------------------------------------------------------
Spotlight: Lofidels
Demonstration (full-length album, due Feb. 22).
LoFidels' Lenny Muckle (Photo by Mark Kemp)
Lofidels is the one-man project of multi-instrumentalist and producer Lenny Muckle, who charged up the Bla/Alt festival this past October with a performance that held the small but growing early-afternoon crowd in rapture. The music was angry, vulnerable, poetic — and totally his own. Muckle's sound is like nothing else, and yet his marriage of punk and electronics has a familiar feel.
The spare and seductive, bass-fueled tracks on Lofidels' two EPs, Correspondence (2015) and Fiberglass (2017), and full-length Glass Canon (2016) knocked us out here at Creative Loafing in early 2017, so we rushed a story on the project for our July music issue. What's more, the storytelling in Muckle's songwriting provides little driveway moments for those times when you're listening in the car.
In the five months since the music issue came out, we've been bugging Muckle about a Lofidels' followup, so we'll have reason do a larger story on him in 2018. Look for one early in the year, after Demonsration hits the streets.
In the mean time, listen to Lofidels' Glass Canon here:
------------------------------------------------------------------------------------------------------------------------
ON FEBRUARY 2, Quisol, one of the up-and-coming local bands spotlighted in Creative Loafing's July music issue, will release its debut EP, The World Keeps Turning, which combines Quisol's political activism with its Latin-and jazz-tinged sound.
To the band's growing base of fans, lead man Joseph Samuel Quisol expresses gratitude. "Thank you for supporting Quisol, Queen's Collective, and the creative energy that thrives in the local scene," he says. "You have fed me, given me a stage to perform, and provided listening ears. Together, we've thrown electric events, done photo shoots, jammed out, danced, celebrated, marched, organized, protested, cried, moved out, moved in — and loved. And through it all, the band and I have been working on this EP, which we're excited to finally release."
Also in February, Yung Citizen drops his first full-length album, Millennial. The producer and rapper says the material on the followup to his 2016 EP Alive Sessions covers all the bases of what it's like to be a young adult living and working in America circa now — or, as he puts it, "the good, the bad and the ugly of being a millennial."
------------------------------------------------------------------------------------------------------------------------
Spotlight: Patois Counselors
Proper Release (full-length album, due in June).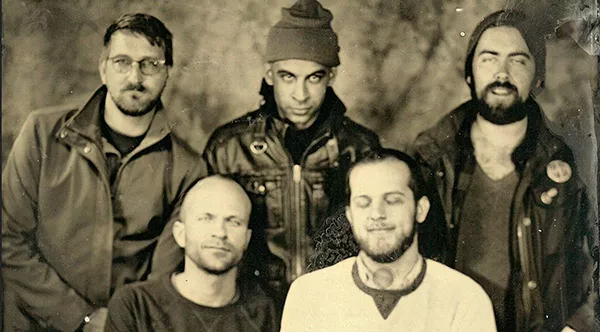 Patois Counselors (Photo by Jeff Howlett)
Bo White is spare with his words, and maybe that's because his music — wildly eclectic, ranging from solo acoustic fare to the noisy, atonal experimental rock he's done in bands from Calabi Yau to his most recent PatoisCounselors — does the talking for him. But White's fellow local musicians don't hesitate to champion one of Charlotte's most talented, adventurous and inventive players. One of them, Brett Green of Mineral Girls, can't wait to hear the Counselors' upcoming full-length debut.
"I've been waiting for this aptly named record for a while now," Green says of Proper Release. "If there is one Charlotte band I always wanted to be in, it's Patois Counselors. The evolution of the lineup and the sound has been incredible to watch."
Indeed it has. From the band's terrific debut 4-song 7-inch EP to its recent Snug Harbor residency, Patois Counselors has become a well-oiled machine, encompassing everything that's great about all of White's projects, from the lurching guitars and odd time signatures of Calabi Yau to the angular agit-pop and punk of his band TKO Faith Healer to the little electronic and jazz flourishes he's put to numerous other projects. Patois Counselors tied it all together on the EP, and we're champing at the bit in anticipation of the band's, well, proper release.
In the mean time, listen to Patois Counselors' 7-inch EP here:
------------------------------------------------------------------------------------------------------------------------
IN EARLY SPRING, the electronic soundscape artist Angela Saylor (aka Minthill) will release Funeral Home, her first full-length album after dribbling out stunning tracks of melancholic beauty sporadically througout the 2000s and 2010s. The album, Saylor says, "continues to delve into Minthill's dark world, with themes such as ghost towns and witchcraft, maintaining [an] emphasis on classical compositions, electronic drum beats and reverb-saturated vocals."
Someone at a recent performance noted that Minthill's music was reminiscent of si-fi classic Blade Runner, although Saylor says the film Liquid Sky has been a bigger inspiration. In June, Minthill will hit the road with Unicorns in the Snow, the project of Midwestern performance artist Julia Vering, Saylor's former partner in the Pacific Northwest indie band Muneca Chueca.
March finds Charlotte Americana outfit The New Familiars returning to the studio for their first album of new material since the band announced in 2015 that it was calling it quits. On March 16, the New Familiars will do a special collaborative show at the Neighborhood Theatre with former Muddy Waters guitarist Bob Margolin, who's "become more than a friend to us over the past couple years," says New Familiars multi-instrumentalist Justin Fedor, "he's become family.
"We're planning on doing a set of our music, having Bob do a set of his own, and then we'll do a set together," Fedor adds. "On top of all of that, Birdsong Brewery will be brewing a special beer themed around Muddy Waters."
Later in March, rapper Black Linen returns with Black Linen III, which he plans to unveil during an ambitious release party at Petra's on March 23 followed by a listening party the next day at DuppNSwat on Central Avenue.
"The listening and release parties are the real weight of the project," Black Linen says. "It's a total package focusing on marketing, promotion, advertisement, creativity, songwriting, orchestration, direction, aesthetics, choreography and more — all the things I want to eventually do for other artists." Look to CL for more details on Black Linen's multidisciplinary plans beginning in early Feburary.
Charlotte experimental musician-around-town Bo White's TKO Faith Healer — whose angular art-rock is reminiscent of such British agit-pop bands of the '70s and '80s as the Fall, Wire and Gang of Four — has a new self-released digital EP slated for a March release. It's the followup to Spoke, TKO's 6-song EP of 2016.
The members of Charlotte indie-punk band Late Bloomer still haven't firmed up a release date or title (which we reported in November was tentatively called Let's Get Weird) for their third album and first for indie label 6131 Records. But bassist Josh Robbins says it'll be coming during the first quarter of the year.
Robbins' other band, Alright, with his wife and Self Aware Records co-owner Sarah Blumenthal, also will be recording and releasing a new album in 2018.
------------------------------------------------------------------------------------------------------------------------
Spotlight: LeAnna Eden
Ease Your Soul, Chapman (full-length album, due in May).
LeAnna Eden (Photo by Jonathan Cooper)
When this former acoustic indie-folk singer-songwriter plugged in and cranked up the volume on LeAnna Eden and the Garden Of's self-titled 2017 EP, the results were outstanding. One of the better releases that came out of Charlotte in 2017, LETGO's EP featured distorted guitars in the angry "Dirty Water," funky riffage in "Walk Away" and simmering intensity in the darkly sublime "Secrets." The EP was so good that Creative Loafing's critics voted LeAnna Eden and the Garden Of "Best Band" in our 2017 Best of Charlotte issue in October.
That's why LETGO's full-length followup, Ease Your Soul, Chapman, is one of the releases we're looking forward to the most in 2018.
"This full-length album is a letter, a reflection, a moment of mindful awarenes of a new beginning," Eden tells us, offering a very sober assessment of the music before obliterating all that seriousness with characteristically dry humor: "I hope my mom gets to hear this."
In the mean time, listen to LETGO's debut EP here:
------------------------------------------------------------------------------------------------------------------------
Exotica music-meisters Don Telling's Island Mysteries will release its self-titled debut on April Fools Day. No, really! Expect dazzling special effects from the Mysterious Ones reminiscent of such tiki classics as Martin Denny's Exotica series of the late 1950s, and the Esquivel compilation Space-Age Bachelor Pad Music, released during the exotica revival of the mid-'90s.
Later in April — on 4/20, appropriately enough — stoner rapper HighImRy will drop a new record, the follow-up to his self-titled album of 2015 and his EP F(ry)day of the same year. The following day, on April 21, rapper Tizzy Farragami of Th3 Higher will stage his maiden New Era Hip-Hop Festival at the New Era Music House on Old Concord Road, featuring 50 rappers including locals Railz the Principle, LaLa Specific, NiGE Hood and lots more.
April is shaping up to be a big month for hip-hop in Charlotte, as Umbrellamindz' Yemane plans to launch a weekly open-mic cypher April 6 on the patio of the collective's Camp North End facility. He plans to continue the event through summer every Friday between 7 and 11 p.m.
Other Highlights coming from the Charlotte music scene next year:
* Justin Fedor continues his bi-annual Tribute Concerts to Benefit Levine Children's Hospital in 2018, with the next installment coming this summer. The theme for that event isn't nailed down yet, but Fedor and company are leaning towards paying tribute to women in music. Let's hope for a gaggle of great songs from artists ranging from Grace Slick to Grace Jones, Patti LaBelle to Patti Smith, and Lady Soul Aretha Franklin to Lady Gaga Stefani Joanne Angelina Germanotta.
* On October 20, LeAnna Eden will unveil the second Bla/Alt Black Alternative Music Festival at Camp North End.
* Singer Kevin "Mercury" Carter will release his full-length deut album, MercuryCarter, by fall or winter of 2018, and promises that it will be "an out-of-body experience for all lovers of good music."
* Power-pop queen Shalini returns to the studio with her band Party Battleship for a second album, slated for a fall release.
* Justin Fedor's other band, Ancient Cities, plans to release a new album in 2018, and Fedor says it will be a "100-percent DIY" endeavor — recorded at home, "uninhibited by budget, time or label influences."
* The Business People will be adding a new member to the band after the loss of second guitarist Will Schoonmaker to Cuzco last year. BP guitarist Nic Robinson says the group hopes to release new music by fall.
* Latin rockers Chocala head into the studio after their March residency at Snug Harbor, with a new release following soon thereafter.
* Brett Green of Mineral Girls has a slew of releases coming from all of his projects — which also includes Blanket Fort and Group Text. "The Blanket Fort album is going to be called In the UFO Over the Sea, and will be out whenever I get to it," Green says. "The Group Text album is possibly titled No Dude, That Was Their Punk Rock, This is Ours, which also features Cuzco guitarist Arman Serdarevi.
* Speaking of Cuzco — in early 2018, the Charlotte instrumental math-rock band will release a split record on local indie label Refresh Records along with Charleston's The Catholics.
* The XMen — a supergroup of nationally acclaimed funk, jazz and soul musicians based in Charlotte — will record its debut album in 2017 after performing and recording a live Christmas show in late 2017. The band, whose members have worked with artists ranging from Usher to Diddy, plan to drip out the live tracks digitally throughout 2018.