Ask any local about the music scene in Charlotte and most will agree — this is not Funkytown. There's no definitive version of the Motown Sound or iconic area like Beale Street. And despite producing black music lions from George Clinton to Anthony Hamilton, the Charlotte area's musical rep doesn't get any better when you add race to the equation.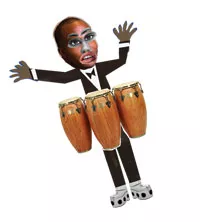 Charlotte's African-American music scene, which covers hip-hop and R&B as well as forays into nontraditional genres by black bands such as Elenora Fagan and Slow Motion Riot, is still searching for an audience of critical mass to appreciate its live shows and performance DJs. The problem goes from top to bottom, supply to demand.
Simply put, Charlotte's black music scene is invested in a mainstream, radio-trendy sound. Go to almost any "urban" open mic night and you'll see interchangeable crews onstage, rapping about their work ethic and the prodigious stacks of money it generates. Every club owner knows bottle service and Drake on deck pretty much guarantee a profit. People want the familiar, and most go out at night seeking not to be challenged as much as to be soothed; to drop the baggage of the week on the dance floor like it's hot and leave it there. That's respectable; in fact, it has historical precedence.
But like a vestigial tail, that tradition is no longer doing Charlotte's black creative class any favors. The necessary elements of a thriving music scene — venues that expose artists of particular genres to new fans, media outlets that publicize the music, promoters who bring fresh and established artists to town — have all existed separately at different times in the Q.C., but haven't come together to become semi-permanent fixtures on the landscape.
In the mid-20th century, blacks owned and operated a number of Charlotte clubs, especially along the Beatties Ford corridor. These included the Excelsior Club, founded in 1944 by James Robert "Jimmie" McKee, which is still open; the Hi-Fi Club, The Brickyard and Club Ballet.
"The Excelsior Club was the tops," Theoplis Ingram, a retired funeral director, recalls. A typical date in the late 1950s would see him in slacks and a dress shirt with his wife-to-be at Club Ballet, where they would "dance sometimes, but nothing fast." These venues were casual places to go and be human, feel beautiful and powerful before another week of drudgery and discrimination. The Excelsior Club brought to Charlotte national performers like Nat King Cole and James Brown, and The Pasture (actually located in a pasture off Beatties Ford Road) often showed local luminaries like Maurice Williams and the Zodiacs.
Those establishments were the exceptions; most black nightclubs did not feature live musical performances, opting instead for jukeboxes, and there were few places for local Charlotte talent to be developed, encouraged and groomed for a national stage.
As decades passed, desegregation saw a decline in the number of black-owned nightclubs in Charlotte. Nowadays, instead of specialized venues known for soul music, Top 40 clubs bring in promoters only for one-off nights and events like CIAA. The city's few remaining black clubs play mainstream R&B and hip-hop almost exclusively, viciously narrowing the window of sound heard from local artists.
But there's a change going on in the atmosphere of late. Pockets of people are trying their hand at a black alternative aesthetic that's offbeat, nerdy, fresh, and it's melding the Queen City's disparate pieces into a real music scene. These live shows, performance DJs and a nascent infrastructure of support are carving out a musical identity for Charlotte, in individual shining moments that are adding up to one hell of an illumination.
---
"We don't handhold when it comes to music. We're intentionally alienating; either you dig it or you don't."
---
EVENT NIGHTS
Every third Thursday, Damany "Smiley" Mayfield, DJ DR and DJ Skillz host Radio Rehab at Neighborhood Theatre. The night is a standing appointment for hip-hop lovers fiending for a shot of '90s-era boom bap. B-boys, naturalistas and everyday people crowd the dance floor, though more head-bobbing than breaking goes on, as people are drawn to the power of the turntables. DJ DR, who's been spinning in Charlotte for more than 12 years, and DJ Skillz, who also commands a large following, may put on a battle; icons like Big Pooh or Rich Medina may grace the stage; even local R&B artists or MCs like Elevator Jay may perform. But Mayfield is quick to point out it's not an open mic night: "Just because you know how to rhyme doesn't make you a rapper."
Rehab's feel is in stark contrast to younger-oriented hip-hop venues in the city, where lace fronts and 2 Chainz reign. "When you play that music, you see who comes out: ballers, a rough crowd. We're not popping bottles," Mayfield says. "We're open to diverse hip-hop, and not everyone will like our choices."
Mayfield doesn't appear to be losing any sleep over that. Rehab's crowd has been growing every month, and its one-year anniversary is coming up in January. Other nights for true hip-hop in the city include Off the Wall at Crown Station on Elizabeth Avenue every third Saturday, and Knockturnal each Monday at Snug Harbor in Plaza Midwood.
There's more than just top-notch hip-hop happening. Su Casa, the monthly Afrobeat party created by former Creative Loafing editor Carlton Hargro and photographer Jasiatic, is a freewheeling recipe of high life, Brazilian music, soul and house — even a dash of booty shake — but no hip-hop. That's not because the producers aren't fans. "We love hip-hop," Jasiatic says. The diminutive scenester laughs impishly. "We just don't allow it. If we want to reference hip-hop, we play the original sample, the mother of that beat, because you can go anywhere and hear hip-hop."
"We don't handhold when it comes to music," Hargro adds. "We're intentionally alienating; either you dig it or you don't."
That kind of uncompromising focus is what built Su Casa's brand as Charlotte's premiere Afro-fusion party. It started out as Mi Casa, a private party in Jasiatic's loft, after she grew fed up with clubs not playing the music she liked. As the party grew (along with noise complaints from the neighbors), she partnered with Hargro and took it to Dharma in South End.
"Su Casa is a playground for DJs. They know they can come here and play the grungiest of African riddims and just go in. They can have fun," Jasiatic says. The party is led by music, and the crowd at Su Casa comes to dance, regardless of whether resident DJ Justice is spinning Fela or Stevie Wonder.
But Hargro worries about the black alt-music scene's sustainability in Charlotte. "Really, it isn't a scene; the scene we serve, we are the scene. There aren't any artists who can base their life off this. Right now, we have a lot of talented people, but how do they survive and make money?"
ARTISTS
Rising R&B singer Brandon Sutton literally put his life on the line for his music. In 2010, fresh out of high school, he enlisted in the Air National Guard in order to pay for studio time and help contribute to his family. "I was working at McDonald's and the only peace I found was in music. I joined [the military], going out into the unknown; it was wartime but I couldn't sit around and not try to fulfill my dreams."
It was a sacrifice that left him eating "ramen noodles, butter rice and Kool Aid with no sugar," Mike Slaughter, Sutton's manager and brother, quips, but it was worth it for people to hear Brandon Covers the Mixtape, released for digital download this August. He puts his spin on songs by D'Angelo, Musiq Soulchild and others with a funky falsetto and a live band that keeps up with Sutton's every idiosyncrasy. There are also some original tracks on the release, and KFigz, one of Charlotte's most in-demand producers, put in work on the album.
"It's hard trying to thrive as an R&B artist in Charlotte, especially if you don't have a hip-hop swag, but it's doable," Sutton says. "Artists nowadays are doing the same thing. They're blind to their own inspiration. I call it Ray Charles syndrome," he says, referring to a scene in the movie Ray where the star begins his career imitating others' sounds. The 20-year-old, who started performing at 15, says he hasn't seen Charlotte embrace a hometown R&B singer in that time; he hopes it can be him. He performs Nov. 15 at R&B Live in Amelie's Annex on The Plaza, and Dec. 8 at Battle of the Bands at Tremont Music Hall.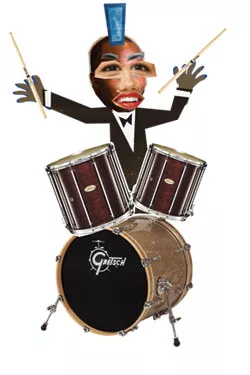 Ida Divine is another Charlotte performer whose sound is hard to pigeonhole into a mainstream R&B box. Her earthy alto and cunning wordplay crackle with a sharp, urban awareness. You get the feeling she kisses with her eyes wide open. Originally from Staten Island, Divine acknowledges that breaking in in Charlotte can be hard. "It's hard to get applause, even if you kill it. It's hard to get a positive response here if people haven't heard of you before."
Divine says that she honed her craft here, but it wasn't until she began doing shows in New York and Atlanta that she started getting hometown love. "That's the good thing about Charlotte. It's a great testing ground."
---
"People here will pay $100 to sit in VIP and stare at somebody famous carrying around a champagne bottle. If I pay that, I want to see you slide across the stage and do a split like James Brown."
---
PROMOTERS
Mike Kitchen is an annual CL music issue favorite for a reason: for more than 10 years, he's been bringing unexpected, desirable national acts to Charlotte. He's been successful enough to keep the Pop Life party brand going for six years. Big Boi, Common, India.Arie have all come to Charlotte under his banner.
Though he seems to have hit upon a winning formula for alternative black music events, even Kitchen has taken a bath or two. The worst, he says, was bringing Raphael Saadiq to Amos's Southend in 2008.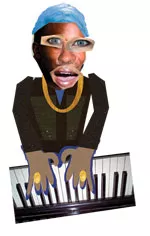 Maybe 300 people showed up, though Saadiq played as if it was a packed house. Kitchen blames the city's weak music scene squarely on you. "It kills me to hear people say there's nothing to do in Charlotte," he says. "Transplants move to Charlotte and for the first couple of months, they're going out to eat, going dancing. But within a year, they get 'Charlotte-tized' and don't want to leave the house."
Nathan Smalls, the producer behind R&B Live, has a different take. He thinks Charlotte's music patrons suffer from low expectations. "People here will pay $100 to sit in VIP and stare at somebody famous carrying around a champagne bottle. If I pay that, I want to see you slide across the stage and do a split like James Brown," he says.
Every third Thursday at Amelie's Annex, Smalls welcomes musicians and singers to come sit in and jam with his house band, led by jazzman Tyrus Washington. Midway through the night, the format changes and the featured musical talent takes over. It's a unique, House of Blues-type supper club environment that you won't find elsewhere in Charlotte, and Smalls sees himself as its Don Cornelius figure. "Up until recently, R&B was relegated to hooks on hip-hop songs," Smalls says. "But artists like Anita Baker, Howard Hewett and Kenny Lattimore didn't stop making records — the platforms just disappeared."
He wants to nurture Charlotte artists to a higher level. His advice to them? Leave. "If you've never traveled, you've never been challenged," Small says. "You have nothing to compare your level of talent to. Hit the chitlin circuit and see Cheryl 'Pepsii' Riley sing her face off. Stop copying Beyoncé and learn your craft."
The R&B Live band also plays Fridays at Delta's on North Tryon Street, and the upscale restaurant hosts live jazz every Saturday night. Sunday mornings, jazz vocalist Saidah Harley shows off her chops at the Dunhill Hotel. For a more danceable experience, Fanz Sports Grille off W.T. Harris has a popular live R&B show Fridays and jazz Saturday nights. Jazzy Sundays at Tempo on Wilkinson Boulevard features the Tempo All Stars and free Chicago step classes by the Charlotte Purple Steppers. These events cater to a more mature crowd, and Tempo enforces a strict dress code, so you may want to reference the website checklist before going out.
VENUES
Performance spaces are critical to a city's music scene, and while Charlotte has a number of places for, say, indie rock bands to hone their stage presence, get exposure to new fans and work out their sets, venues specializing in the soulful side are fewer and farther between. Two such venues recently opened up, expanding the options for Charlotte musicians.
Poor Richard's moved from Gastonia to 135 Brevard Court this August. Owned by Bryan and Sheri Borges, the Harlem-chic bookstore by day turns into something more at night. Every other Thursday is Simply Jazz, with recent performances by the Calvin Edwards Trio and Will "Saxman" Smith. Eric Brice, former guitarist for Chaka Khan, brings his group Nov. 8. On Saturdays, musicians present original works for their Naked Arts series. While not restricted to soul music — some folk and genre-defying sets have been well-received — the environment is welcoming and compatible.
Venue 1801 is more for performers than for audiences. The mid-sized facility at 1801 N. Tryon St. is host to a Vinyl Mixer the second Monday of each month, where primarily professional DJs come together to discuss business tactics and debut new mixes to a discerning crowd of their peers. Another event, a monthly music showcase, highlights promising R&B, jazz and hip-hop artists. The rest of the time is split between networking seminars and private events.
Coretta Livingston, Venue's events coordinator and owner of the QC Information Broker Magazine, also recently opened up rehearsal space there. Livingston is clear — Venue is not a club. "Charlotte has a lot of talent, and many people just need a space to be creative," she says. "Family doesn't always support you, so it's important for you to have people who understand your value and see your vision." The educational component is important to her. "We've got to go back to 'each one, teach one' in the music scene. Artists are taking this route as a dream, not a business."
She says Charlotte musicians need to learn how to pitch themselves, how to network and follow up. Also, because the market is small, artists must deliver on their word. She takes umbrage with folks who say Charlotte is cliquish. "You have to take time to observe, learn how to maneuver. Do things the proper way. You can't come in thinking you're going to take over the world. People say Charlotte's 'bama, that we're country. But don't get it twisted; you will get your feelings hurt in Charlotte."
Top 5 Carolinas is not a physical venue, but a weekly radio show with the goal of "bringing music and community back to radio." Broadcasting each Thursday at 7 pm on WGIV 103.3, Top 5 curates submissions from independent hip-hop and R&B artists, culls the top fan favorites from online votes, then premieres them on air. Listeners call in to crown the No. 1 pick.
Producer Winston Gilley, who also owns True Bloc Studio at the N.C. Music Factory, got weary of seeing good local artists with no way to promote their music besides Facebook and Twitter. "Venues and promoters are focused on finances, and the artists have no connection to local radio, so that makes [the music scene] a black hole," he says. He didn't want to see another Jason "Jet Plane" Jones, a promising R&B singer-songwriter who left Charlotte for New York once he hit the glass ceiling. "When you see talent and work ethic like that leave, you have to ask yourself, what's the problem?" Gilley says. "Talent like that shouldn't have to leave to get where it needs to be." Right now, Gilley is excited about Vena S., Nikki Canada, Genuine Article and Makeda the Redd Fox.
"Charlotte's local music is a diamond in the rough," Gilley says. "If radio and media will embrace it, we can build this scene."