(View From The Couch is a weekly column that reviews what's new on Blu-ray and DVD. Ratings are on a four-star scale.)
Mandy Patinkin and Judy Davis in Impromptu (Photo: Olive Films & MGM)
IMPROMPTU (1991). Pulitzer Prize winner and Broadway superstar James Lapine (Into the Woods, Sunday in the Park with George) made his motion picture directorial debut with this thoroughly engaging period piece scripted by his wife, two-time Oscar-winning documentarian Sarah Kernochan. The film begins as a comedy of manners, as various creative personalities from the early to mid-1800s gather one weekend at a country estate and proceed to bicker amongst themselves. Soon after, it hones in on two of these artists — novelist George Sand (Judy Davis) and composer Frederic Chopin (Hugh Grant) — and tracks their slowly evolving relationship. Most of the hearty laughs are packed into the first half, but the more focused second part maintains interest as it cannily explores the topic of role reversals. Mandy Patinkin contributes some wry moments as poet Alfred Musset — speaking of Sand, he notes, "She would drink the blood of her children from the skull of her lover, and not feel so much as a stomachache" — while other cast notables include Julian Sands as composer Franz Liszt, Emma Thompson as a flighty hostess, British vet Anna Massey (Hitchcock's Frenzy, Michael Powell's Peeping Tom) as Sand's mother, and Lapine's Into the Woods star, the singular Bernadette Peters, as Liszt's scheming mistress.
There are no extras on the Blu-ray.
Movie: ***
Naomi Watts in Mulholland Dr. (Photo: Criterion)
MULHOLLAND DR. (2001). Audacious, infuriating, and the sort of movie we've come to expect from one of America's most idiosyncratic filmmakers, David Lynch's Mulholland Dr. actually began life as a TV series pilot that was quickly shelved. Seeking to then release it theatrically, Lynch secured backing from French financiers, shot additional scenes, and emerged with a cause célèbre that earned Best Picture citations from various critics' groups and a Best Director Oscar nomination for Lynch. Like Twin Peaks, this juggles a number of characters and plotlines, though the central one concerns the efforts of an aspiring actress (Naomi Watts) to help an amnesiac (Laura Elena Harring) discover her true identity. Just as the movie reaches the point where we expect everything to come together, Lynch goes ballistic with the narrative, resulting in an unnerving watch that yields no easy answers but instead forces the viewer, in Memento mode, to mentally play the entire film backward and determine what's real, what's a dream (a Lynch obsession dating back to Eraserhead), and where this ultimately leads. As an exercise in bravura moviemaking, as well as a commentary on the very nature of cinema itself, this works quite well, but on an emotional level, it's one of Lynch's most distant pieces. Only the unexpectedly complex portrayal by Watts — with apologies to Halle Berry, Sissy Spacek and the year's three other nominees, she's the one who truly deserved the Best Actress Oscar — adds any lasting resonance to a work that, to quote Churchill, is "a riddle wrapped in a mystery inside an enigma."
Blu-ray extras include new interviews with Lynch, Watts, Harring, co-star Justin Theroux, and key behind-the-scenes personnel; a deleted scene; and on-set footage.
Movie: ***
Audrey Hepburn and Rex Harrison in My Fair Lady (Photo: Paramount)
MY FAIR LADY (1964). It's no secret that the Academy went gaga over bloated, Broadway-based musicals in the 1950s and '60s, handing Best Picture Oscars to various lumbering behemoths that more often than not haven't aged well. This three-hour adaptation of the Lerner and Loewe smash — based on George Bernard Shaw's Pygmalion — is often held up as the least deserving of this victorious bunch, but for my money, I'll take it over Oliver! and Gigi any day of the week. True, its ass should have been kicked at the Oscars that year by Dr. Strangelove and A Hard Day's Night (a forward-looking movie musical, and the antithesis of the old-school Lady); George Cukor's direction couldn't possibly have been more static (this truly looks like a filmed play); and the storyline's misogynistic strains are never resolved and in fact are enhanced by the letdown of an ending. Yet there's still plenty to enjoy. The soundtrack includes several of L&L's most enduring tunes, including "Wouldn't It Be Loverly?," "Get Me to the Church On Time" and the timeless "I Could Have Danced All Night." Many of the film's eight Oscars were for technical achievements, and the film still looks lovely (or "loverly"?), especially in resplendent Technicolor in this newly restored anniversary edition. And while Audrey Hepburn's shrieking as the dirt-poor flower girl who becomes a polished society lady occasionally wears on the nerves, Rex Harrison (in an Oscar-winning turn) is just fine as stuffy wordsmith Henry Higgins, while Stanley Holloway steals the film as Eliza's incorrigible father.
Blu-ray extras include a making-of featurette; alternate Hepburn vocals on "Wouldn't It Be Loverly?" and "Show Me"; footage from the Academy Awards ceremony; Harrison's Golden Globe acceptance speech; a radio interview with Harrison; footage from the film's Los Angeles and London premieres; and production tests.
Movie: ***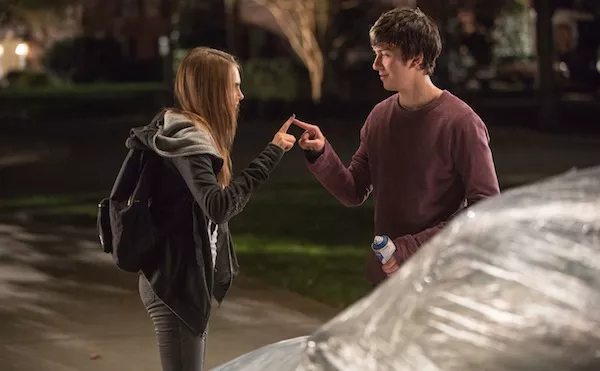 Cara Delevingne and Nat Wolff in Paper Towns (Photo: Fox)
PAPER TOWNS (2015). With characters who are often as intricate and three-dimensional as an origami figure but a script that remains hopelessly paper-thin, Paper Towns is a disappointment coming on the heels of last year's lovely weepie, The Fault in Our Stars. The comparison is apt, as both films were based on novels by John Green. Nat Wolff plays Quentin, a high school kid who has spent his young life pining for his mysterious next-door neighbor Margo (Cara Delevingne). One night, she disappears, and Quentin takes it upon himself to find her, convinced she left clues specifically so they might be reunited. His sleuthing eventually results in a road trip from Florida to New York, but the film loses its way long before this point. The scenes between Quentin and his best friends (Justice Smith and Austin Abrams) are the best, but the material involving Margo isn't nearly as strong, from the ridiculous "mystery" that wouldn't even pass muster in a Three Investigators book to Margo herself, who never comes into her own as a character but instead feels like a fictional construct a few steps removed from the so-called manic pixie dream girl. Delevingne is OK as Margo, even if she's a bit too aloof to believably inspire such passion in Quentin. This fault in the star comes even more into focus with the introduction of her friend Lacey (Halston Sage), who's warm and intelligent and relatable. Lacey and Quentin would make a lovely pair, but in this film, which is perpetually trying to cram happy square pegs into sad round holes, no geek can get left behind, so Lacey is unceremoniously tossed to Abrams' awkward Ben. Because every pretty high school senior is just dying to spend time with a spaz who pukes in vases and pisses in soda cans in front of her, wouldn't you know.
Blu-ray extras include a making-of featurette; deleted scenes; an alternate scene; and a gag reel.
Movie: **
Adam Sandler in Pixels (Photo: Columbia)
PIXELS (2015). Love the premise, hate the execution. That's the takeaway from Pixels, which might have made for a decent popcorn picture had it not been co-opted by Team Sandler and turned into a dud that's both moronic and pandering. It escapes a one-star bomb rating only because a couple of sequences somehow manage to deliver the goods, because some of the cleverness peeks through on (rare) occasion, and because it's clearly a notch above the noxious likes of Adam Sandler's Jack and Jill and Little Nicky. In a nutshell: Aliens view footage of a 1982 video arcade championship match. Aliens misinterpret it as a hostile act and, in the present day, retaliate by attacking Earth with space invaders made up to look like characters from popular games from back when (Donkey Kong, Pac-Man, etc.). Since the military proves to be ineffectual, U.S. President Will Cooper (Kevin James) enlists the aid of three championship gamers: his best friend Sam Brenner (Sandler), whose arcade defeat back in '82 has led to an unfulfilled life as a TV installer; Ludlow Lamonsoff (Josh Gad, woefully unfunny), a conspiracy-theory nut; and Eddie Plant (Peter Dinklage), an egotist who refers to himself as "The Fire Blaster." Often playing like Ghostbusters if it had been made by Billy Bob Thornton's Slingblade character, Pixels is sloppy in virtually every department, from the scripting to visual effects that could have been memorably retrograde but instead hit the same old CGI beats. A few moments succeed in rising above the mire, but in most respects, this is hardly worth a fistful of quarters. To quote Aliens' Bill Paxton, "Game over, man! Game over!"
Blu-ray extras include six featurettes on the employment of classic arcade games like Donkey Kong and Galaga in the movie; a chat with Pac-Man creator Toru Iwatani; the music video for "Game On" by Waka Flocka Flame ft. Good Charlotte; and a Pixels game app.
Movie: *1/2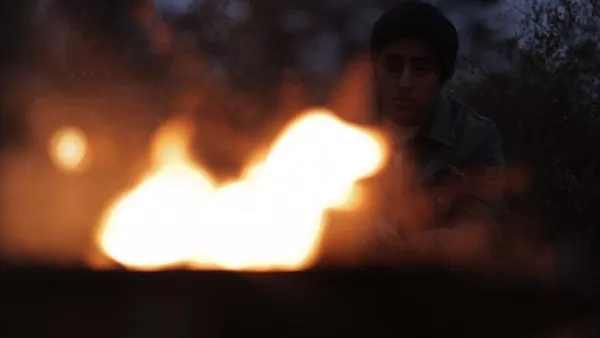 Gilberto Padilla in Sunset Edge (Photo: Kino Lorber and CAVU Pictures)
SUNSET EDGE (2015). They say you can't go home again, but that's exactly what Winston-Salem native Daniel Peddle did. An artist and casting director who's long been residing in New York (which is where he "discovered" a teenage Jennifer Lawrence, thereby jump-starting her remarkable career), Peddle returned to North Carolina to shoot Sunset Edge, his third motion picture but his first narrative feature (the others were documentaries). A sterling example of style over substance, this centers on four teenagers (nicely played by nonprofessional actors Jacob Ingle, Haley McKnight, William Dickerson and Blaine Pugh) killing time by hanging around an abandoned trailer park in rural N.C. As the kids explore the area, binge on junk food and amusingly discuss Forsyth County's place in the cosmos, it soon becomes clear that they're being watched by a mysterious figure (Gilberto Padilla) who may or may not be planning to cause them harm. The plotting in Sunset Edge is rather rudimentary, but Peddle disguises that by presenting his picture in a format that employs plenty of jumping back and forth through time. The movie was pushed by its makers as "Hitchcockian" during its theatrical run, but that's hardly the case. It's a far more elemental undertaking, in both its exposition and its execution. If anything, the film's natural look, isolated setting and supernaturally tinged tale bring to mind The Blair Witch Project far more than any Hitchcock endeavor.
DVD extras include a making-of featurette and deleted scenes.
Movie: **1/2