MR. TURNER
***
DIRECTED BY Mike Leigh
STARS Timothy Spall, Marion Bailey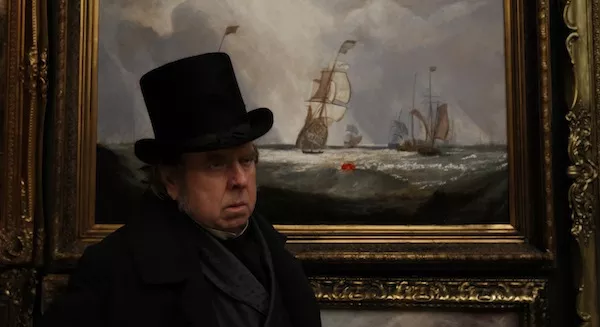 Timothy Spall in Mr. Turner (Photo: Sony Pictures Classics)
In the Great Sony Hack of 2014, it was the studio's Fury and Annie that saw massive amounts of illegal downloading, with the other three titles — all art-house flicks — comparatively left alone. That trio included writer-director Mike Leigh's Mr. Turner, which, at a leisurely 150 minutes, is hardly the sort of picture Mr. and Mrs. Joe Public would rush off to pirate. (Indeed, it's amusing to note the discrepancy in its Rotten Tomatoes ratings, where critics have given it a whopping 98 percent Fresh rating while general audiences have shrugged it off with a 59 percent Rotten rating). It was reportedly downloaded 63,000 times (by comparison, Fury was downloaded over 1.2 million times), and even that seems like a high number for a film that would absolutely be destroyed by watching it on a small computer screen.
No, Mr. Turner should ideally be viewed in the movie theater or on a large-screen television set (which admittedly is how I viewed it, thanks to a year-end "For Your Awards/10 Best Consideration" screener). With the exception of the marvelous Topsy-Turvy, Leigh's movies are generally small-scale efforts usually filmed in someone's house (past gems include Life Is Sweet, Secrets & Lies and Another Year), and they can be watched pretty much in any manner and on any device. But Mr. Turner, a look at the later years in the life of 19th century British painter J.M.W. Turner, is a work bathed in period opulence, and it deserves a better viewing environment. Its technical achievements are exemplary enough to have earned a total of four Academy Award nominations, and while the bids for Best Costume Design, Best Production Design and Best Original Score make sense, it's the nomination for Best Cinematography that most deserves its perch. On the 2014 landscape, only Emmanuel Lubezki's camerawork on Birdman tops that of Dick Pope's efforts on this picture. Some of Pope's unique shots are beautiful enough to elicit awe and admiration, which makes this picture a perfect match between subject matter (artist) and presentation (artful).
Timothy Spall, in a performance that earned him Best Actor citations from the New York Film Critics Circle, the National Society of Film Critics and the Cannes Film Festival jury (the latter also rewarding Pope for his contribution), plays the artist as a surly sort, harrumphing his way through life. It would be easy to show Turner as nothing more than a misanthrope — all the elements are in place — yet Leigh and Spall prefer instead to carve out a distinctive individual, a man who's curt to most people around him and who can be cruelly dismissive of the household servant (Dorothy Atkinson) who provides him with as-needed shags, but who deeply adores his genial father (Paul Jesson) and who, late in life, finds love and happiness with a widow (Marion Bailey) he meets during one of his seaside retreats.
Mr. Turner is a movie comprised of incidents, lacking the apparent throughline of Topsy-Turvy. But like that enchanting film about the partnership between musical maestros Gilbert and Sullivan, it milks many character details out of seemingly isolated incidents. One of the best involves Turner's fascination with this newfangled contraption called the camera, and how his approval of the device ultimately commingles with his fear that it will render him — indeed, all artists — obsolete. How it would have amused him, therefore, to learn that this invention, this camera, would subsequently pave the way for the creation of a medium that has now further enshrined him in immortality.