"What I've learned is, sex sells," Courtney Longmire says.
The 27-year-old Charlotte writer, who performs as Iz-Real the Poet, may be making an understatement. Hot on the heels of his sold out, standing-room-only erotic burlesque show in Baltimore, the self-styled Sexy Life Style Specialist is promoting a series of Queen City performances he calls Sensual Erotic XXXpression, or The S.E.X. Show, starting November 25. Each performance, hosted by Longmire as Iz-Real, is an ever-changing combination of erotic poetry, comedy, exotic dancers, body arts and BDSM. That last item, a compendium of erotic practices involving bondage, discipline, dominance and submission, embodies the most potent ingredient in Longmire's erotic exhibition — education.
"In our show, we use the erotic to raise awareness," he says. In an entertaining and tasteful way — there is no nudity allowed in the performances — the S.E.X. variety shows feature experts on topics like how to perform oral sex properly and the science and psychology of bondage and submission.
"A lot of people run from BDSM," Longmire says. "We run to it."
"I got into [BDSM], and it changed my life," he continues. "It taught me how to follow instructions, how to pay attention to the details."
Longmire is convinced that teaching the practices aligned with BDSM can help dismantle rape culture and womanizing culture because it's predicated on consent and it teaches respect. People can use the lessons learned in the subculture and apply them to their day-to-day lives, he maintains.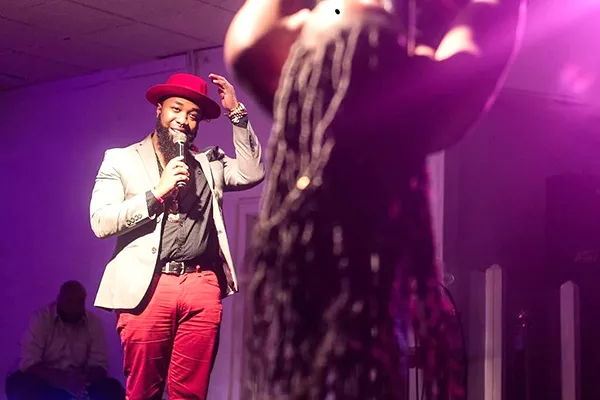 Iz-Real the Poet and Teisha Fox collaborate on erotic art. (Photo by Tyrone Combs)
"It can educate people how not to cat call, or abuse women's — or anyone's — rights," he adds, "it can have a snowball effect."
Longmire stresses that performances of The S.E.X. Show, which run through December, are good, if not quite squeaky clean, fun.
"It's a variety show, so [audiences] will experience all arts forms. We have comedians, exotic dancers, ballet dancers, poets, sex educators and body art. Audience members can consent to be painted. We have sing-alongs where our DJ plays 1990s R&B. It's all very interactive."
To help foster the communal sexy vibe, Longmire tells the audience that they are in a judgment-free zone where everyone is welcome.
"Our show is a safe space for adults to express their sexuality in an artistic manner," he says, adding that the audience demographic is about a 50-50 split between African-Americans and non African-Americans — 50 percent African-American, 40 percent Caucasian, and 10 percent other or mixed.
"[The audience] mingle and talk to each other and hang out. At a certain point you forget how divided Charlotte can be because everyone is enjoying the show together. It's just a melting pot."
So how did a nice boy from Charlotte become a sexual master of ceremonies?
"I've always been a writer.'" Longmire says. "Any time people asked for it, I'd give them a story."
After graduating from Jay M. Robinson High School in Concord, Longmire attended Central Piedmont Community College. There he started dating a young poet and decided to accompany her to a poetry slam to show support. At his very first slam, he was hooked, Longmire remembers.
He started participating in youth slams. From there, it was a short but challenging step to poetry night at the now shuttered Wine Up in NoDa. Longmire met the host, JC the Poet, who Longmire calls the godfather of poetry in Charlotte.
Iz-Real the Poet and Makayla Freeman work the crowd. (Photo by Tyrone Combs)
"JC threw me up there onstage into the deep end," Longmire says. "I messed up, forgot my poem, [and] just started free styling. I got offstage. He said, 'Yo, you have potential. You are going to be a beast. Come back every Thursday.'"
At this point, Longmire was dabbling in political poetry. He was not yet the erotic MC he is today. One of his mentors, the poet CP Maze, put him on the path.
"[Maze] said that every poet has his learning curve where they find their voice," Longmire remembers, "and when you find your voice that's when you become who you are meant to be."
Longmire spent two years performing poetry around Charlotte, building his fan base and establishing his brand. In 2013, he moved to New York City.
"Living in New York, I experienced culture shock. So when I met someone I would get them to [tell me] their story, and I would put it into poetry."
Longmire's strategy for adjusting to his urban environment resulted in The Real One, his first published book of poetry. That 2015 collection contained political poems and love poems, as well as the stories that Longmire collected and turned into poems. He was still finding his voice. Then he published his second book, When Moons Cry, a spiritual journey that championed women's rights.
"The metaphor for When Moons Cry is when women get so fed up with this negative reality, they begin to wail and cry," Longmire explains. "Those tears can heal humanity."
Longmire's latest book came out last year. The One Who Brought Forth Day is a collection of inspirational poems designed to uplift people and help them overcome their trials and tribulations, Longmire says. The title is based on scripture: "Joy cometh in the morning."
Based on this volume Longmire has been nominated Author of the Year for the 2017 Queen City Awards. He's also a nominee this year for the Poetry in Motion Award, an honor he won last year. The award ceremony will be held at Oasis Shriners Auditorium at 604 Doug Mayes Place in Charlotte.
For Longmire, spirituality and reverence for women is but a short step from his chosen sexy lifestyle. While he was publishing books, he was also putting out spoken word CDs, including his call to wage war for love, Fist and Roses Loves Revolution; Queendom, a celebration of the divine feminine energy in everything; and Chocolate Covered Orgasms, which he calls his full blown introduction to the erotic. That 2012 release launched Longmire's career in the erotic genre, he says.
His latest project debuted last Valentine's Day. His S.E.X. Tape Soulful Erotic Xpression, covers some of Longmire's favorite 1990s R&B songs. Longmire lays down his smooth and sultry erotic poetry on top of classic tracks by artists like Anita Baker.
Having found his voice and his métier, Longmire moved back to Charlotte last March and launched the S.E.X. show, and his vocation as Sexy Lifestyle Brand Ambassador.
Is-Real the poet versifying in style. (Photo by Crys Farrar.
"When I was in New York, I just got into style. I'm addicted to dressing up. The perfect example is how they dress in the movie Kingsman. That's me 24-7."
Style is essential to the lifestyle he promotes, Longmire says, which is an integration of politics, art, professionalism and the erotic. His motto and mission statement is: "We're living on purpose, with purpose, for a purpose."
"What that means is that under my brand I have culinary items, chefs, fitness experts, life coaches, poets and painters," Longmire says, all of which contributes to living consciously with a personal style and a sense of responsibility.
"A lot of people see the erotic shows, but they don't understand the intent behind them," Longmire says, adding that he is actively promoting causes that help people.
"We promoted breast cancer awareness throughout October. We sponsored pap smears."
AIDS awareness is frequently promoted, with free onsite testing available at some of the shows, Longmire says.
"To gain attention [for these causes], we use the vehicle of the erotic."
With all this on his plate, as well as Floetry, the erotic open mic he hosts at Flo Bar and Lounge in north Charlotte, Longmire contends that the main focus in his life will always be connecting with his audiences.
"Being around them brings me fulfillment," he says. "I'm never going to be one of those artists that stays backstage the whole time until I go onstage. Instead, I'm seating people, ushering them to their seats, and taking photos. We're like a family."