Eight years separated Jason Goes to Hell: The Final Friday and Jason X. Twelve years passed between The Texas Chain Saw Massacre and The Texas Chainsaw Massacre 2. And it was a whopping 23 years before Psycho gave rise to Psycho II.
Phantasm's The Tall Man (Angus Scrimm) (Photo: AVCO Embassy)
Here at Creative Loafing, we can patiently bide our time between installments as well. In 1995, we served up "Monster Memories," in which 22 Charlotte personalities answered the following question: What films frightened you so much that they left a lasting impression? In 1997, we released "Return of Monster Memories," posing the same question to 20 more movers and shakers. The two surveys targeted musicians (Loonis McGlohon, Antiseen's Jeff Clayton), media figures (Larry Sprinkle, Sheri Lynch), business owners (Wolfman Pizza founder Barry Wolfman), and other notables. More than 50 titles were cited, from 1931's Dracula through 1991's The Silence of the Lambs. (For the record, Psycho and The Exorcist tied as the most mentioned movie, followed by Night of the Living Dead and Carrie.)
Now, 14 years after Part II, we return with the third chapter in this venerable horror franchise. Targeting 16 more Charlotteans, we posed the same question. With Halloween upon us, you can take these titles to the bank — or, more accurately, to the DVD store — as worthy selections for Oct. 31 viewing.
Morgan Fogarty, Buff Faye and Jason Voorhees (Photo: Angus Lamond)
P.S. Thanks to Morgan Fogarty and Shane Windmeyer (aka Buff Faye) for bravely posing on the cover with our resident Friday the 13th slasher, Jason!
Drew Badger, Rabid Badger Haunt Consulting; Organizer, Charlotte Zombie Walk:
When I was about 8 years old, my Dad and I would watch the TV series Kolchak: The Night Stalker (1974-1975) on ABC. I was somewhat frightened to watch the show but he wanted me to see it with him. The episodes would give me nightmares for days afterwards.
When I was 11 years old, a friend asked me to go see Jaws 2 (1978). That movie completely freaked me out, and to this day I get nervous when I go in the ocean above my head because I'm positive there's a shark just waiting to eat me as soon as I let my guard down.
As a result of these two instances, I have not watched a horror movie in a theater in 33 years. I can sometimes watch something on TV that's been heavily edited but I do not like to be scared anymore. The adrenaline rush that I experience when startled causes physical pain in my neck and shoulders, and therefore I avoid it whenever possible. Even though I own a haunted house consulting business and travel all over the country training actors, designing haunts, and putting on the Charlotte Zombie Walk, I will not go see a horror movie. In a haunted house, at least I feel I have some modicum of control. And of course, I would rather be the "scarer" than the "scaree."
A Nightmare on Elm Street (Photo: New Line)
Linnea Beyer, Director of Film, The Light Factory:
I walked in on my two older sisters watching A Nightmare on Elm Street (1984). I must have only been 4 or 5 at the time. It was the bathtub scene and I ran out of the room. Later, my sisters told me that Freddy grabbed Nancy, pulled her down the drain, and ripped her to shreds (if you haven't seen the movie, that is not what happens). I stopped taking baths and switched to showers until my late teens.
Then I saw Psycho (1960).
Rosie Cheeks (Rosemary Gardner), Charlotte Roller Girls:
I think I was 8 years old when I saw Lady in White (1988). Minutes into the movie, I knew I was too young to watch it. My super-cool, mid-20s aunt rented the movie when we went to visit her for a weekend. Seeing the trailer now, I laugh at how terrified I was of the movie — specifically its plot and ridiculous special effects.
I was at least 13 when I saw Leprechaun (1993) on TV on Halloween. I didn't even make it through the whole film!
I credit those two movies as the reason I still hate watching scary movies. Even as an adult, I sit through horror films with nervous anticipation of what might happen that's going to make me scream. You know, those embarrassing shrill screams that you never want anyone to hear.
Arroe Collins, On Air Talent, lite 102.9:
To this day, Phantasm (1979) puts me into a state of fear. I had never seen anyone like The Tall Man, and to think how easy it was for Reggie to convince Mike that he was just having a bad dream about Jody after being killed in a car crash taught me to never trust anyone running away from a nightmare. I'm still freaked out by tall guys and silver spheres that fly in the sky with knives poking out!
And next to The Tall Man, I would say that Pinhead from Hellraiser (1987) scared me the most.
Matt Comer, Editor, QNotes:
I was 13 years old the first time I saw The Exorcist (1973). My mother had seen it when it originally came out and remembered being scared stiff. So, she had forbade me and my siblings from watching it. Always the rebellious and inquisitive one, I snuck to the video store with an older cousin to rent it. I couldn't sleep for days afterward! The girl's spinning, demonic head was all I could picture when I closed my eyes!
Divakar, Host of 90 Minutes and New Music & Indie Label Show, 1065 The End:
Slasher films are good for a few unexpected thrills during the viewing but don't really "scare" me or have a long-lasting effect on me. A film series that did have a lasting effect was The Omen Trilogy (The Omen, 1976; Damien: Omen II, 1978; Omen III: The Final Conflict, 1981). After seeing the movies as a young teen (the TV-edited versions with commercial interruptions), I felt like there was evil lurking in every corner. Not the Freddy, Jason or Michael Myers kind of evil that you can see but something you can't touch or see or kill. To this day, a shiver runs through me when I pass a graveyard, a body of water or a large cathedral at night. To me, Sam Neill (Omen III: The Final Conflict) will always be Damien Thorn; even in comedies, he's still the Beast to me.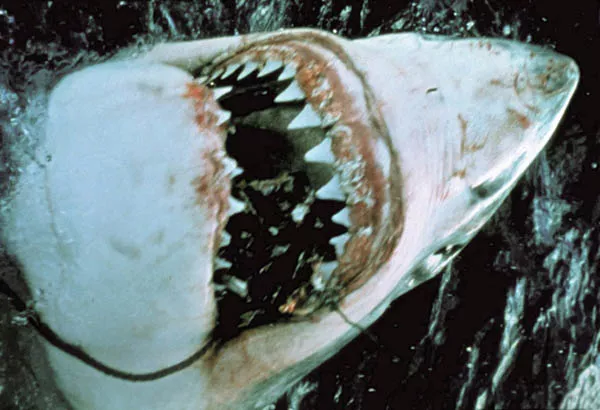 DJ Spider, DJ; Future Zombie Victim:
For someone who thinks Halloween should be year-round, I stink at watching horror movies! Gremlins (1984) started it all. I don't know what it was about the trailer, but I was convinced that Stripe was waiting to grab my ankles and drag me under the bed. I don't think I actually saw the movie until several years later, when a friend rented it from the video store for a party. But to this day, if there's something scary going on, my feet are up off the floor! (It's the Spider-Defensive-Fetal-Position!)
Since I grew up in the Caribbean, the original Jaws (1975) impacted us as a family. I was too young to have seen it in the theater, but my dad made sure that we were fully educated about sharks, and pointed out how silly the movie was. So it was really one of those urban legends that you would see an excerpt from every once in a while on a TV special. I finally saw it one afternoon when I was a 10th grader home sick from school, sitting in the living room at 3 p.m. on a bright sunny day. I didn't realize how badly the movie had scared me until the next time I went swimming at night. I opened my eyes underwater, saw my shadow on the side of the pool, and shot straight out of the water, clawing my way back to the safety of the steps, my heart going a billion miles an hour. Because apparently, a giant shark was living in our over-chlorinated pool.
Morgan Fogarty, Anchor/Reporter, FOX Charlotte:
I can't remember how old I was when I saw Jaws (1975) for the first time, but it sparked a life-long fear of/fascination with sharks. I can't swim in the ocean for extended periods of time without getting panicky and sometimes, even swimming in the deep end of the swimming pool, especially at night, makes my heart race. That said, I planned my honeymoon around a shark dive off Oahu's North Shore (it was awesome!) and one of the items on my "bucket list" is to travel to South Africa to see Great Whites in person.
I was a newlywed when I saw Hostel: Part II (2007) with my husband. I was so freaked out that I kept my eyes covered during most of the gory parts. There's one scene with Heather Matarazzo (Welcome to the Dollhouse, The Princess Diaries) that was so absurdly gory, it played in my mind literally every day for several months. For our one-year wedding anniversary, my husband surprised me with a weekend at The Grove Park Inn in Asheville. Weirdly enough, Matarazzo checked in the same time we did, and I spent the weekend keeping an eye out for her as well as talking a lot about her role in the movie and "the scene" that left a permanent mark in my mind. My husband was less than thrilled, to say the least!
Mark Kemp, Editor, Creative Loafing:
It began with a disclaimer: "The Screaming Skull (1958) is a motion picture that reaches its climax in shocking horror. Its impact is so terrifying that it may have an unforeseen effect — it may kill you." This is the movie that my mom — a member of the first generation of parents to use the TV as a babysitter — sat my 12-year-old sister and me down to watch one afternoon while she went out to run some errands. I was 7. Sure, it was B-movie schlock, more comic than terrifying. But when you're 7 and it's the '60s, and you have a sister who would like nothing better than to see you cry since you probably scratched her Beatles record the day before... well, let's just say that one of the "unforeseen effects" is that I still vividly remember sitting on my knees directly in front of the set like that little girl in Poltergeist, about to piss my knickers. Since then, I've seen everything from Let's Scare Jessica to Death to The Silence of the Lambs. None have left psychological scars quite like The Screaming Skull.
Poltergeist (Photo: MGM/UA)
Jay Morong, Lecturer of Theater & Film, UNC Charlotte; Organizer, Back Alley Film Series:
I was 9 or 10 years old when I first saw Poltergeist (1982), and there's a scene in the film where a large tree right outside the little boy's bedroom window attacks and tries to eat him. Luckily enough for me, I had a similar looking tree right outside my bedroom window, so of course, for the next several nights, I was terrified to sleep and thought for sure the tree would try to eat me as well. My solution to re-arrange my bedroom so that my bed was as far away from the window as possible was, of course, a genius move. Many sleepless nights would still come over the next several weeks. Eventually, I got over my fear of the tree outside my window, but something about the idea that nature would one day get ya has always stayed with me.
Around 1983, I watched — well, watched almost all of it — a "documentary" about Nostradamus on HBO called The Man Who Saw Tomorrow (1981). That really terrified me. Late in the film, Orson Welles, who's the narrator and host of the movie, tells us about the predictions of Nostradamus that are to come; as you can imagine, it wasn't pretty. When it got to the part about people becoming cannibals (complete with artwork), I lost it! I ran out of the room and hid under my bed for hours, only to be coaxed out by my mother with Twinkies. She explained the hopeful ending to the film, that we make our destiny, etc. But for years, I was haunted by the idea that some day soon, there would be a massive nuclear war that would destroy everything.
Susan Knowlson Roberts, Actress:
I don't usually have such vivid memories of movies, but I have specific images from the original Poltergeist (1982) seared into my brain. Looking back, it's pretty embarrassing, but clowns have scared me ever since. Then there were the corpses bobbing up in the pool, the menacing tree outside the little boy's window, the kids getting sucked into the closet, and the static that Carol Anne talked to on the TV. It still sends a chill down my spine!
John Schwert, Filmmaker, Fourth Ward Productions:
When I was 7, my parents went away for a weekend and I stayed with a family friend of theirs who had older kids. I don't think they knew what to do with me, so they plopped me down in front of Poltergeist (1982) ... bad idea. After watching it, I spent the entire night crying and walking around their house looking in closets, under the beds and out the windows to make sure that I wasn't going to get taken away. I don't think I slept at all.
I guess I didn't learn anything because I later went to see Gremlins (1984) with my older brother and pretty much the same thing happened.
A few years ago, I went on a date to see Paranormal Activity (2007) and it is/was the scariest movie I've ever seen. The low, quiet sound mix and crappy design of the film made it feel like I was there with the couple in the house. As the tension built toward the end, my eyes literally watered from fear; it was so incredibly visceral and real that it blew me away. Needless to say, my date never went out with me again; I'm guessing that seeing a 35-year-old man nearly cry from watching a scary movie wasn't what she was looking for.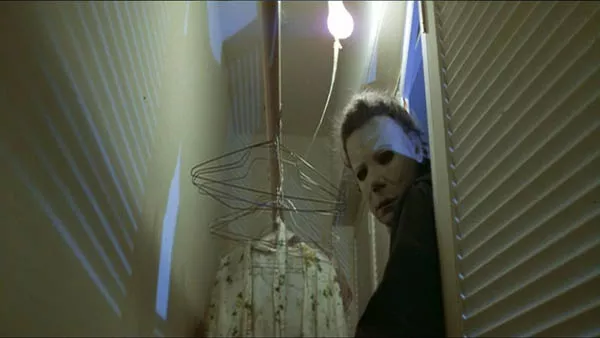 Halloween (Photo: Compass Int.)
Tommy Tomlinson, Columnist, Charlotte Observer:
Matt, the truth is, my most horrific movie experience is when you, me and Joe Posnanski saw Hudson Hawk (1991). But that's another story.
I was 14 when the original Halloween (1978) came out. Now it's common for killers in movies to be indestructible. But before Halloween, if you killed the bad guy, he stayed dead. So to see Jamie Lee Curtis weeping in that suburban bedroom after stabbing Michael Myers, and then to see Michael suddenly sit up on the other side of the room ... that scared the crap out of me.
Torch, Event Producer & Entertainer, Purgatory:
I was 9 years old when my genius brother took me to a small-town, 100-seat theater to watch Phantasm (1979). Weird dream sequences and the Tall Man undertaker stealing bodies and transporting them to another world, killer metal flying orbs with prongs and a drill along with childhood nightmare graveyard and funeral home backgrounds. Funerals creeped me out as a kid, and seeing all the things on screen that you kinda thought was happening in the embalming room just stuck with me. I couldn't sleep well at night for over a month and had to have a nightlight on. The Tall Man coming out of a mirror at the end kept me nervous for years about the little glimpse of movement you catch from the corner of your eye in mirrors; I didn't turn my back on a mirror until my early teen years. Of course, there are no lasting, corrupting effects for taking kids to see things like this because look how normal I turned out ...
Dave Wagner, Anchor/Reporter, WCNC:
I loved scary movies as a kid, but they came back to haunt me. I was often nervous about being close to windows at night for fear someone or something might break through and grab me. My big brother and I shared a room and I was grateful because I firmly believed he would protect me.
The movies that really made me nervous were the ones where seemingly normal people turn frighteningly evil. Rosemary's Baby (1968) was one of those films. I made my brother look under my bed for many days after I saw that film.
But it wasn't just those movies as a kid. The Shining (1980) also left me shaking. With his hatchet in hand, Jack Nicholson convinced me that you're never really safe behind a locked door.
Fatal Attraction (1987) was another one of those films. Glenn Close still makes me nervous to this day. In fact, I can't hear the sound of a whistling teapot without thinking of her terrifying character.
Shane Windmeyer, Author; Public Speaker; Executive Director of Campus Pride:
I would have to say the scene in The Exorcist (1973) where the Father throws holy water on the young girl. She begins to vomit, levitates and spins her head. I'm not sure if that was the order it happened, but I have to say that there have been times I've had the same reaction to Catholic priests. Do I blame the girl? No. Was it an awesome horror flick? Yes. The scene intrigued me so much as a child that I began sneaking into my sister's room to throw water on her in the middle of the night. I was disappointed in the reaction. Damn Hollywood!
And, lest we forget, Shane Windmeyer's alter ego ...
Buff Faye, Drag Queen
The thought of somebody spilling blood on my prom dress terrifies me. So I would have to say Carrie (1976). By the end of that movie, I was ready to burn the high school down myself.
Coming in a close second would have to be Invasion of the Body Snatchers (1978). I mean, I wouldn't sleep for weeks — seriously.
The bigger question is: "Who wants to get some popcorn and watch some horror flicks?"