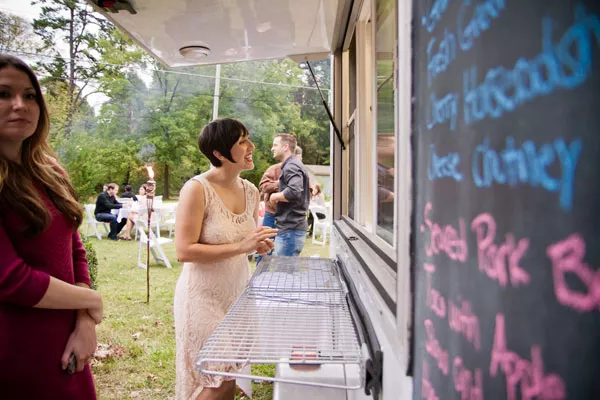 Cat Pennenga Photography

The author at her rehearsal dinner, catered by Roots Food Truck
Over the last two years, the Charlotte food truck scene has exploded, bringing the growing roster of meals on wheels to a whopping 51 trucks registered with Charlotte Center City Partners at last count. And, food trucks aren't just for Friday night rallies anymore. They are quickly becoming the most novel way to feed a wedding crowd.
Food trucks run the gamut, from full-service catering and late-night eats for boozy revelers to those focused solely on celebratory sweets. We've compiled a list of local food trucks and their specialties to help you with your rad wedding plans.
The Tin Kitchen
The big gray box looks a tad unassuming when roaming the streets of Charlotte, but inside are professionally trained chefs that are bringing more than just a quick lunch Uptown. The Tin Kitchen is packing heat with their taco lineup, including the ever-popular seared pork belly taco. This crowd favorite comes inside a warm corn tortilla topped with a 30-minute kimchi and hoisin glaze. Say what?! The Tin Kitchen is a full-service catering operation, complete with an ABC permit, that offers total planning packages right down to the finest details. Visit www.thetinkitchen.com or call 704-750-0477.
The Herban Legend
Chef Brian Seeley is bringing the flavor bombs to the streets with his signature style of American eats that show an international influence, reflective of his travels abroad. When it comes to your wedding, Seeley says, "We're up for anything." The Herban Legend offers a variety of options, from full buffet spreads and appetizers from the big, blue truck to late-night eats and take-home packages for tipsy guests to demolish on their way home. Case in point, the legendary shwarma: filled with grilled chicken seasoned with Arabic spices and served with tzatziki sauce, tabbouleh, tomatoes and french fries all stuffed inside perfectly pliable Middle Eastern flatbread. www.theherbanlegend.com
Roots Food Truck
For brides looking for rustic appeal, check out the Roots Food Truck. Chef Craig Barbour is working with local farms and markets to bring a seasonal experience to guests, complete with vintage chic décor and down-home flavors. Barbour brings whole hogs for a pig-pickin' and serves up insanely good sides, like the truffle mac 'n' cheese and braised North Carolina greens, in cast-iron skillets for that extra touch. The Roots truck is equipped for full-service catering and can be used for the entire event or a small part, like serving crème brûlée off the truck. www.rootsfarmfood.com
Roaming Fork
The Roaming Fork offers a plethora of catering options for the eclectic bride and wandering palate, but all you need to know are three simple words: Fried. Deviled. Eggs. It's like going to the state fair, except you're wearing heels and drinking champagne. The Roaming Fork offers completely customizable catering options, from straight-up street food like Korean BBQ bulgogi and the "Original" Porky Cheesy, a grilled cheese sandwich stuffed with slow-cooked pork, to more elegant buffet options. They have even orchestrated a German wedding with authentic German fare. How's that for flexible? www.roamingfork.net
Root Down Food Cart
Looking for a little N'awlins-inspired shindig? The Root Down Food Cart can bring a little creole to the altar. Though this food cart isn't into full-service catering, chef Dano Holcomb can whip up a "big ol' pot of goodness, his expertly made crawfish boil," for a finger-lickin', head-suckin' celebration of your magical union. www.rootdownfoodcart.com
Courtesy of King of Pops

King of Pops
Bring the sweets to your special occasion with these mobile confections:
King of Pops: Everybody loves popscicles, and the King Of Pops does it in style for weddings with a signature stamp on your popsicle stick. Guests can choose from the seasonal selection of handmade pops or go for the "poptails," like the blackberry mojito pop or the orange blossom pop made with tequila. www.charlotte.kingofpops.net/catering
Southern Cake Queen: Emma Merisier will pull up in her truck known as the Pink Lady and bring you a gourmet cupcake so good you might want to marry it. Try the "Paris Renea," a chocolate cupcake filled with nutella ganache topped with hazelnut buttercream and a caramel drizzle. Choose from 26 signature cupcakes. www.southerncakequeen.net
Goldfinger's Food Truck: "So good, make you wanna slap yo' mama" is the creed Tony Mandarino lives by, and you just may after tasting his red velvet funnel cake with cream cheese icing. Yep, funnel cakes. At your wedding. Call 704-281-8708.