The new year calls for new beginnings, and that's exactly what's in store — literally — for Jackie Rodney's Charlotte boutique formerly known as Lotus.
On Saturday, Jan. 21, Rodney will launch a rebranding of her store that includes a new maternally inspired name, Criv, and the unveiling of in-shop renovations in the Metropolitan location.
After the shop gets its makeover, Rodney has the same plans for the location she owns on the West Coast in Los Gatos, California.
Creative Loafing sat down with Rodney in the lead-up to the store's re-opening to discuss the changes and her inspiration for the rebranding.
Creative Loafing: What's your store's mission?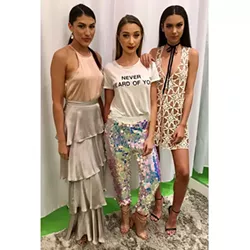 New Criv looks, styled by Jackie Rodney.
Jackie Rodney: We've been around since 2004. I took over the business in 2010 and have been owning and operating under the name Lotus since then. Basically our motto is high fashion at affordable pricing. So a woman can walk in and get a really cool outfit for under $200. So a head to toe, shoes, accessories, a top, pants, whatever the case may be and also amazing customer service. We'll pop a bottle of champagne and they really feel like they're at home or at a friend's house shopping when they come in. We offer good service, great price point and really cool clothes too.
You said you pride yourself on customer service. What sets it apart?
My staff, they're amazing. My full-time manager Krista [Bergstrom], she's been with me since the beginning. People come in because they know her and they love her so much and they know that she's not there to just sell, she's there to create a really good experience for the customer. And they can trust her and she's not just telling them that they look good in everything. She'll give her honest opinion even if it means losing the sale. She'll say, "You know what, this doesn't look good, let's try something else." She makes it feel like you're shopping at a friend's house or in your friend's closet when you go in.
Why the decision to make this new transition?
I've been expanding. I've got two stores now. I moved to the West Coast three years ago and Krista runs the Charlotte store for me full-time. So I've expanded to the West Coast in Los Gatos, California. As I continue to expand and grow and especially online I've been doing a lot of sales through our website, I'm running into issues of our name being commonly associated with other businesses. I can't even tell you how many times we get phone calls for Chinese food orders or women walking in the store thinking it's a yoga studio.
The other thing is like, social media is everything these days, so when customers come in, we always encourage them to follow us on Instagram. When they type in Lotus, a hundred Lotuses pop up and it's hard to distinguish yourself as a unique business with such a common name, so I made the decision a few months back to rebrand. So going forward, the name is going to be completely unique, there's no name like it out there and going forward we can establish ourselves with the new name.
What's the new name and the reasoning behind it?
A big inspiration to me was my mom, she's always helped me. She's a designer herself, so from a very young age she's been a big inspiration and support, so I decided to go with the name Criv, and it's a play off of my mother's maiden name, Crivellone. It'll just be really nice, too, because before, Lotus was such a common name. We were Lotus boutique and the name on the store was Lotus and you'd go online and Lotus[.com] was already taken so we were LotusLook online, and on social media we were Lotus_Look. So with Criv, it'll be really nice because everything is Criv. The storefront is going to be Criv, and the website is going to be ShopCriv[.com] and all social media is going to be ShopCriv. We've now created a consistency that's going to be a lot easier for our consumers.
What's it like owning and managing two stores on two different coasts?
I have to give credit to Krista because I couldn't do it without her. I mean, she is like my rock. I swear, I want to clone her. She is just amazing. But I come back often and I have family in Charlotte so it's easy for me to come back and take care of business if I need to.
Jackie Rodney
Krista Bergstrom (left) and Jackie Rodney.
It's also good I'm on the West Coast because I do a lot of my buying in the showrooms in L.A. so it's good to have me out there so we do get new shipments and arrivals on a weekly basis. Knock on wood, it's actually worked out. My goal is to continue to grow the stores and build each one of them up so that they're self-sufficient and really run themselves. I have this theory that in order to continue to grow you have to work on your business within your business so I strive to create a team in each store that can really run itself. It's worked out pretty good and I get a lot of airline points.
What exactly will be changing in the store?
So with the new name, a lot of people associated the green floors with Lotus so with the name change we will be getting rid of the floors. We are upgrading the dressing rooms and adding a few more clothing rack sections so there will be more clothes available. We are creating a really cool lounge side area so it's going to be a really chic modern look going forward. The only thing that's changing is the name and the renovations of the store. We're going to have the same staff, same clothing, same price points, same customer service, all of that.