Justin Bennett began having doubts about what he had signed up for when he found himself posing for pictures on his motorcycle on the Central Avenue train tracks on a hot July morning. He was hungover from the night before, pouring sweat while remaining bundled up, but showing just enough skin to make things sexy.
Bennett, a bartender at the nearby Thirsty Beaver Saloon, was posing for the January photo on the new "Men of the Thirsty Beaver" 2017 calendar, an endeavor he had agreed to participate in to raise money for Be the Match, a national marrow donor program his bar had worked with in the past.
"It was awful. It was Sunday morning, I had not been to bed on Saturday night and it was like 90 degrees already at 7:30 in the morning," Bennet recalled. "And since it was for January, they wanted me in a jacket on my motorcycle, to make it look cold, and I'm sweating bullets and as hungover as I can be. It was just like, 'Alright, whatever.'"
Bennet then laughed and immediately returned to his humble self, downplaying the struggle. "All in all, it really didn't take that long. It was alright."
The Men of the Thirsty Beaver calendar was the idea of a couple of Beaver regulars, which it often seems is all you'll find in the neighborhood bar that opened on Central Avenue in 2008. The idea was born of a conversation between regular customer Geneiva McNeale and a bartender named Paula.
"I was sitting there talking about how things are going to shift and things are going to change and it's sad," McNeale said, referring to the changing face of Plaza Midwood due to development. "It's going to shift possibly for the better, but we don't know. The way it is right now is perfect. We wanted to take a snapshot of it right now as it is, with the people that are coming in and are a regular part of this family."
As a few drinks turned into more and other customers and employees joined the discussion, the idea of a snapshot turned into a calendar showcasing the imperfect bodies of the Beaver's male customers and employees.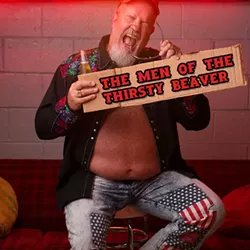 Chris Edwards
Terry Roberts, aka Mr. October, poses for the calendar's photo shoot.
"At the time it was just kind of this drunken thing," McNeale said. "We got the idea of making a calendar and having it be like a pin-up calendar but instead of pretty girls we're going to have the regular boys — a little beer belly action here and there and having it be more of a tongue-in-cheek kind of fun thing."
Bar-goers spent the night jokingly writing down names of the men who frequent Thirsty Beaver along with the poses they'd like to put them in and the scenes they'd like to set.
As it just so happened, local photographer Chris Edwards was sitting next to McNeale at the bar that night. After making clear that he had no intentions of appearing in the calendar, he agreed to shoot the photos for it if the idea ever came to fruition.
That original conversation took place in October 2015. Months went on during which McNeale and others would half-jokingly discuss the potential calendar. This continued until Shenna Bryant, McNeale's friend and another Thirsty Beaver regular, decided to take action.
By both McNeale and Bryant's admission, Bryant is the more of the "doer," while McNeale is an idea person. Bryant got tired of all the talk and began threatening to take the calendar idea and run with it solo if McNeale didn't get to work, so the two paired up. They began to work as a team to release "The Men of the Thirsty Beaver" to the world by 2017.
In the summer of 2016, the two approached Bennett with the idea. They knew he was looking for ways to raise money for Be the Match, since the recent sale of all the property surrounding the Beaver's tiny lot had made it impossible for him to throw his annual May Bash, which had raised funds for the charity.
"I caught wind of it, I knew they were doing it. At the time I didn't know they wanted to partner with a charity, but then I got cornered on a Sunday," Bennet said. "They wanted me to be in it, and I was vehemently opposed to that idea. Then they guilted me into it because they said it was going to benefit my charity, that's how I found out about it. That was back in the summer at some point. From there on, we kind of just started having some meetings about it, laying out some groundwork."
"We can be kind of persuasive after a couple beers," McNeale chimed in from her seat at the bar, where Creative Loafing interviewed much of the calendar crew on a recent Friday night.
In recent months, the team held five or six photo shoots with Edwards and a couple of "models" at a time. McNeale and Bryant would do whatever needed to be done behind the scenes, things like aiming leaf blowers from a distance to make a flag flap in the wind.
Brian Wilson, who owns Thirsty Beaver along with his brother Mark Wilson, posed for the August photo, a version of which ended up on the cover of this week's issue.
Brian, who also owns a vintage thrift shop called The Rat's Nest in NoDa, used his familiarity with antiques to inspire a theme for his poolside shot.
Chris Edwards
Brian Wilson during his August photo shoot graces this week's Creative Loafing cover.
"Obviously we were wanting to make it as silly as possible. Me having a vintage store and looking at old stuff, I'd looked at the Coppertone ad from years ago [a famous ad in which a puppy is pulling at a girl's bathing suit bottom] and thought, 'Oh, that'd be funny to make a little joke about that,'" Brian said. "I thought it was fun. I figured that's the only way you could do it is just go all the way and make it as silly as possible. I don't think anybody was trying to take it too seriously."
Although it looks as if the taxidermied beaver is doing the pulling, it's actually an example of McNeale's unseen participation.
"I'm hiding behind a bush with my finger pulling his underpants," she said. "I'm pulling them away but I'm trying to hide so it doesn't look like I'm there. We crawled around in the bushes, got a little scraped up and learned a lot."
Next year, McNeale and Bryant plan to do more than just direct their male counterparts. Discussions have already begun on what to call next year's calendar, which will feature the female regulars.
If they're looking for advice from the men on how to get comfortable in front of the camera, many relied on liquid courage to get through an experience that for most was surely their first modeling of any kind. Bob Campbell, a small, 63-year-old man who lives two blocks from the bar, is Mr. July. He posed wearing nothing but a BBQ apron and a smile, as he puts it. By the end of his shoot, which took place at his home, he was running around in nothing but his underwear.
"Jim Beam should have been a sponsor, I'm just saying," Bryant said.
The cheap whiskey will surely be flowing at the crew's calendar release party at the Wilson brothers' other bar, The Tipsy Burro Saloon on Monroe Road, on November 19. Attendees will have a chance to meet the models (Campbell promised he'll be fully clothed) and local bands Temperance League and Hank Sinatra will perform. The Tipsy Burro, a larger venue than the Beaver, gives Bennett a chance to throw a charitable party similar to the now-defunct May Bash. There's also a website set up to donate or preorder calendars for those who can't make the party or want to reserve a pin-up before they're all sold out.
"This will sort of be the culminating event," he said.
While the calendar gives Bennett a new outlet to raise money for Be the Match, it also fulfills McNeale's vision of capturing a snapshot of the tight-knit family, which means more when one realizes how close they came to losing their hangout spot.
In 2013, John Hatcher was looking to sell a seven-acre plot of land that surrounds the half-acre lot on which Thirsty Beaver sits. Developers wanted to build condos, and the opportunity to buy the little piece of land smack in the middle of Hatcher's property would have made it all that much more valuable.
In June of that year, Hatcher put up a gate around the Beaver property, choking off emergency exit points and restricting access to the lot where bar customers would park in hopes that the business would suffer and the landowner, George Salem, would be forced to sell.
The community stood in support of the Beaver, hanging protest bras and signs reading "Free the Beaver" from the fence and continuing to show up despite the limited parking and claustrophobic feel. The city eventually made Hatcher tear part of the gate down near the road and the fire marshal ordered him to place a gate outside the emergency exit.
To this day, Salem has remained steadfast in his refusal to sell.
"If it wasn't for him doing that, we wouldn't have a chance. We appreciate all his efforts. His mentality is on par with ours. We've been here for a while and we're looking to stay here for a while," said Mark Wilson.
Bennet compares the story of the elderly Salem refusing to sell his tiny lot to developers to the Disney movie Up, although it doesn't look as though the Wilson brothers will need to tie balloons to the Beaver and float off in search of another location anytime soon.
"We've had talks with [Salem] and his family and they've assured us that they want us here as long as it's possible. We hope to be here for many years to come and to keep doing things like this for different benefits to give back to the community," Mark said.
While it was Salem's stubbornness that saved the Beaver, the Wilson brothers agree that the customers have played just as large a part in preserving what seems to be the last true neighborhood bar in the area.
Chris Edwards
The men of the Thirsty Beaver.
In a rapidly developing Plaza Midwood — developers did buy Hatcher's land and the coming condos will soon cast a large shadow over Beaver's tiny lot — a good dive bar can go a long way, and everyone who frequents the bar is more than grateful it can remain that way.
From the owners to the bartenders to the regular customers, everyone CL spoke to for this story referred to the crew at Thirsty Beaver as a family.
"With all the stuff going on and all the construction, it obviously causes frustration in the neighborhood and nobody knows quite what to expect when more gentrification takes place," Brian said. "It has hurt just slightly, but not much. That's testament to all the people who come in. They're diehard people and, ya know, it's truly neighborhood people. Different types of people from different walks of life, from people that are down at the bank to construction guys, whomever it may be, they've just been consistently there all the time and developed a little community among themselves."
And so, as the condos continue to pop up and new folks continue to move in, the Thirsty Beaver Saloon will continue to take a stand simply by existing.
To hear the language Brian uses when describing the Thirsty Beaver family, it's not hard to imagine the simple act of hanging out at the bar as akin to locking arms and standing in front of a bulldozer ready to flatten the place.
"I know it's cliché to say, but it is truly a family bar, people look after each other. If somebody needs something, somebody's there; if somebody's parent or grandparent is sick, everybody wants to know and they're there for support," Brian said. "That was the best-case scenario for us when we first opened, to have that kind of thing, and we found it with this group of people in Plaza Midwood who have just latched on to each other."
A community of folks latched together is something we can always get behind, and if it means everyone taking their clothes off in front of a camera once a year, then we can support that, too.