You could call stand-up comedian Maz, short for Maziyar, Jobrani a lot of things and he probably wouldn't mind, but don't call him a terrorist or a Persian Pink Panther — his falsely reported nickname on Wikipedia. In our phone conversation, he sets the record straight, voicing his annoyance at failed attempts to get the name removed. Jobrani takes the mislabeling in stride, but sends for help in his latest newsletter blast.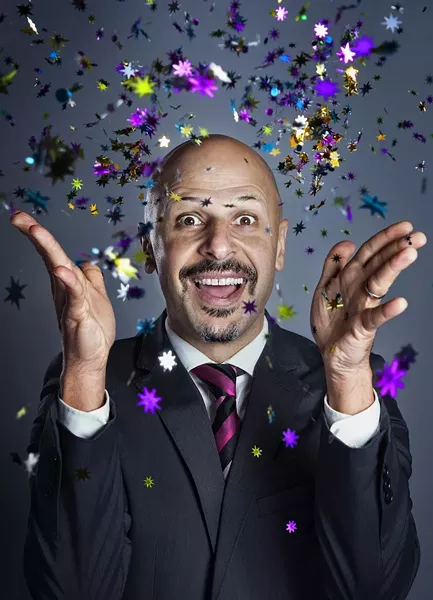 Maz Jobrani (Photo by Paul Mobley)
Luckily, the Iranian-American Jobrani has learned to find humor in places where most might find offense. Airport security hassles, the ongoing plight of terrorism, lingering and useless wars and rabid Middle Eastern stereotypes arm him with a recipe for explosive laughter. You can see for yourself when Jobrani performs at The Comedy Zone on Sept. 30.
Born in Iran, Jobrani immigrated to the U.S. with his family when he was a 6-year-old. The Islamic Revolution was just igniting, but Jobrani was California-dreaming — an FAO Schwarz toy store set his expectations of America high. Growing up on the West Coast suited Jobrani, giving rise to his love for freedom of speech, a right he puts to the test in his stand-up routines. He talks about race and ethnicities — specifically Arabs and Persians (or purrrrsians) — often with a short fuse that detonates into audience hysteria. Oil prices, assimilation, Facebook, babies, baldness and other topics are all fair game, as well. He attempts — whether trying or not — to break the negative stereotypes that surround folks of Middle Eastern heritage.
That being said, he doesn't consider himself a spokesperson for the Middle Eastern community. When someone once referred to him as role model, he dodged the undertaking. "I was like, 'I don't want to be a role model,'" Jobrani says. "Sometimes people ask you to take a stand for certain things and every time there's an issue in the Middle Eastern community, a lot of people are hitting me up to take a stand. If it's something I'm passionate about, I don't mind doing that actually.
"[Comedy] is just talking about your life and hoping people will relate to it. Something you can't avoid talking about if you're Iranian-American is touching on the Iran nuclear deal a little bit. There's a little bit of a spokesperson in me, but only when I want to be. I don't want the community to always feel like I'm the guy, because I'm decently informed, but I'm not a professor. I dropped out of the PHD [program]. I never got it."
Jobrani, who earned his Bachelor's degree in political science with a minor in Italian, strayed from the lawyer path his family had high hopes he'd take. In school, when he was praised by his teachers for roles in theater performances, his parents showed reluctance and a lack of enthusiasm. Theater and a love of Eddie Murphy led to his interest in stand-up, but initially, Jobrani wasn't so confident about his comedy.
"I continued to do plays and to want to do stand-up, but was too afraid," he says. "With stand-up, it's your writing and everything is you and with plays someone else wrote it and there's other cast members. But with stand-up it's all you and everyone's judging you, so I was really insecure about that."
His parents had deeper concerns. They wanted him to have a lucrative and secure career. Comedy seemed like the ultimate joke. That didn't stop Jobrani from dropping out of grad school though. Before taking the plunge into comedy, he considered becoming a professor, but that choice was still met with concern by his mother. In a final plea, she urged him to become a mechanic. Jobrani didn't listen.
"My mom comes from the Iranian Revolution and I think that they're afraid that at any minute your whole life could be pulled out from underneath you and that you should have a skill so that if you were to move to another country you would be able to use it," Jobrani says.
Comedy suits Jobrani and he's taken his act around the world. Emerging on the stand-up front in 1998, he made his claim to fame in 2005 as a founding member of the Axis of Evil Comedy Tour — a troupe comprised of Middle Eastern comedians that formed in response to former President George W. Bush's declaration of Iran, Iraq and North Korea governments as the "axis of evil" in regards to alleged attempts to spread terror.
Maz Jobrani's I'm Not A Terrorist, But I've Played One On TV: Memoirs of a Middle Eastern Funny Man was released by Simon & Schuster in February.
Since then, he's had three Showtime comedy specials — "Brown and Friendly," "I Come In Peace" and, most recently, "I'm Not A Terrorist, But I've Played One On TV." The latter is also the title of his memoir, released by Simon & Schuster earlier this year. Last year, Jobrani released his first feature flick, Jimmy Vestvood: Amerikan Hero, which he co-wrote, co-produced and starred in. The indie flick has already picked up a comedy award at the Austin Film Festival in 2014 and Jobrani has high hopes for a theater premiere next year. He also took the role of Jafar (from Aladdin) in the Disney movie, The Descendants. Obviously, life has been busy, leaving Jobrani with little time to look back.
When he does reminisce, his keen senses recall a vivid picture. The last time he visited Iran was in 1999 with his father. He recalls smuggling lemon cookies in his pockets as a quick snack to munch on while exploring the bustling streets of Tehran, where eating in public was forbidden because of Ramadan and fasting. Savory smells of Persian home cooking brought on nostalgia.
"What was a little depressing was how little hope the youth had in Iran," Jobrani says. "It felt like there wasn't that much opportunity for them and there certainly wasn't freedom and that was a little depressing for me. It made me appreciate America and the freedoms we have here even more."
He recalls his childhood in Iran as being colored by the West. He remembers American superheroes, orange soda and Muhammad Ali from his days in Tehran, a hometown he can't perform in or visit.
"I would love to one day be able to do that [perform stand-up in Iran]. I would just love to go visit one summer and have my kid experience Iran and myself experience it again," says Jobrani. "I don't even think I can go visit right now just because of the jokes that I've done about the leadership and some of the stances I've taken for human rights. I feel like if I went there, I would be in trouble quickly. I think that the regime, the way it works out there, is so unpredictable. It's almost like guilty until proven innocent. That's the frustrating part."
Despite being unable to visit Iran, Jobrani has put his passport to good use. He's seen many other parts of the world and much of the Middle East, including Saudi Arabia, Lebanon, Jordan and Egypt, and faced censorship rules head on during his Axis of Evil Tour. "All the countries we would go to, they'd be like 'Ok, no sex, no religion, no politics' and we were like 'Ok, that doesn't leave much. Hello and good night.'"
In Jobrani's book, I'm Not A Terrorist But I've Played One On TV, he uses his travels as a kind of launch pad for discussions. He talks past performances and captures the essence of what it's like to be an immigrant coming to American, assimilating and navigating the world at large. Though he says the task was daunting, he says the benefits were therapeutic. "I tell people, 'If you really want to go to therapy without paying for a therapist, write a book.'"
In the book, he writes about his past stints playing terrorists for film and TV. Jobrani starred as a terrorist in the 2002 Chuck Norris film, The President's Man: A Line In The Sand, and on an episode of the TV series, 24. He expresses his regrets for taking on the roles.
"Really if you want to see a terrorist you can just turn on the news and you'll see a bunch of them. The unfortunate thing is, I would say that it's a very small percent of the population that are terrorists and yet the bigger stereotype of Middle Easterners is that," Jobrani says. "You realize that some of those parts have repercussions at schools where kids are getting picked on and they perpetuate the stereotype. I don't want to do it, I just feel bad when I do it. I feel like I'm selling out, so I have said no to those parts. I don't mind playing like cab drivers or falafel store owners or any of that stuff because I feel like I've seen those people and I know those people, but the terrorist thing is one thing I've stopped doing."
The aftermath of the Sept. 11 terrorist attacks left a heavy impression on Jobrani. For a brief time during that period, he considered quitting comedy altogether. "For me, when 9/11 happened it was like the day the laughter died in my mind and heart. I was really upset about it. It was like 'How are you going to be funny again?' and 'How do you make a joke again?' It felt so sad and depressing, so I was like well, that's it."
It was comedy's therapeutic effects that brought Jobrani back to stand-up. In times of despair and stress, levity is needed. Jobrani also used comedy as a way to address other issues that were brewing in the aftermath of 9/11.
"When I started seeing what the Bush administration was doing and leading us into Iraq with terrorist attacks as an excuse, I really felt that that was incorrect and I felt like I needed to start talking about these issues again," Jobrani says. "Those two things made me realize that comedy is important and I got back on the bike pretty fast."
Jobrani enjoys exposing hypocrisy and informing folks about issues through comedy. He has high respect for social and political commentators and comedians like Lewis Black and Jon Stewart.
"I try as much as I can to just kind of express my opinion and if someone disagrees with me, then they disagree. But if it's funny, it's funny. You kind of have to live and die by the joke. You can't just go on stage and preach because then you'll loose your fans as well, but if you can make it a funny thing then you've won," Jobrani says. "I don't mind talking about issues that are somewhat controversial because I'm expressing my opinion and everyone's got one. If someone doesn't like it then they don't have to pay to see it."
Maz Jobrani performs at The Comedy Zone on Sept. 30.
But Jobrani's act isn't about angst and blowing fumes. He manages to address all of his subjects with a fun, laidback demeanor. This includes his life at home. Jobrani is married to an Indian-American and he's a proud father of a 7-year-old son and 4-year-old daughter. In recent years, family-focused material has increased in his stand-up act.
"It's become a big part of it and it's not even a conscious thing," he says. "It's just that the kids give me so much material that I feel I've got to talk about it. Some audience members say 'I wish you'd do more political stuff and less kid stuff' and I tell them 'Listen, I can't help you. I'm not taking requests and I'm not a jukebox, so it's just whatever comes to me and whatever I want to talk about at any given time.'"