"Crossroads," the opener from Spark Seeker, the recently released fourth LP from reggae-informed emcee Matisyahu, is a daring amalgamation of styles that shouldn't amount to a complete thought, let alone a tremendously catchy pop song.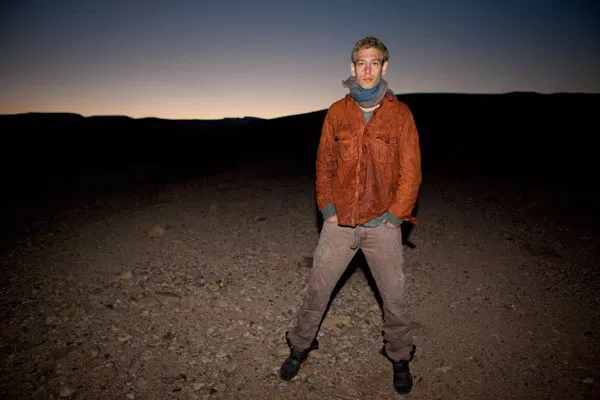 A LITTLE OFF THE TOP: Matisyahu
The track begins with a Hebrew chant that appeals to Adonai, which roughly translates as "God." A distorted wall of Middle Eastern instruments is twisted until the individual elements become mostly indistinct, building to mild cacophony before a head-knocking beat blasts though. Myriad vocal effects pile onto Matisyahu's mostly sung lyrics, blurring his words until they feel less like the thoughts of an individual and more like the raucous exhalations of an impassioned group. "They say I inspired, but I'm still looking for my fire," he sings, seeming at once exhausted and powerful. "These lies have got me tired."
It's not exactly the hyper-reverent message you'd expect, given the song's opening moment of praise. It's doubly surprising when you consider the source. Matisyahu, born Matthew Paul Miller, rose to fame in 2004 as a Hasidic Jew who rapped about his unyielding belief. He became an inspiration to those who shared his religion and an appealing oddity to music fans all over the world. He dressed the part too, sporting the full beard traditionally worn by Hasidic males. Conversely, "Crossroads" is the sound of a conflicted musician stricken by a crisis of faith.
"I think there are different perspectives on how to advance or grow spiritually," he says. Our phone conversation is chaperoned by his publicist and limited to a precise 15 minutes, but Matisyahu, who will perform at the Fillmore on Aug. 19, packs a wealth of thoughts into his truncated responses. He's soft-spoken but frank, never mincing words as he describes the evolution of his faith and its impact on his music.
"There's a history within Hasidism of there being multiple dimensions or paths," he says. "One of them was to really put all your chips in one basket as far as belief in the master-student relationship and being devoted wholeheartedly and blindly, beyond the intellect to the path. There were other paths that fall a little closer to finding a service that really works well with your character and personality.
"I think that in the school of thought where I was coming from early on in my career and when I first moved out to Brooklyn, I was very much immersed in the former attitude of not questioning too much," he continues. "That changed for me over time as I began to explore more beyond the one path of Judaism that I was on."
These days, Matisyahu lives in Los Angeles, not Brooklyn, but that's far from the most noticeable change in his life. Earlier this year, he shaved off his iconic facial hair, escaping into welcome anonymity and confusing many of his diehard fans. Some saw it as an expression of the personal and religious freedom for which his music often yearns. Others deemed it a slap in the face, a traitorous move against the faith for which he had served as an ambassador. For Matisyahu, it was another step in an ongoing spiritual journey that serves as the chief inspiration behind his passionate output.
"Up until this point, there was a certain set of rules that I lived my life according to in a pretty literal way," he says. "Even though my life allowed for me to not be in a typical religious lifestyle, there's still a lot of those elements, and there still are today because that's what I've been doing for such a long period of time. There's a lot of crossover, but there's a difference in my mind-set."
Musically, Spark Seeker mirrors Matisyahu's new-found disregard for rules. These songs incorporate the swaying reggae bass lines, brash backpacker beats and worldly instrumental flourishes that have thus far formed the foundation of Matisyahu's style, but he also gives himself over to pop influences in a way he never has before. "Sunshine" cops reggae guitar chirps and a rumbling back beat but grafts them onto bold, arena-ready synthesizers that nod to the outsized indie-pop of acts like Passion Pit or MGMT. The hooks on Spark Seeker are often enormous, adding a new element to Matisyahu's sound that parallels the freedom he seeks with his words.
"It's a theme that runs through a lot of my music because a lot of my music has been themed around Jewish traditions and the Torah, and the theme of slavery and freedom is a big one in the Bible, you know, the Exodus and all that," he says. "There was a certain freedom I was looking for in becoming religious. There's a freedom from myself and trying to appeal to a higher nature or a higher power. I think that, during the recording of this record, I felt myself free up tremendously. Creatively and spiritually, I felt a weight was lifted. It comes out in the music, I think."
For Matisyahu, Judaism offers a freedom that a purely secular life could never provide, but as a musician, he understands that many might not feel the same way. In the outro to "Searchin'," a computerized voice compares religion to the guide on an archaeological dig — "A Rabbi is the geologist of the soul. He can show you where to dig and what to dig for, but the digging you must do yourself." Likewise, Matisyahu's songs are the result of one man's ongoing spiritual journey. All they demand is that you approach them with a mind as open as the one that created them.
"If you put on my record, from start to finish you're going to hear a lot of Jewish influence," he says. "For me, that's much more important than the authenticity of the heart and the soul of what's going on, the philosophy or the idea of what's involved. It's music, and that's really what I feel my purpose is here, to make music that will touch people and not worry too much about the message that I give off with the external trappings and such of the religion."
Matisyahu with The Dirty Heads, Moon Taxi. $38. 7:30 p.m. Aug. 19. The Fillmore, 1000 N.C. Music Factory Blvd. www.livenation.com.