The small crowd of couples and reporters outside the Mecklenburg County Register of Deeds persistently checked their phones, anxiously awaiting the news. Some thought for sure it would come Thursday. When nothing had happened by Friday morning, people started throwing out unofficial deadlines. Certainly the federal judge who, after the U.S. Supreme Court declined to take up challenges to several same-sex marriage bans, had the authority to repeal North Carolina's ban wouldn't wait longer than 3 p.m. or 5 p.m., they said. Finally, just after 5 on Oct. 10, Amendment One was repealed two years after it was signed into the state's constitution and despite resistance from lawyers recently hired by Republicans in the General Assembly.
Couples around the state flocked to their respective register of deeds offices. Mecklenburg's had closed before the decision and couldn't legally open that evening to grant licenses, but it opened Monday morning to a steady trickle of applicants. At the end of the day about 60 same-sex couples were officially granted the right to wed in North Carolina. Here are a few of their stories.
Victoria + Kathy

Couples of all races and ages sit in office chairs that line the back wall of the Mecklenburg County Register of Deeds office, which is about as romantic as a post office, waiting to be summoned by clerks. In many ways, the sterile government office befits the marriage proposal Victoria Mangus received from her partner of four years, Kathy Stewart. At one point over the weekend, the two were in bed when Stewart, 48, looked at Mangus, 40, and said, "Let's go do this thing."
"I was joking! And she looked at me and said, 'Sure.' And I said, 'Really?!'"
Getting married was especially important for Mangus and Stewart, who met on an online dating site. They are in the process of adopting three children, ages 2, 4 and 5.
With a license in hand that's good for 60 days, the couple plans to celebrate at a Halloween-themed reception. Mangus said they're still undecided on their costumes. "Probably zombie brides."
Nikki + Sandra

Nikki Eason and Sandra Godley were so busy hosting two fellow yoga instructors, who were visiting from Kenya, that it would be later Friday evening when they'd hear the news. They couldn't celebrate just the two of them all weekend, but Saturday they hosted a fundraiser that became a de facto celebration. "All of our friends came in and said, 'Are you guys getting married? Are you guys going Monday?' It became a little bit of our celebration," Eason, 43, says.
The whole thing feels surreal for Godley, 37. A soon-to-be wife, she's also 10 weeks pregnant. "[Getting married] was imperative to do right away for Nikki so that she could get rights to our child. We wanted it for all the romantic reasons, but we probably wouldn't have rushed here right away if it wasn't for that."
"We didn't want to risk a stay being put out on issuing licenses or anything like that," Eason adds.
The couple of three years plans on hosting a bigger ceremony in the next few months. "We're going to have a shotgun wedding," Godley jokes.
Stephen + Taylor

Stephen Sutton and Taylor Sennett stand arm in arm in the Register of Deeds office looking stunned. Happy, but stunned. They woke up Monday expecting to make a quick, unassuming trip to Uptown for a marriage license.
They realized something was unusual when they approached the government building and were met by the Charlotte Pride Band, which serenaded couples with traditional wedding songs all morning.
"We just walked in here and were like, 'Whoa!'" says Sennett, 22.
On Friday, Sutton, 25, saw Facebook status updates applauding the judge's decision. He checked a few major-news sites but didn't see anything official. "I thought it was a Facebook rumor."
After letting the scene on Monday sink in, they eventually unlock arms and begin walking around the office, congratulating other couples. They take a photo of two newly licensed men, strangers.
"I feel like, if you find that one person, that you should be able to be with them," Sennett says.
They'll celebrate their nuptials next year in Cancun.
Jade + Jon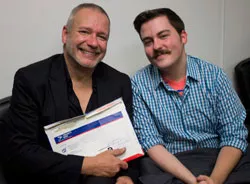 When Jade Bienvenu, 47, and Jon Sykes, 28, met, they knew almost immediately that they would get married. But Amendment One had just passed. Neither of them expected to be at the Register of Deeds only two years later. "We didn't expect this to happen at all," Bienvenu says.
Life won't change much with a marriage license — "In our minds we're already married," he says — but they do share the kind of relief one feels after a long battle. "I can just exhale," Bienvenu says. "We'll be able to relax and not worry about this anymore." (They got married outside the Register of Deeds office.)
Friday's news renewed his faith in the U.S. Constitution and the justice system. "That's the biggest thing for me. I had lost my pride as an American. Friday, I got that back."
---
Oct. 10, 2014: THE DAY EQUALITY CAME TO NORTH CAROLINA
Brhea Koneman
Scott and Joey get the news of Amendment One's repeal.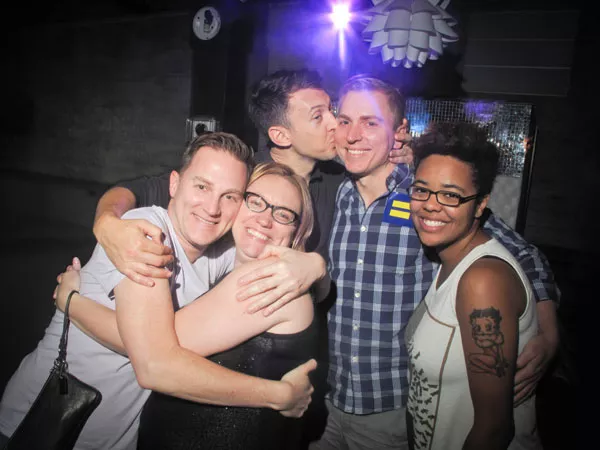 Selah Says

Cheers to equality! L. Jeff Freeland, Kim Case, Glen Powell, Chad Barringer, Veda Covington at Cathode Azure after the announcement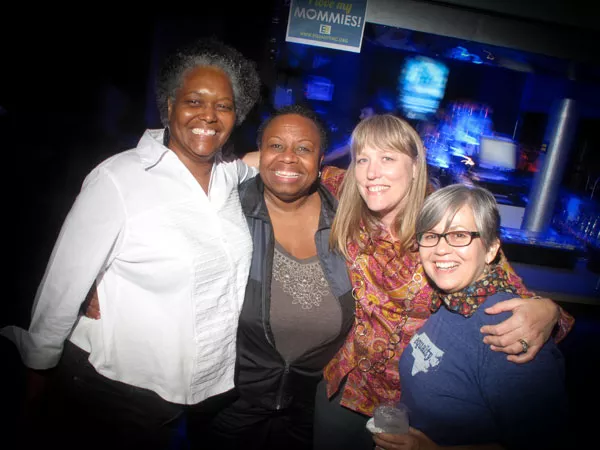 Selah Says

Timing is everything. Gwendolyn and Bishop Tonyia Rawls were celebrating their eight-year wedding anniversary the same day Amendment One was overturned. We spotted the couple at Cathode with Lane Rhodes and the Rev. Debbie Warren.
READER-SUBMITTED PHOTOS

---
Oct. 13, 2014: CHARLOTTE ISSUES FIRST SAME-SEX MARRIAGE LICENSES
Grant Baldwin
Scott and Joey in the Mecklenburg County Register of Deeds office
Grant Baldwin
Love was louder than that Bible-thumping protester.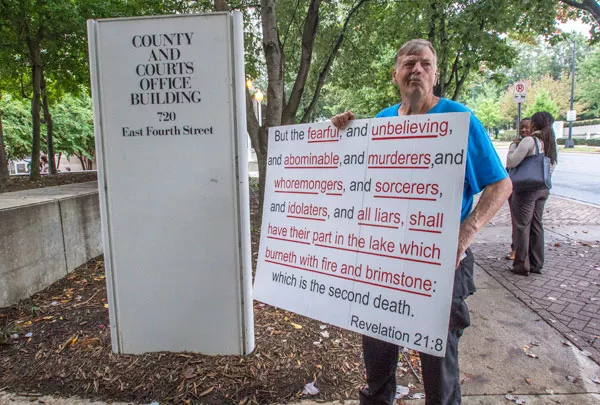 Grant Baldwin
This guy had no comfort in numbers
Grant Baldwin
Rainbow cupcakes for everyone!
Brhea Koneman
Smooches! Jason Roberts and Aaron Merckle hug it out.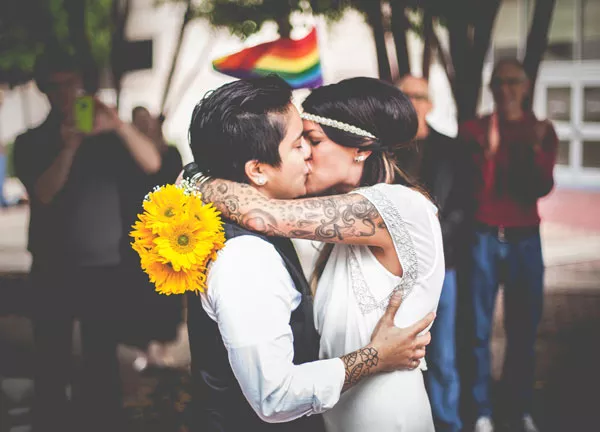 Brhea Koneman
More smooches! Christina Ann Corvin and Amanda Eve Corvin
---
23 slides