The singer-songwriter cracks a few gallows jokes while tuning his guitar between songs on a tiny stage near the Northlake Mall. He's in the middle of a set of intense tunes with titles like "Let the Burning Yell," "The Funeral Blues" and "Sometimes It Falls Apart." I ask if it's OK to live-stream.
"We should play something that doesn't suck, then," the singer, Fort Mill-based Rick Spreitzer, says.
"Wow! What a concept, Rick," guitarist Kevin Edwards chimes in. He provides the harmonies and plays the crisp acoustic leads to Spreitzer's strumming and fingerpicking. "You and me — broadcast out to the world."
"We're going live, mama!" Spreitzer fires back, not missing a beat. Then he announces the next tune. "Let's see," he says. "We played this one about a week ago. It's a sweet song to hang yourself to."
Spreitzer (right) and Edwards play a "sweet song to hang yourself to." (Photo: Mark Kemp)
Spreitzer and Edwards are on a roll. It's a little after 2 p.m. on a Saturday and the two are burning up the stage. But the stage they're performing on isn't in some local club or restaurant or brewery — it's in the cozy living room of a two-story suburban home at the end of a cul-de-sac. (Watch the full concert at the bottom of this story.) A sign taped to the front door reads: "Tiny Stage Concerts." The words form a rudimentary illustration — the T in "tiny" is shaped like a mic stand, the word "concerts" is part of a keyboard, and the whole thing is framed by a pair of stick figure-style speakers.
Tiny Stage Concerts is the brainchild of singer-songwriter Louis Beeler, who in 2016 began videotaping some of his fellow musicians who regularly play at open-mic events in the Charlotte area. Today's session is the 83rd performance Beeler's taped since his first one, on April 8, 2016, with Huntersville songwriter Al Lemmond. Beeler has since brought in a wide range of songwriters — from former New York City anti-folk troubadour Grey Revell (a CL contributing writer) to neo-soul singer Adayla Turner to such legends of the Charlotte Americana scene as David Childers.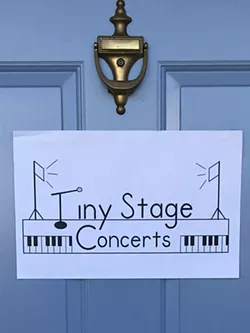 "We'd just moved into our new house and I decided to build a stage for friends to come over and do song circles and stuff," Beeler says. "And then once I had the stage in, I got the idea of doing house concerts." He motions to the stage, constructed along a wall just a few feet from a couch, which sits along the opposite wall. "As you can see, it's tiny in here," Beeler says. "There's not enough room for more than 10 people, so doing house concerts didn't work out.
"Then we got the idea of doing virtual concerts," he says. "It just took off from there."
When it came time to name this virtual concert series, Beeler chose a clever play on Tiny Desk Concerts, the National Public Radio series that's become massively popular since it launched on NPR's website in 2008. TDC has featured hundreds of famous artists, mostly critical darlings, ranging from hip young singer-songwriters like Julien Baker and soul man Leon Bridges to such songwriting legends as Randy Newman and Graham Nash of Crosby, Stills, Nash and Young. The most-viewed episode of Tiny Desk Concerts came this past November when the hip-hop funk singer-songwriter Anderson Paak unleashed rousing performances of his tunes "Come Down" and "Heart Don't Stand a Chance." As of this writing, more than 14 million people have viewed the Paak episode alone.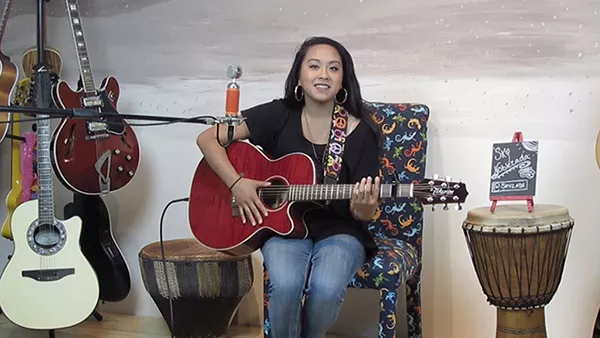 Singer-songwriter Sky Noblezada did her Tiny Stage Concert in July of 2017.
The idea for NPR's Tiny Desk Concerts came when Bob Boilen, the host of All Songs Considered, went into a club in Austin, Texas, with his music editor Stephen Thompson during the annual South by Southwest Music Conference. They were there to see Laura Gibson, a much-buzzed-about rising young singer-songwriter based in Portland, Oregon. But Boilen and Thompson became irritated when they couldn't hear a word of her songs over the noise.
"It was this awful bar," Boilen told Vox Media in 2016. "The speaker was pointing out the door, people were watching basketball games and cheering for their teams."
After the performance, Thompson joked to singer Gibson that she should just come by and play for him and Boilen at the NPR office. Three weeks later, Gibson arrived to perform the very first Tiny Desk Concert, and Boilen posted it online to enthusiastic engagement from NPR's users. "We had no idea what we were doing," Boilen's All Songs Considered cohost Robin Hilton told Vox.
Beeler's Tiny Stage Concerts came out of the same frustration with Charlotte-area clubs and breweries.
"I had a circle of local songwriters who played open mics, and we wanted to have a platform where people could hear their lyrics," Beeler tells me, after Spreitzer and Edwards finish their set. "We had been to too many songwriter shows where you just couldn't hear anything."
Americana great David Childers (left) came to TSC with bassist Korey Dudley in June 2017.
Spreitzer, still cradling his blonde David Webber MJ model acoustic, pipes in: "If you love musc, if you love lyrics — this is a great opportunity to perform in an environment where you can hear the songs," he says. Spreitzer is well-loved on the Charlotte songwriting scene, where he's recorded and performed consistently since he released his first album, Meanderthal, in 2002. "It's an opportunity to put your songs out there and know they will be heard." He turns to Edwards, who's casually picking on his Martin D-35. "I could hear Kevin's strings squeaking over there while we were playing. I could hear every tap on his guitar. It was that intimate and that close. And that's the way it is when we play at home."
That's not the way it was when Spreitzer saw a band at a NoDa club the night before. "I went to the [Evening] Muse to see Jason Houseman, and I heard this great opening band, Mirror Man," he says, and then lets out a sigh. "I couldn't hear one lyric. I couldn't hear anything."
After Beeler made the decision to install the tiny stage in his suburban home, he and his girlfriend Karen Butler set about converting the living room into a full performance space and studio, using the best equipment he could afford: a Canon SX-40 camera, a 24-track TASCAM Portastudio and a set of Blue Bluebird SL condenser microphones. The choice of mics was particularly important, he says. "If we were going to make sure people could clearly hear the lyrics, we needed great microphones."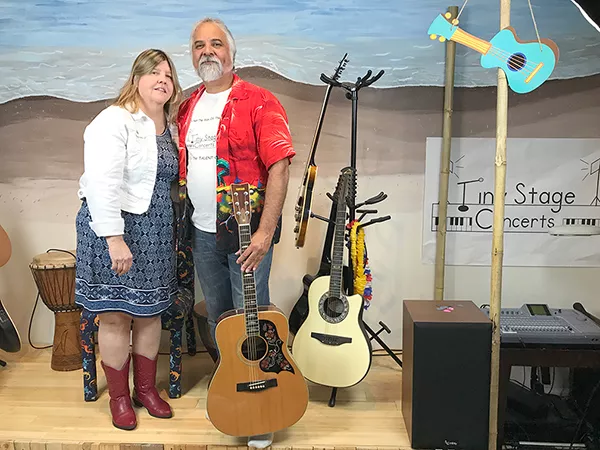 Karen Butler and Louis Beeler on their tiny stage. (Photo by Mark Kemp)
The couple then turned to decorating the space, transforming it from bland suburban to colorful island kitsch — a backdrop of sand and blue sky, with tiki record covers, a cut-out of a hula girl and other memorabilia on the walls, and a ukuleles and numerous old guitars hanging from racks flanking the stage.
There's the 20th anniversary Ovation, the '70s-period Yamaha FG-300 with flower engraving, and the Godin Multiac Nylon electric-acoustic. "Most of the instruments are from pawn shops," says Beeler, who wears his signature gaudy Hawaiian shirts during every taping. He points to one of the instruments. "But that Yamaha is actually the first guitar I ever bought," he says. "And the Godin — Grey played that one when he came in."
He is referring to Grey Revell, one of the earliest artists to do a Tiny Stage session. Revell had walked into the Beeler's living room studio one Saturday in May of 2016 with his cheap, sticker-covered no-name acoustic, and performed a five-song set of his original songs including "Gone, Gone" — which became a surprise hit for Revell in Brazil after it appeared in a 2013 Hewlett-Packard TV commercial — and "First Cuban Boy on the Sun."
Former NYC anti-folk singer Grey Revell was one of the earliest TSC performers
Beeler had met Revell at Freeman's Pub in Gastonia, and the two immediately hit it off. "And then Louis wrote me one day and said, 'I'm doing this little thing at my house. I've set up a little video studio and I'd like for you to come in and do a couple of numbers,'" Revell remembers.
The singer jumped at the opportunity. After all, it was a chance to perform a handful of songs in a quality video. "It was awesome," Revell remembers. "Here was this little stage with guitars everywhere and all this kitschy stuff, like palm trees and other knickknacks." He laughs. "I loved it."
So did the jazz-soul singer Adayla Turner, who arrived one Saturday with her guitar-playing husband Rico Nye and 5-year-old son Emilio. "I was surprised with the wall art," she says. "And my son loved the slot machine by the door."
Turner performed a handful of her jazzy and soulful tunes including the cool and sublime "Come on Over" and the more upbeat "Summertime, Vol. 1." She had contacted Beeler after seeing a few Tiny Stage videos online.
Adayla Turner and her guitar-playing husband Rico Nye played TSC in August 2017.
"That's how we've gotten several people more recently — they get in touch with us," Beeler says. "And Adayla had a great voice. She was fantastic."
Early on, it wasn't so easy getting people to come out to the suburbs to perform in some guy's home. "When we initially started, we wanted to do a weekly series, but that first month we had trouble getting even one person a week to come in," he says. "But then once it got going, more people were contacting us. Now we have agents calling and people sending electronic press kits."
Like many other Charlotte-area music boosters — such as John Tosco, whose Tosco Music Parties also began in his home, and the folks at Midwood Guitar, who bring musicians into the store for video sessions — Beeler says he's inspired by all the hard-working musicians in the Charlotte area. And he says the city needs alternatives to local clubs, many of which have closed their doors recently at an alarming rate. "Good places to play seem to be pretty few and far between these days," says Spreitzer.
"But there's still a wealth of talent in the Charlotte area," Beeler adds. "And I've found that the most talented people around here are very humble."
Guitars and musicians were always around Beeler's home, from the time he was born in New York, in 1963, to his childhood in the border town of El Paso, Texas. That's where he learned about all kinds of music from his older brothers who played in bands.
"I was in a few bands in high school, too, then duos and solo after that," Beeler says.
Beeler strums a few chords on the first guitar he ever bought, a old Yamaha FG-300.
He was in his early 20s when he moved east, to Austin, where he'd occasionally run into Texas music greats like Stevie Ray Vaughn, Townes Van Zandt and guitar virtuoso Eric Johnson.
"I saw Eric Johnson at a local music store one time. I'd gotten off work and gone to this music store next door, and he was in there doing a little guitar clinic," Beeler remembers. "There were only about six of us there. It was great."
Beeler, who works as a service technician, fixing printers and other office equipment, during weekdays, has always played music as a side hustle. When he relocated again in 1987, this time to Miami, Florida, he continued to gig around. He lived in Florida for six years before relocating with his then-wife to Charlotte, where she had landed a job. Beeler immediately immersed himself in the local singer-songwriter scene, going out to open-mic events and forming a duo, The Acoustic Brothers, along with his buddy Mark Kendrick.
After he and Kendrick split, Beeler continued as a solo artist under the name The Acoustic Guy, and he still gigs around in the Lake Norman area, at spots such as the Old Town Public House, Summit Coffee in Davidson and Joe's Sports Bar in Concord.
"I try to play about once a month or so," Beeler says. But he's busy these days. When he's not working his day job at Kelly Office Solutions or actually shooting the Tiny Stage Concerts, he's sitting at his desk in a adjacent room, spending up to six hours at his digital workstation editing each episode. He'd like to get a second camera to home in on the guitar solos and capture different angles on the singers, but that would mean even more time at his workstation.
"We've used a second camera occasionally, like when people bring in keyboards," Beeler's girlfriend Butler says. She handles the videography during the sessions while Beeler makes sure the sound levels are right. "We'd like to do more of that."
"Yeah, that would be nice," Beeler adds.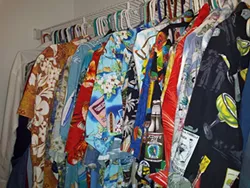 Beeler's closet full of TSC uniforms: dozens of gaudy Hawaiian shirts.
It's the following Saturday, a full week after Spreitzer sat on the stage cracking jokes during his appearance on Tiny Stage Concerts. Beeler and Butler are back in action, awaiting the arrival of this week's guest singer-songwriter, Todd Murray, who performs acoustic blues and folk under the name Sincerely, Iris.
"They're usually about 15 minutes early or 15 minutes late," Beeler says, as he preps the stage and soundboard, and Butler checks the camera.
When Murray eventually ambles in with an acoustic guitar and a second instrument — a cool, homemade cigar-box guitar — the three do a little chitchatting before Murray hops onstage so the couple can check the sound and visuals.
Murray grabs a bottleneck slide and puts it to the strings of the cigar-box guitar, whose top is an old, rusted green-and-white Colorado license plate. Murray, who once lived in Colorado, slices into about a minute or so of his new blues-based song "I'm Not the Same" as Beeler adjusts the levels. Then Murray tells me how he came into contact with Beeler and landed today's gig.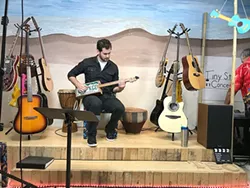 Todd Murray, who performs as Sincerely, Iris, is the latest area singer-songwriter to grace Beeler's tiny stage. (Photo by Mark Kemp)
"We met at an open-mic night and it kind of snowballed from there," says Murray, who's now based in Charlotte. "The waiting list was pretty long, actually. I think we probably first talked in October."
He'd seen several episodes of TSC and was pumped to come in. "A lot of my friends have played in it," Murray says. "It's rare. There's nothing like this in Charlotte anywhere."
Beeler, wearing headphones and standing by the soundboard, grins ear to ear. He knows that what Murray just said is the truth, and he's happy to provide the space for Charlotte musicians to document their work.
"My goal," Beeler had told me in an earlier conversation, "is to get every talented songwriter in the Charlotte area in here for a Tiny Stage Concert."
That just may keep him busy for the rest of his life.
—————————————————————————————————————-
Watch Rick Spreitzer and Kevin Edwards perform their Tiny Stage Concert.