I knew what I was in for when I walked into a boutique named Social Status in Plaza Midwood and sales associate Alex Brown shook my hand while not even hiding the fact he was staring at my sneakers with disdain.
This was my welcome to sneaker culture. I had stopped home beforehand to wipe some all-purpose cleaner along the soles of the Penguin sneakers I had bought at the thrift shop next door for 15 bucks just weeks previous, but it wasn't enough. I was an outsider and that much was clear.
In the lead-up to Sneaker Con, a national sneaker convention returning to Charlotte for the first time in three years, I was meeting with sneakerheads and retailers throughout the city to get their thoughts on where Charlotte's sneaker culture stands today.
Even among that diehard culture, there aren't a lot of people in Charlotte who can compete with Brown's shoe game. I visited his house on a chilly Sunday morning and he went over his collection of more than 200 pairs of kicks, some with resale value well into the thousands.
He pointed out a pair of Nike SB sneakers that never hit the shelves. The shoes were a collaboration between Nike and the local Black Sheep skate shop in South End, but the similarities in patterns to Gucci got the designer company's attention and they threatened a lawsuit if the shoes were ever sold. Brown ended up with a pair through one of his connections in the city.
It became clear in my meetings with Brown and other area folks with their finger on the sneaker pulse that a new aspect to the U.S. sneaker culture has changed things in recent years. Collaborations between shoe companies and pop-culture icons like Drake have come along at a time when the viral nature of the social media generation has created a perfect storm, resulting in a billion-dollar culture based on money and peer pressure.
More people are now getting into the sneaker game as a hustle, not just because they like kicks, and that affects how much access collectors like Brown have to the shoes they want. Re-sellers wait in lines to be the first to buy a newly released sneaker and sit on them until demand begins to crescendo on social media. Then they'll offer up the sneakers for double the price they bought them for.
"It's come up in the past three to four years," Brown says. "People are more money hungry. It's more like a way of life, a business, now. You can go buy a shoe at $200, and the next day a lot of people will be selling them for $400. It just makes things more expensive. There are limitations now because people will buy the shoes the day of (its release) so it sells out. Then once it sells out people just want it more."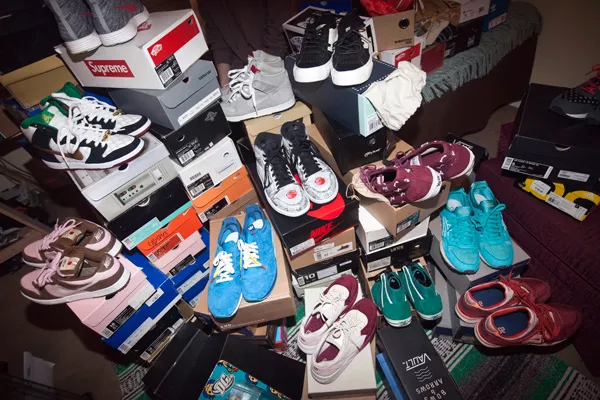 Alex Brown's collection of sneakers includes over 200 pairs, some of which valued at thousands of dollars. (Photo by Jeff Hahne)
It all started with the man who currently calls Charlotte home: Michael Jordan. Players had exclusive shoe deals before, but Air Jordans changed the game and, over time, helped usher in an era in which sneakers became status symbols, like gold chains or a nice car.
Today, the Jordan brand is worth more than $2 billion, according to Forbes, and it's not just basketball stars anymore. The Jordan brand releases collaborations with everyone from Eminem to Spike Lee. Adidas' upcoming release of the new Yeezy Boost 350s, the brainchild of Kanye West, in November promises to be the most anticipated sneaker release of the year.
Though most sneakerheads like Brown came up collecting Jordans and Nike SBs as they were released, many look down on the new delirium-filled releases in which shoes sell out in minutes (12 minutes for the limited first edition of the Yeezy Boosts earlier this year) and become hard to find thanks to people buying them up who may not even care what the shoe looks like.
Darryl Hines, owner of the university-area boutique Velocity says he watched the game change around 2009 and 2010.
"The resale concept really started to get hot in 2010, when the Jordan Concords came out," Hines says. "That's when they were breaking mall doors down because of the street value. They were thinking, 'I gotta have this.'"
He said the sneaker culture in Charlotte has grown from when he opened his store as a sneaker boutique in 2007. Charlotte wasn't ready, as he puts it, and he adapted and started selling gear and accessories as well. Since then, people have come around and gotten more into the culture in Charlotte, he says, but it bothers him that everybody is now going after the same shoes.
"When Jordans were coming out (in the '90s), we didn't buy every one," Hines said. "You don't like every model. If I don't like that for $125, which is half my paycheck back then, that's an easy pass. Maybe I'll like the next one. But in the meantime, that didn't mean you don't buy shoes, you just bought something different. You bought a pair of New Balances, a pair of shelltoes, Air Force 1s. You bought something else because you loved shoes, you just didn't like that one. Everybody's on the same thing now."
(From left) Vadoll Byers, Jeffrey Sekyere and Alex Brown discuss sneaker culture in Social Status, a boutique in Plaza Midwood. (Photo by Ryan Pitkin)
Brown says he was shocked to return from a break in collecting six years ago only to see that change had already come.
"I remember when Nike SB wasn't super hype like it is now. I could walk into Black Sheep and get a pair that had been out for a month, which is unheard of now," he says. "I was kind of fading out in 2009; I stopped collecting. I saw a pair come out that I wanted, I figured I'd go get them, so I called Black Sheep to make sure and they were like, 'No, we sold out the day of.' I had never heard of that until then. Everything has kept moving in that direction since."
Vadoll Byars, also at Social Status, now sees on a daily basis how re-selling has changed everything. He said just recently a kid came in for the Yeezy Boosts and refused to try them on because he didn't care whether they fit him or not.
"They're not even buying shoes for themselves anymore, it's for everybody else," Byars says. "After high school, I started getting into it, but after a while it turned into kids just buying shoes so they could impress friends. It wasn't 'I like this shoe.' People were buying J's all the time just to say, 'I have the most Jordans.' It was a status thing."
Hines explained how the emphasis on sneakers with a lot of hype doesn't just lead to a lack of originality in the soles hitting Charlotte's streets, but hurts the Charlotte market as a whole. He reports back to Nike on a weekly basis with how all of his shoes are selling, and if they don't hear that people are buying an array of different shoes, they won't send a diverse selection his way in the future.
"They want to hear about the other shoes as well. They know the Retros are going to sell out. They don't care that they sold out in 10 minutes. The website sold out in 10 minutes, too. That's to be expected," he says. "How did the other model sell? You got 10 pairs, did you sell three, five or six? If you tell them none, then they continue to look at Charlotte as a small market. Charlotte people will say, 'No, we're a big city,' but you have a small city mentality because you're only buying the broad stuff, you're not buying a $70 shoe because you like it."
For Jeffrey Sekyere, who works at Social Status with Brown and Byars, it's depressing to see kids coming in the stores now wanting shoes just because that what's everybody on Facebook says they should get.
"Sneakers have always been my thing. I was choosing my own sneakers since third grade," he says. "Back then, I could go into the sneaker store a week after and could still get my shoes. It was never about what everybody else wanted. A certain sneaker can make me feel a certain type of way. I wouldn't care what it costs, I would just buy it because I really want it."
For some passionate collectors like the crew at Social Status, it has turned into a waiting game until the bubble bursts, and they'll be waiting to reap the benefits, because their love for sneakers won't be affected.
"I feel like it's just going to reach a height to where people get sick of it," Brown says. "And I honestly hope it turns into something like Beanie Babies, so I can just come in and get all the things I want."
The Black Sheep Nike SB Dunk High "Paid in Full" was pulled before it hit shelves due to a pending lawsuit from Gucci. Alex Brown was able to get a pair from a connection who can't be named here for legal reasons. (Photos by Jeff Hahne)
Know Your Sneakerhead
Shoes used to be so simple.
It all started with athletes. But the new world of collaborations between sneaker companies and entertainers, artists, local shops and even people who run for a living, has come at a time when social media platforms have changed the landscape of sneaker culture.
Many subcultures have become noticeable within the sneaker world. Shoes have become the next generation's favorite status symbol in many ways (when you walk into a store like Social Status, they shake your hand and look you straight in the foot).
Here's the most common types of sneakerhead you'll find walking the streets. Just don't step on their toes, whichever category they fall in.
Designer Footwear Heads
Kanye West has become a fashion icon for the younger millennial set. It may look like a style out of a Mad Max movie, but it's caught fire and people are into it. The minimalist movement is not just about Kanye, though he's a big reason it's gone big nationwide. The look is based on a muted, one-tone feel, but it goes deeper than that.
"It's about knowing your shit," Alex Brown, sales associate at Social Status, says. "Paying attention to materials like suede, leather, canvas or items never seen before. Also, the color blocking or mood of the product."
Sneakerheads
Before there was Kanye, there was Wale: the type you think of when you think of sneaker culture. True sneakerheards get out of bed and decide what they're going to wear based solely on what shoes they want to wear that day. It's about looking at a pair of sneakers and knowing those were made for you to rock, whether they're $50 or $500, whether people wait in line for them or they were in a forgotten corner of a boutique.
"A true sneakerhead doesn't need a title," said Darryl Hines, owner of Velocity, a boutique in the University area. "A sneakerhead is someone who's consumed by shoes, but it may not be the shoes that are getting a lot of hype on social media."
Hypebeasts
These folks are the reason you see people getting trampled over the next pair of Jordans outside of a mall.
Hypebeasts will work themselves into a tizzy over some shoe they might not even like, but they've seen people talking about it all over social media and decide they need to have it. They may or may not ever wear the shoe out of the house, but you better believe they'll put it on their foot for a good Instagram.
"Everybody's on the same thing now. That's what's causing hysteria in demand," Hines said. "If we get several dozen pairs of the next general release, but several hundred if not thousands of people want those, that doesn't make sense, that's a clash. I tell people all the time, we have a bunch of other stuff that's more affordable, but everybody wants the same thing."
Re-sellers
These are the ones who will be first in line for a new collabo release and never have the slightest intention of wearing them. They're in that line because they know when the shoe sells out the pair they have in their hands goes up in value by a couple hundred dollars.
"I think that sucks," said Vadoll Byers, a sales associate at Social Status who said he can tell a re-seller by the fact that they won't even try on the shoe. "Nowadays you got kids in here snatching up shoes that I might want, but they're just doing it to sell them for a higher price that I'm not trying to pay for them. Now that's just watering it all down for the people who really have a passion for shoes or really care about the shoe or why they want it. It makes it harder."