'Wasteground' album cover: Mickey Stephens as a young punk in Northern Ireland.
The singer and guitarist for the Mighty Shamrocks was packing up his gear one night after an early-'80s pub gig in the Bogside neighborhood of Derry, in Northern Ireland. Most of the crowd had left, but a small group of men still sat drinking at a table up front. One pointed to the black scarf draped across the Shamrocks' bass drum.
"Did one of our hunger strikers die today?'" the man asked.
"I don't know, I didn't see the news,'" the guitarist replied.
Those hunger strikers that the man, a member of the Irish Republican Army, was referring to were the imprisoned IRA members who, in 1981, were bringing attention to their demands as political prisoners of British authorities. The IRA, an Irish-Catholic paramilitary group, was an often extreme segment of the oppressed Catholic minority that had been fighting Protestant militant loyalists for centuries in an attempt to end British rule in Northern Ireland, and by the early '80s things had reached a boiling point.
The Shamrocks' guitarist, born Michael Stephens in a Protestant Northern Ireland family, was nervous. After all, merely being Protestant in this no-go zone during the height of what was dubbed The Troubles era in Northern Ireland could get him killed.
The IRA guy continued: "Well, we were just wondering. We thought maybe that black scarf was in memory of one of our boys."
As Stephens recounts the story, he pauses often and gazes out at the traffic passing by on Central Avenue, still vividly remembering the details of that dark night as if it were yesterday. He's sitting with me at an outside table at the Workman's Friend pub in Plaza Midwood on a hot Friday afternoon, chatting over fish and chips as Van Morrison's "Caravan" wafts through the patio area.
Stephens today, at the Workman's Friend pub in Plaza Midwood. (Photo by Mark Kemp)
Earlier this year, Stephens wrapped up his autobiographical concept album Wasteground, and on Friday, May 18, he and his Charlotte-based band Poor Blue will perform it during a release show at Petra's Bar. With song titles like "Childhood," "Mr. In Between," "The Troubles" and "Causeway Street," Wasteground documents Stephens' life growing up in a troubled Northern Ireland. Having now lived in the United States for more than three decades, Stephens' harrowing memories of the terrorism on both sides of the Irish conflict seem dusty, as though they've been torn from the yellowed pages of a book about someone else's life. And yet that period of Stephens' life has informed his every move since then.
"I was shitting myself. I was so scared," Stephens says, continuing his recollection of his conversation with the IRA guy. He told the man he wasn't sure what the black scarf meant. "I said, 'You better ask Paddy.'"
Paddy MacNicholl was the Mighty Shamrocks' drummer, one of the band's two Catholic members. Stephens was one of the two Protestant members.
Paddy is a Catholic name.
"Oh, Paddy!" the IRA guy said. "Well OK!" Then he paused, and asked, "What's your name?"
Stephens knew the correct answer to the question. Though his born name is Michael, he replied, "I'm Mickey."
Mickey is the Catholic name for Michael.
In the Northern Ireland of the early '80s, the wrong answer to "What's your name?" could get you killed.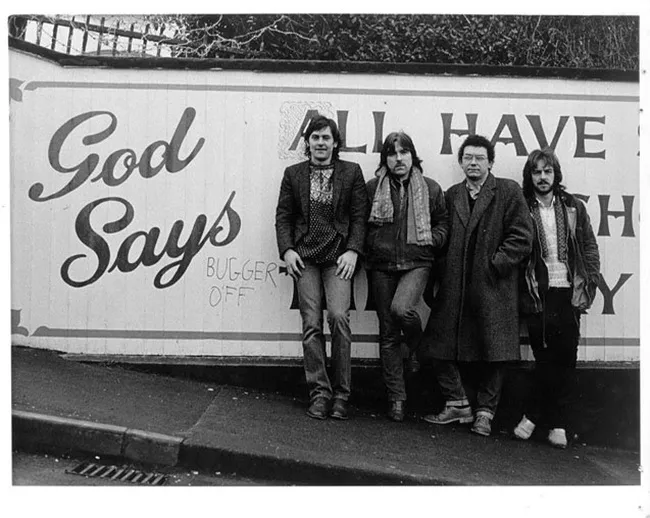 Stephens (far left) with The Mighty Shamrocks in late-'70s Northern Ireland.
Born in 1951 in a much quieter Derry, Michael Stephens is the product of mixed parentage. His Irish mother met his English father while she was attending drama school in London. It was an accidental pregnancy, and Stephens wound up being adopted by his maternal grandparents, spending his youth living in his grandfather's lush hotel on the gorgeous Antrim Coast. "Think The Shining," he tells me, with a laugh.
Stephens never talked much about his English bloodline, mainly because he'd never met his father and felt no connection to him.
"It wasn't something I advertised, but there was kind of an identity crisis," Stephens says, his Irish lilt still very prominent. "In Northern Ireland, you're either a Protestant or a Catholic and..." He trails off and laughs. "Even if you're an atheist, you're either a Protestant atheist or a Catholic atheist. So since I came from a Protestant family, I was Protestant. But all my friends were Catholic, and so that just gets into everything — those cultural divisions, that tribal identity."
Stephens was about 16 when The Troubles broke out in 1968, after peaceful protest for civil rights by the Northern Irish Catholic minority had been attempted. Almost overnight, the tiny country — surrounded by the Republic of Ireland to the west and south, and England to the east, across the Irish Sea — went from being a place where there were hardly any guns at all to a place of constantly exploding bombs.
"All of a sudden, the British Army was a presence, and there were soldiers with machine guns walking around, bombs going off, assassinations and all that," Stephens remembers. "You could be killed just for going into the wrong neighborhood."
During his late teens Stephens began playing guitar and writing songs, and by the mid-'70s he'd landed a regular night playing in a pub. His uncle James Simmons, a well-known Northern Irish poet and folksinger who wrote the ballad "Claudy," about the victims of a 1972 car bomb, had given over his Wednesday pub gig to his nephew. After one performance, guitarist Dougie Gough told Stephens he liked his songs and suggested the two form a band.
__________________________________________________________________________________
Listen to Stephens' uncle James Simmons sing "Claudy":
__________________________________________________________________________________
Stephens was excited, although the idea of touring Ireland during The Troubles era was scary. In 1975, British Army-clad members of the Ulster Volunteer Force, a terrorist group associated with the Ulster Defence Association, made up of Irish Protestant loyalists, massacred a southern Irish musical group called the Miami Showband as they drove back south to Dublin after a performance in the Northern Ireland town of Banbridge.
"They were just going home one night, and they were all Catholics, and the UDA lined them up against a wall and assassinated them," Stephens remembers. "So being in a band, you were at risk, because you were going into areas — into bars and into neighborhoods — where you weren't supposed to be and where you could end up dead if you didn't watch yourself."
Meanwhile, during the same period, punk rock was emerging from England and the U.S., and Stephens loved it.
"The Ramones first album came out around 1976 and the Undertones formed in Ireland, and I just identified with that music so much more than I did the music of the '60s," Stephens says. "Back then, punk was more than just the stereotypical heads-down, loud-fast, na-na-na-na-na. There were also artists like Ian Dury and the Blockheads and John Cooper Clark — all these uncategorizable people who couldn't fit in anywhere else, and suddenly they had a place to be because of punk rock. It wasn't until later that punk became a cliché. As it was happening, it was just this big flowering of all kinds of crazy music."
In 1979, Stephens and Gough put together the Mighty Shamrocks along with drummer MacNicholl and bassist Roe Butcher. They recorded some demos and passed them along to Terri Hooley, who had discovered the Undertones and ran the Irish punk label Good Vibrations. Hooley had released the Undertones' classic first single "Teenage Kicks," and got the band airplay on British DJ John Peel's influential BBC radio show. The Shamrocks hoped he could do the same for them.
At first, things looked good. The Shamrocks were gigging around Ireland, opening for other punk and pub-rock acts, from the Undertones to Elvis Costello and the Attractions and Dave Edmunds' Rockpile. They released a single, "Condor Woman," which got positive notices from the Irish music press and landed them TV appearances.
__________________________________________________________________________________
Watch the Mighty Shamrocks perform a 1983 BBC "Rock Goes to College" gig.
__________________________________________________________________________________
Stephens eventually married, and the Shamrocks went into a studio and began recording a full-length album. But by the time it was done, Good Vibrations had gone belly up, and the Shamrocks failed to find interest in the album from other labels.
"We went to Elvis Costello's label, because he had heard one of my songs, 'Coronation Street,' and liked it," Stephens remembers. "But I was drinking a lot and using a lot of drugs at the time, so I really wasn't the best representative for the band at the time."
By the mid-'80s, punk had given way to the synth-pop of Culture Club and A Flock of Seagulls, who were ruling America's then-new MTV. The Mighty Shamrocks' moment had passed, and the band members went their separate ways.
Stephens and his wife moved to America. "At that point I couldn't get a job, I'd been in a band for six years, and I didn't know what to do," he says. "So I got the opportunity to study popular culture at Bowling Green State University in Ohio." He laughs. "Basically I came to America to study rock & roll."
In Ohio, Stephens played in bands and taught English to pay his way through school. But alcohol and drugs had taken control and he was about to lose everything. "I was drinking heavily, just like I had been doing in Ireland, and I would come into classes drunk in the morning," he remembers. "The department chair pulled me into his office one day and said, 'You can't act like this.' I was terrified, because I really did not want to go back to Ireland."
The final straw came when he, his wife and friends went to Wilmington on spring break. Stephens was arrested and charged with drunk and disorderly conduct. After sitting in a jail cell with a guy who'd gotten drunk and killed his wife, Stephens was released the next morning and decided it was time to put down the drugs and alcohol.
Soon thereafter, he and his wife divorced, and Stephens eventually met and married another woman in Ohio. She was from South Carolina, and the two eventually moved to Charleston, where Stephens landed a job teaching courses on religion at culinary school Johnson and Wales University. When the school moved to Charlotte in the early 2000s, Stephens came here, too.
In Charlotte, Stephens and his second wife divorced, and he met and married his current wife, put music down for a while and focused on teaching.
Then, eight years into his quieter life in Charlotte, Stephens got a call from the Shamrocks' old manager, Willie Richardson, who was then managing Van Morrison. Richardson wanted to release that dormant Shamrocks album and put together a reunion tour. They named the album Paddy, for drummer MacNicholl, who had since died. Then, with MacNicholl's son on drums, the Mighty Shamrocks returned for a successful reunion tour of Ireland. After the tour, which generated huge excitement in Ireland, coming back to Charlotte was a letdown for Stephens, who began traveling back and forth to Ireland for Christmas reunion shows.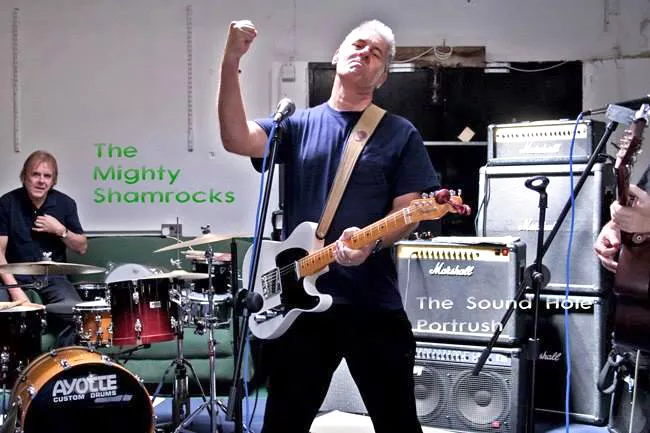 Stephens (foreground) rehearses with the Shamrocks for their 2012 reunion tour.
By 2014, though, the traveling was getting old and Stephens decided to move on. But not from music. The music bug had bitten him hard again, so Stephens decided to put together a band in Charlotte. The problem was, he didn't know any local musicians.
"I hadn't played in Charlotte at all," he says. He went into a studio to record some demos and asked around about local musicians. He was introduced to bassist Otis Hughes, who had played in the Charlotte metal band Animal Bag in the '90s, and the two began recording songs at Rob Tavaglione's Catalyst Studio. One was "You're Welcome," an immigration song for which the band did a video.
__________________________________________________________________________________
Watch the video for "You're Welcome."
__________________________________________________________________________________
And then Stephens went to see a reading by the poet Stefan Lovasik, a Vietnam vet who wrote about the PTSD he suffered after the war. Stephens identified with the fear and paranoia in Lovasik's poems.
"I had an a-ha moment," Stephens says. "This guy had been a sniper during the war who had gone into the jungle and killed people, and he was blown up by a grenade and came back and became a heroin addict. So he had a very heavy story. And I could relate to it."
Stephens had been living in fear his entire life, too — fear based on the bombs exploding around him during his teen and young adult years. "I realized I had been running on fear for years — just trying to survive, grinding through everything, coming to America, where you gotta get a green card and how the fuck do you do that?" Stephens says. "My whole life has been like running down a tunnel just trying to be safe.
"It had a lot to do with my childhood — living in that environment, where you go into a bar and you had to look around and you didn't know who was sitting next to you," he continues. "It's not like I suffered from terrible violence like [Lovasik] did — I mean, I got beat up and stuff like that — it was more just the long-term effects of living in that society at that time. A place where you're afraid to be yourself, you're afraid that somebody might be listening. You're pretending to be someone else.
Like Mickey, not Michael.
"There's a line in my song 'The Troubles' about a guy getting his arm sawed off with a blackened dagger, and that's what the IRA used to do in the no-go areas, and that's the kind of thing we were hearing about when we were sitting around stoned as kids and this stuff came on the news," Stephens says.
"They'd broken into the guy's house and tied him to a chair and sawed his arms off," Stephens continues. "And just hearing shit like that every day, and about people getting nailed to doors and about the Shankill Butchers [a group of loyalist Protestant terrorists] — it was just too much. We would be like, 'Oh fuck,' you know, because that could be us."
Stephens soon began to work on the songs for Wasteground, initially writing his stories from a detached point of view. "And then all of a sudden the songs just started coming from my heart instead of my head," he says. "You know, you can write songs from an intellectual perspective and come up with clever lyrics and stuff like that, but this had to be personal."
Perhaps the most poignant lines on Wasteground — a mesmerizing song cycle that runs from impressions of Stephens' peaceful childhood playing on the rocks of the beautiful Antrim Coast to his paranoid young adulthood in the clubs of the no-go zones in Derry — come after the acoustic strumming of "The Troubles" gives way to fuzzy electric guitars.
"Before it got started I walked on my own two feet," Stephens sings. "Never had to think twice if a car was parked down the street. /But that yellow Cortina looked out of place / Ordinary things blow up in your face."
When most Americans — particularly young Americans — think of terrorism, they think of images the media feeds us of Islamic terrorists. Brown people with bombs. They don't think of white people with different-sounding names killing each other on the streets of small towns similar to Kannapolis or Waxhaw. That's because it's maybe easier for us to think of terrorism as something "other people" do to us — not something we do to ourselves.
Mickey Stephens knows that's a bunch of bullshit. He knows about the heinous violence we do to ourselves and to others — the heinous violence that puts scars on all of our human brothers and sisters for the rest of their lives.
He knows what living under the constant threat of terrorism looks and feels like. Stephens spent his entire young adulthood worried about finding himself in the wrong neighborhood at the wrong time and being tortured, assassinated or blown up.
And on Wasteground, Mickey Stephens tells that story with heart, soul and beautiful nuance.