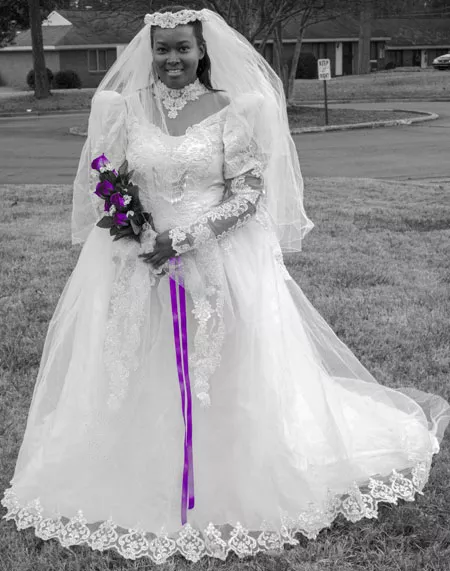 Name of the couple: Melanie Stroud and Cedrice Brown
Date of wedding: Dec. 17, 2013
The venue: KingsPark Apartments
How many people attended: 9
When you know it's right, it's right. One Tuesday, Melanie Stroud and her fiance Cedrice Brown stopped in at Kingspark Apartments on Charlotte's west side to see if the complex had any availability. The couple were planning to go downtown and apply for their marriage license afterward, then have a private ceremony later. But with gentle prodding from leasing consultant Judy Williams, Stroud agreed to get married right there in the leasing office.
Not only did Williams provide the dress and veil — "My niece had given me that dress about 10 years ago, and it's been sitting in my closet waiting for me to find someone to give it to," Williams says. "I just knew I was going to be able to bless someone with this dress someday" — but she also arranged for a neighbor's child to act as flower girl, helped the groom buy a nice outfit, supplied a unity candle and fashioned a bouquet of purple flowers and candles with lavender and silver ribbon and lace.
Other people in the office got into the spirit as well, new bride Stroud says. "The gentleman in the corner said, 'I'm a licensed ordained minister,' and the lady next to him said, 'I'm a wedding photographer.' Next thing you know, another couple came walking in and said they would be the witnesses. So, they moved the office furniture out, helped me into this big ol' dress, centered my veil ... and we said 'I do!'"
Williams says she would have done it for anyone who had walked in there. "I believe in marriage, and I believe that whenever two people decide to connect their lives in a spiritual way — I hate the Justice of the Peace. I think you need that sacredness in a marriage in order to make it feel like God is a part of it. I believe in it being done right."