The amount of available beds for inpatient psychiatric care in the United States decreased by 97 percent in a 60-year period. (Photo by Siraphol/iStock)
Before retiring in 2016, former Carolinas Medical Center physician Kathryn, who asked not to be identified for this story, had noticed a heartbreaking trend happening in the emergency department where she worked.
Mental health patients were being brought in and left in the emergency areas for days or sometimes weeks while they waited for a bed to become available at a nearby psychiatric facility.
Kathryn would check on each patient, but there wasn't much more she could do.
"My heart out went out to them," she said. "I felt helpless to do much for them."
The problem was not with Carolinas HealthCare System, which ran CMC and has since changed its name to Atrium Health, but part of a larger issue happening around the country. As mental health care becomes deinstitutionalized, the number of inpatient facilities in North Carolina and around the United States has dropped dramatically, making it harder for patients to get care. Many patients struggling with mental illness end up in jails or in emergency departments with physicians not trained to treat psychiatric cases.
Over the past five years, however, Atrium Health has implemented programs, both in local emergency departments and primary care practices, that have put a significant dent in the increased demand for psychiatric beds and rising lengths of emergency stays. It has implemented a bed-placement program and used telepsychiatry to help more patients. Now, others plan to implement their own programs.
The decline of psychiatric facilities is not a new trend. The number of facilities in the United States has been decreasing since it peaked in 1955. Between that time and 2016, the number plummeted 97 percent, according to the Treatment Advocacy Center.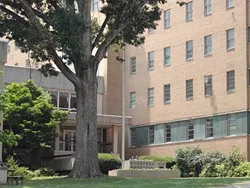 The entrance of the old Dorothea Dix Hopsital. (Photo by Ted Buckner/Creative Commons)
In North Carolina, the last patients left Dorothea Dix Hospital in Raleigh in 2012, in the final chapter of an iconic mental health facility that had opened in 1856. The decreasing number of beds now puts patients and others at risk, according to TAC.
"Without access to hospital care, acutely ill individuals deteriorate, families and caregivers buckle under stress," TAC states on its website. "ERs fill with acutely ill patients waiting for a bed to open and police and fire responders find themselves increasingly diverted to mental health calls."
TAC also points out that not just emergency departments are feeling the pinch. In 2014, 10 times more people diagnosed with serious mental illness were in prisons or jails rather than in state mental health facilities.
For Cathy Rogers, executive director of Mental Health America of Central Carolinas, a Charlotte-based mental health advocacy and education organization, problems arise not only from lack of beds, but also lack of knowledge on how to get available help.
Rogers said most of the calls her organization fields are from family members and loved ones of patients who don't know where to go. "We don't have the facilities that are needed to take care of the people who need the help. The whole mental health system is difficult to navigate," she said. "A lot of what we battle is just trying to help people find the resources they need. We don't have the capacity to do everything we would want to do with a more robust navigation system. How do we help people get to the place they need?"
The ideal solution, according to Rogers, would be a center where patients and loved ones could find all the answers in one spot, similar to a Family Justice Center, which serves as a one-stop shop for dealing with domestic violence, but in this case, for mental health issues.
The inpatient bed shortage is exacerbated, Rogers said, by the fact that many people who already are patients in the few remaining facilities in Charlotte may be ready to be discharged, but don't have a plan to transition back into society.
HopeWay in south Charlotte operates as a residential and day treatment transition facility for patients leaving inpatient care. Rogers said she would like to see more facilities like HopeWay open in Charlotte.
She also said she would like to see more health insurance companies funding stays in those facilities, and viewing mental health as they do physical health. Many people struggling with mental health are uninsured, or have insurance through companies that aren't as willing to pay for mental health care as with physical ailments.
"There definitely is a disparity between how we treat mental health as opposed to physical health," Rogers said. "And where we need to get is where we treat mental health exactly as we would a physical health disorder."
The financial strain is not just on the part of patients, however.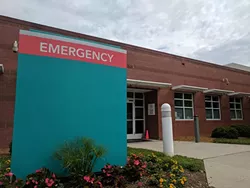 Atrium Health runs the only emergency department specifically for psychiatric care in the region. (Photo by Ryan Pitkin)
For Rwenshaun Miller, founder and executive director of Eustress, Inc., whom Creative Loafing profiled two weeks ago as part of our Mental Health Awareness Month coverage, losing the last 100 beds at Dorothea Dix was indicative of what he sees as a larger reluctance by the state to spend money on mental health care.
"They're shutting down these mental health facilities and trying to redirect funds," Miller said. "I don't know where the funds are going, but people are not any healthier. So where are these people going to go? They're either going to go to the ER or they're going to go to jail."
Gov. Roy Cooper's proposed budget for the coming fiscal year, released earlier this month, includes $11 million to staff the newly completed Broughton Hospital, a psychiatric facility in Morganton, and $3.2 million to fund a transitional program that helps people being discharged from psychiatric facilities.
State Republicans, a majority in the General Assembly, have rejected the governor's proposed budget and called it "an unserious attempt to score political points in an election year."
Brandy Hamilton was diagnosed with bipolar disorder in 2010. She has struggled with mental health both in jail and in local hospitals. In an earlier article on mental health in Charlotte, Hamilton shared her experience suffering through episodes — or meltdowns, as she referred to them — in the Mecklenburg County Jail. Hamilton said she was placed in solitary confinement during her episode. She also had an episode in a local hospital after she was given Prozac by physicians who weren't aware of her diagnosis.
Hamilton, who said she has been uninsured for most of her adult life, told CL she would like to see more accessible psychiatric care in Charlotte.
"The mountain to climb is like endless," Hamilton said. "We have the clinics where you can get birth control real quick ... You can get a Mirena, all these other things that have harsh side effects. Why can't you just go get counseling?"
This year, Miller plans to bring a clinic to Charlotte just like the one Hamilton hopes for. With Eustress, Miller aims to open a "mental health triage" that will be accessible to anyone, regardless of their insurance status. He plans to begin with a small space by the end of the year and then continue to grow as time goes on.
Miller said he hopes his triage center can not only serve as a one-stop counseling center like the one Hamilton described, but also operate as a center that helps patients and their families navigate the mental health treatment community, like the one Rogers suggested.
"The goal is to really translate awareness into action — not just talk about it, but actually do something about it," Miller said. "For people to get that help that they actually need so that they are able to figure out where to go, but also be able to coordinate it. Right now, we won't be able to take on a whole bunch of people, but we've got to start somewhere."
At Atrium Health, that work has already started, and it's been getting results.
While Atrium runs the Charlotte area's only mental health emergency department, and has done so for 20 years, the two programs it launched over the last five years have been successful in fighting back against the rising demand for beds and the pressure put on emergency departments being flooded with mental health patients.
A psychiatrist speaks with a psychiatric nurse in the Atrium Behavioral Health Charlotte emergency department. (Photo courtesy of Atrium Health)
According to Atrium officials, the average length of stay for an emergency department patient with a primary psychiatric diagnosis has been cut from 45 hours to 17.5 hours in the last four years, thanks in large part to the bed placement program launched by Atrium's Behavioral Health department.
The idea behind the bed placement program was seemingly simple: create a database of all the beds statewide under Atrium's care so that staff members can easily find an empty bed when it's needed.
According to Dr. James Rachal, medical director of Atrium's Behavioral Health department, the problem isn't always a lack of available beds, but where to find them.
"When you're talking about bed shortages, sometimes that's the inability to actually find a bed, which leads to people being in the hospitals longer," Rachal said.
"Once we determine that a patient does need inpatient, a psychiatrist uses the bed placement system, and he's able to locate a bed somewhere in the North Carolina region," Rachal said. "While we may have full beds in Charlotte, there may be an empty bed in Gastonia, for example, and so we're able to say, 'OK, let's place the patient there.' So that way we're really efficiently using all the beds we have, as opposed to letting some beds go open, which happens if you don't have a system like that."
The other program launched by Atrium, called Behavioral Health Integration, works not in the emergency departments but in local primary care practices. It aims to help stem the need for emergency services by more effectively treating patients before it reaches the point of hospitalization.
Through the BHI program, Atrium uses telepsychiatry, connecting patients with psychiatrists over video from their primary care physician's office. The psychiatrist is able to assess the patient and recommend prescriptions to the physician. Atrium is currently hosting the BHI program in 27 local primary care practices, including six pediatric offices.
Rachal aims to keep growing the program, and hopes the use of telepsychiatry can help reach patients in rural areas, where he said many people suffering from mental illness are less likely to seek help, or to help them find it if they do seek it.
"We'd like to be everywhere, and I think that's a critical piece [of solving the bed shortage issue]," Rachal said. "The more that depression and different mental illnesses are handled in the primary care clinics, the more effectively they're going to be treated, and the less they're going to need hospitalization."
Atrium also recently added 66 more beds to its Behavioral Health campus in Davidson, an almost unheard of increase at a time when beds are decreasing so rapidly.
But that increase is the exception, not the rule. So preventative measures like Atrium's BHI program may be the future of psychiatric care. And in the end, deinstitutionalization can only be seen as a positive if there's no one left who needs the institutions.