Sarah North hasn't been sick in five years.
But this wasn't always the case. In her 20s, trips to the doctor were routine. To help with hypothyroidism and Hashimoto's disease, North was administered B12 shots regularly.
Then one day, she simply didn't have to anymore.
"What are you doing differently?" her doctor asked.
Sarah didn't know at first, but then it dawned on her. She had been drinking kombucha.
"I realized like, wow, this stuff — I liked it, but I didn't realize what a great impact it was having on me," she said.
When she moved from Austin, Texas, to Charlotte in 2012, there weren't as many kombucha options as in Texas or the West Coast. She decided to buy her own symbiotic culture of bacteria and yeast, also known as a SCOBY, and brew it herself.
Her SCOBY sat in a combination of yerba mate and black tea fermenting for days, eating the caffeine and sugars and producing electrolytes and probiotics.
"It's like taking something that's bad for us and then turning it into something that's really good," she said.
Watching the SCOBY bubble and turn in jars of tea made Alex North, Sarah's husband, skeptical. But after it was done fermenting, he reluctantly gave it a taste and was relieved.
"It was good," he said.
Now, five years later, Alex shares his wife's clean bill of health.
The couple made batches for seven years, giving it out to friends, co-workers and family until they reached a point at which they were creating email lists and scheduling deliveries. It eventually became clear that, purposefully or not, they were running a small business.
Alex [left] and Sarah North began brewing kombucha from home.
In October, Sarah and Alex launched SUM Bucha, hoping that everyone could enjoy the drink that had become so popular amongst their social set. They've since locked down a spot at Central Food Hub, a local farmer's market of sorts that runs out of The Barn behind Pure Pizza in Plaza Midwood on Saturdays from 9 a.m. to 1 p.m.
Central Food Hub customers can find bottles of SUM Bucha for $4, the cheapest they'll find them in Charlotte, or fill up growlers for $16. Growler refills run them $10.
The Norths are always happy to meet fellow kombucha lovers, but a special pleasure comes from being able to reform those who are dead set against it.
"We've converted some people that say, 'I don't like kombucha,' and we're like, 'Please just give it a try,' and then before we know it we have customers," Alex said.
If tasting a free sample doesn't close the sale, the list of health benefits does.
Kombucha is filled to the brim with "good bacteria" like enzymes, B vitamins and vitamin C. It naturally has glucosamine, which is great for post-workout and helps with arthritis. It boosts metabolism and improves the immune system, which may account for the Norths' perfect health, even while going through the stress of launching a small business.
"When [customers] hear the health benefits and feel that energy from the B12 vitamins, they come back," Alex said. "That's why we're filling up so many growlers every weekend."
SUM Bucha comes in flavors like ginger spice, lavender lemonade and pineapple, with each carrying its own unique benefit. "Flower Power" is made with two herbs that calm anxiety: St. John's Wort and holy basil. It's been nicknamed "happy juice" by regulars.
The "Enabler" has elderberry, which strengthens the immune system and is believed to fight the flu.
"All the ingredients we try to put in to work together to provide optimal vitality," Alex said. "So it's not like we're just throwing things in there. They work together well to try to make a really smooth blend, something that will help you out."
Besides the obvious rationale of potential profits, the health benefits were a major part of the reason the Norths decided to put their kombucha on the market. They had already witnessed on a small scale the impact it was having on people's lives.
Three years ago, Sarah brought the drink to a regular at the restaurant where she was waiting tables at the time. That was SUM Bucha's first customer, and she's been drinking it every day since.
"She actually texted me last night at like 11:30," Sarah said when we met recently, "and she's like 'Sarah, I just want to thank you for helping me stay healthy.'"
Sarah also gave some to her boss, who'd been dealing with stomach issues. Even with medication and surgery, nothing seemed to help. But the kombucha did.
"She still will tell people 'Sarah saved my life.' I'm like 'No, I didn't save your life,' but it definitely helped her," Sarah said. "Hearing people's stories like that has really inspired us."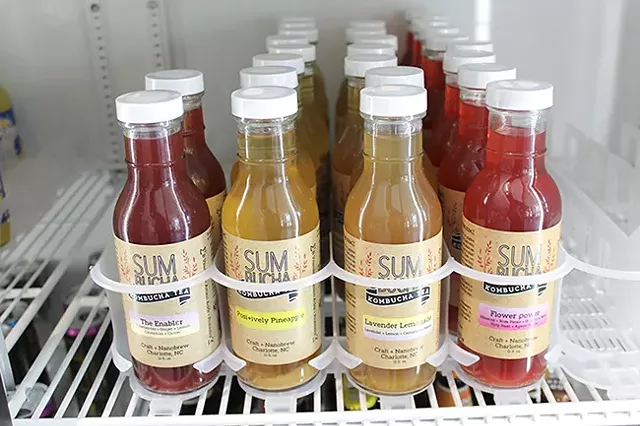 SUM Bucha can be found at various locations around Charlotte.
Kombucha has been brewed for over 2,000 years, mainly in Russia and Asian cultures. Only in the past 20, however, has it gained popularity in the US.
Sarah and Alex walked me through the process they use to brew the ancient concoction.
After the original SCOBY fermentation, they juice the fruits and add herbs to the drinks. Then, fermentation occurs again, giving it flavor and vibrant color.
The Norths get the majority of their ingredients from local farms. Sourcing locally is one way they try to live up to their motto "do sum good."
For example, the seasonal strawberry basil they've recently started brewing is made with strawberries from Cottle Farms in Faison.
Another way they "do sum good" is giving back to the community. A percentage of SUM Bucha's sales goes to local nonprofits. Their first donation was to The Center for Community Transitions, an organization that helps people with criminal records reenter the workforce.
The third way they "do sum good" is by helping people become better versions of themselves through a healthy lifestyle.
"Whenever you are a better you, you're able to do more and experience life more and be an impact on people more," Sarah said. "If we all walk around feeling crappy all the time, we're never able to be our best selves and be able to be there for each other."
Sarah compares this to an equation, which during her explanation also begins to sound a little like her brewing process. What you put in is what you get out, she believes.
"You put in good things, you put in love and kindness, you put in hard work," she said. "Whatever you put into your life then you reap your rewards."
And that's where the "sum" in Sumbucha comes from. If you look closely at the bottle, there are hidden math symbols like plus signs and sigma symbols.
You can find SUM Bucha at The People's Market, Rhino Market and Deli on Morehead Street, US National Whitewater Center, and White Birch Food and Juice in Sarah's hometown, Abingdon, Virginia. It's also the main ingredient of the Magnetic North cocktail at Fahrenheit in Uptown Charlotte.
The Norths' goal, somewhere down the road, is to open a taproom in Charlotte with a wellness area for yoga classes, community forums and other events. It's the logical next step for the couple, and in the end, it all adds up.