Though fall is coming, 90-degree days can continue long into September here in the Q.C. But in the interest of purely temporal "seasonal" change, your beer palette should easily adjust. Charlotte breweries are more than willing to accommodate the shift.
To start, the most basic (and metaphorical) way to do this is to match your beer choices to the color of the leaves: Let light lagers, kettle soured goses and crisp IPAs segue into red ales, more orange-hued, piney IPAs, and, depending on the brewer, light-bodied porters, stouts and brown ales. Golden ales work fine, too. You'll probably want something a little richer this time of year.
Of course, in recent years, fall has come to mean pumpkin ale, though the longer I'm alive the more pumpkin beers seem to creep into summer. By the time I'm 60 years old they'll be coming out for fall in March. NoDa Brewing Company has Gordgeous. Sycamore Brewing has Gourd Have Mercy. And both are fine.
Label for NoDa Brewing Company's popular Gordgeous.
But I'd posit that Charlotte brewers are doing better things beyond that "fall" standard, and especially so with a more definitively North Carolina article of orange produce: the sweet potato.
"Pumpkins, themselves, they're pretty much a tasteless gourd," said Phil Buchy, co-owner and brewer at Legion Brewing. "Pumpkin beers are pumpkin beers because of the spices. A sweet potato, if you roast that in the oven, you have great complexity of flavors."
North Carolina is the biggest sweet potato producer in the U.S., and it is a hub for beers made with the tuber. Legion will be releasing a Belgian blonde ale brewed with N.C. sweet potatoes in the fall. Wooden Robot Brewery has Sweet Tater Pie, a red ale brewed with cinnamon, sweet potato, nutmeg and vanilla. And Birdsong Brewing Company's St. Tuber Abbey Ale pairs the saccharine root beautifully with fruity, spicy Belgian yeast. The bourbon-barrel aged version is especially nice, but dangerously boozy.
However, if one can't let go of the pumpkin style, Cornelius's Ass Clown Brewing brews an interesting iteration that uses Brettanomyces yeast — a stubborn strain that imparts funkiness and dryness to beer — and takes the form of an IPA. Though if I were going to look for a fall beer at Ass Clown (and limit myself to one), I'd prefer the spicy sweetness of the Habañero Brown Ale. Roasty and with perspiration-inducing heat, it's just like early fall in the Carolinas.
Back at Legion, Buchy and head brewer Alexa Long are doing another fall beer worth a taste that would likely make purists boil over (note: pun fully intended).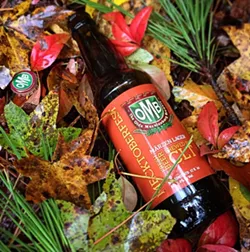 Olde Mecklenburg Brewery's Mecktoberfest Marzen lager.
Märzens are named for the month in which they've been historically brewed (March, in order to beat the heat of summer spoilage), but are ceremoniously — and often raucously — downed in the fall as to make room for the resumption of brewing as per tradition. This is why märzens are so present at Oktoberfests, and why they're also often referred to as Oktoberfest lagers.
Märzens happen to fall under the Germany Purity Law, the Reinheitsgebot, but Legion pays little heed to those limitations. Instead, it will be aging its marzën on American white oak barrels for a projected late September release.
"The maltiness with the crispness of the lager beer, we're excited to have that pair with the tannins and vanilla flavors that come out of the oak," said Buchy.
Charlotte does have the benefit of a brewery that touts adherence to the Reinheitsgebot, and Olde Mecklenburg will certainly have its award-winning Mecktoberfest märzen on tap come its Mecktoberfest celebration from Sept. 23-25 (see this week's news feature). Bavarian music and food will also be aplenty there, but don't expect anything close to a pumpkin beer. Same likely goes for a visit to Legion.
"I'm not the biggest fan," Buchy said of the style.
Though Salud Beer Shop in NoDa does stock pumpkin beer — "People complain about them, but to be honest, we're already re-stocking pumpkin beers because they sold out," said owner Jason Glunt — its in-house nanobrewery is focusing on a more potent brew for the cooler weather.
Salud's system is only capable of producing one barrel at a time, but at a mid-September release party it will unveil three versions of a Wafflemania imperial stout (standard, framboa and s'mores) brewed in collaboration with Fud at Salud.
"Not that there's anything against pumpkin beer, but since we're small we can be a little more creative," said Glunt.
Salud is also looking to do an autumn farmhouse ale akin to The Bruery's Autumn Maple for the season, and will be bringing back its Release the Funk festival in November.