Letty Ketner would like to get the razor blade story out of the way before talking food. Oh, don't worry — there's none in the mouth-watering southern-style dishes she serves at the unpretentious Plaza Midwood eatery that bears her first name.
It's the name itself: Letty's on Shamrock. Letty is short for Gillette. She's related to the people who brought us the Gillette razor blade. Apparently, at the tail end of the 19th century, a distant cousin invented a blade you could shave with at home, she says.
"Our side of the family thought that was crazy," Ketner says. "They said, 'Who the hell would want that?' So they're the rich Gilletes. We're not."
Now, about the food. There's a story there, too. Ketner, the woman who helped develop the recipes for such delicious Letty's offerings as the country fried pork chop and sweet potato veggie burger, doesn't really like to cook.
"I'm proficient at it," Ketner allows, "but I don't find any joy in it. I get tickled when people tell me they just love to cook, and that nothing makes them happier than chopping carrots. I look at them like, 'I don't know what kind of crack you're on.'"
She may look serene, but don't let her fool you: Letty Ketner is a firecracker. (Photo by Anita Overcash)
One thing that does bring Ketner considerable joy is eating. In fact, one of her favorite dishes is the reason that, in 2012, she opened Letty's in the building formerly occupied by Foskoskies Neighborhood Café and Pike's Soda Shop.
"The honey pecan chicken on our menu is a recipe Elizabeth Pike had when this place was Pike's Soda Shop," Ketner says. "We came here religiously to have it."
When Pike's turned over to Foskoskies, the new owners kept the popular entrée on the menu. Then Foskoskies closed. And Ketner panicked.
"I thought, this cannot be," she says, with a chuckle. "Where was I going to go to get my honey pecan chicken?"
Ketner asked Mrs. Pike for the recipe, and she graciously agreed to make it available for Letty's. "Honey pecan chicken was one of the major incentives for me to open this restaurant," Ketner says. "I can't say whether that's a good business decision, but that's how it worked out."
Here's another little-known story: many people assume the honey pecan chicken comes from an old family recipe, but Ketner reveals Mrs. Pike got it from a Southern Living Cook Book from 1970.
At 63, Ketner has been in the restaurant business for more than half her life. She started when she was 17, waiting tables while still in high school in Greenwood, South Carolina. She attended Auburn University and the University of Alabama at Birmingham, and after graduation began working for a bank. But she also worked as waitress on the side to augment her income. In 1985, she moved to Charlotte. After a brief stint at a now-shuttered Nickleby's, Ketner landed a gig at Hotel Charlotte in Cotswold.
"I figured I'd hang out [at Hotel Charlotte] for a year or so — 25 years later I was still there," Ketner says.
Starting as server at the neighborhood mainstay, Ketner eventually moved up to running the restaurant's wine program — a task she maintains at Letty's. The economic crash of 2008 hit Hotel Charlotte particularly hard. Ketner saw the writing on the wall and took a position as dining room and catering manager at Aldersgate United Methodist Retirement Community. She loved the work, but after three and a half years was ready to take on a new challenge. When she learned Foskoskies was about to serve its last meal and vacate its building on Shamrock Drive, Ketner jumped at the chance to launch her own restaurant.
"The opportunity presented itself, and I wanted to be able to say that I gave it a shot," Ketner says. She took the leap of faith in November 2012, and Letty's opened the following month.
"We're southern cooking with an individualistic twist," says Ketner, who believes the best word to describe the restaurant is "uncomplicated." She admires nouvelle cuisine, but maintains it's not her thing. For curiosity's sake, Ketner once printed out a list of the city's 50 best restaurants, published in Charlotte Magazine, and checked out the websites of each one to see what they had on their menus.
"Now I'm willing to try new things, but there was a whole lot of verbiage there," she says. In contrast, there's not a single item on Letty's menu that uses the word "reduction," she says.
Ketner also has little patience for overly complicated recipes. "If it has more than 10 ingredients, you can just forget about it."
That said, the cozy 80-seat establishment — which adds an extra 20 place settings when its patio is open — has never shied from experimentation. Unlike other traditional southern- or comfort-cuisine joints, Letty's has served vegetarian meals from the get-go.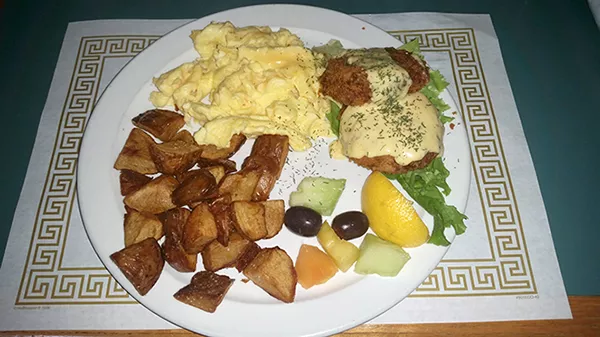 Brunch isn't brunch until you've had it at Letty's. (Photo by Anita Overcash)
When the restaurant first opened, Ketner collaborated with three chefs to set up the menu: Thomas Gilewski, who stayed on from Foskoskies; Jon Ferrell, who had worked with Ketner at Hotel Charlotte; and a Portuguese-American friend, Carlos Santos, who had come down from Massachusetts. It was Santos who pushed for the veggie items.
"He said we had to have more than just steamed veggies on rice with a boiled potato," Ketner remembers, adding that the culinary crew went through an extensive trial-and-error process to devise appealing items. Ketner claims she can't remember how many nasty vegetarian meatloafs she sampled before finding the proper mix of ingredients.
"I didn't want it to include stuff you can find anywhere else," she says. "I wanted to do something really different."
In the end, the vegetarian meals, like all the items on Letty's menu, had to pass Ketner's taste test. "I don't serve anything that I wouldn't eat myself," she says.
The members of the original kitchen crew have all moved on to new positions at different places, including Santos — but not before he helped develop the most unusual item on Letty's menu. It's a stacked-to–the-max appetizer called hummachos.
"He was visiting his family in the Boston area and they went to a Turkish restaurant, which had a dish with pita bread, shredded lamb and chickpeas," Ketner remembers. "The thing that made it so delightful, unusual and delicious was the blend of seasonings that they simmered the lamb in."
Santos got the seasoning recipe from the Turkish chef, and brought it to Charlotte. Ketner replaced the Turkish ingredients for items Letty's already had in its pantry — pinto beans substituted for chick peas, hamburger stood in for lamb. Now, in Letty's dining room, when people see a hummachos platter headed to another table, they are intrigued and often ask to have one for themselves.
"It's so aromatic," Ketner says, "and it tastes even better than it smells."
On most days, the dining room at Letty's is packed. Ketner snapped this one day recently before the crowd poured in.
Letty's comfortable atmosphere and homey-yet-adventurous menu items have drawn patrons from all over Charlotte. Senior diners from Aldersgate come by frequently, Ketner says, and customers from the Cotswold area, who know Ketner from her Hotel Charlotte days, join them. Newer customers have discovered Letty's — young married couples and groups of friends from Plaza Midwood and nearby neighborhoods, who mix and mingle with members of Charlotte's LGBT community, longtime supporters of the restaurant, according to Ketner.
"You can bring your little kids in, because there's not much to destroy here that I really care about," she says. "You don't have to dress. You can come in your sweat pants. There are white tablecloths on the tables, but the reason for that is because the tables underneath them are really heinous." She laughs. "We're somewhere where you can go grab something to eat, relax for a little bit and not spend a fortune," she continues. "That was my intent when I opened the place."
Well, that and keeping the honey pecan chicken recipe alive.