LeAnna Eden's eyes light up when she talks about the artists she's lined up for her first 'Session: A Listening Party,' at Petra's on Jan. 30. One of Eden's big missions in Charlotte is to offer a platform for artists who come from neighborhoods far away from the buzz of the front patio at Common Market.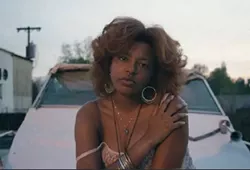 "Darian La Sparrow is an amazing singer," Eden enthuses about one of the artists on the bill. "She's got recording stuff set up in her bedroom. She records her own music, she masters it, she finds people to do her videos and stuff." Eden shakes her head. "But she doesn't get shows. And I think that's because she doesn't have a band. Or people think she just sings the choruses on somebody's hip-hop songs. So I want to give people like her an opportunity to get their foot in a venue. Because once you have your name on a headliner, that's going to get you the next step."
Eden is equally enthusiastic about rapper Black Linen. "He's an amazing hip-hop artist who's put out eight albums in seven years! I'm on six tracks of his newest one. But people don't pay attention to him — they don't see him. And that's because he gets stuck on these pay-to-play open mics, and because hip-hop gets stuck way out in the city. People don't want it in their venues, and that's a shame because he's an amazing artist. And what he's talking about is real. And it's age-appropriate for everybody. I mean, he could be Nas. But he's not going to get that opportunity if people don't see him."
The female spinner DJ SPK will also be featured in the inaugural Session, and Eden says she already has a year's worth of artists lined up to play more Session events if the first one goes well. One of those acts is the music collective Hip Hop Orchestrated, which Pat Moran wrote about in last week's Creative Loafing. "I'd like to just give them a whole night, so they can then go and headline a show at Visulite or something."
When: 7 p.m., Monday, Jan. 30,
Where: Petra's, 1919 Commonwealth Ave.
More: $5, petrasbar.com