Dan Nguyen had been living out of her car when the original owner of Lang Van, the popular Vietnamese restaurant on Shamrock Drive in Charlotte, scooped her up and put her to work. That was 17 years ago, just after Nguyen arrived here from Saigon to join her husband, Tuyen Tran, who had already been living in the United States for several years.
"I come here very poor, no money, nothing. I sleep in the car three months," Nguyen says, then pauses, her eyes welling with tears. "And your country. . .," she begins, and then pauses again to make a lifting motion with her hands.
"It lifted you up?" I offer.
"Yes, it lift me."
Lang Van owner Dan Nguyen. (All photos by Mark Kemp)
Nguyen's English still isn't all that great, but she communicates perfectly well in many other ways. The 45-year-old restaurateur with highlights in her hair and a huge smile across her face embraces Lang Van's customers as they arrive through the restaurant's front corridor, which is flanked by bamboo poles that shoot up toward the ceiling. Her eyes sparkle like the Christmas lights that dangle from the poles each year during the holiday season.
When Nguyen says, "I love my customers," you get the feeling it's no exaggeration. "I love my customers too much," she says. "Your country? Very, very nice."
Long before pho was a phenomenon, there was Lang Van, the oldest surviving Vietnamese restaurant in Charlotte, founded 27 years ago inside a small, box-like building where Shamrock meets Eastway Drive. You've passed it before if you've ever taken Shamrock from NoDa or Plaza Midwood to the Charlotte Museum of History. If you've never stopped in for lunch or dinner, you'll be pleasantly surprise when you do.
Upon entering, the first thing you notice is the bamboo foyer that makes you feel as though you've entered a private tiki party. The second is the warm embrace you'll get from Nguyen.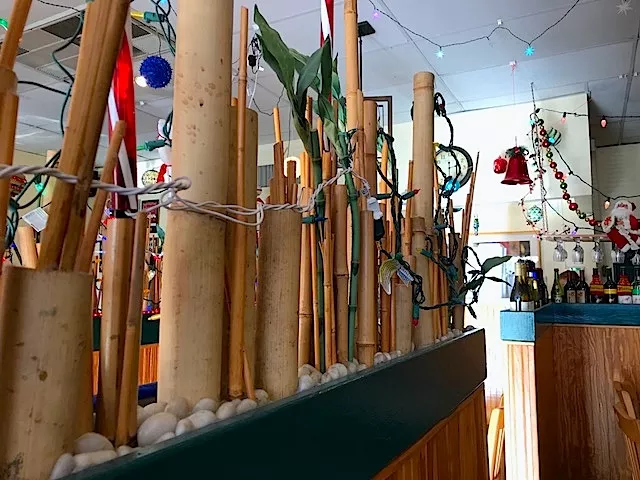 Lang Van's corridor of bamboo.
Born in Tuy Hoa, in South Vietnam, during the waning days of the Vietnam War, Nguyen was in her early 20s when she met and married Tran. "I'm too young," she says of her decision to marry so soon. "I don't know him."
Tran soon left for the United States, leaving Nguyen behind for five years before returning to bring her back with him to Charlotte in 1999. "Before I leave my country, no good," Nguyen says, recalling a Vietnam still traumatized by the war. She furrows her brow: "The war — it was terrible."
Not that life was easy at first in Charlotte. "I was scared," Nguyen said, in Vietnamese, in a November oral history interview that she did with Southern Foodways Alliance, and translated by her son Henry. "I didn't have opportunities in Vietnam, so I came here."
Nguyen and her husband struggled to find work, but an encounter with a woman named No Duong was the foothold they needed. Duong's family was already well-known in Charlotte for their Vietnamese food. In 1990, they had opened Lang Van, named for a very early nation state that was the predecessor of Vietnam; No Duong's brother, Cuong Duong, would later open Ben Thanh, named for the large market in Saigon (now Ho Chi Minh City) where Vietnamese people have shopped for fresh foods since the 1800s. No and Cuong's mother, Ngan Nguyen (no relation to Dan), logged time cooking at both restaurants.
The Duong family — ten children: eight girls and two boys — had moved to Charlotte from Vietnam in the early 1980s, working in Chinese restaurants before opening Lang Van. By the time Dan Nguyen began working at Lang Van in 1999, the Shamrock Drive location was already a hotspot among Asian restaurants in Charlotte.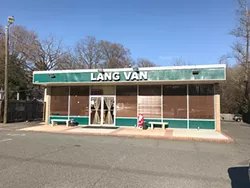 The restaurant is tucked away off Shamrock Drive.
"My owner, she loved the customer here, and I work with her a long, long time, maybe five years," Nguyen remembers. "She was very good owner. She clean it, she take care of customers very well and I learn from her."
Nguyen rose quickly, becoming part-owner of Lang Van in 2004 and the restaurant's full owner by 2009. Duong eventually left for the West Coast.
"She hold me close and cry a lot," Nguyen remembers, the tears returning to her own eyes. "She ask me, 'You take care of customers, OK?' And I say, 'Don't worry.' She love, love, love the customers here. She ask me a lot, and I say, 'You don't worry!'"
For a handful of years, Duong had tapped Nguyen to help her plan the menus, and the young upstart quickly learned to cook and interact with customers under Duong's mentorship.
"I didn't have opportunities in Vietnam, so I came here," Nguyen said in the Southern Foodways oral history project. "This restaurant gave me the social skills that I have now, and they helped me integrate with other people so that I understood their culture. And I wanted them to understand my culture, too."
Learning the menu alone at Lang Van was a formidable task. It includes 139 dishes, from delicious appetizers to Vietnamese staples like Banh Xeo — the yellow pancake stuffed with shrimp, sliced pork and bean sprouts, and served with mint leaves — plus specials such as the ginger tofu I have during my visit to the restaurant.
The subtle tinge of garlic and ginger in my tofu dish perfectly accents the stir-fried broccoli, asparagus, snow peas and carrots, which are tossed on a bed of sauteed spinach, making for an early-afternoon lunch that fills me up but doesn't weigh me down.
"I make the tofu and every dish this morning," Nguyen assures me. "Everybody come early in the morning, cut the vegetable every day. Every day! I don't like vegetables no good."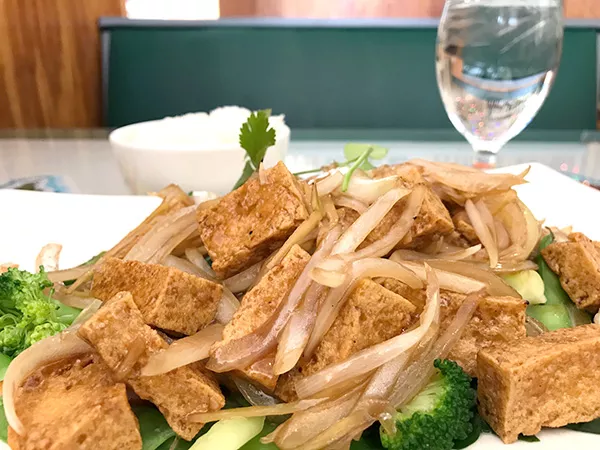 Lang Van's ginger tofu will fill you up but it won't weigh you down.
When asked what her own favorite Lang Van dish is, Nguyen pauses momentarily and then reels off a list: "My favorite dish is ginger tofu like I make you," she says. "And I like yellow pancake. And I like No. 45 [the Bun Tom, Thit Nuong, Cha Gio — a bed of bean sprouts and rice vermicelli noodles with meat, vegetables, crushed peanuts and sweet-and-sour sauce, along with an eggroll], and No. 137 [a chicken lemongrass curry].
"Oh yes, and I like pineapple," Nguyen continues, referring to the pineapple fried rice with tofu and onion, served in a bowl made from a pineapple sliced in half and gutted.
Lang Van's customers sometimes become overwhelmed perusing all the choices on the menu, but Nguyen comforts them.
"Sometimes they come in, they look at me," she says. "I tell them, 'Don't worry! You like chicken? You like shrimp? You like tofu? I got for you."
Lang Van is one of the few restaurants in Charlotte that's long been an oasis for vegetarian and vegan eaters.
Nguyen says the kitchen's staff — herself and her husband, as well as a cook that began under the previous owner — takes care to keep the meats separate from the vegetables, so that vegans don't have to worry about contamination.
Other members of the Van Lang staff include Nguyen's cousins and nieces, as well her two children, Henry and Alice Tran.
Alice, 14, says that growing up at the restaurant wasn't always easy. "There have been [financial] hardships — you know, stuff happens sometimes," Alice says. "But we keep persevering through those."
She's grateful that her mother gave the children opportunities to learn how to prepare the foods of their cultural tradition.
"It's very special to me, because I feel like I'm carrying on the traditions for future generations," Alice says.
But will she continue at Lang Van after her parents retire. "I'm not sure right now," Alice says. "I have other interests, but if there's any possibility, I would like to continue the restaurant."
Alice Tran won't have to worry about taking the reins at Lang Van for at least the time being, because Dan Nguyen is not going anywhere anytime soon.
"This morning," Nguyen says, "I take a shower, I come in, I see my cousin and my family and everybody who work together, and then my customer come in [raises her voice]: 'Hi, how are you!'"
She pauses, tears streaming down her face yet again. "That make me happy," she says, as multi-colored holiday lights flash above her. "That make me so happy."