A strange thing happeed to Kaoru Ishibashi as he sat down to write his latest album Sonderlust. His personal life blew up.
2015 had been a whirlwind year for Ishibashi, who has released three studio albums of shimmering layered pop under the name Kishi Bashi. He was touring with a string quartet, playing acoustic arrangements of songs selected from his synthesizer-heavy albums 151A and Lighght. The tour yielded a spirited live album, String Quartet Live!, but Ishibashi's hectic schedule put such a strain on his 13-year marriage that the couple were forced to separate briefly. Turning to work only made matters worse. Trying to come up with new songs, he hit a wall. His old method of working — crafting tunes from loops laid down with his violin — no longer cut it.
So Ishibashi put down his violin and embraced samplers, sequencers and electronics. Sonderlust is the first Kishi Bashi album where the composer/violinist doesn't play his violin — though a studio string section figures prominently on several songs.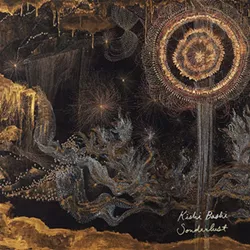 Kishi Bashi's Sonderlust.
Ishibashi also stepped away from the surrealist and impressionistic lyrics he'd relied on in the past, and addressed the marital woes, hardship and heartbreak that had entered his life. The result is his most emotionally direct set of songs to date. On Sonderlust, Ishibashi sings about love.
"The kind of things you do when you're initially in love with someone — they're different from the gradual trust and the emotional bond you create over time. I didn't really realize that until recently," Ishibashi says. "Older people — couples who've been married for 50 years — may not be in love (that entire) time, but they definitely love each other."
To complement lyrics that traced a straightforward story arc, the course of a romantic relationship through dissolution and hopeful reconciliation, Ishibashi sharpened his musical approach.
"Sonderlust is a lot less dense than all my other material. My other albums are kind of crazy." Ishibashi maintains. "My producer Chris Taylor is with Grizzly Bear. He produces their stuff, which is very minimal. So Chris was there to tell me when I went too far."
The songs, though simplified, are still lush. Sonderlust boasts a jazzy, soulful feel, where funk, disco and prog rock jostle for space on the dance floor.
"Electric Light Orchestra and Pink Floyd have always been big influences," says Ishibashi, who emulates the production techniques of those acts on his album. "With dry drums and really tight bass, the 1970s was the golden era of recording."
In support of Sonderlust, Ishibashi is touring again this fall, this time with a full rock band. While he left the stringed instruments to other musicians on his new album, he will be playing plenty of violin on stage. It's an instrument he's been obsessed with since high school.
"I was pretty serious about it," he recalls. "I played a lot of chamber music and I was concertmaster of the orchestra."
But Ishibashi saw no future in playing classical violin. "The only professionals around me played for a local symphony. I didn't think I was good enough to be a concert soloist."
Instead, Ishibashi grew fascinated with jazz violin. His interest led him to the Berklee College of Music in Boston where he focused on swing violin. "I studied the Stephane Grappelli style of playing. It was a small group of people and it was great."
Graduating with a film scoring degree from Berklee, Ishibashi headed to New York.
"I started a band, Jupiter One. It was initially an instrumental group, fusion drum and bass — something really unpopular," Ishibashi says laughing.
Soon Ishibashi started writing songs, and more people started coming to the band's shows. He discovered that he enjoyed the songwriting process. "I could connect with an audience better singing songs, (as opposed to) playing wailing solos." Even so, Jupiter One had difficulty achieving lift-off.
"Getting a rock band to be successful is almost like winning the lottery. It's really hard, especially in New York City where there's a lot of competition and the rents are right through the roof. The band just wasn't going anywhere. Every move we made would send us in the wrong direction."
As a side gig, Ishibashi started touring with Regina Spektor, playing violin in her live band. One night in Berlin, the opening act didn't show, and Ishibashi filled the bill with an impromptu solo set.
"They were freaking out. I said, 'I can probably do 30 minutes, if you lend me a guitar.' So I whipped something together."
With a mix of material — Jupiter One songs and some solo tunes — Ishibashi augmented his guitar-accompanied selections with a few numbers on his violin. The audience reaction was so enthusiastic that Spektor gave him the opening slot for the rest of the tour.
"I got a taste of hearing my songs stripped down. I felt the orchestral accompaniments were supporting the songs a lot better, and I realized that this violinist/songwriter thing was a lot more unique than a rock band or a singing guitarist."
Kishi Bashi (Photo by Shervin Lainez)
Now five years into his solo career, Ishibashi continues to push his music in challenging directions. Though he all but jettisoned the violin as a compositional tool for Sonderlust, he won't rule out returning to it for songwriting in the future.
In fact, Ishibashi returned to his roots as a "violin nerd" with last year's Kishi Bashi Spring Fling Contest, launched in conjunction with his 2015 release String Quartet Live.
For the contest, Ishibashi posted sheet music for all nine tracks off his live album, making it available for download. Competing student orchestras were then tasked with learning any two songs and submitting videos of themselves playing the compositions. In the end, four schools won the grand prize — Kishi Bashi playing live at their school Spring Concert.
"They made these compelling videos," says Ishibashi of the four winning schools — one in Atlanta, one in Saratoga Springs and two in the Chicago area. The high quality and energy of the videos reinforced "the reason we did it this contest," he says. "We wanted to give talented kids a professional performance opportunity."
"There's always a couple of kids in each orchestra who are thinking about going into a music career. I wanted to connect with them," says Ishibashi. He also hopes to introduce the next generation of players to avenues that didn't exist when he was their age.
"The idea is to give young people an opportunity to play the kind of music they might listen to for fun," he adds. "I want to connect them to the pop world."