Not many songwriters are as wildly prolific as Patterson Hood. The dominant voice of the Athens, Ga., band Drive-By Truckers, Hood's airy warble and immersive Southern narratives serve as the focal point for the group's razor-sharp rock 'n' roll. Not only that, but they contrast perfectly with the wry country wisdom of Hood's longtime DBTs cohort Mike Cooley. Considering Hood's consistent Drive-By contributions, it's somewhat surprising that his first two solo albums were mostly the result of clearing out old material.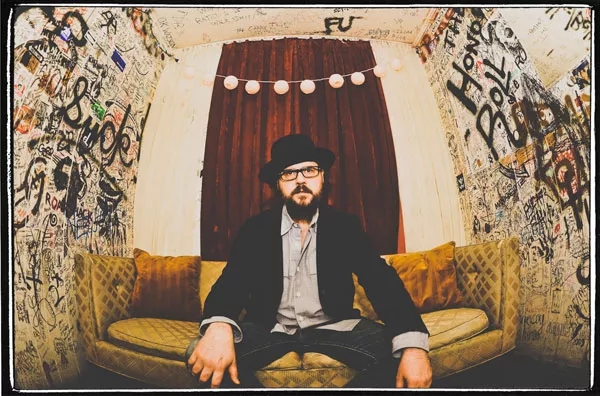 Killers and Stars, from 2004, was a hodgepodge collection, roughly recorded three years earlier in the style of Bruce Springsteen's Nebraska. Hood's 2009 album Murdering Oscar (And Other Love Songs) was compiled from songs he'd held onto for some time: "Heavy and Hanging" was Hood's response to Kurt Cobain's 1994 suicide, and "Pollyanna" was even older — it was the last song Hood wrote for his and Cooley's previous band, Adam's House Cat. Last year, Hood released Heat Lightning Rumbles in the Distance. Though he wrote recorded it with comparative quickness, like Hood's first two solo outings, it deals with themes and situations that had been on his mind for a while. Hood is currently touring, along with fellow Truckers Jay Gonzalez and Brad Morgan, in support of that album and will stop by the McGlohon Theater on Feb. 13.
"The photograph on the [album] cover was a shot my wife took last fall right after my great uncle, George A. Johnson, passed away," Hood explains by e-mail. "A big portion of the album was written anticipating losing him and dealing with the last of that generation of my family being gone.
"I went home for his memorial service and was out at the old homestead, walking around on the farm where I grew up ... watching my children play where I used to play, and it was as if my songs were being played out before me. I was taking some things out of the old house he used to live in and pulled the big mirror off the wall that used to hang over the wood-burning stove. I laid it on the ground to clean it up and was looking down at it when my wife shot that picture. It just seemed to capture the mood of the album."
Like much of Hood's work, Heat Lightning is like a collection of short stories, tightly wound narratives with a clear beginning and end. Not surprisingly, the project began as a novel. The Truckers' last studio trip produced two albums, The Big To-Do, released in 2010, and Go-Go Boots, which followed a year later. After touring behind the first album, Hood was exhausted and ready to get off the road. With another record and more touring on the way, he needed a new project to keep his mind occupied. He decided to write a book, targeting a rough three-year period in his late 20s. Adam's House Cat had broken up. He was staring down a divorce and struggling to maintain a new long-distance relationship. He says he was as close to committing suicide as he's ever been. Instead, he wrote about 500 songs.
"My book would sort of tell that story, but interspersed with lyrics from that period of my life, as well as new song lyrics either set in that time or from the point of view of various characters from the book," he wrote in the new album's press release. "The structure would be chapter-song, chapter-song and so on. If the book was coming fast, the songs were coming even easier. Then the book stopped coming."
The subsequent songs explore loneliness and depression from opposing points of view. "12:01," like many of the album's darker offerings, places Hood back in his troubled late 20s. In that haunting gem, he sings softly over mournful strings and a guitar part that shines with subtle reverb, referring to "zombies" who cross county lines just after midnight on Monday mornings to buy liquor after the Sabbath.
"Leaving Time" follows, exemplifying the other group of songs on Heat Lightning — hopeful ruminations that consider alienation with the full heart of a dutiful father and husband. "The baby's on the bedroom floor," he sings over simple piano and driving banjo. "Suitcases and clothes galore/ Everyone's just a little sore/ When it comes to leaving time." Later, he remembers all the touring he has to do and offers the sarcastic quip: "Thank God the package store sells more beer."
Picking up a six-pack is different from driving to another county to buy liquor in the wee hours, a telling gauge of how much Hood's life has changed. The album is marked by this duality, and Hood executes it with such precision that one suspects this was the plan all along.
"I never really set out to do a solo record," Hood says. "I really just follow the songs and try to go where they lead me."