Judy Diamond credits her early love for art with the public school education she received as a child in Brooklyn, New York. As a student, she was constantly going on field trips to museums and other art institutions around the city. In contrast, about 700 miles to the south, in Columbia, South Carolina, Patrick Diamond, Judy's future husband and partner in art collecting, was not allowed in the local art museum because he was black.
Later in his childhood, Patrick would move to Brooklyn, but he wouldn't meet Judy until the two attended Boston University together. They married following graduation, and just a week after their wedding were on a plane to Dar Salaam, Tanzania, with the Harvard Africa Volunteer Project, which would send Boston-area college students to Africa to live and volunteer for a year. It was there in east Africa that the Diamonds cultivated a passion for acquiring art.
"For me it was the opportunity to see and be surrounded by African artists," says Diamond, looking back on how the trip forever changed his life. "On most of the major thoroughfares, as you walked out of the major cities, you'd see African craftsmen, woodcarvers, painters, and because we were immersed in that African culture, I got very interested in acquiring all of this art. We decided that we would try to bring different images back for family members and friends, and then we realized that we had hundreds of pieces. It grew quickly."
Following through with their original plan, the Diamonds gave away much of the art they had acquired in Africa upon returning to the United States, but still kept enough to decorate the small apartment they moved into together in Williamstown, Massachusetts.
Now, more than four decades later, a couple of those pieces from Tanzania still decorate the entryway to the Diamonds' townhome in a gated community in south Charlotte. They were the first pieces of what became a much larger collection, one that serves as the basis for A Creative Journey: The Collection of Judy and Patrick Diamond, an exhibit showing at the Harvey B. Gantt Center for African American Arts + Culture through July 29.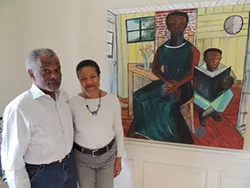 The Diamonds in their home with art by Nellie Ashford. (Photo by Ryan Pitkin)
Welcoming me into their home on a recent afternoon, Judy and Patrick point me to a large drawing of black children reading comic books done by Lauren Moore, hanging just behind the front door. It's a beautiful piece of art, but it's unframed and held in place by thumbtacks — not what I'd expect to see from art collectors. They laugh and explain that, with so much art currently hanging on the walls of the Gantt Center, they've had to improvise in some places.
On an opposite wall, a large painting by Charlotte artist Nellie Ashford depicts a young black child reading next to their mother.
Moving into the living room, the theme switches from childhood literacy to music, as paintings depicting jazz musicians and other performers make for a melodic mood. A portrait of Mahalia Jackson painted by the late Chicago artist Clifford Lee and an unsigned piece depicting a female singer in a jazz room hang on each side of two lithographs by perhaps Charlotte's most renowned artist of all time: Romare Bearden.
As the Diamonds settle in to their seats, Bearden's "Brass Section" hangs behind and above Patrick's head. The limited edition lithograph was the first purchase he and Judy made together after returning from Africa. It was 1979 and the two lived in Atlanta. They attended an exhibit showing Bearden's work at the High Museum of Art and enjoyed it, only to find out that a gallery down the street also featured Bearden. The two walked down to the gallery and soon enough were in a conversation with the artist, who told them that "Brass Section" was for sale. They purchased the piece for just under $700, a steal compared to the prices one would pay today for Bearden's work.
The Diamonds in their living room, where the first piece they acquired in America, Romare Bearden's "Brass Section," hangs (second from right).
The experience, which Judy called "serendipitous," would be the beginning of a life of collecting art together for the Diamonds, on a creative journey that found them meeting and sometimes befriending the famed (or soon-to-be-famed) artists they bought from.
"We've never viewed ourselves as collectors, as such," Patrick says. "It was just the interest in acquiring work for ourselves, for family. We always thought, whether it was that first small apartment or a home like this, that we just wanted to surround ourselves with African-American cultural objects and have them, and it sort of snowballed."
The Diamonds now have about 175 pieces that cover four different themes: history, music, family and Christianity and how each ties into African-American culture and identity.
"We came to a place where we said we probably should have themes, we shouldn't just buy stuff," says Judy.
The themes can often overlap, and female representation — in portraits, sculptures of the female form, etc. — is strongly present throughout the collection, Patrick says.
Entering the exhibit, the female form is represented in a striking way on a bright red multimedia work that reads "Negro Wench for Sale" in large letters below a photo of a slave woman. The piece was produced by Philadelphia artist Cedric Smith while he was in residence at Charlotte's McColl Center for Art + Innovation. It's the first thing to grab the attention of anyone walking in.
Dr. Michael D. Harris, who curated the exhibit, says he tried to open with some of the more well-renowned artists like Bearden and the late Jacob Lawrence before moving into more contemporary and exploratory artists.
About halfway through the exhibit, patrons can take a break on one of two chairs from the old Charlotte Coliseum, which Diamond purchased and brought to local artist and friend of the Diamonds, Ben Parrish, to be repurposed. Parrish created a base to make the seats stand up on their own and attached a metallic arm that creates a side table next to the seats. The Diamonds once kept the seats in their backyard.
Behind the seats hangs Cheryl Warrick's "No Wealth But Life," a painting that, as Judy points out, doesn't exactly fit into the Diamond's four themes.
The Diamonds sit in seats pulled from the old Charlotte Colisuem and repurposed by local artist Ben Parrish. Behind them is Cheryl Warrick's "No Wealth but Life."
"We have tended not to buy images like this that are more abstract, but we just happen to love her work," Judy says as she approaches Warrick's painting, adding that it usually hangs in the Diamonds' foyer, where the children now read comic books.
Harris met Patrick when the two worked together at the Gantt Center about nine years ago. It was a job that brought Patrick back for his and Judy's third stint in Charlotte. Harris soon learned about the Diamonds' art collection and noticed how it differed from many he had seen locally.
"I began to see that he had a lot of things in his collection that were interesting and not usually found in Charlotte," Harris says of the couple's collection. "Often there are collections in Charlotte where you find many of the same artists, and it's not that he doesn't have them — Romare Bearden or Jacob Lawrence — but he also has people or some works in his collection that are unusual for Charlotte, so I thought his collection was really interesting."
When Harris heard that David Taylor, Gantt Center president and CEO, was interested in sharing private collections that showcased African-American history through art, Harris immediately thought of his friends the Diamonds.
The three of them began going through the collection piece by piece, which was eye opening for Patrick.
"We pulled things out of storage that had never been framed and framed those images for the exhibition," Patrick says. "So this experience is giving us an opportunity to see some of the things we haven't seen in years."
Harris hopes the Diamonds' story of humble beginnings can serve as an inspiration to others who might feel left out by the perceived exclusivity of the arts scene.
"With the Diamonds, we're not talking about wealthy people, which begins to let people know that you can start collecting from wherever you are," Harris says. "You don't have to be a doctor, you don't have to be a wealthy patron, you can start collecting from wherever you are, and whatever fits your sensibilities is good."
As we come toward the end of the exhibit, Patrick approaches a multimedia piece titled "In the Garden," done by Radcliffe Bailey, that frames a mid-20th century photograph of black schoolchildren with blocks and colors reminiscent of American military uniforms.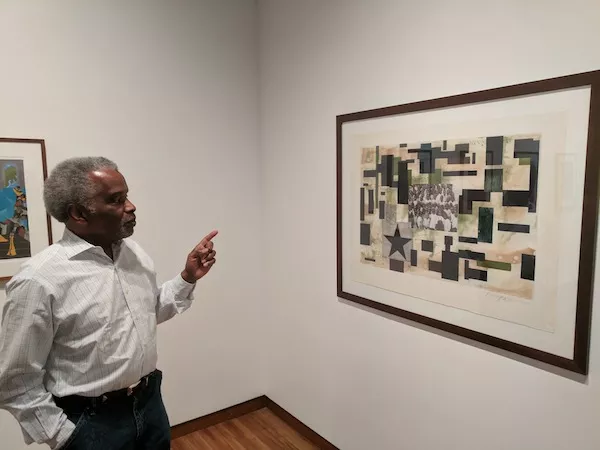 Patrick discusses Radcliffe Bailey's "In the Garden."
He makes it clear that, for him, this is the most meaningful piece in the exhibit, and for the first time in our conversations either at his home or in the museum, he gets political.
"This is a photograph of black children — a school picture probably from somewhere here in the South, hyper-segregated, probably 1930s, 1940s, 1950s," he says. "We have the same situation here in Charlotte today: super-segregated schools. More than 50 years ago we had the Brown decision, yet we still have hyper-segregated schools."
He recalls that when he and Judy moved to Charlotte from Atlanta with their young son in the '80s, one of the reasons they did so was the enthusiastic efforts of both black and white residents to work toward desegregation in the local school system.
He says he's been upset by what he's seen occur since then.
"It's further compounded for me in that we have African-American leadership on the school board who are not addressing this issue in the ways in which I believe they oughta be addressing it," he says. "Obviously we're not going to have a perfect system, but there should be no hyper-segregated public schools in Charlotte, North Carolina, in 2018."
It's a reminder of the experience that got Patrick into art 43 years ago, when he arrived in east Africa and realized just how far he had come from Columbia, South Carolina.
Today, it's clear that those memories are still fresh in his mind as he recalls them. He remembers choosing Tanzania because the country's president, Julius Nyerere, was one of the most progressive leaders in Africa, but he still couldn't have prepared himself for what he saw when he arrived.
"It was an extraordinary opportunity being an African American in an African nation and for the very first time in my life being included in the majority of the population," Patrick says. "The president was black. All of his ministers were black. Every police officer that you saw was black. Every banker that you saw was black. It was an absolute deep immersion for the very first time in a totally black experience."
It's an immersion that has inspired Judy and Patrick's work for decades since, and an immersion they're now passing on to Charlotte through A Creative Journey.