Lawrence "Big Red" Brooks did what any rational person would do when he heard a rumor that his girlfriend was cheating on him -- he picked up a gun and went on a shooting spree.
Over the course of two days in October 2005, Brooks, 25, and two friends drove the streets of his Charlotte neighborhood, hunting for Walter Blair. When Brooks finally caught up to Blair -- who later swore to police that he didn't know Brooks or his girlfriend -- he tackled him and attempted to execute him while Brooks' friend egged him on.
Courtesy Mecklenburg
County Sheriffs Office Web site
Lawrence Brooks
Brooks' gun misfired.
Blair tried to grab the gun from Brooks but failed and took off running with Brooks hot on his tail. Brooks chased Blair through backyards and over fences. He eventually managed to put the first bullet in Blair in the Porter Street area, capping him in the rear end. That slowed Blair down enough for Brooks to catch up to him and begin what can only be described as an attempted castration. Brooks shot Blair four more times at close range in the groin and stomach, sending Blair to the hospital with life-threatening injuries.
Blair eventually recovered -- relatively speaking -- from horrible wounds and Brooks was charged with a string of crimes that included pistol-whipping his girlfriend while his mother held her down.
The Blair affair was the second violent attack attributed to Brooks' that year. Five months earlier, in May 2005, Brooks was charged with assault with a deadly weapon with intent to kill.
Brooks ran from police for four months after the attack on Blair. Charlotte-Mecklenburg Police were so desperate to capture him that they put him on the city's Top 10 Most Wanted List, and he was even featured on the America's Most Wanted Web site, as reported on www.crimeincharlotte.com.
After it was announced by police and reported in the media that Brooks would be one of five fugitives featured on billboards across the city, Brooks finally turned himself in January 2006.
As with most criminal cases in Mecklenburg County, things started to go awry when Brooks entered the county's terminally dysfunctional court system.
Mecklenburg County Magistrate Lori Diggs, the only court official involved in this case who appears to have any sense, denied Brooks bail on the attempted murder charge, blocking him from getting out of prison. According to state law and the official bail policy of the Mecklenburg County courts, judicial officials are supposed to grant bail unless there is reason to believe that the defendant poses a danger to others, might intimidate witnesses or poses a flight risk.
If anyone ever fit all three of these categories, it was Brooks. In addition to the current pending charges, Brooks has a three-page record of violence, assault and mayhem that dates back to 2000. But District Court Judge Philip F. Howerton Jr. saw things differently. Unlike the police department, the magistrate and the folks at America's Most Wanted, he apparently wasn't concerned enough about Brooks' potential for violence to keep him in jail.
A month after Brooks turned himself in, Howerton let Brooks out on $25,000 bond on the attempted murder charge. The magistrate had set the bail amounts high enough on Brooks' other related charges from the two 2005 attacks to keep him in prison, but Howerton took care of that, too. Howerton dramatically decreased the bail amounts on each of the charges against Brooks, including lowering the $50,000 bail the magistrate set on a separate assault with a deadly weapon with intent to kill charge from the May 2005 incident to $10,000. (Defendants typically only have to put down 10 percent or less of their bail amounts to bond out.)
Because of Howerton's generosity, Brooks walked out the door a month after police made a major effort to capture him. At press time, Howerton was unavailable for comment.
Sure enough, by the end of 2006, Brooks was rearrested on assault charges and let out again. He was arrested again two weeks ago for intimidating a witness after threatening Blair with a gun in an effort to keep him from testifying at Brooks' upcoming trial. Brooks was in jail -- temporarily I'm sure -- as this story went to press.
Brooks isn't the only dangerous felon Howerton has released. Creative Loafing took a look at the docket for February 2006, the month that Brooks was returned to the streets, and found Howerton had let out nearly two dozen violent individuals. Howerton slashed the $200,000 bond for Oscar Randalli-Martine to $5,000 in a first degree kidnapping case. He lowered bond amounts for Marvin Fitzger Outing, who was charged with kidnapping, breaking and entering, assault on a female and robbery with a dangerous weapon, dropping bond on some of those charges from $50,000 and $25,000 to $5,000.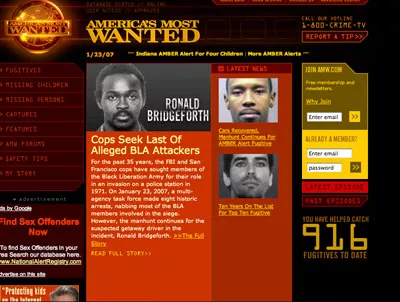 America's Most Wanted Web site
It didn't seem to matter to Howerton if the defendants had actually harmed their victims or if they did it in home-invasion style robberies that involved breaking and entering and kidnapping charges. Several defendants who came before Howerton, like Kenneth Clawson, were charged with inflicting serious injuries to their victims in the course of a breaking-and-entering style armed robbery, but Howerton bonded them out anyway.
Howerton, who has a reputation around the court house for priding himself on his speed in the courtroom, has been featured in this space before. Last time, it was for assigning public defenders paid for at taxpayer expense to every defendant who appeared before him without bothering to ask them if they were indigent or could afford an attorney.
Howerton barked "public defender" at defendants paraded before him so fast that they were never allowed to stop moving or to speak. It didn't matter if they got out of order in line, or were later found by CL to live in $400,000 homes or to have assaulted a stewardess on a business trip that was part of their sales job. Howerton apparently takes a similar approach to violent criminals.
Meanwhile, the spike in violent crime in Charlotte continues to baffle local politicians.