When you play in an experimental rock band, you have to go into a set knowing that some folks aren't going to get it.
And that's OK.
Mark Hepp and Charles Ovett of local, krautrock-inspired experimental duo Joules have seen all sorts of reaction to their music, and it doesn't bother them.
They once played a house party in west Charlotte in which only two of the 50 people in attendance stayed inside to listen to their set. When they finished up, the guy who booked them wouldn't even speak with them.
They laughed it off as they packed their gear up while everyone outside gave them the cold shoulder.
Joules has a good following in other parts of the country, including Wilmington and parts of Pennsylvania, where they pack shows every time they're in town, but it's a been a rougher go in Charlotte, where the duo has been playing local sets for four years.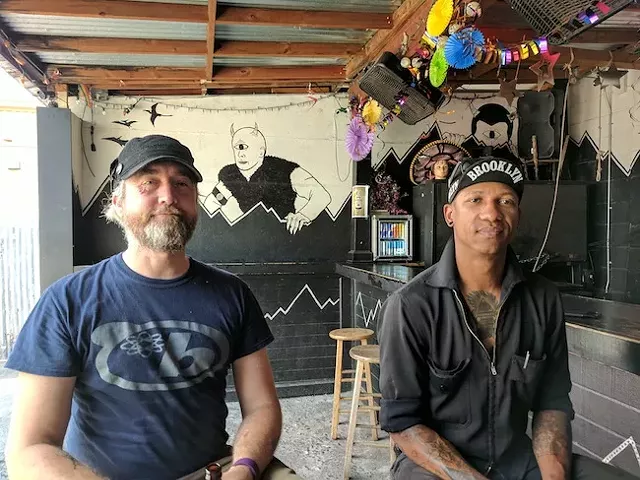 Mark Hepp (left) and Charles Ovett of Joules. (Photo by Ryan Pitkin)
The local reaction has not all been bad, however, and when people get it, they really get it.
A recent screenshot on the group's Facebook page shows a friend recalling a conversation with a guy named Matt who had just seen Joules play for the first time. His reaction went something along the lines of: "Dude, fucking Joules! I saw them last night I mean ... holy shit! I mean, fuck!"
It's a familiar sentiment from folks who happen upon a Joules show, Hepp said, when I met with him and Ovett at Snug Harbor, where the duo will play on Friday, September 7, alongside The Business People, North by North and Reaves. The two haven't played with any of those bands in the past, and there's sure to be some folks in the crowd who feel like Matt, and some folks who spend the entire set out on the patio.
"We just want to play our music," said Hepp, the band's guitarist. "We just like doing what we do. If you like it, great. If you don't, great. Thanks for sticking around."
Hepp and Ovett aren't ones to wait around for venues to call and book them. They're known for setting up shop wherever they can on the street or in an alley, then letting passersby catch them in action on their way to lunch or the like.
An alley behind the former location of Crown Station in the Elizabeth neighborhood was one of their favorite places to play in Charlotte.
Hepp and Ovett met in the early 2000s, while Ovett was playing drums in Battle Beast. When that band opened a sold out show for Lightning Bolt, a noise rock group from Rhode Island that served as an inspiration for Joules, Hepp was in the crowd.
Both men were surprised by the turnout for Lightning Bolt, and it convinced them that fans of the more experimental genres were here in Charlotte, they just didn't know where to go.
The two stayed in touch over the years, as Ovett continued playing with Battle Beast and Hepp was playing bass with Robot Versus Rabbit. The two eventually started playing house shows together, and when their respective bands dissolved, Joules was formed.
During their intense sets — sets that Matt described as making him feel like he was on drugs — the duo feeds off each other in a literal way.
Joules jams in an empty warehouse. (photo courtesy of Joules)
Neither comes in with a designated setlist, just a couple beats in their head. They discuss what they've been listening to all day, what their moods are, how their days have been, and then they just start playing. They might stick to a certain foundation for their songs, but those songs change as they go.
"It's a feeling to me. It's almost like an emotion because, once we lock in and we know what it is, it's like a mindset that we get into and we're both in there together and we just feel each other," said Ovett, who learned to play drums from his jazz musician stepfather. Ovett even played drums for his dad's band as early as 13 years old. It was an experience that still motivates his experimental nature, especially during live performances.
"Like any free jazz or free form music, you just feel each other and go off that and see what happens," Ovett said.
Hepp compared the band's shows to a morning commute; you may take the same way to work every day, but it's a different experience every time. There are different cars on the road, and therefore different traffic patterns.
"It's kind of like a sunset, you know?" he says. "You may see it one time and try to capture that, but you can't."
The two are currently working on capturing a sunset on record, which is relatively rare for them. Their most recent release, Humility, Insanity, Maturity, Compassion and Perseverance, in 2015, was just four songs ranging from 20 minutes to two minutes long.
There are no vocals in the EP, but the song titles hint at a certain emotional struggle that is apparent in the music.
Read in order, the titles state: "A broken heart, the silence before the rain/ There was nothing done to deserve this/ As you walk away, the wind blows your hair/ A voice, a dream, I remember it all."
The songs seem to carry their listeners through the different stages of grief involved in a break up. The rage and anxiety peak in "There was nothing done to deserve this," followed by a mournful wailing of the guitar on "As you walk away, the wind blows your hair."
When I mention my "stages of grief" theory to Hepp and Ovett, they crack coy smiles and tell me the songs mean whatever I make of them.
"At that time, we were both going through particular situations," Hepp said.
Ovett continued with an equally vague explanation.
"It was just for our love of women," he said. "We all go through certain things."
Surely, the two will go through certain things in the coming week, and that will all come out in their show at Snug on Friday night. We would suggest that when that all starts to spill out, you do yourself a favor and don't go outside.