On a typical New York City morning, Jose Ayala arrived early to his carpentry gig in lower Manhattan: building a reception area for a high-powered law firm. The office was in the North Tower of the World Trade Center. The date was September 11, 2001.
"You can't imagine the sound of that impact," Ayala says today, shaking his head in his modest, home-built DIY recording studio in Gastonia. He walks over to his phone and scrolls through the photos.
"Look at this," Ayala says, enlarging one of the images. "Can you guess who that is?"
The photograph reveals a scene that's been forever imprinted into our collective consciousness: a group of people, covered in white powder, dazed, walking like a tribe of ghosts up a Manhatttan street. In the background: a roiling cumulus cloud of smoke and ash.
But this image has something I'd never seen before in one of these images: a familiar, ash-covered face. It's Jose Ayala.
To say the experience was jarring for Ayala, a carpenter who moonlights as a band leader, would be a gross understatement. He eventually packed up his home and moved his family south, to North Carolina, rebuilding his New York band Furia Tropikal in the Charlotte area.
It wasn't easy. The Charlotte of the aughts is almost unrecognizable from the quickly diversifying mini-metro it is today. But that didn't deter Ayala, who assembled a new Furia Tropikal lineup from the small but fierce local Latin community of musicians. The band soon landed a weekend residency at the Plaza Fiesta Spanish Mall, near Carowinds.
"We were there. . ." Ayala begins, then pauses to consult his longtime musical partner, bassist Bernard Torres. "How long was it, Bernard? Quanto tiempo?"
"Tocamos música en la Plaza por dos, casi tres años," Torres answers. Two to three years.
AYALA AND TORRES are sitting in the basement studio of Ayala's beautiful brick home in a quiet Gastonia neighborhood where you might expect to hear the lonesome twang of pedal steel or the crunch of classic rock. But the sound coming from this home is neither country nor rock. It's pure Loisaida (Lower East Side, Manhattan) — the unmistakable one-two stomp of a cumbia rhythm, mixed with the chirping of Carolina cicadas outside.
The control room of Ayala's studio is small but efficient, with a Logic Pro set-up and multiple screens all in a space just big enough for a single chair. Earlier, Ayala had been sitting at the screens monitoring Torres, who was on the other side of the glass laying down a conga track for the cumbia-in-progress.
That's when something else caught my ear. As Torres tapped out a solid, Afro-Colombian rhythmic foundation, a simple-but-insistent saxophone hook appeared, augmenting the cadence of a bass line with its own harmony. Then a male voice came in, smoky and right on pitch.
"This is going to be a female vocal eventually," Ayala explained, as he maneuvered a fader on the virtual mixer. "This is" — he waved a hand in the air, looking for the right word in English — "a guide."
When Torres finished and looked up from the skins, Ayala stood up.
"OK," he said to me, "Let's meet the guys."
He opened a small black door leading into the tracking room, which also is small but efficient. A couch lines one wall, instrument cables draped over it. An N.C. MUSIC FACTORY sign stretches across the far wall behind a charcoal-colored drum set. Posters of past live-music events dot the walls.
Seated on the couch were "the guys" ­— all kids, except for the 46-year-old Torres. One is actually a 17-year-old girl, Kairy Bautista, who sat strumming an acoustic guitar. Torres' 13-year-old son Bryan sat by the wall, arms crossed, baseball cap over his eyes, big grin on his face.
These are not the "guys" I expected when I came to interview the members of Ayala's Furia Tropikal, the music project he conceived back in New York in the early 1990s. Tonight, Ayala is recording with a truncated version of the seven-piece band, which usually includes drummer Luis Medel, the band's newest member; trombonist Jolanta Wilson, the sole native Charlottean; and a revolving trio of singers: Venezuelan Manuela Woler and Colombians Natalia Raigosa and Laura Villamil.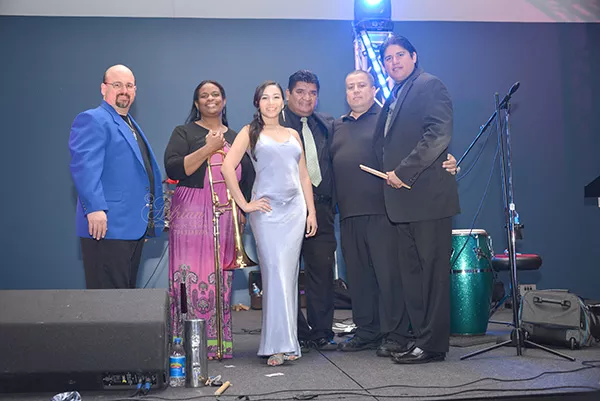 Furia Tropical (from left): singer Sendy Mendez, trombonist Jolanta Wilson, singer Natalia Raigosa, Jose Ayala, lead singer Fredy Suarez, and percussionist Ricardo Ortega. (Not pictured: Bernard Torres, Bryan Torres and Kairy Bautista.)
This night, though, belongs to young Kairy Bautista, whom Ayala discovered when Furia Tropikal had been invited to play at her quinceañera, the big 15th birthday party and coming-of-age event for Latinas. Foregoing the traditional "secret dance" of a typical quinceañera, Bautista had chosen to come out as a young adult in her own way. She fronted Furia Tropikal in an unexpected performance, singing a salsa-inflected version of "Hotel California" which, by all accounts, blew the roof off the hall.
"I can't dance, so I figured I'd do what I was good at," Bautista tells me, with shrug and a smile. Ayala set about mentoring the young girl and tonight is in the middle of producing her first set of songs.
The elder Torres, originally from Mexico, has been Ayala's musical partner since 2006, and is a bandleader in his own right. His group, Los Salber's, is a 12-piece that regularly plays at Latin music events in the Charlotte area. In addition to fronting and supporting a few other Charlotte-area cumbia bands, Torres supports a family of musicians.
"Bryan is the saxophone you were just listening to on this track," Ayala tells me, referring to the younger Torres. My shock is noticeable. This middle-school kid with the big grin is the musician who played the confident, slinky saxophone part that had caught my ear just minutes ago?
Bryan smirks good-naturedly and salutes me, cap still obscuring his eyes.
Though only two official Furia-listas are present tonight — Ayala and Torres, who also plays bass — give me the scoop on how Furia Tropikal formed. "Music is a story of ups and downs," Ayala says as he relaxes on the couch next to Bryan. "But, gracias a Dios, peope have helped us a lot."
Furia Tropikal perform at a street festival.
THE ROOTS of Furia Tropikal can be traced to the heady '90s, when Ayala was living in Union City, New Jersey, and working every day as a carpenter across the river in Manhattan. Furia Tropikal was his musical passion — his night and weekend gig.
"We started out playing parties," Ayala remembers, "then graduated to street festivals all over the city. Eventually, we started getting some serious shows."
Early gigs opening for some the big bands of '90s Latin music, including Banda Blanca, cemented Furia Tropikal as a serious NYC cumbia outfit. For the first few years, Furia's fortunes were driven by local CD sales, until the late-'90s digital revolution began to affect his bottom line.
"I'd sell a CD for $10, and the music would go to about 150 people," Ayala says. It's a typical story for musicians of that era. After losing profits on his music and experiencing the devastating terror attack of 9-11, Ayala was ready for a change.
It took time for Furia Tropikal to establish itself in Charlotte, but after their run at the Plaza Fiesta Spanish Mall, more gigs followed. What's more, as the group plugged on, the city around them grew and changed. With a greater infusion of people from El Salvador, Mexico, and all Latin American points in between, the size and diversity of Charlotte's Latin music scene expanded dramatically. And the broadening musical landscape invigorated Ayala, who is excited to see new groups, from traditional outfits to hip bands like Chócala, continue to fuse Latin styles such as cumbia, bachata and mariachi in local clubs.
-------------------------------------
Watch an early Furia Tropikal lineup perform at Plaza Fiesta in 2011.
-------------------------------------
"Charlotte is now becoming a little bit of Miami and a little bit of New York," Ayala says. "You go to the festivals here in town, you see thousands of Latinos."
And it's not just happening at Latin festivals and clubs. In 2012, Furia Tropikal was the first Latin group invited to perform at Gastonia's annual Fourth of July Festival.
"Jose is seriously talented, and old school," says Charlotte musician Tony Arreaza, who books the talent for the Latin American Coalition's annual festival. "We meet at a Tosco Music Party, for a Beatles tribute, and we did a version of 'Come Together.' Guys like Jose, you want to protect and honor them, because they keep a serious tradition alive."
ON AUG. 5, Furia Tropikal will celebrate its 26th anniversary at a King's Mountain farm on a bill with multiple other acts, including Torres' Los Salber's as well as local artists Sonbacha, Freddy Suarez and Orchesta Mayor. The band will also play Cabo's Mexican Cuisine & Cantina on Carmel Road in Pineville Aug. 19. What's more, Furia just inked a deal with Coca-Cola to perform at the company's private parties and events.
"Playing the clubs every night, man. . ." Ayala shakes his head. "Te mata. It'll kill you."
Though Ayala has been steering Furia Tropikal back to its roots as a party band, he's also evolving off the stage, taking the hyperfocus he's given the group to help other musicians, using his skills to promote young, up-and-coming Latino talent like Bryan Torres and Kairy Bautista.
Ayala plays a recording of Bautista's cover of the Shakira song "No." The goal, he says, is to combine the Charlotte singer's vocals with a bachata backing rhythm, and eventually record some of Bautista's original music. He motions in her direction: "She's gonna go all the way, man."
Ayala's passion has propelled Furia Tropikal through two major U.S. cities and a terror attack, but now he's using it to mentor a new generation of American Latinos.
"It's not just about playing music anymore," Ayala says. "It's about educating people." He cues another track. "And I'm always grateful to the ones que se quedan." The ones who stick around.
Ayala and Furia Tropikal have chosen to stick around the Charlotte area, y ese es nuestro privilegio — it's our privilege.
Watch Furia get busy en vivo at Hola Charlotte in 2016.