Artist Georgie "Sevin" Nakima knows that inspiration can take a winding path. After all, she studied chemistry and biology at Winston-Salem State University before becoming a muralist whose collages spiral with geometric and natural patterns that are easy to get lost in. Her work in turn has sparked others to create music, stories, and now ... salad.
Not just any salad. A fresh oyster, black walnut gremolata, balsamic gastric bullsblood micro salad, prepared by Chef Michael Bowling. It's the first course of Feast Your Eyes, a collaborative dinner being held at Camp North End Sunday, November 19, that pairs the work of Charlotte visual artists with craft cocktails and six courses of haute cuisine for an experience that engages all the senses.
The chefs drew from what was local, seasonal and fit their signature flavor profiles.
"It's really cool because a lot of the time food isn't considered art but a necessity, and art's not seen as a necessity but as a luxury or accessory," Nakima said. "We're crossing those boundaries and introducing new ways to look at art beyond a static museum or gallery."
Feast Your Eyes is the brainchild of Charlotte-based photographer and foodie Jonathan Cooper, who had the idea for an immersive dining experience rattling around his brain for years.
Cooper's dream included a large space with one long table, each course introducing the artwork that inspired it and accompanied by an original crafted cocktail. There was a palpable sense of community and lively conversation in his imagination, regardless of whether attendees ran a Fortune 500 Company or worked in a library.
"I don't have enough hands to count how many cocktail pairing dinners I'd been to, and at most of these dinners the energy was uptight," he said. "I didn't want that."
Cooper pitched the idea to art and culinary venues around town — to a less-than-enthusiastic response. It was a good idea, he was told, but the concept was too high-minded. Charlotte wouldn't get it because it hadn't seen it. He was advised to add a workshop component or educational aspect to the proceedings.
"That set me back," Cooper admitted. "But people telling me I can't do something makes me say, 'Fuck it, I'm going to do it.' I'm not going to dumb it down. Some things yield a richer experience from just kicking back and allowing yourself to be immersed."
Cooper built relationships with other creatives, keeping his signature low profile until he was ready to make his dream a reality — with the right people at the right time. He partnered with Davita Galloway of Dupp and Swatt creative studio and Josh Galloway, aka The Creative Gentleman, to work behind the scenes. He tapped Nakima, Shawn Bryan and Sloane Siobhan for the visual arts.
Then he reached out to Chef Greg Collier, owner of The Yolk and originator of the popular Soul Food Sessions dinner series, to assemble his dream team in the kitchen: Bowling, who started upscale street food truck Hot Box; Chris Coleman of Stoke Charlotte; Hector Gonzalez of Project 658: Chefs for Change; and Queen City Market's Chris and Jennifer Young. Mixologists Justin Hazelton of Sophia's Lounge and DiSean Burns, formerly of Stoke, rounded out the crew as cocktail crafters.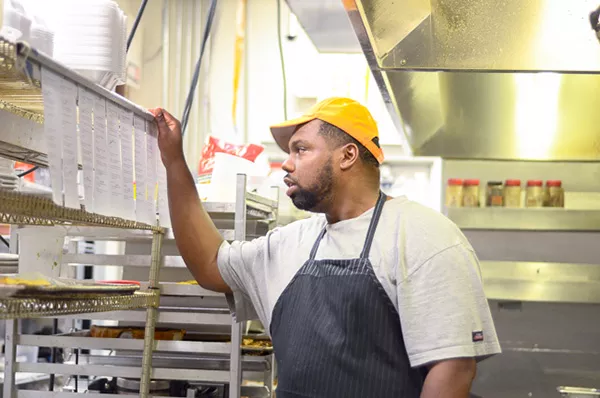 Gregory Collier assembled the team of chefs and mixologists for Feast Your Eyes.
It's a diverse forum, generated primarily by people of color and open to everyone, with high expectations for flavor, good vibes and soul.
"We're taking a seat at the table, interacting with each other and conversing about how Charlotte is progressing or not, and having that conversation over the art of food," Nakima said. "I'm so excited."
Drawing inspiration from Nakima's "Zodiac," Bowling utilized the colors and individualized aspects of the painting to build his salad.
"It's almost like broken art pieced together, but then you see the images reforming into a whole. So I wanted to do the visuals and the taste justice, something like recreating the actual painting in food. As chefs we want our food to look like art, anyway."
Collier had a different take for the second course, drawing inspiration from both Nakima's and Bryan's artwork to create a blue cornmeal gnocci, butternut squash curry topped with black rice cracker crumbles and a haricot vert chow chow.
"Georgie's art is fucking crazy. When I saw it, I was like 'Oh!' It spoke to me on the abstract tip," he said. "It had these Native American elements that got me thinking about the three sisters, squash beans and corn, while Shawn's contrasts of color informed the plate in a different way."
He described the course as "gnocci in the spiritual sense but with the texture of cornbread," because "I love cornbread, and sopping up something juicy resonates with my childhood."
Collier's course is vegetarian, not because the Memphis native doesn't like to cook with meat but because he likes to push himself in unfamiliar directions. This type of creative cross-pollination with both chefs and artists was definitely new for him, but he has enjoyed the experience immensely.
By most reports, Charlotte's culinary community is close (Bowling said, "Everyone gets together and hangs out in the kitchen. We've all eaten each others' food."). So Collier deliberately reached out to chefs he liked but hadn't worked with before, to put them in front of new audiences.
"If you haven't had Jennifer [Young's] catering, you wouldn't know how slamming of a pastry chef she is," Collier said. "Hector Gonzalez is going to be in that conversation of great chefs that look back to grandma's cooking. I love seeing minority chefs have a voice in the food they know through ancestral heritage. When I see chefs with talent, I think other people need to know. I want to put them on a platform."
The evening will start with a cocktail hour to highlight the artists and allow guests to get familiar with the work and each other. Hazelton and Burns will lubricate those conversations with a seasonal punch they collaborated on, featuring cinnamon, ginger, star anise, and apple liqueur with a rye whiskey base.
"It will present very well, with spices and apples floating in it," said Hazelton, who has built a reputation from behind the bar over the past four years at high-end concepts such as 5Church and Sophia's. "The event is all about the aesthetics, so the drinks will not only taste good but look amazing as well. It's about balance — presentation, flavor. All the senses working together to form a 6th sense."
Other courses include poblano and achiote-stuffed quail, a slow-cooked cobia with pine nuts, and za'atar-braised lamb with pickled persimmon.
Dessert is hotly anticipated, as pastry chef Jennifer Young will put her spin on live painting by creating an edible canvas while the dinner is going on. It will be presented as the final course, a community-sized visual artwork for everyone to sample.
"I'm excited, this is not something I've seen done in Charlotte," Collier said. "It's a friendly competition so I know everything will be delicious, but in a group of chefs the bad dish is still going to be one of the best anyone has ever had."
He hopes more events like this give Charlotte the reputation as the place to be for creative collaborations. He gives little credence to the idea that Charlotte isn't ready for new concepts.
"Some people are early adopters, and they'll be the first," Collier said. "Once other people hear about it, they'll be excited for more. Sooner or later, if you keep doing what you do, you're the top dog. Feast Your Eyes I is great, II is going to be huge, III and IV even better. Because we'll keep doubling down and doing what we did well in the first place."
Attendees seeking vegetarian options are urged to contact [email protected] no later than 7 p.m. Friday, November 17. Tickets for Feast Your Eyes are available at www.feastyoureyesclt.com.