(View From The Couch is a weekly column that reviews what's new on Blu-ray and DVD. Ratings are on a four-star scale.)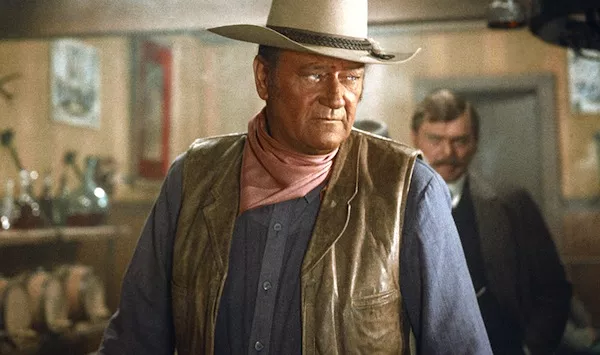 John Wayne in Chisum (Photo: Warner Bros.)
CHISUM (1970) / MCQ (1974). One of the biggest of all Hollywood legends, John Wayne had been making movies since the silent era, and his final decade (he died in 1979) found him starring in a total of 10 pictures. Eight of them were, not surprisingly, Westerns, but the other two found the Duke headlining a new (for him) genre: the cop flick. Warner Bros, still one of the go-to studios when it comes to releasing catalog titles on Blu-ray, is offering up one from each designation.
The Western was still a reliable moneymaker in 1970, as witnessed by such successes as Arthur Penn's magnificent Little Big Man, A Man Called Horse and no less than two from Wayne, Rio Lobo and Chisum. In the latter, he stars as the real-life John Chisum, a cattle baron forced to defend his territory against a corrupt landowner (Forrest Tucker, a long way from his comedic turn on TV's F Troop). Aiding Chisum in this historic battle (known as the Lincoln County War) are a young gun nicknamed Billy the Kid (Geoffrey Deuel) and respected lawman Pat Garrett (Glenn Corbett); batting for the opposition is the vicious gun-for-hire Dan Nodeen (Christopher George, a long way from his heroic turn on TV's The Rat Patrol). This is one of the better efforts from Wayne's post-True Grit period, with a sizable number of interesting characters, some exciting (if historically shaky) plot developments, and the star squarely in his element.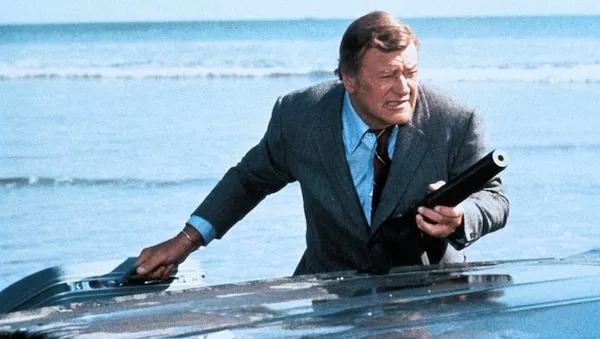 John Wayne in McQ (Photo: Warner Bros.)
While it's true that Frank Sinatra was the first choice to play the titular character made famous by Clint Eastwood in Dirty Harry — and while it's true that a number of other actors turned down the part, including Paul Newman and Steve McQueen — it's more a rumor than cold, hard fact that Wayne was also offered the role and passed on it. At any rate, the Duke played his own version of Inspector Harry Callahan in McQ, the first of two times he played a contemporary cop duking (sorry) it out with lowlife criminals. No better or worse than his subsequent law'n'order flick, 1975's Brannigan (the one in which he jets off to London to nab a bad guy), this finds the actor cast as a veteran detective who investigates the murder of his partner and discovers that the rotten apples might be located in his own department. Agreeable if stridently unexceptional (this despite being directed by The Great Escape and The Magnificent Seven helmer John Sturges), McQ does allow the right-wing Wayne to both belt a hippie radical and make a crack about women's lib.
Blu-ray extras on Chisum consist of audio commentary by director Andrew V. McLaglen; a vintage behind-the-scenes featurette; and the theatrical trailer. Blu-ray extras on McQ consist of a vintage behind-the-scenes featurette and the theatrical trailer.
Chisum: ***
McQ: **1/2
Edward Everett Horton, Robert Montgomery and Claude Rains in Here Comes Mr. Jordan (Photo: Criterion)
HERE COMES MR. JORDAN (1941). The delightful Here Comes Mr. Jordan was based on a play (Harry Segall's Heaven Can Wait), but it's hardly a stagebound film, given its ease at hopping between numerous locales both earthy and celestial. Robert Montgomery stars as Joe Pendleton, a boxer who dies in a plane crash just before he's set to embark on a championship run. Insisting to the angel (Edward Everett Horton, Hollywood's favorite fussbudget) who nabbed him that there's been some mistake, Joe learns from the angel's superior, Mr. Jordan (Claude Rains), that an error has indeed been made and that he's not set to die for another 50 years. But since his earthbound body has been cremated, Joe's forced to occupy the human shell of Mr. Farnsworth, a heartless millionaire whose wife (Rita Johnson) and assistant (John Emery) are plotting to murder him. The plot twists fly off the screen in this sharply written fantasy boosted by standout turns from Montgomery and James Gleason (as Joe's befuddled boxing manager). Nominated for seven Academy Awards (including Best Picture, Best Actor for Montgomery, and Best Supporting Actor for Gleason), it earned two for Best Original Story and Best Screenplay. Thirty-seven years later, this was remade by Warren Beatty as the irresistible Heaven Can Wait; 15 years ago, it was remade again as the limp Chris Rock vehicle Down to Earth.
Blu-ray extras include a conversation between critic Michael Sragow and filmmaker/distributor Michael Schlesinger; a 1991 audio interview with actress and Bewitched star Elizabeth Montgomery about her father Robert Montgomery; a 1942 radio adaptation of Here Comes Mr. Jordan, starring Cary Grant, Rains and Gleason; and the theatrical trailer.
Movie: ***1/2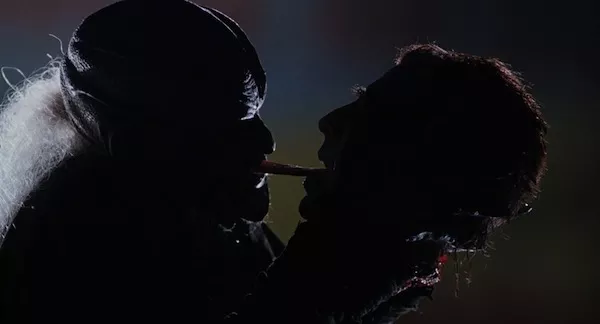 Jeepers Creepers (Photo: Shout! Factory)
JEEPERS CREEPERS (2001). "Jeepers Creepers" composers Johnny Mercer and Harry Warren must have been spinning in their graves upon the theatrical release of this absurd horror yarn, in which a cannibalistic winged demon goes on a murderous rampage whenever he hears the title tune. (Personally, Phil Collins' "Sussudio" and Magic!'s "Rude" are the only songs that would conceivably make me take a hatchet to someone's head, but I digress.) Adding a slick contempo sheen to the Texas Chain Saw Massacre template (thereby ignoring the grimy, low-budget look that made that 1974 classic so disturbing), this finds two college-age siblings (well-played by Gina Philips and Justin Long), stranded in the middle of Nowhere, USA, stopping to investigate when they spot a menacing figure dropping bodies down a pipe (their reasons for not calling the police are witless even beyond the low-ebb demands of the slasher genre). They find a basement full of corpses but, even worse, they learn that the Creeper (a cross between Freddy Krueger and the Creature from the Black Lagoon) is now after them. Lapses in plotting and logic are tossed out at such a breakneck speed, you wonder if writer-director-child molester Victor Salva was going for some sort of world record. (My favorites: Why does a being with the ability to fly at incredible speeds spend most of his time driving around in a beat-up truck? And how on earth did he acquire a personalized license plate?) The unsatisfying ending exists only to justify the title and set things up for a sequel which popped up two years later. I never saw that follow-up — Shout! Factory is releasing it on Blu-ray along with the original (sold separately), but I ... just ... can't ...
Blu-ray extras include audio commentary by Salva, Philips and Long; a pair of making-of featurettes; deleted and extended scenes; alternate opening and ending sequences; and a photo gallery.
Movie: *1/2
Gerard Butler and Aaron Eckhart in London Has Fallen (Photo: Universal)
LONDON HAS FALLEN (2016). President Trump hasn't even taken office yet, but here we've already been force-fed the first motion picture under his new world order. London Has Fallen suggests the sort of film Leni Riefenstahl might have made had she bade Hitler "Auf Wiederhesen" and trotted off to enjoy a lucrative Hollywood contract under David O. Selznick. Nationalistic nonsense, this sequel to Olympus Has Fallen finds all of the world's leaders, gathered in London to attend a funeral, being slaughtered by Pakistani terrorists disguised as British soldiers, bobbies, Beefeaters and everything else short of Nanny McPhee. They also destroy many of the city's most famous landmarks, including Westminster Abbey and Chelsea Bridge; frankly, I'm surprised they didn't blow the London Eye off its base, just to give us a shot of Gerard Butler attempting to outrun it like Indiana Jones and that giant boulder. Yes, Butler is back as Secret Service agent extraordinaire Mike Banning, and he's the only reason U.S. President Benjamin Asher (Aaron Eckhart) is the only world leader to escape death. The French president is killed while being smug and aloof. The Japanese prime minister is killed while being fastidious. The Italian president is killed while being a horny bastard. (This movie rarely misses an opportunity to wallow in stereotypes.) The remainder follows Banning as he tries to extract Asher while telling the evildoers to "go back to Fuckheadistan," with regular cutaways to Vice President Trumbull (Morgan Freeman) back in D.C. At one point, the Vice Prez, speaking via recording, shares a personal anecdote so that Mike knows it's the real Trumbull. Well, of course it's the real Trumbull; who in this universe could possibly pull off a successful impersonation of Morgan Freeman's heavenly voice, aside from maybe God?
Blu-ray extras include a making-of featurette.
Movie: *1/2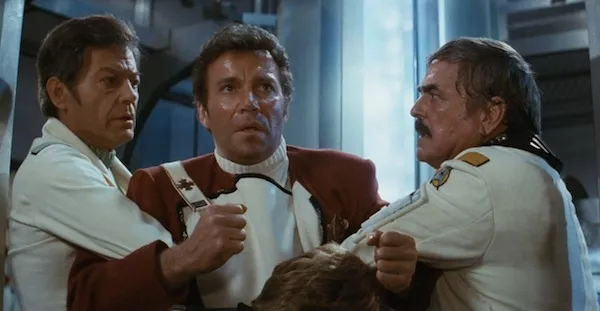 DeForest Kelley, William Shatner and James Doohan in Star Trek II: The Wrath of Khan (Photo: Paramount)
STAR TREK II: THE WRATH OF KHAN (1982). In its efforts to properly honor the 50th anniversary of Star Trek, Paramount has been pulling out all the stops — or at least most of them. Those who have been waiting for the Director's Cut of 1979's underrated Star Trek: The Motion Picture to hit Blu-ray will just have to wait some more, as this logical inclusion in all the half-century celebrations appears to be a no-show. That's disappointing, but there's plenty to ease the pain: The studio is using the two reboots to kick off its own line of 4K Ultra HD offerings (more on that below), the original series and The Next Generation are being re-issued on Blu-ray in new box sets (more on that next week), and the Director's Cut of Star Trek II: The Wrath of Khan is making its format debut (more on that right here). While Star Trek IV: The Voyage Home is arguably the most popular of the original-cast movies among the masses (at least based on its box office), STII is the most revered among Trekkies. A sequel-of-sorts to the 1967 "Space Seed" episode from the TV series, this finds that show's villain Khan (Ricardo Montalban) still seeking revenge against Kirk 15 years later. STII manages to be both pensive and action-packed, and a lot is absorbed into its running time: Kirk's restlessness at his "desk job"; the presence of Kirk's former lover, Dr. Carol Marcus (Bibi Besch), and their son David (Merritt Butrick); the top-secret Project Genesis; and, of course, the death of an iconic character.
The Blu-ray contains the theatrical version and the aforementioned Director's Cut that runs three additional minutes. Extras include audio commentary by director Nicholas Meyer; text commentary by Star Trek consultants and visual artists Michael and Denise Okuda; various making-of featurettes; interviews with Shatner, Nimoy, DeForest Kelley (Dr. McCoy) and Montalban; an interactive Library Computer; and storyboards.
Movie: ***1/2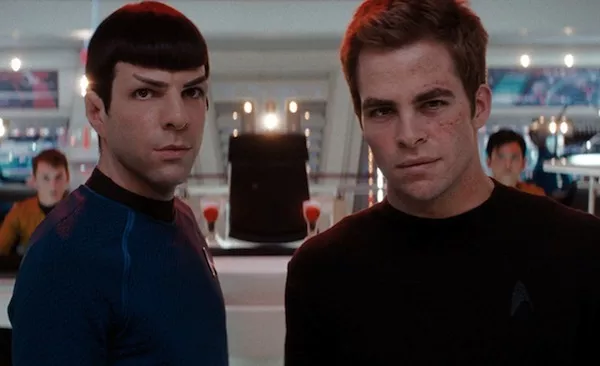 Zachary Quinto and Chris Pine in Star Trek (Photo: Paramount)
STAR TREK (2009) / STAR TREK INTO DARKNESS (2013). A Star Trek reboot in the 21st century was a risky venture, yet director J.J. Abrams and the screenwriting team of Roberto Orci and Alex Kurtzman succeeded beyond expectations, resulting in two stellar motion pictures (a third film mostly made by other hands, Star Trek Beyond, opens next month).
With Star Trek, the Abrams-Orci-Kurtzman team basically takes us back to the early days of the franchise's leading player, detailing the circumstances that defined him first as a kid and then as a young adult (I suppose this could have been called Star Trek Origins: Kirk). Yet they also introduce a wild card in Romulan warrior Nero (an unrecognizable Eric Bana), whose nefarious actions lead to an alternate reality for the members of the Enterprise: the brash Kirk (Chris Pine), the brainy Spock (Zachary Quinto) and the wisecracking Dr. McCoy (Karl Urban, pleasingly cast against type), plus their support staff of Uhura (Zoe Saldana), Sulu (John Cho), Scotty (Simon Pegg) and Chekov (Anton Yelchin). Fans will enjoy the inside references, yet since Abrams & Co. lace the movie with plenty of humor as well as a few exciting battles, it's unlikely the uninitiated will find themselves bored. Abrams also peppers his film with many familiar names and/or faces, some of them fleeting. Then again, this casting seems to echo his whole approach to this revamped Star Trek: Be playful, be unpredictable, and full speed ahead.
Karl Urban in Star Trek Into Darkness (Photo: Paramount)
One of the theatrical posters for Star Trek Into Darkness depicted a damaged Enterprise free-falling toward the planet below it, but any worries that the reboot would experience a similar tumble with this second installment were immediately laid to rest. Having introduced an alternate-timeline scenario in the previous picture, Abrams et al now open with an Indiana Jones-like sequence that will inform many of the subsequent scenarios. Chief among them is the tension between Kirk, who hasn't met a Starfleet regulation he can't break, and Spock, whose adherence to the rules taxes not only Kirk but also Uhura, who's learning that it's not always easy dating a Vulcan. But personal issues take a back seat once a terrorist attack decimates a London building; the culprit is Kha— err, John Harrison (Benedict Cumberbatch), and the Enterprise crew is ordered to follow him into the heart of darkness — his hideout deep in the Klingon zone — and terminate him with extreme prejudice. From here, the story takes some interesting turns; it also lends complexity to Harrison, allows the returning cast members individual moments to shine (although I wish McCoy was as integral to these films as he was to the series) and reworks elements from one of the classic Trek films in a highly imaginative manner.
The new 3-disc editions for both films (sold separately) consist of 4K Ultra HD, Blu-ray and Digital HD. Extras on Star Trek include audio commentary by Abrams, Kurtzman, Orci and producers Bryan Burk and Damon Lindelof; various making-of featurettes exploring the effects, the costumes, the music and more; deleted scenes; and a gag reel. Blu-ray extras on Star Trek Into Darkness include various making-of featurettes, such as a look at the character of Khan and the recreation of the Klingon home planet; deleted scenes; and a gag reel.
Both Movies: ***1/2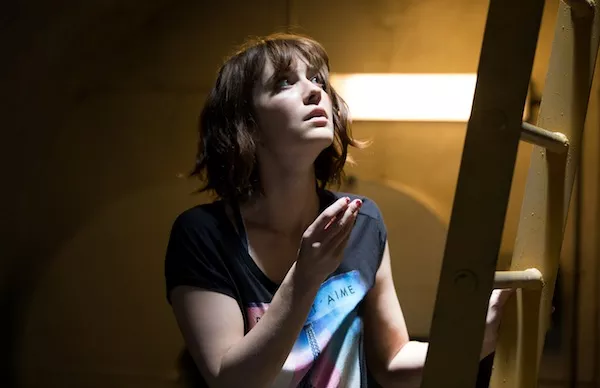 Mary Elizabeth Winstead in 10 Cloverfield Lane (Photo: Paramount)
10 CLOVERFIELD LANE (2016). In this maybe-sort-of follow-up to 2008's Cloverfield, a young woman named Michelle (Mary Elizabeth Winstead) is involved in a car accident and subsequently finds herself the prisoner of Howard (John Goodman). This stranger insists he plucked her from the crash for her own protection — if he's to be believed, the rest of the world has been wiped out, and the only survivors are himself, Michelle and Emmett (John Gallagher Jr.), the sweet if simple handyman who spent years helping Howard construct his underground bunker. Howard hopes the three of them can spend the next few years coexisting as a happy family until the outside air is breathable again, but Michelle makes every effort to escape, all the while wondering if there's any truth to Howard's conspiracy theory. This is the part of the review where I promise not to reveal more for fear of spoilers, but honestly, what is there to really spoil? 10 Cloverfield Lane is a movie that ends up being too clever for its own good, becoming utterly predictable in its relentless attempts at unpredictability. When the plot looks as if it will thrust, it of course will parry, and the film further dilutes any genuine surprises by often telegraphing its intentions ahead of time. The trio of scripters also cram in one subplot too many, with its clumsy presence only there to spin the story off into another (expected) direction. This isn't to say the film is a bust — the terrific performances by the three leads and debuting director Dan Trachtenberg's effective staging (the bunker atmosphere alternates between friendly and foreboding) are worthy enough to earn this a modest recommendation. Just don't expect many more surprises than one would reasonably find in any given episode of Matlock.
Blu-ray extras consist of audio commentary by Trachtenberg and producer J.J. Abrams as well as various making-of featurettes focusing on the bunker design, the sound effects and more.
Movie: **1/2
Ward Bond, Robert Montgomery and John Wayne in They Were Expendable (Photo: Warner Bros.)
THEY WERE EXPENDABLE (1945) / SHE WORE A YELLOW RIBBON (1949). More John Wayne (see Chisum / McQ above) — and, while we're at it, more Robert Montgomery as well (see Here Comes Mr. Jordan above). Two '40s classics featuring the Duke have been lovingly brought to Blu-ray via the Warner Archive Collection (MOD discs can be ordered at www.wbshop.com).
As the opening credits reveal, practically all of the principal crew members involved with director John Ford's They Were Expendable had served in the U.S. military (with the notable exception of Wayne, whose chickenhawk status was duly noted in last year's superb Trumbo), yet the movie isn't the simplistic piece of propaganda one might have reasonably expected. By focusing on the early days of our nation's involvement in World War II, when victory was anything but assured, They Were Expendable moves along curiously and cautiously, prideful of the crews of the PT boats featured in the film but also aware that each victory was achieved at a great cost and that sacrifices would have to continue to be made as the war trudged along. Top-billed Montgomery is excellent as the levelheaded commander of the PT forces, with Wayne (as his right-hand man) adding bluster and Donna Reed (as a nurse who falls for Wayne) providing warmth. The film nabbed a pair of Oscar nominations for Best Sound and Best Special Effects.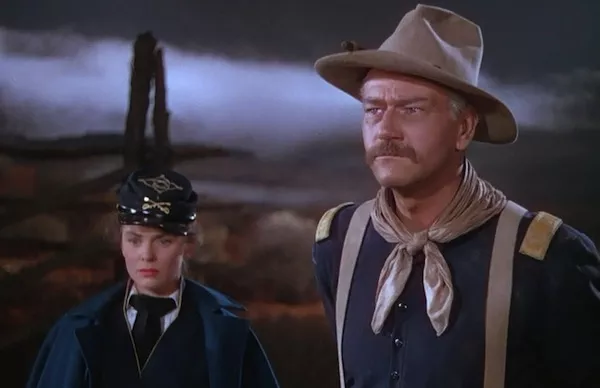 Joanne Dru and John Wayne in She Wore a Yellow Ribbon (Photo: Warner Bros.)
The second picture in Ford's Cavalry Trilogy (sandwiched between 1948's Fort Apache and 1950's Rio Grande), She Wore a Yellow Ribbon earned an Oscar for Winton Hoch's luscious color cinematography, though had a Best Makeup award existed back then, surely Don Cash would have been a contender for superb work that allowed a then-41-year-old Wayne to convincingly pass for someone a quarter-century older. Wayne plays a retiring officer who's trying to avoid going out on a note of failure — specifically, that means succeeding in protecting the women (Joanne Dru and Mildred Natwick) under his watch and doing his best to quell a Native American uprising. Ford regular Victor McLaglen contributes finely aged knockabout humor as a boozing sergeant also set to retire, while another Ford fave, Ben Johnson, makes an early impression as the most competent soldier in Wayne's outfit.
The only Blu-ray extra on They Were Expendable is the theatrical trailer. Blu-ray extras on She Wore a Yellow Ribbon consist of personal footage shot by Ford and the theatrical trailer.
They Were Expendable: ***1/2
She Wore a Yellow Ribbon: ***