Half the time, John Shaughnessy just makes shit up. It's part of his job.
"I do a lot of free improvisation and avant-garde stuff," the 49-year-old bassist says. "I play with different configurations, trying to do as much non-commercial music as possible."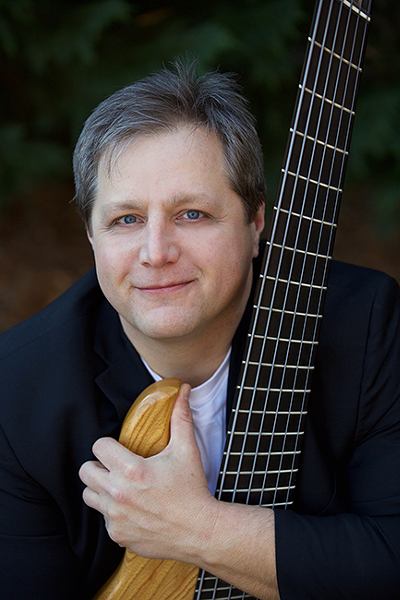 John Shaughnessy (Photo by Stefanie Haviv)
Since settling in Charlotte in 1997, the Buffalo, New York, native has balanced well-paying gigs like weddings and corporate events with his love of free-form music. On YouTube you can check out Shaughnessy backing Shana Blake at Smokey Joe's, tearing through a free-jazz version of Black Sabbath's "War Pigs." He's released four albums with a varying roster of players: the jazz-funk collection Two Bass Hit, in 2000; West Eats Meat, a mixture of classical Indian music and free improv, in 2007; the experimental jazz collection All That Was Left Behind, in 2015; and the self-titled debut by the avant-garde jazz quartet Crows and Ghosts in 2016.
Dave Bullard, the drummer on that last project, joins Shaughnessy for a set with the Free Improv Quintet at Petra's on June 27. The gig is part of the Charlotte New Music Festival, which features concerts and workshop throughout the city from June 18 to June 30. This is Shaughnessy's third year participating in the fest, which is now in its seventh year. Creative Loafing spoke with the bassist about playing music without a plan, and gigging with musicians he's never met before stepping out onstage with them.
Creative Loafing: How is free jazz and free improvisation different from just regular old jazz?
Shaughnessy: Jazz is really a question of form. If you're playing a jazz standard like "Satin Doll," you have a set of chord changes. There are a predetermined number of bars in the piece of music, and you're improvising according to the notes that are in the chords. Free jazz blows apart all those conventions.
The one constant is the element of swing. There is a swing or a blues feel that runs through free improvisation. It all comes out in the listening though — how much you listen, and how much you respond to what other people are doing. That's the common denominator with free jazz and free improvisation. The main thing is that there are no rules, except for one. The only rule is to listen.
In addition to you and Dave Bullard, the Free Improv Quintet playing at Petra's includes Charlotte guitarist Troy Conn, and two musicians from New York, guitarist Kyle Sanna and saxophonist Erin Rogers. What can the audience expect from this group and this show?
One thing that I love about doing this is I have no idea what I'm going to do. I'll just start playing. I love that I may have no idea who I'm playing with. I know Dave Bullard and Troy Conn, the other guitarist. We've worked together quite a bit. I know how Dave approaches the drum kit, and I know how Troy approaches the guitar. But the other two I've not met yet. The trick is to meet people where they're at. I won't expect Erin to play a certain way. I'll listen to what she's doing and respond in kind, and hopefully we'll start a dialog.
What is the Charlotte New Music Festival and what's been your part in it?
Shaughnessy on the bass (Photo by Carl Taylor)
Elizabeth Kowalski is the brain behind the Charlotte New Music Festival. I got involved by asking her if there was anything I could do. I started by running the New Music Open Mic, which is on June 19 this year. It's an open mic for new music composers, and I'm the ringmaster. Anything composers have that hasn't been performed in workshops or concerts, they can try it out there. The next year, I started bringing around my own projects. Crows and Ghosts played last year. Every year the fest grows a little bit and my involvement also grows.
What else will you be doing for this year's festival?
I am also doing the improvisation workshop, which is the Tuesday before the concert at Petra's. It's the players involved and I talking about the role of improvisation in music. We'll give people some ideas about how to write for improvisation.
Isn't writing for free improvisation a paradox?
[Laughs] Yes it is.
Have you listened to Sanna's and Rogers' music?
Some. I don't want to have a preconceived notion of what we're going to be doing. I would rather let it be fresh and interesting.
Does this pose a problem for you regarding Bullard and Conn? You know them and how they can play. Is there a challenge to keep preconceptions out of it?
I know what they're likely to do, but I want to approach this as a new thing. I think all three of us will do that for each other. We'll just let it happen. Then having two new people in the mix is going to change everything anyway, because we're not going to be able to fall back on stuff we know.
The worst thing you can do in any improvisation is to come in with an idea of what you want to do. Once you start doing that, you're not listening. Once you're not listening, the whole thing falls apart.
What's the greatest reward and what's the greatest challenge of playing free improv?
The greatest reward is pulling it off. I like having a little bit of the unknown when I go onstage for a gig like this. I like to use that uncertainty. Also, for me it's meditative. It's being in a different headspace than where I am when I'm doing a funk tune or anything else.
The greatest challenge is making it work. It's overcoming the fear of the unknown. You're coming up on a strange stage with people you've never met before, and there's an audience and this thing has to happen somehow. It's almost like fear of the blank page. Once you start playing, you get over that, and the fear goes away.