Jessica Moss walks into the event space at the Harvey B. Gantt Center for African-American Arts + Culture with several large bags tucked under her arms. Under one arm is a sack of candy, and under the other, a bucket filled with red-and-white popcorn cups. The treats will serve as flavorful accents to an unconventional movie experience taking place on this Saturday afternoon in early April.
Moss in April (Photo by Ron Stewart)
Moss is working with my start-up social venture Hip Hop Orchestrated on a series that's also pulled in arts partners Opera Carolina and WDAV classical radio. This edition of the series, called "The Opera Cut," is a screening and discussion of the 2006 hip-hop film Waist Deep. The goal is to help attendees see parallels between the film, whose narrative focuses on life on the streets of South Central Los Angeles, and the upcoming Opera Carolina production of Giacomo Puccini's The Girl of the West, a proto-spaghetti western set in the American Wild West. The human conflicts depicted in each are similar, and the parallels will be put into perspective through a panel discussion involving the veteran Opera Carolina singer George Washington III, OnQ Performing Arts founder Quentin Talley, and Charlotte photographer Jonathan Cooper.
As Moss deposits the snacks on a table that will become a self-service concession stand, she approaches Cooper, a first-time panelist who seems slightly nervous about his participation. With an encouraging smile, Moss puts her hand on Cooper's shoulder, tilts her head forward, looks up into his eyes and tells him in a gentle, motherly tone, "You got this!"
That kind of encouragement is all in a day's work for Moss, 30, who is on a mission to help the Gantt Center become an Uptown Charlotte museum experience that feels more welcoming to young people while also encouraging serious dialogue, conversations and innovation. As the center's recently hired creative director, Moss' focus is on building relationships with community members and local creative people who may not always feel comfortable in traditional Uptown arts and culture institutions.
Moss serves as a liaison and interpreter, forging communication and addressing needs among diverse groups including young professionals, emerging artists, established patrons and museum staff. She is translating the legacy and mission of this polished Uptown space, preserving and celebrating black culture through one-on-one meetings with the public — not to mention warm hugs.
"There is a space for you at the Gantt Center, but you have to come to the Gantt Center," Moss says, and that's her mantra. "Once you demonstrate you want to participate in this world, my arms are open to you." She briefly pauses, and adds, "My arms are open to you no matter what, but you have to hug me back."
She chuckles softly, her cherrywood brown eyes piercing through her ringlets of bangs, and with a big smile, continues: "I want the Gantt Center to always feel like a warm hug when you walk in the building."
Moss in 2014 (Photo by Jack Hargrove)
What Jessica Gaynelle Moss is doing at the Gantt Center is nothing short of subversive. She's helping the Gantt Center bring everyday Charlotteans into an institutional world that can sometimes feel unwelcoming.
In truth, Moss' mission is not unlike the Gantt Center's original mission. After all, the institution began life in the mid-1970s as the scrappier Afro-American Cultural Center, housed in a church just down Tryon Street in Spirit Sqaure. Moss wants to expand the Gantt's reach by helping younger members of Charlotte's creative community understand that the giant new building Uptown is as much their space as it is anyone else's.
"The goal here is to use this space as a platform," Moss says. "It is a space to create, preserve and celebrate."
The entry point for Moss into the institutional world of arts and culture was a fictional television character of color and a childhood of frequent visits with her parents to museums and galleries.
"The Whitley Gilbert character on A Different World was the first place where I saw that art culture would be a world that would welcome me," Moss says. "This was the first time I saw someone that looked like me that went to college and studied art."
That initial inspiration led Moss to discovering real-life arts heros of color, not unlike the two black female doctoral scholars from UNC Charlotte who conceived the Gantt Center in 1974: Mary Harper, a young assistant professor of English working toward her doctoral degree, and her mentor, Dr. Bertha Maxwell Roddey, the director of the UNCC Black Studies Center. They were a dynamic duo on a mission to create a space to celebrate and preserve African American arts and culture in Charlotte.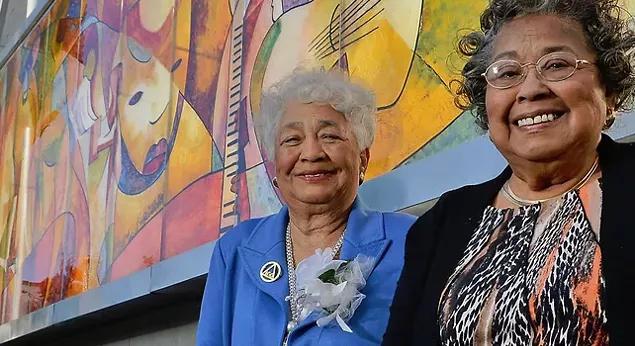 Dr. Mary T. Harper and Dr. Bertha Maxwell Roddey conceived what eventually became Charlotte's Afro-American Cultural Center
Institutions like the Gantt Center became an unofficial after-school program for young Moss, according to her parents, Miriam and Joseph. "Jessica has been going to the museum almost all of her life," her mother says. "Ever since she could walk."
Miriam Moss' job-related transfers kept the family moving from state to state during Jessica's childhood. "I went to, like, 10 schools spanning four states before I even left for college," Moss remembers. "But this was because both of my parents were the best in their industry at the time. In my mother's case, imagine being a black woman, raising two children [Jessica's older sisters] and working full time as a surety bond underwriter in the '60s and '70s. This was a very big deal."
So big, in fact, that the company Moss' mom worked for utilized her strengths by regularly sending her to different locations across the country. And wherever they planted roots, the Mosses became regular museum patrons. Miriam credits her daughter's love of the arts and warm personality with making it easy for her to adapt and assimilate to new spaces and new people. Her father says it all comes down to her smile and laugh.
"Jessica loves people. She has never met a stranger," Joseph Moss says. "She has a very unique drive to help society as a whole through art . . . to expose people to art who have never been exposed to it before, or who have never been in touch with museums or culture. She wants to share this experience with others."
Janelle Dunlap by @pacecool
That sentimental connection to cultural and artistic spaces, and Moss' drive to share them, comes across in her one-on-one meetings with local artists to come up with ways to get them engaged with the Gantt Center. One such artist is Janelle Dunlap, 31, the Gantt Center's first-ever social justice artist in residence.
"I mentioned to Jess a while back that I was interested in continuing my work in social justice, but I needed the freedom and flexibility to execute my ideas," Dunlap says. "She helped me craft my proposal to the Gantt Center as a social justice creative in residence as well as helped me pull my vision together for my grant proposal to Unite Charlotte." Voila! "We won the funding."
Dunlap had connected with Moss through a friend at Common Market. "I learned that she had just returned to Charlotte from grad school in Chicago; I'm from Chicago, so it was an instant hit," Dunlaps says. Once Moss and Dunlap began a dialogue, ideas of how to integrate Dunlap into the Gantt Center ecosystem began to flow.
"Jessica is a visionary, so every discussion you have with her is pretty much going to generate thousands of ideas," Dunlap says. "She has mastered the art of balancing quirky and business savvy. She is someone who you'll crack up laughing with for 20 minutes over nothing and then she can flawlessly transition straight to the business of orchestrating boardroom meetings."
Moss' ability to pivot quickly from work to play, coupled with her passion for creating innovative learning spaces, is pulling her into the world of pedagogy. Her great hope, she says, is for the Gantt Center to fill an academic void.
"The reason why I feel like the Charlotte art scene struggles the way that it does is because we have no MFA programs," Moss says. She'd like for the Gantt Center to be a place for organic art scholarship, where artists learn from each other and pose tough questions through their work. She sees the Gantt Center as a sort of experiential MFA program.
"Schools are the seeds of thought," Moss says. "When students are around, there are conversations, there is urgency. People are asking questions." The intensity of her tone increases when she becomes excited, and Moss is almost always excited by what she's doing. "They are experimenting," she continues. "They are pushing the envelope. That's what students are for: asking questions and learning. But, when that Master of Fine Arts scholarly space is absent, the community suffers. Because then, there is no real space to cultivate artists."
Moss' solution comes in the form of a question: "How can the Gantt Center be that space?"
The Harvey B. Gantt Center for African-American Arts + Culture
One of the methods the Gantt Center uses to support local artists is to invite them in — all of them. "If you come in with your painting under your arm, I can listen to you and we can talk," Moss says, but she adds that there's a process. "I cannot just take [the art] from under your arm and hang it on the wall," she says. "It's just not the order of operations. However, I want to support you still, and the museum gift shop may be the place we can start."
Moss is using the Gantt's first-floor gift shop as an entry place to display local art. "The levels of floors between the space [at the Gantt Center] are arbitrary," she says. "The fact that you are shown in the building is what matters. What the building is encompassing is this spectrum of local emerging, mid-career, and professional artists of all capacities."
She wants to flip the script, take out hierarchical ideas about artists in order to find ways for up-and-coming black creators to be displayed next to proven black originators. Moss is always asking herself, "How can I put you, as a local artist or emerging artist, next to the professional work of an Allison Saar? Which then only elevates your career and your experience."
Allison Saar's "Sea of Serenity" is part of "The Nature of Us" exhibit at the Gantt Center.
If the Gantt Center's Uptown location and polished exterior suggests to some emerging black artists that the place is not for them, Moss would like to have dialogues around that topic. "When folks come to me and say they want to do something at the Gantt Center, it starts with a conversation," she says. "Regardless of who you are, let's talk. Tell me what you are into. Let's not worry about money at this moment. Let me know what your goals are, then I can think about how I can actually make your goals into something feasible.
"It is never a 'no,' it's 'how,'" she adds. "It's never 'not now,' it's 'when.' Or, it's 'Let's think about this in a different way.' But know that I hear you, and I am here to listen to you."
ON A SUNNY FRIDAY in Plaza Midwood, the first day of the fringe-arts festival BOOM Charlotte in late April, Moss and Dunlap are in the middle of a lunch-break conversation after installing an interactive social-justice art piece, Queen's Cusp, in front of the music venue Snug Harbor. But before their break ends, Moss learns that a problem has come up elsewhere, and it demands a solution.
Moss had joined BOOM Charlotte to create a pop-up gallery, the Hue + Shade Lounge, at the International House the following day. The walls of the International House gymnasium would become an impromptu gallery, one of them a live-art display showcasing the mural skills of artists DAMMITWESLEY and narly. In all, the pop-up gallery would involve works by 11 artists, who planned to leave their pieces at the International House on this Friday.
But a kink in the plan has arisen: it seems the International House is being used for another event, and all of that art will have to be stored somewhere else.
Moss' cool demeanor and ability to pivot quickly turned what could have been a crsis — artworks in limbo — into no big deal. By morning, the art would be hung and the show would go on. Moss had her artists' backs.
DAMMITWESLEY was part of Moss' Hue + Shade Lounge at BOOM Charlotte in April
"The artists are the conduit for everything," she says, explaining how she found the drive to quickly fix a potentially unfixable situation. "They find and plant the seed, they care for the plant, they water it and help it grow so that it can bear fruit. We all benefit from the fruit, but often don't value the farmers. This is problematic."
Finding solutions and quickly adapting is not new for Moss. Her family's move from Southern California to North Carolina during her high school years completely changed the trajectory of her arts career.
"I had started honing my art skills at Orange County School of the Arts in Santa Ana during junior high and my sophomore year, and had decided to study musical theater," she says. And just as she had found her groove, she was uprooted.
"When I came to North Carolina, obviously theater and acting, those types of arts, are not readily available, or as well-supported as they were in Los Angeles and Southern California," Moss says. So she had to pivot. "Coming here and familiarizing myself with this climate, I remember auditioning for my first play at Myers Park High School," she remembers. "I got a part in the school production, but I just remember thinking, 'Yeah, OK, this is fun, but what else is there?' I began wanting to explore the other art disciplines to see what was out there."
She found her way back to drawing, and with the guidance of a female art teacher of color, Moss transitioned seamlessly from the performing arts to the visual arts. "It was like I figured out that there was still a pencil in my hand," she remembers. "So I stopped acting, literally; there was a shift and I just began investing my time back into drawing.
"My art teacher, Mrs. Wu, who is still teaching art at Myers Park High School, was really a huge support." Moss says. "She checked you constantly. If you did not have a reason for doing what you did, you would have to go back to the drawing board and learn why you made the decision that you made. Learning that concept early on, in relation to art, has been something that has made me want to continue to invest in the arts."
After high school, Moss headed to Carnegie Mellon University in Pittsburgh, Pa., to study painting, drawing and printmaking. Upon graduation, she had a Bachelor of Fine Arts degree, a sharpened ability to create 2D artwork — but no job.
Moss shares the all-too-familiar millennial graduation story. "Let's paint the picture: It's 2009, the economy is bad," she says. "I graduate with a BFA in painting, drawing and printmaking. What is that going to do for me in my career? What jobs are there for me? There weren't any, so I worked in service. That afforded me the opportunity to continue to make my art work and focus on it while still making an income."
Moss (Photo by Jack Hargrove)
After four years in the service industry and doing art on the side, Moss decided to take a step toward art administration. She enrolled in the School of the Art Institute of Chicago in 2013 to pursue a Masters in arts administration and policy management. When she graduated, the Gantt Center came knocking.
Now 10 months into the job, Moss finds herself thinking a lot about schools and students and budding artists and nation-building. In conversations she's always verbally navigating her way to solutions, her volume crescendoing when she finds her answers. And the answer always comes around to making the Gantt Center more inviting to young people.
"If I continue to grow a long list of local artists, and bring them into the space, and give them a platform to do their art and make them feel like this space is their space — because it should be and it is — then we now have an army of local artists all learning from each other."
Moss explains why this "army of local artists" matters to tCharlotte. "When that happens, it makes the entire city different," she says. "This is where we create a cultural landscape, and Charlotte becomes known as a city where artists and innovators come to ask questions and push beyond the status quo."
Moss' open arms and experiential-learning approach in an institutional setting may not be the traditional mindset associated with Charlotte's Uptown arts scene, but she truly believes that pouring energy into the next generation of artists of color is necessary to continue building on the Gantt Center legacy started by Dr. Harper and Dr. Roddey more than 40 years ago.
In the end, Moss believes the only way to spur innovation is through questioning the status quo.