(View From The Couch is a weekly column that reviews what's new on Blu-ray and DVD. Ratings are on a four-star scale.)
Jennifer Garner and Dick Van Dyke in Alexander and the Terrible, Horrible, No Good, Very Bad Day (Photo: Disney)
ALEXANDER AND THE TERRIBLE, HORRIBLE, NO GOOD, VERY BAD DAY (2014). Most screenwriters adapting literary properties face the daunting task of excising reams of text in order to produce a wieldy script rather than, say, a 10-hour adaptation that no theater owner in his right mind would book. But when the source material runs a scant 32 pages and contains lots of illustrations, then trimming clearly isn't the concern. In the case of this film, the classic children's book by Judith Viorst finds its wafer-thin length amplified to stromboli size thanks to the efforts of scripter Rob Lieber. Whereas the book centers exclusively on Alexander having, indeed, a particularly rotten day, the film merely uses that as its starting point. Only the first portion of this 80-minute movie focuses on the woes of young Alexander Cooper (Ed Oxenbould); the rest of the time, the calamities are falling on the heads of his family members, all of whom have heretofore been enjoying perfect lives. Many fans of the book will doubtless balk at the ample additions to the original template that's been delighting kids for over 40 years, but adding the family to the mix prevents the story from getting tedious, as might have been the case had Lieber elected to fill out his script with simply more variations on Alexander falling down, getting gum stuck in his hair, etc. To be sure, this is a slender movie, and with its short length, no-frills production values and lack of storytelling urgency on the part of director Miguel Arteta, viewers used to heavily hyped and massively budgeted extravaganzas might feel a sense of "Is that all?" at picture's close. But for those seeking a pleasant PG outing in a sea of pushy PG-13 efforts geared toward hyperactive kids, this one fills the bill with its unassuming nature. What's more, the treatment of the parents (nicely played by Steve Carell and Jennifer Garner) is unexpectedly sweet — whereas the mom or dad (or both) in most family films is presented as an inefficient imbecile, here they're both painted as smart, well-adjusted and loving. The Coopers might be immersed in very bad situations, but viewers will have it pretty good.
Blu-ray extras include a behind-the-scenes featurette; a discussion with Viorst and her son (the real-life Alexander); bloopers; and the music video for The Vamps' "Hurricane."
Movie: ***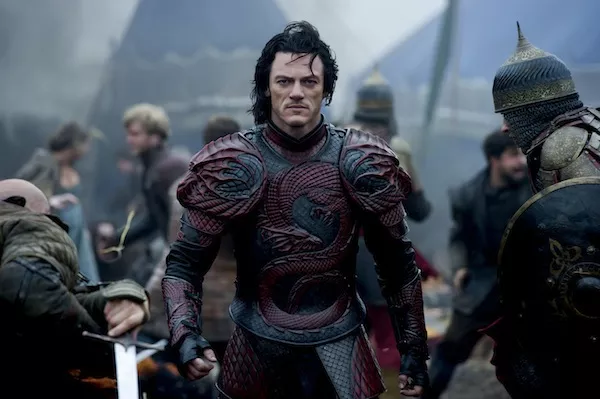 Luke Evans in Dracula Untold (Photo: Universal)
DRACULA UNTOLD (2014). Forget Captain America being the first Avenger. Who could possibly have guessed that Dracula would be revealed as the first superhero? Certainly, Bram Stoker never imagined that his literary creation would one day be deemed more powerful than a locomotive. And history's own Vlad III, whose gruesome modus operandi of mounting corpses on stakes earned him the nickname Vlad the Impaler, would probably likewise be startled to learn that he had the ability to leap over tall castles with a single bound. Yet that's the takeaway from Dracula Untold, a dirt-dry dud that never feels like a horror flick as much as it registers as a superhero saga on the order of Superman or X-Men: First Class. Yet unlike those worthy yarns, this belongs to that subset of useless prequels/origin tales that absolutely no one demanded, like Butch and Sundance: The Early Days, Dumb and Dumberer: When Harry Met Lloyd and Hannibal Rising. As the film starts, we learn that Vlad Tepes (Luke Evans) wants to impale no more. Tired of hoisting all those bodies onto really pointy sticks, he figures it was probably just a youthful indiscretion and has moved on by marrying the beautiful Mirena (Sarah Gadon) and ruling his people with a benevolent hand. But the Turkish ruler Mehmed (Dominic Cooper), whose facial stylings and coifed hair mark him less as a conqueror and more as a fashion designer borrowed from America's Next Top Model, plans to overrun Vlad's peaceful kingdom, so The Despot Formerly Known As The Impaler comes up with a desperate plan. He will journey to the cave of the Master Vampire (Charles Dance, stealing the show) and beg to be given the superhuman strength of a bloodsucking creature of the night. From this point forward, the picture becomes one long CGI demo reel, with spastic special effects dominating the proceedings. But I expect a few connoisseurs of comic book adaptations might enjoy the origin story beats — who knows, maybe an online petition might result in Dracula eventually mixing it up with Gambit, Aquaman or even Groot.
Blu-ray extras include audio commentary by director Gary Shore and production designer François Audouy; an alternate opening; deleted scenes; and an interactive map.
Movie: *1/2
Gerard Depardieu and Daniel Auteuil in Jean de Florette (Photo: Shout! Factory)
JEAN DE FLORETTE (1986) / MANON OF THE SPRING (1986). It's a shame that the British Academy of Film and Television Arts (aka BAFTA) has in recent years become content slavishly patterning itself after our own Oscars and positioning itself as a predictor of how the Academy of Motion Picture Arts and Sciences will vote, because in past decades, the organization saw fit to forge its own path. Witness, for instance, the 1987 BAFTAs, when the French gem Jean de Florette scored a whopping 10 nominations and four awards, including the prize for Best Picture. Can you ever imagine our own xenophobic Academy handing a foreign-language release the Best Picture Oscar? Quelle horreur! (With our own Oscars, Jean de Florette's nomination tally was ... zero.) At any rate, it was a fitting victory, given that the movie was an international sensation and, even here in the U.S., a potent art-house hit. Working from Marcel Pagnol's source material, writer-director Claude Berri (scripting with Gerald Brach) ambitiously crafted a two-film, four-hour saga, with the first half of the tale related in Jean de Florette and the second in the follow-up film, Manon of the Spring.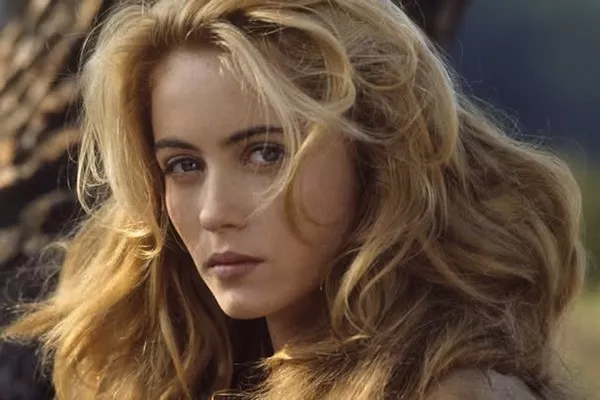 Emmanuelle Beart in Manon of the Spring (Photo: Shout! Factory)
Jean de Florette is the more powerful picture, delineating how the greedy Cesar Soubeyran (Yves Montand) and his dim-witted nephew Ugolin (Daniel Auteuil) conspire to steal water-rich property away from the hunchbacked Jean Cadoret (Gerard Depardieu), a former city dweller who has moved to the country with his wife Aimee (Elisabeth Depardieu, Gerard's then-wife) and their small daughter Manon (Ernestine Mazurowna). Visually resplendent and magnificently acted (particularly by Auteuil), Jean de Florette has all the trimmings of a great Greek tragedy. Manon of the Spring loses much of that intensity, as Jean's now-grown daughter plots her revenge on the two men who irreparably destroyed her family. As Manon, Emmanuelle Beart is stunning in her breakthrough role (her ethereal beauty led to her being cast as the title character in the following year's American film Date with an Angel, a movie so awful she wisely hightailed it back to France), but her character is a bit more passive than desired, and the cathartic release isn't as great as expected. Still, as a bookend set, these two pictures shouldn't be missed.
The only Blu-ray extras are the films' theatrical trailers.
Jean de Florette: ***1/2
Manon of the Spring: ***
Keira Knightley and Chloë Grace Moretz in Laggies (Photo: Lionsgate & A24 Films)
LAGGIES (2014). Laggies marks the first produced screenplay from Andrea Seigel but the sixth directorial feature from Lynn Shelton, and one can't help but wish the veteran had assisted the newbie in exchange for a co-scripting credit. After all, Shelton has a handful of writer-director assignments to her name (including Your Sister's Sister), and her prowess with the pen doubtless could have made Laggies' plot a little less contrived and a lot more believable. Then again, the unlikelihood of the scenario in no way diminishes what's taking place within its parameters, as the film proves to be refreshingly honest in the manner in which it examines the life of a 20something slacker. That would be Megan (Keira Knightley), whose life is divided between skating by with menial jobs and spending time with her bland boyfriend (Mark Webber). He's ready to take their relationship to the next level, but Megan needs time to clear her head. Fortunately, she's just become friends with high school student Annika (Chloë Grace Moretz), and the teen is only too happy to let her crash at her house. Annika's dad, a chipper lawyer named Craig (Sam Rockwell), gets wind of the uninvited guest but, rather than kicking her out, decides it's OK for her to stick around. Like I said, contrived. Yet the frequently daft developments melt in the wake of the powerful impressions made by both the characters and the actors bringing them to life. Seigel, Shelton and Knightley dare to make Megan an exasperating woman whose actions often cause pain and discomfort to others — it's the sort of person rarely encountered as the protagonist of a feature film even though it's the type we encounter on a daily basis (or may even be ourselves) in the real world. Moretz scores as a teen who often feels adrift without a mother to guide and support her — the scene in which she and Megan visit the deadbeat mom, a lingerie model (Gretchen Mol) who has no use for a family, manages to be at once comical and tragic — and if Rockwell's good-guy dad isn't quite as developed as the female players, the actor invests him with enough personality to glide over the rough spots.
Blu-ray extras include audio commentary by Shelton; a making-of piece; and deleted scenes.
Movie: ***
Scarlett Johansson in Lucy (Photo: Universal)
LUCY (2014). In the immortal words of Ricky Ricardo: Lucy, you got some 'splaining to do. A valiant if ultimately futile attempt to graft a brainy mind-bender onto a traditional action film template, Luc Besson's box office champ frequently comes across as The Tree of Life as directed by Michael Bay. The result, then, is more like The Twig of Life, as the philosophical queries posited in Terrence Malick's mood piece are dumbed down into a meaningless mishmash of outmoded science and up-to-date CGI. Scarlett Johansson has a ball as Lucy, a good-time party girl whose sleazy boyfriend (Pilou Asbæk) ropes her into a crooked arrangement involving a powerful crime lord named Mr. Jang (Min-sik Choi). As Mr. Jang's prisoner, Lucy is forced to function as a drug mule, with a bag of a substance known as CPH4 sewn inside her stomach. But when the bag breaks inside her, the contents seep into her bloodstream, and they end up increasing her brain power. As the kindly Professor Norman (Morgan Freeman) explains to his students in random scenes that pop up during the early portion of the film, most animals employ 2.5-5 percent of their brain, dolphins use a whopping 20 percent, Tea Party members utilize a mere 1 percent and the rest of humanity uses 10 percent. But with this valuable drug coursing through her, Lucy is heading toward a full 100-percent brain drain. Of course, in the real world, Professor Norman would be ridiculed by his peers, stripped of his job and tossed out onto the street, since that 10-percent belief has long been debunked as nonsense. Then again, Besson probably got the idea by opting to use only 10 percent of his own noggin to make this movie, as the accomplished writer-director of The Fifth Element and La Femme Nikita doesn't seem especially interested in presenting anything particularly memorable with this concept — even Bradley Cooper's similar (and so-so) Limitless provided a bit more food for thought than Lucy. It also provided some dramatic tension in Cooper's plight; here, Lucy just becomes more intelligent and more invincible, and this siphons all conflict from the film. After all, even Superman could be brought down, by both kryptonite and Zack Snyder.
Blu-ray extras consist of a making-of piece and a discussion of the film's science.
Movie: **
Jake Gyllenhaal and Rene Russo in Nightcrawler (Photo: Universal & Open Road Films)
NIGHTCRAWLER (2014). The sleeper box office hit Nightcrawler proved to be a veritable family affair: It was written and directed by Dan Gilroy, produced by his brother Tony, edited by his other brother John, and co-starred his wife, Rene Russo. Yet all that behind-the-scenes familial warmth belies the chilly — and chilling — story taking place on the screen. In a knockout performance, Jake Gyllenhaal plays Louis Bloom, an odd guy who stumbles onto a nocturnal world in which cameramen film car crashes, murders and other grisly occurrences and then sell the footage to TV stations to use on their sensationalistic newscasts. Fascinated by this sketchy profession, Bloom elects to give it a shot; he doesn't remain a newbie for long, as he possesses both the natural skill and pitiless constitution required to make it in this sordid business. He develops an exclusive relationship with an equally ruthless TV news executive (Russo) and hires a downtrodden man (Riz Ahmed) to serve as his assistant, all the while trading barbs with a veteran of the trade (Bill Paxton) and becoming ever more obsessed with his new calling. Nightcrawler hardly breaks new ground in its depiction of network news as a breeding ground for apathy and self-interest (see Network) or even in its study of a maverick newshound encountering violence against a sociopolitical backdrop (see Medium Cool); instead, it derives its strength in its utterly merciless portrayal of Louis Bloom, the type of guy who would not only sell his own mother but would chop her up into tiny pieces to facilitate the transaction. An awards player throughout the year-end season, Nightcrawler had a good chance of nabbing multiple Oscar nominations (including acting bids for Gyllenhaal and Russo) but in the end only copped a solitary nod for Best Original Screenplay.
Blu-ray extras consist of audio commentary by the three Gilroy brothers and a making-of featurette.
Movie: ***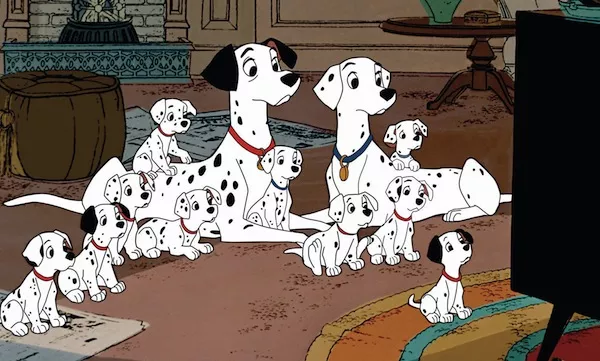 101 Dalmatians (Photo: Disney)
101 DALMATIANS (1961). Here's an interesting statistic: In terms of domestic grosses adjusted for inflation — the same list that rightfully has Gone with the Wind and Star Wars as the most successful films in history rather than Avatar and Titanic — 101 Dalmatians ranks a remarkable #11, with only one other animated feature (Snow White and the Seven Dwarfs) having earned more over its lifetime. Yet for all its success at the box office over the course of its numerous re-issues, the movie is rarely mentioned as residing in the upper echelons of the "Disney classics," quickly falling by the wayside as such titles as Snow White and Bambi are repeatedly referenced. Pshaw; for my money, this is flat-out one of the studio's finest achievements, because puppies. Set in London, the story follows the Dalmatians Pongo and Perdita as they initially meet in the park (when their human "pets" literally stumble over each other and soon thereafter get married), produce a litter of 15 puppies, and set out on a search-and-rescue mission after said pups are kidnapped by Cruella De Vil, an evil diva intent on making a fur coat out of the pelts of the 99 puppies she's rounded up. Cruella De Vil is one of cinema's most outrageous villainesses, yet all of the characters are brought to vibrant life, from Pongo's owner Roger to Cruella's bumbling henchmen Jasper and Horace to a courageous cat who helps the distraught canine parents locate their missing brood. In addition to all the expected kid-friendly concessions, the movie also sports a funky beat that allows extra resonance for the adults — these include a hilarious visual gag noting the similarities between humans and their dogs as well as a great sequence in which Jasper and Horace watch a spoof of the classic TV show What's My Line?, this one called What's My Crime?
Blu-ray extras include a making-of featurette; a discussion with Disney animators; "The Best Doggoned Dog in the World," a 1961 episode of TV's Disneyland (aka The Wonderful World of Disney); the new animated short The Further Adventures of Thunderbolt; a piece on Cruella De Vil; and the music video for Selena Gomez's rendition of "Cruella De Vil."
Movie: ****