(View From The Couch is a weekly column that reviews what's new on Blu-ray and DVD.)
Vincent D'Onofrio (left), Matthew Modine (center back) and R. Lee Ermey in Full Metal Jacket (Photo: Warner Bros.)
FULL METAL JACKET (1987). The plight of Stanley Kubrick's final two films served as a depressing example of movies morphing from something worthy of discussion and analysis into mere matinee fodder for the kiddies. Had 1987's Full Metal Jacket and 1999's Eyes Wide Shut been released in the late 1960s/early 1970s, in the midst of serious works by Bergman, Bertolucci and Kubrick himself, they doubtless would have been universally acclaimed conversation starters. Instead, Eyes Wide Shut divided critics and bored audiences, and while Full Metal Jacket fared better with both factions, it still qualifies as one of Kubrick's most underrated pictures, and it's second only to Apocalypse Now as the best Vietnam War movie ever made. In most of the director's films, there exists the theme of the corruptibility of man. Here, it's triggered by the experience of war with all its trimmings: the mental and physical training, the relocation to a foreign territory, and the confrontation with the enemy. The first half is set in a Marine training camp as cold and aloof as the young soldiers are expected to be; the second part takes place largely in a Vietnam we rarely ever see on screen: a bombed out town, as opposed to the thick jungle foliage we're used to witnessing. Kubrick filmed the entire project in England, with Anton Furst expertly recreating the American and Vietnamese terrains. (Between Full Metal Jacket, the 1984 Freudian werewolf tale The Company of Wolves and his Oscar-winning work on 1989's Batman, Furst had established himself as an exceptional set designer before committing suicide in 1991.) Superbly shot, scored and acted (R. Lee Ermey as the unrelenting drill instructor and Vincent D'Onofrio as the simple-minded "Gomer Pyle" are especially memorable), this overlooked masterpiece captures the insanity of war better than just about any other movie that comes to mind. Although it deserved to compete across the board, its sole Oscar nod was for Best Adapted Screenplay (Kubrick, Michael Herr and Gustav Hasford, adapting Hasford's novel The Short-Timers).
Full Metal Jacket has already been available on Blu-ray on three separate occasions, as stand-alones in 2006 and 2007 and as part of the Stanley Kubrick Collection in 2011. The allure here is that the movie is packaged in a 44-page Blu-ray Book that's crammed with photos as well as remembrances by star Matthew Modine. Blu-ray/DVD extras include audio commentary by D'Onofrio, Ermey, co-star Adam Baldwin and film critic/screenwriter Jay Cocks; the new hour-long documentary Stanley Kubrick's Boxes; a behind-the-scenes piece; and the theatrical trailer.
Movie: ****
Richard Dreyfuss and Robert Shaw in Jaws (Photo: Universal)
JAWS (1975). Watching this masterpiece for the umpteenth time, it's easy to see why it struck (and continues to strike) such an emotional response: In much the same manner as those "giant insect" sci-fi yarns from the 1950s, it offers a frightening picture of nature gone wild, specifically the deadly "what if" ramifications of a world in which another species manages to get the upper hand on us hapless humans. It also taps into that primal fear of being afraid of the dark — in this case, the dark being represented by a churning mass of murky liquid in which it's impossible to see the (very real) boogeyman until it's too late. It's expected for filmmakers to mature over the course of a lengthy career, but I'd be hard-pressed to state that any subsequent Steven Spielberg flick (with the possible exception of Saving Private Ryan) blows this one away in terms of its expert direction. Spielberg was working with extremely thin material — let's face it, Peter Benchley's source novel is pretty lousy — and the potential for disaster was enormous (more so since the mechanical shark didn't work most of the time). But the director, drawing from a screenplay (by Benchley and Carl Gottlieb) that improved upon the book, in the end fashioned an instant classic whose success owes as much to his superb orchestration as to the substantial jolts and knockout performances by Roy Scheider, Robert Shaw and Richard Dreyfuss. An Academy Award nominee for Best Picture, this earned Oscars for Best Original Score (one of John Williams' greatest), Best Film Editing and Best Sound. It was also the all-time box office champ for two years, until Star Wars came along and usurped the throne.
Blu-ray extras include two feature-length documentaries, The Shark Is Still Working: The Impact & Legacy of Jaws and The Making of Jaws; deleted scenes and outtakes; a look at the film's restoration; a piece on the marketing of the movie; and production photos.
Movie: ****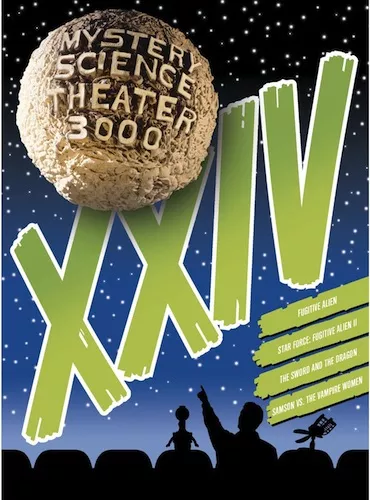 MYSTERY SCIENCE THEATER 3000: VOLUME XXIV (2012). As far as MST3K is concerned, Sandy Frank is the gift that keeps on giving. Adept — make that inept — at taking foreign properties and repackaging them cheaply for American audiences, the low-budget producer has had 10 films featured on this cult series, and distributor Shout! Factory has been burning through them as of late. Last November's Volume XXI showcased the five Gamera movies, this past December's Volume XXII featured Mighty Jack and Time of the Apes, and this latest edition includes the final two Frank flicks available for viewing. (The tenth title, Humanoid Woman, was broadcast during the first, Minneapolis-only season and was never shown nationally.)
Frank's Fugitive Alien (movie made in 1987; featured on MST3K in 1991) and Star Force: Fugitive Alien II (movie made in 1987; featured on MST3K in 1991) were also part of that first season, but the MST powers-that-be figured these two films were worth getting the full makeover for national exposure. I'm not so sure about that: Editing together episodes of a Japanese Star Wars rip-off and releasing them stateside as two badly dubbed features, Frank unleashed a twofer so deadly dull (to say nothing of incomprehensible) that even the riffs by Joel, Crow and Tom Servo aren't enough to completely save these viewing experiences. Still, the Fugitive Alien II episode at least contains a great conversation between Crow and Servo as to what exactly constitutes a puppet (no feet?), drawing Big Bird, Yoda, Topo Gigio and others into the debate.
A far more pleasurable viewing experience can be had with The Sword and the Dragon (movie made in 1956; featured on MST3K in 1994), with Mike and the 'Bots letting loose on a costly Russian yarn that, to be fair, might have been a decent watch in its original tongue. But this dubbed edit (trivia note: a pre-60 Minutes Mike Wallace provides the narration!) is too clunky to be taken seriously, and besides, it's infinitely more fun to watch the Satellite of Love crew invoke everything from Apocalypse Now to Arthur in their unrelenting audio assault. Bonus: The gang tells a joke, Ingmar Bergman-style.
The best episode in the set contains, as is often the case, the worst movie on display: Samson vs. the Vampire Women (movie made in 1962; featured on MST3K in 1995). Over the course of two decades, the wildly popular Santo, a masked Mexican wrestler, starred as a heroic — what else? — masked Mexican wrestler in over 50 films. Santo and Blue Demon Against the Monsters and Santo vs. Frankenstein's Daughter were just two of the many feature productions, yet among stateside bad-movie buffs, Samson vs. the Vampire Women was arguably his most recognizable work — and that was even before the MST3K team got hold of it. Here, the beefy fighter (renamed Samson for American audiences since, I guess, we Yanks are dumb enough to think Santo is Santa) takes down a bevy of bloodsuckers, but not before Mike et al take him down with a slew of wisecracks referencing the Liz Taylor melodrama BUtterfield 8, the hip-hop mainstay House Party, and whatever else crosses their manic minds. But the episode isn't all merriment: In a three-hanky development to match the doomed Leo-Kate love affair in Titanic or the fate of Old Yeller, this proved to be the last episode featuring TV's Frank.
DVD extras include a piece on Frank Conniff (aka TV's Frank); an interview with Sandy Frank himself; and the shorts Snow Thrills and A Date with Your Family.
Collection: ***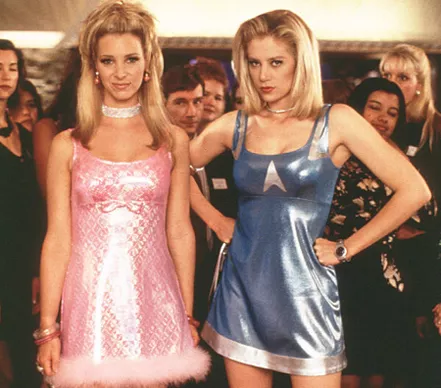 Lisa Kudrow and Mira Sorvino in Romy & Michele's High School Reunion (Photo: Disney)
ROMY AND MICHELE'S HIGH SCHOOL REUNION (1997). An intelligent comedy about not-so-intelligent people, this charmer stars Mira Sorvino and Lisa Kudrow as two carefree California girls who begin to reevaluate their lives on the eve of their 10-year high school reunion. With a burning desire to impress their former classmates (especially the popular girls who treated them viciously back in the day), the pair decide to attend the reunion posing as successful businesswomen (their claim to fame is that they invented Post-Its!). Things go wrong from the start, but with a little help from sympathetic classmates, Cyndi Lauper and their own eye-popping wardrobe, they just might end up as the belles of the ball anyway. The film's only serious misstep comes in the middle, when time spent on an interminable dream sequence would have been better utilized on the reunion itself. But Robin Schiff's screenplay is filled with memorable zings ("You're just as cute as me," Michele assures Romy. "In some cultures, maybe even cuter."), Sorvino and Kudrow are an irresistible team, and Janeane Garofalo (as the class's moody outsider) shows up to steal scenes with aplomb.
Blu-ray extras include a production featurette and the theatrical trailer.
Movie: ***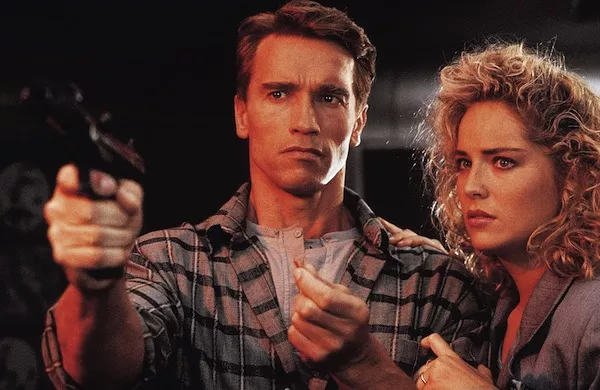 Arnold Schwarzenegger and Sharon Stone in Total Recall (Photo: Lionsgate)
TOTAL RECALL (1990). Philip K. Dick's short story "We Can Remember It for You Wholesale" is the inspiration for this sci-fi outing from director Paul Verhoeven, and while it isn't in the same league as two terrific films based on Dick stories, Ridley Scott's Blade Runner and Steven Spielberg's Minority Report, it nevertheless ranks as one of star Arnold Schwarzenegger's more enjoyable outings. The big lug plays Douglas Quaid, a working-class man who, long wanting to travel to Mars (which in this future setting has been colonized), visits a corporation that specializes in memory implants. But the visit unleashes disturbing memories that suggest his present life — complete with boring job and hot wife (Sharon Stone) — isn't exactly what it seems. Sure enough, Quaid finds out that he's no ordinary laborer but rather a highly skilled government operative who switched sides and joined the rebels to topple the existent, and oppressive, hierarchy. Seeking to further establish his true identity, he journeys to Mars, where he hooks up with his former squeeze, a freedom fighter named Melina (Rachel Ticotin), and her comrades in arms. As a filmmaker, Verhoeven has always been somewhat of a sadist — witness the protracted shooting of Murphy in RoboCop, the fecal-tinged humiliation of Rachel in Black Book, the mere existence of Showgirls — and his bloodlust is on display in this picture, where one bullet piercing a body won't do when there's a full clip to unload into human flesh. Yet the violence is hard to take seriously since it's placed alongside the borderline-camp moments that sprinkle the piece: When the leader of the rebels turns out to be Baby Herman from Who Framed Roger Rabbit, it's clear that the satirical bull's-eyes Verhoeven nailed in RoboCop have here been turned into a more benign state of rib-nudging. The film's visual effects deservedly won an Oscar, and most of them still hold up today. So does the premise, which manages to keep viewers constantly whiplashed with its onion-peeling twists and turns. And while Arnie strengthened his leading-man status with this vehicle — it was only his second $100 million grosser, following Twins — it was Stone who left the most indelible impression. Verhoeven was impressed enough to next cast her in 1992's Basic Instinct, a blockbuster that turned her into an A-list star.
Blu-ray extras include audio commentary by Schwarzenegger and Verhoeven; an interview with Verhoeven; a making-of featurette; a piece on the special effects; and a restoration comparison.
Movie: ***