I'm told to enter through the green door at the Hart Witzen studios. Transplanted Charlotte artist Jason Watson offers me a cup of Bengal Spice tea and we move through his small but mighty space, pausing before the wizened drawn heads that line the walls like sentinels to pay our respects. Our journey leads us back to his couch, where I am given the lowdown.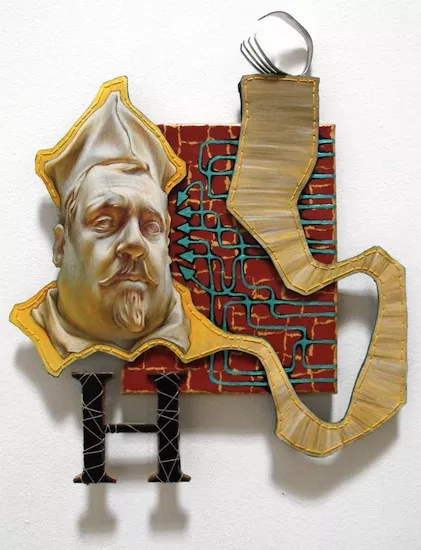 "May 21, 1783" (2014) by Jason Watson
Watson grew up in rural Pitt County, in the eastern part of our state. He earned a BFA at UNC Asheville, lived in New York and now resides in Charlotte after a successful tenure at the McColl Center. He is charming and good at talking about his art, articulately translating the opposing forces that make up his every piece. His one criticism of himself, which he states repeatedly with a flick of his head and rolled eyes, is that he is a geek.
This geekiness is what led him on a career-defining journey: For his 16th birthday, he asked for a trip to the Mint Museum of Art to see the Ramses II exhibition of ancient Egyptian art. Amid the jars, coffins and trinkets, there was one piece that left a great impression on him, a piece of petrified bread that had been left in a tomb. He considered the question of who decided this was worthy of inclusion, and surmised its worth was based solely on its age. This assumption led to a career of thoughtful questions about what makes an object worthy for display in a museum.
Watson is known for his superior line drawing, and a drawn head of a statue or doll populates every work I've ever seen. He is an ardent believer in sketching in museum spaces and loves being inside their exhibition spaces. During his 10-year stay in New York, in which he received an MFA from SUNY Purchase, Watson became so familiar with the Metropolitan Museum of Art that he boasts to know where every bathroom and water fountain in the labyrinthine institution exists.
These second homes of his give him the bounty he needs to continue his drawings, which are images of sculptural busts. Never allowing himself to look at labels, which would indicate the artist and subject and, frankly, ruin the whole thing, he takes pictures of them that he prints later on for potential incorporation in his artwork. He has amassed more than 7,000, believing each seems "to have a story they want to tell."
His reverence for museums and the objects they house does not keep him from considering why some pieces are accepted in them and why others aren't. This question has also led him to countless thrift shops — museums of a different sort — where he gathers objects to incorporate into his work. It makes sense that he calls them both "repositories of cultural remnants."
"February 16, 1954" (2014) by Jason Watson
Each resulting piece is a blatant contradiction wherein bold, graceful heads are surrounded by cheap plastic pieces, random letters and collaged pictures of no particular importance. By juxtaposing objects from such disparate sources, we are left questioning the ways we assign value as well.
The placement of objects and drawings together is typically by chance, and dictated by what immediately jumps out at him. They can become crowded, so to rise to the challenge of creating compositionally cohesive artworks, he ties the objects in a few different methods: Thick stitches of thread transition to black straight lines that wrap underneath and through a drawn head; a smoke-like wisp emerges from a fingertip and floats like an inclusive thread through the work; and a hand oozes turquoise paint that drips down to soak fabric at the bottom of the piece.
A recent body of work deals with Tuesday afternoons, inspired by a conversation with a friend wherein they decided it was the time most decisions were made. These six pieces feature faces wrought with heavy thought. In the studio, a printed image of the bust is pinned next to its drawn counterpart, and artistic liberties become evident, though they are minor, only a tilt in the head and a more forward gaze (a standard practice of the artist). On the back of each piece are small plastic numbers indicating a date; Watson chose a year in which the drawn individual might have lived and found the date of an actual Tuesday by using an online calendar.
Watson's art is as easy to like as he is. He makes no statements regarding politics, race or gender, but welcomes viewers to bring their own histories and apply them as they will. He also doesn't create work around a narrative, instead implying light trails between the dots, which he calls "narrative potential." Should all art be this accessible, this harmless? I would hope so, but there are things people feel they need to say, and they can be so loud. For me, I'll take my own history and apply it as I will, whether or not I'm looking at a Jason Watson piece.
(Jason Watson's work is currently on view in a two-person show with Alexandra Loesser through Aug. 3 at Gallery Twenty Two, 1500 Central Ave. Details at www.gallerytwentytwo.com.)