Jah-Monte is sprawled on a reclining sofa in his buddy Sage's studio, one of many that line the halls of NoDa Studios in its namesake neighborhood. Graffiti is scrawled across the walls with chalk. No space is left uncovered.
The slew of unrelated images above Jah-Monte's head is symbolic, as his mind can sometimes wander from topic to topic. He jumps from female empowerment to police violence to quoting Nubia Jones within a matter of seconds. While he sometimes loses his train of thought, his priorities are clear: spreading knowledge and unifying the human race.
That message is portrayed more succinctly on his new album, Testing Her Creation, released on Feb. 19. His first album since shedding his former moniker King Callis at the end of 2016, Jah-Monte continues to be the rare conscious hip-hop head on the Charlotte rap scene.
His style is reminiscent of those who stalked the scene in the early '90s — acts like A Tribe Called Quest, Brand Nubian, and a young Common Sense or Talib Kweli.
Jah-Monte sat down with Creative Loafing recently — passing a blunt around the studio and wearing a King Callis hoodie, already a relic of 2016 — to discuss his message and why it's so hard for Charlotte rap fans to hear ht.
Creative Loafing: Your first release was Brunch (Food For Thought) in 2014. How have you grown since then?
Jah-Monte: I feel like I've grown a lot since my first release. I've met a lot more people who are more open to helping. Also, I've grown spiritually because I've started studying Rastafarianism.
And what inspired that?
My friend Cavallo. He's been living it since 2012. Seeing him grow as a person and all the knowledge he has and his perspective inspired me to become a better person. He pretty much showed me the light. I was born in a Christian family, going to Baptist churches, and it never felt right to me until he explained the Rastafarian way of life. It makes more sense to me.
He's the one featured on tracks like "Vallo Ciphering," which are not music tracks but more like lectures, right?
Yes, in the second part of the album, there's verses one through nine, that's just songs. After that I go through the building sessions with Cavallo, five of them, then I have two or three drum sessions.
It's pretty much the perspective that I'm trying to push with this album. It's a self-love and melanin thing, my whole angle I'm coming from with this album. I got that inspiration from the sessions and meetings with Cavallo. I look at him more as a teacher. He's someone I draw inspiration from.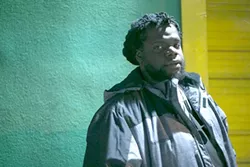 Why the name change?
I feel like King Callis was a made-up thing. I got my name from a street I used to live on in Akron, and Callis Tower was the building, but I feel like that's just something I put up there. My real name is my birth-given name and it's all real and authentic. So I'm giving you straight up me.
The message of lifting up women is a major theme in the new album. What inspired that?
I just remember how it was growing up. I tapped back into my past. My mom was a single mother, my aunt. I don't know what is going on in the community, but I grew up around a lot of single mothers. Just to see the stress level and the determination as well, the beauty of it. To see everything they go through from my past and to see everything come around from this time.
If you look on the Internet, there's a lot of black men vs. black women arguments that happen daily on Twitter and Instagram, and that's what the media is pushing as well, so I figured I'd be the one to say something.
The inspiration for this album came around the time I saw Korryn Gaines get killed. Around the time Korryn and Sandra Bland died, I was like, "OK, I see nobody around me is stepping up to speak on it so I feel like I should be the one."
You don't hear much conscious-type rap in the local scene today.
The only thing I'm doing is just carrying on a tradition, that's what my people taught me to do. If you're going to make art, say something to inspire. I feel like it's a lost art.
Why is that?
The quote-unquote forefathers, or the people who set the platform in Charlotte, they're so stuck in their place. They pay attention to certain shit. You have to open up to everybody, because once we all get there it's over with. Once everybody gets together and helps push each other, that's what we need.