You might think me mad, but I purposefully set out to get stuck in rush hour traffic, an exercise in article inspiration. While the finer points of toll lanes on I-77 are discussed elsewhere, I was quite literally stuck in the present-day land of "too many cars." As I absently stared at brake lights ahead of me, I wondered when craft beer's meteoric rise might hit a similar standstill.
We're in an age of explosive growth in the craft beer world. According to the Brewers Association, "we're seeing breweries open at about a rate of 1.2 per day." In 2012, there were finally more breweries in America than there were just before Prohibition (2,751), a far cry from the low-water post-Prohibition mark of a mere 44 breweries nationwide in 1979. In Mecklenburg County alone, we're sitting at over a dozen breweries, up from just one locally owned operation in 2009. Beer festivals, formerly a rarity, are seemingly multiplying like weeds.
When will this rampant expansion hit critical mass and the craft movement begins cannibalizing itself? After all, defining the abstract concept of "peak craft beer" isn't as easy to quantify as "too many cars" (standstill traffic), "too much coffee" (the jitters), "too much alcohol" (spinning room) or "too much food" (stretchy pants).
Next week, the sixth annual Charlotte Craft Beer Week kicks off. While a seventh seems a certainty, I couldn't help but contemplate the possibility this movement is naught but a bubble. For perspective, I sat down with several players in the craft beer scene, and each offered a unique perspective on where we are, where we're going, and what could bring this growth to its knees.
TINY ASHEVILLE CLAIMS a whopping 21 area craft breweries, with the best brewery-to-person ratio in the country (roughly 1:4,100). Luke Dickinson, head brewer for Wicked Weed, sees the growth in the craft movement as a rising tide that lifts all ships. "There's an ebb and flow for everything. And so, we're right now in a huge growth space for craft beer."
That's an understatement: Craft beer production went up 18 percent in 2013, while the overall market dropped 1.9 percent. "At some point, that does become unsustainable," Dickinson says. "However, I would say we're further away than some people think."
Ryan Self, director of sales at Charlotte's own Olde Mecklenburg Brewery, appreciates the metaphor. "A bubble doesn't burst if it's a rising tide." When prompted regarding market saturation, he replies: "We're not at a saturation point by any stretch."
I pressed further; surely we'll hit a problem of too many breweries in the market.
"There's no 'too many breweries,'" he replied. "There is, however, 'too many breweries doing the same thing.'"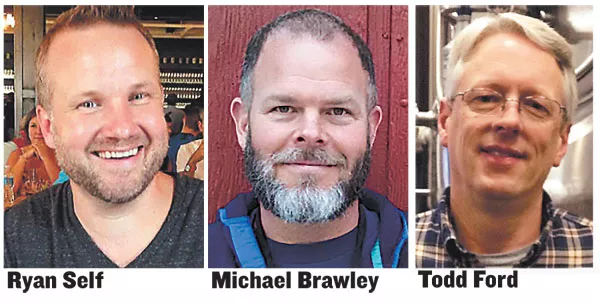 Michael Brawley, owner of local bottle shop Brawley's Beverage, offers a contrarian perspective. "I think we met the critical mass margin a long time ago. Beyond critical mass, you're looking at market saturation. I'm not the only person that thinks that we are steadily approaching a time where the sheer number of SKUs is going to make business difficult for damn near everyone."
He has a point, and that's a simple yet crucial impediment to infinite brewery growth: real estate. There are a finite number of draft lines at every bar or shelves at every retailer. Competition for this limited space is already fierce and guaranteed to get worse as more outside breweries enter the market or new local breweries open their doors. Tap rotation is the current preferred method in dealing with this bottleneck, which ensures variation of choice for consumers but provides little stability for beer producers.
(Speaking of bottlenecks, more breweries are packaging their wares instead of relying solely on draft, but added equipment expenses are substantial and provide a significant financial obstacle to market entry.)
Todd Ford, co-owner of the NoDa Brewing Company, is more optimistic on the number of breweries in a market. "I pretty much think, the more the merrier. The only stipulation I'll put on this, and I think this is much more important than what the actual number of breweries is, is how many breweries are bringing something unique." Conversations with Brawley and Self also touched on this very idea and help paint a bleak picture of what having too many breweries would feel like.
To me, much of the appeal of craft beer is the incredible variation. In an overall market dominated by the American light lager segment, having more than 2,000 different small breweries and countless styles to choose from is a relief. But as the saying goes, quantity does not equal quality; simply having a large number of breweries does not necessarily make the market successful. The movement becomes faded, less crisp and more watered-down, and we find ourselves peddling soulless liquid like the macrobreweries we're trying to avoid.
Self doesn't see a problem with an influx of new breweries. "If breweries open up now, they have an idea of what they want to be, they have an idea of what niche they want to fill, they don't try to be everything to everyone — I think there's a place for them."
Ford echoes this point: "If [new breweries] have, and they focus on, something that's unique to them, I think that means our market's not mature yet. It will continue to grow successfully as long as they do it well." He points to newcomer Sugar Creek as an example. "Their beers are good; they're not like anything else in Charlotte. I think that's going to mean success for them."
BEER FESTIVALS ARE increasing in number as well and face the same identity crisis. Whereas only a handful graced the Charlotte market several years ago, now there are dozens. (This here newspaper even has one slated for next month.)
Brawley knows something about festivals; in addition to being a continued supporter of the Carolina Brewmasters' Charlotte Oktoberfest, he's once again playing host to the sold-out 6th annual installment of Brawley's Black & Blue this weekend. He believes, rather cynically, we're far from hitting the peak for beer festivals. In fact, "when all these people fresh out of business school see these festivals with all these large numbers, they think 'oh wow, I can do that.' We're going to have six a week next year."
Already, the Charlotte market has seen events masquerading as beer festivals when they're truly anything but. Brawley continues: "Is it really a beer festival if you're serving the same beers that you can go to a Harris Teeter and pick up? No, that's just a party. If it's basically a corporation putting on a party to highlight its products, that's not a festival, that's an advertisement. It's an advertisement people are paying for."
For the most part, the general public has done a great job in recent years of sussing out the real beer festivals from the carbon-copy imitators, but I agree with his assessment that the festival field's about to get even more crowded.
To ensure their own event's success, organizers should really look at what's been done and do something unique and to their vision. If fresh concepts are being offered, an inundated beer festival scene will be a long time away — though my own wallet thinks it'll be sooner than that.
WHAT COULD POSSIBLY get in the way of craft beer's continued growth? Here, North Carolina's own laws could slow the future expansion of existing breweries if something's not done, and two local breweries might soon be feeling the squeeze.
Increasingly, breweries are finding refuge from the outside draft-line bloodbath by opening taprooms, storefronts that allow them to keep business under their own roof and increase their profit potential. Selling a keg to a bar may bring in $200, but said keg is worth many times that if kept in-house.
In other states such as Florida, the very existence of these taprooms is under assault by outside entities: Well-heeled beer distributors continue to propose legislation that would severely diminish the potential of in-house operations.
North Carolina breweries, thankfully, don't face the same legal hurdles as their southern kin, but do face another challenge in relation to distributors. Per N.C. law, once breweries produce 25,000 barrels of beer annually, they are mandated to sign their distribution rights over to a third-party. A handful of current self-distributing breweries in North Carolina may be closing in on this arbitrary threshold, with two of them in Charlotte — NoDa and Olde Mecklenburg.
"If wholesalers do provide such a great product," Ford wonders, "and many of them do, why do you think you need legislation that requires people to buy your product?"
Before that arbitrary threshold is hit, breweries are allowed to sell beer themselves, both in their taprooms and through self-made distribution networks.
Ford paints an interesting picture of what that mandate means for his brewery's taproom: "If the law does not change, and we through the grace of God are able to produce 25,000 barrels, once we hit that we'll have to have a distributor come out, pick up our keg, put it in their truck, then take it back out of their truck, give it back to us and we'll have to pay them for that service."
Another major growth obstacle is taxes. Per Self, "it's the No. 1 issue we face."
The state's excise tax rates on beer are the eighth highest in the country. For every keg of beer Ford's NoDa brewery produces, "$10 is paid to the state of North Carolina. It'd be nice if it were only $7, then right now we could hire another person right away, another salesperson or another production person, with that extra income and once again put more money back into the local economy. We understand we have to pay our taxes; we're totally on board with that, we do it every single month. But it'd be nice if we could pay more tax because we were producing more, not because we have a higher tax rate."
Other states such as California and Colorado enjoy significantly lower excise tax rates, of $0.20 and $0.08 per gallon respectively, compared to the rate of $0.62 North Carolina demands. Those favorable climates have enabled breweries like New Belgium, Oskar Blues and Sierra Nevada to thrive and eventually need to open second facilities in North Carolina.
"It's basically a pat on the back for California and Colorado to have [these aforementioned breweries] moving here," Ford says. "It's also a pat on North Carolina's back that they would actually consider moving here: they liked our water source, liked the ability to get workers here, and that's good for us. But the time I'll be really excited is when I see Foothills or Highland or Big Boss opening a facility in San Diego County. Now, that means North Carolina's really done something."
The pressure of taxation is putting the squeeze on Olde Mecklenburg Brewery as well. "One of my favorite quotes is, 'Don't be in save a nickel mode, be in make a dollar mode,'" Self says, "If you're a lawmaker in North Carolina, don't try to get an extra nickel off me; try to get me to generate a lot of extra taxable income."
THE CRAFT BEER movement is far from a bubble. In fact, I find the rising tide description to be quite applicable. Breweries open up every day, with a multitude more preparing to do so. As the tide rises and unique, quality beverages are introduced, the metaphorical ships of all breweries will rise. If we're not careful, those ships could be unceremoniously dashed against the rocks of regulation and taxation. Having too many ships in the harbor is its own problem if they're bringing nothing new to the table.
While the movement is far from being a house of cards, it's clear it must not rely on the status quo to ensure continued survival and success. The macrobrewed light lager segment faces death by a thousand cuts from craft-minded entrepreneurs, folks that heard the wisdom in, "If you don't like how the table is set, turn over the table."
Don't believe any bubble talk from folks who would have you consider craft beer a passing fad. Ryan Self reminded me, "You're going to see breweries fail, and everyone's going to write a story about it, that it's because the bubble's burst, but that's not true. Because you're going to see breweries fail at a time when every other brewery in town is growing as fast as they can."
I'll drink to that.