Page 5 of 6
Five other Klansmen, sartorially more traditionalist, were garbed in multihued robes and formed a circle of skyward-pointing hoods that bobbed up and down as if they were listening to music that only they could hear.
Watching them with an admiring look, one gent, attired in an authentic Johnny Reb uniform, asked that his name not be used because "I'll get in trouble with the Sons of Confederate Veterans. They say we can't be racist any longer. Can you imagine?"
Fowler was followed on the podium by Virgil Griffin, a legendary Carolina Klan relic who participated in a 1979 Greensboro, N.C., riot that ended with the slaying of five union organizers. No one was ever convicted for the crime, yet an Aryan Nations officer named Ryan (he refused to give his last name) told the assemblage that Griffin "is my hero. Five commies went to hell that day."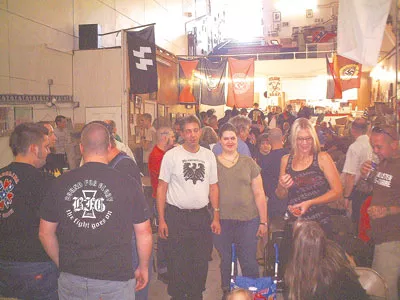 PURE ARYAN: Racists of all stripes -- Aryan Nations, the Klan and skinheads -- gathered in South Carolina for the congress. "Warriors kill and break things," one speaker said. "We're warriors in waiting."
Griffin's tastes differed from brother Klansmen. He wore a knee-length light periwinkle-purple robe adorned with what looked like a dressy red Girl Scout sash. Despite the feminine touch, Griffin described himself as a "warrior for God" and, with fists slugging the air, Griffin urged the crowd to "get every weapon you can get. We're gonna hit back."
His most vitriolic comments were reserved for Hispanics, the new punching bags of the far right. "They breed like rats, worse than niggers, and send their money back to Mexico," Griffin roared. "Only thing I got for them is a bullet right between the eyes. Ship their dead butts back to Mexico."
Chris James, a delegate from White Revolution, also picked up on the anti-immigrant theme. He preached that racists could attract converts by finding "common ground" with the general public on issues such as illegal immigration. "Think racially and act locally," he urged.
During an intermission, James had a request for the Aryan Nations organizers: "Would you mind selling pop next time?" he said.
Aryan Nations officials looked puzzled. James explained, "So I don't have to buy a drink from the Neeeee-grooooo on the corner."
RICK SPRING IS the dapper Aryan, one of the few remaining confidants of the late Richard Butler. Clad in black jacket and pants, the only signal of what Spring is about is his elegantly embroidered red, gold and powder-blue Aryan Nations armband.
During a break he showed his knack for explaining things. For example, about those swastikas on fluttering flags and tattooed on his colleagues' arms and heads, Spring opined, "They're just good luck signs. Some people say they're Nazi symbols, but that's not what I see."
And, on violence? "Aryan Nations is the whipping boy," he said. "True, in the past... ." He tapered off and then cranked back up, "You've heard of people 'going postal,' but have you ever heard of someone 'going Aryan Nations,' like I mean violent? The only time we're violent is when violence is brought to us."
The scariest of the Aryan Nations speakers was Ryan, who wouldn't disclose his full name but who lives in South Carolina. He vowed to kill the "dogs of ZOG."
"You better hope I don't come in your bedroom window," Ryan said to FBI informants he suspected were in the audience. "Warriors kill and break things. We're warriors in waiting."
Ryan, whose biceps were adorned with 8-inch Nazi "SS" tattoos, capped his speech with a dance across the stage, a la Mick Jagger, and a bellowed challenge: "You want to see blood in the streets? I do!"
ARMED WITH A loopy theology, and not averse to a good brawl, where do the white supremacists go next? Their longed-for race conflict lacks a "when" and "how." Holding up Eric Robert Rudolph -- now serving a life sentence for several bombings -- as a model Christian terrorist, Aryan Nations' speakers touted "leaderless resistance" and "lone wolf" tactics.
For years, Aryan Nations aspired to have an uprising in the Northwest, and turn five states into, literally, The Aryan Nation. With the group staggering from the double whammy of litigation and factionalism, the new goal is more modest: South Carolina.
Aryan Nations' Washington leader, who gave only his first name, Paul, is 60-ish and has a British accent from 25 years in England. Paul outlined possible strategies for the group: establishing a state in Alaska ("few minorities," he said), or a wholesale "South will rise again." Both of those he discounted as impractical, although certainly worthy.
In the end, Paul observed, the best option is to "look at the secession of South Carolina. Start with this state."
DURING AN INTERMISSION, the delegates took a break outside the front doors of the Redneck Shop, milling around an Aryan Nations flag mounted on a curb facing the county courthouse. Several of the men malevolently eyed a downtown shopper, Tyrone Russ, one of those black men deemed not quite human by the racists.