Page 2 of 6
Shortly after 1 p.m., Aryan Nations Chief of Security Rick Spring stepped up to the stage and struck a bell a dozen times. Each clang was for one of the 12 tribes of Israel -- the core belief of these people is that Europeans are the true descendants of the ancient Israelites.
The leadoff speaker was the hulking Pastor Paul Brimie, the head of Aryan Nations' prison outreach program. A towering giant described adoringly by colleagues as a "pit bull of Yahweh," Brimie had swapped his muscle- and tattoo-displaying tank top for clerical garb. Shortly before his speech, he assured a pair of outsiders who had been allowed to witness the convention, "We treat everyone here like white people."
No such generosity found its way into Brimie's jeremiad, however. "Everyone here knows who we hate, who we're against and who is against us," he proclaimed. "We must PREPARE FOR WAR!"
THAT LONGED-FOR holocaust has stalled in recent years. Founded in the 1970s, Aryan Nations is recoiling from a few recent kicks to its pure white cojones.
In its first two decades, the group emerged as the most durable and cohesive of America's many neo-Nazi outfits. In the mid-1980s, many Aryan Nations members teamed up with other racists to form "The Order" -- which is still memorialized on the Aryan Nations Web site. The Order robbed banks, counterfeited money, ambushed armored cars -- and murdered -- to finance a planned overthrow of the U.S. government. The group's leader, Robert Matthews, was killed in 1984 in a shootout with government agents.
Since then, many Aryan Nations members, ex-members and associates have been nailed for violent crimes. One associate was convicted of three homicides, and another was accused of the 1999 shooting at a Los Angeles Jewish center and the murder of a Filipino-American postal worker. In the early 1990s, the American Front, a youth group with strong ties to Aryan Nations, bombed NAACP offices in Tacoma, Wash., and Sacramento, Calif.
Then came the big hit. Aryan Nations six years ago lost a $6.3 million lawsuit brought by Victoria and Jason Keenan, a mother and son who -- while looking for a lost wallet on a lonely Idaho road -- had been chased, shot at and beaten by Aryan Nations guards. The Keenans' offense? The guards fantasized the two were militant Jews; they were, in fact, of Cherokee descent.
As a result of the court judgment, Aryan Nations forfeited its 20-acre compound near Hayden Lake, Idaho. A human rights activist bought the compound, burned the buildings and turned the property into a "peace park."
Four years later, Aryan Nations' founder, Pastor Richard Girnt Butler, died at age 86. And Butler's handpicked successors, Neuman Britton and Harold Ray Redfeairn (who once remarked, "Violence solves everything"), had preceded their fuehrer into master-race Valhalla.
Things looked bleak. Aryan Nations dwindled in numbers, and, despite its ardent longing to be the vanguard in a race-war Armageddon, appeared doomed to nothing more than a footnote filed under "violent fringe weirdos." The group's leaders claimed they were merely "decentralized," but Norm Gissel, one of the lawyers who scored the $6.3 million triumph over the racists, last year declared Aryan Nations an "extinct entity."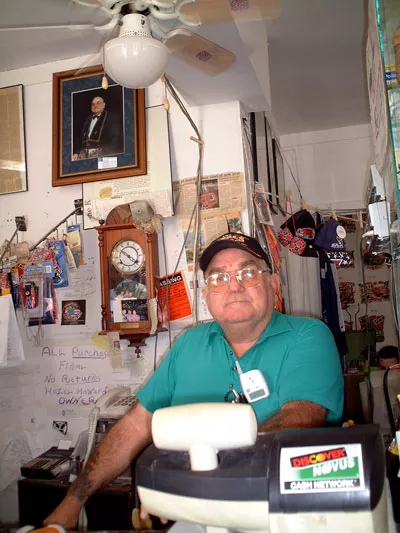 RACIST HAVEN: When John Howard, owner of the Redneck Shop, saw a black youngster bicycle past his store, he erupted: "There's a nigger there I'd like to hang."
Not quite yet. A dedicated cadre intends to keep Butler's nightmare organization alive. The two major factions have regrouped near Atlanta.
The smaller group, run by the thickly bearded August Kreis III, is based in Lexington, S.C., a suburb of Columbia. Kreis, with about a dozen followers, had defected from Butler's leadership. But Kreis owned the Aryan Nations Web site, which forced his rivals to devise the name "twelvearyannations" for their Internet address.
The larger faction -- the one sponsoring the world congress -- is led by Williams and headquartered in Lincoln, Ala.
Why two competing Aryan Nations? Both contingents hate Jews. But Kreis' brigade has decided to embrace Arabs -- even promoting al-Qaeda as doing the Lord's work as long as Muslims are killing Jews. Williams was incensed at such heresy. "The enemy of my enemy is not my friend," Williams exploded in an interview after the wedding. "I sympathize with Arabs, yes, sympathize because their lands have been stolen by Jews. But we have nothing for [Arabs]. The simple fact is that they aren't white."
Williams' contingent has about 200-300 members on its rolls, says Joe Roy, senior investigator for the Southern Poverty Law Center in Montgomery, Ala., which monitors hate groups.
"We've grown 35 percent this year," Williams boomed to a cheering audience. The congress attracted about 170 men and women, more than double last year's attendance, according to organizers.
Beyond the hardcore cadre, the backbone strength of Aryan Nations is the estimated 50,000 Americans who share the anti-black, anti-Hispanic and vehemently anti-Semitic beliefs of the Christian Identity movement, plus several times that number who may sympathize with the sect. "Becoming part of this movement means you're Yahweh's elite," Williams boasted in an interview. "You won't find a religion of fewer people, but the numbers don't mean anything because we go to war for Yahweh."